Back in the late 1990s, Jay Glazer was struggling to get by on $10,000 a year and living in a New York apartment so small that the refrigerator blocked his bathroom door.
Today, the 53-year-old is celebrating his 20th season as resident "Insider" on "Fox NFL Sunday." He's also a Hollywood actor, having appeared with The Rock on HBO's "Ballers," and has hawked Subway sandwiches with Olympic legend Michael Phelps.
Glazer owes it all to his ability to break news on NFL players and teams.
"I just make sure I hit home runs on Sunday. And I give you some stuff that you can't get anywhere else," he told Front Office Sports from Thailand after covering Super Bowl 57 in Phoenix. "Because it really is crazy. We're getting paid all this money to tweet something everybody else has 12 seconds later."
So goes the lucrative, fast-paced world of today's star insiders.
The biggest players — like Glazer, Adam Schefter and Adrian Wojnarowksi of ESPN, and Shams Charania of The Athletic and Stadium — are not just reporters. They're industries in themselves, operating on multiple media platforms and revenue streams, sometimes even working for multiple employers.
The rise of these stars signals a shift in sports media's pecking order: We're more reliant on insiders than ever. Information, and how fast we can get it, matters more than opinion.
The top names have become the biggest "personalities" — a Mount Rushmore of the first to break the news — complete with multi-million salaries and commercial endorsements.
Need For Speed
Decades ago, the wisecracking anchors of ESPN's "SportsCenter" sat atop the food chain. Then came the era of the sports "opinionists" like Stephen A. Smith and Skip Bayless, who were paid millions to "embrace debate."
What happened? Social media made sports fans ravenous for "scoopage," forcing them to look to insiders.
More importantly, the explosion of fantasy sports and sports betting turned the insiders' stock-in-trade — rumors, trades and player injuries — into valuable, actionable data.
Yes, today's top insiders trail the elite club of No. 1 NFL analysts in compensation by a wide margin. But insiders are far more ubiquitous, not confined to television on Thursdays, Sundays, and Mondays.
A #Wojbomb is more likely to drive the 24/7 news cycle than Bayless' latest bloviation about LeBron James.
"Back in the day, you could watch 'SportsCenter' and get your highlights and opinions. But the world has changed. Now people need their information right away," said one top agent. "That's why the insiders have become popular. These guys are some of the bigger faces on their respective networks. Who'd have thought?"
Paying For Personality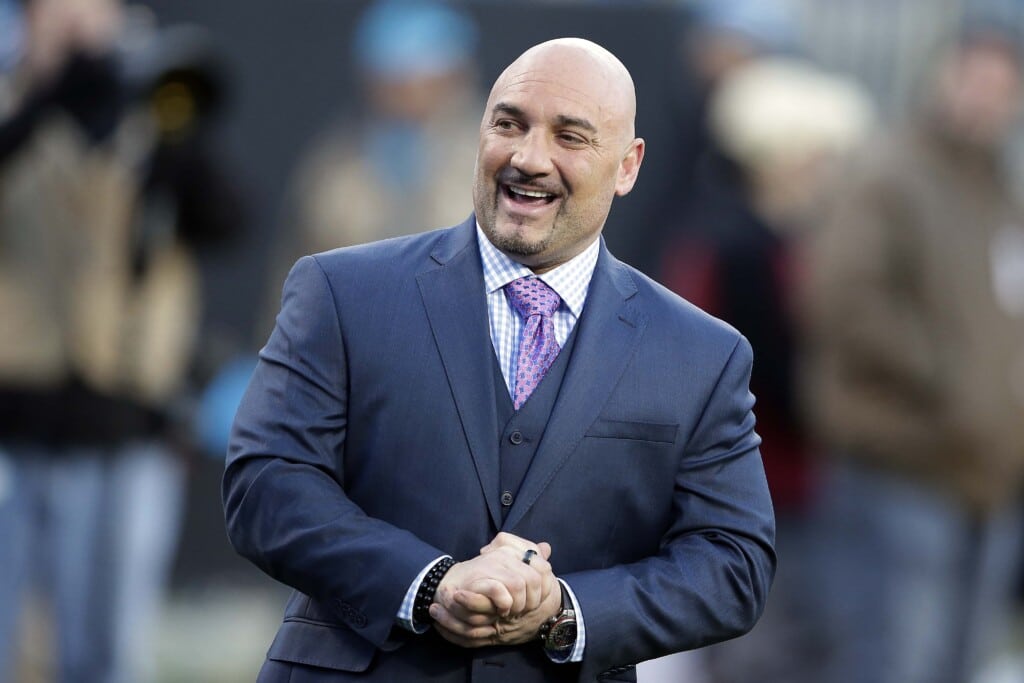 It's been a dizzying ascent. Most insiders started out as underpaid newspaper reporters. The biggest names now earn more money than some players.
And with both Schefter and Woj set to test free agency last year, there was a chance either or both could've decamped to a sports betting giant like FanDuel or DraftKings.
So ESPN chairman Jimmy Pitaro swooped in with lucrative new deals that will pay them $9 million and $7 million a year, respectively, per the New York Post.
NFL quarterbacks made an average salary of $7 million in 2022. The average NBA salary was around $9 million.
Meanwhile, Glazer, Schefter, Woj, and Charania are scoring some of the high-profile endorsement deals that Madison Avenue used to give to athlete endorsers.
Sporting a fedora like Frank Sinatra, Charania is starring in a new TV commercial for AT&T's 5G network. Schefter and Woj previously co-starred in a TV spot touting the glories of the Samsung Galaxy phone.
Over the years, Glazer has landed endorsement deals with Visa Checkout, Papa John's, and Subway. Even he was shocked when Subway paid him to star in a national commercial.
"I was like, 'Is it because I'm an insider? They said 'No, it's because you're a personality.'"
Scrutinizing Eyes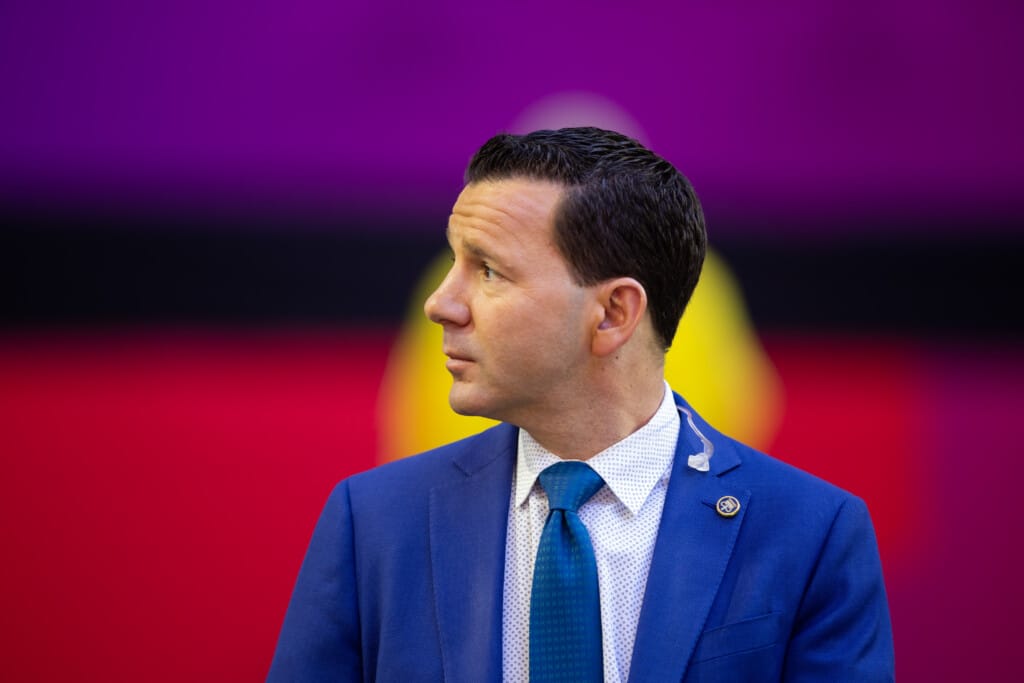 Insiders are fiercely competitive, measuring scoops by seconds, not minutes or hours — and fans enjoy their battle royale.
There's Schefter vs. Ian Rapoport of NFL Network, plus everybody else covering the NFL. Or Woj vs. Charania, former Yahoo colleagues turned rivals.
For years, Glazer poked the ESPN bear, frequently mocking them for using his scoops without proper attribution.
"Does their autocorrect automatically change @jayglazer to Sources?" he memorably tweeted.
But with the money and attention comes increasing scrutiny of how insiders actually operate.
Critics say some play favorites, shilling for sources and punishing their enemies.
Among the rumors over the years, Schefter's been charged with carrying water for NFL headquarters, Woj is said to get his scoops from cowed NBA front-office executives, and Glazer and Chris Haynes of TNT/Bleacher Report have been accused of being friends with players.
Green Bay Packers quarterback Aaron Rodgers recently blasted Schefter and Rapoport as gossip-mongers.
"There's an inner circle and in my inner circle, nobody talks to Ian Rapoport or Adam Schefter or to any of those people," Rodgers told Pat McAfee. "Just stop with the fake news."
Where's The Line?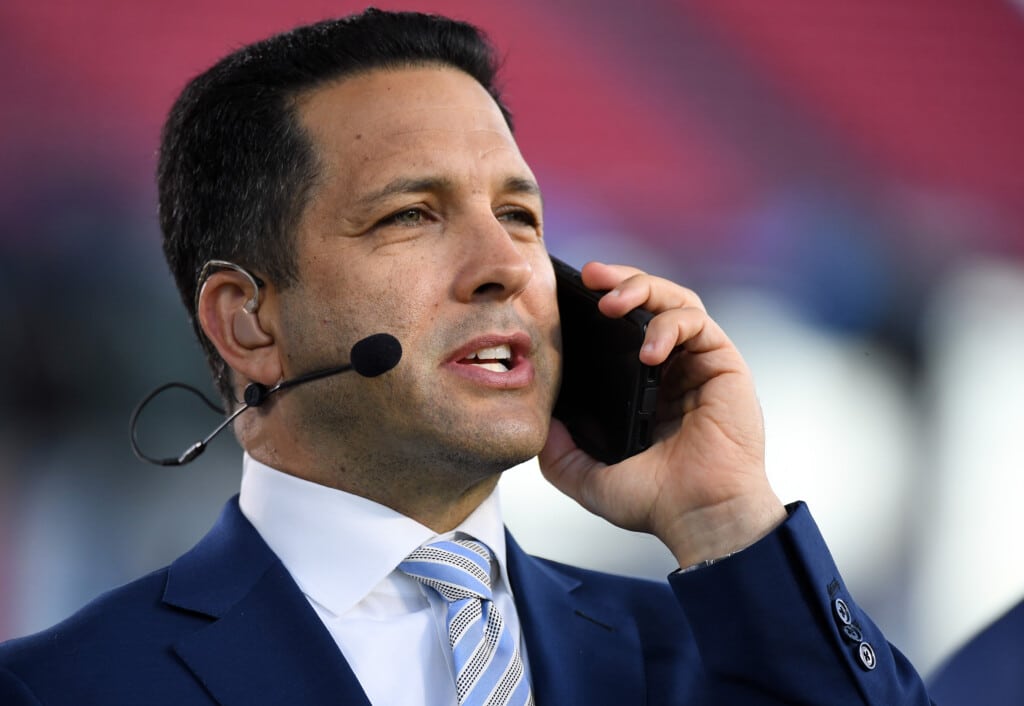 Schefter has been called out for journalistic breaches, such as sending a story draft in advance to former Washington Commanders team president Bruce Allen in 2011.
In his email, Schefter jokingly called Allen "Mr. Editor."
Tom Jones, senior media writer at Poynter.org, thought Schefter clearly crossed the ethical line: "There's no other way to put this: To share an unpublished story with a source before it runs — and to solicit suggestions on that story — is way over the line journalistically. It cannot happen."
Schefter's former ESPN colleague Jemele Hill agreed, tweeting, "That is a huge journalistic NO-NO. Young journalists, that is not how it's done. Ever."
Schefter explained he was trying to double-check the accuracy of a complicated story about the NFL lockout at the time.
"It was a step too far, and looking back, I shouldn't have done it," he admitted in a statement issued by ESPN's PR department. "The criticism being levied is fair."
Then there's the PowerPoint that Woj's reps reportedly sent to NBA executives and agents, urging them to leak news to him instead of his rivals.
"He is the undisputed top NBA media talent in the business," read the documents obtained by Ethan Strauss, who cautioned: "No matter [Woj's] power level, he needs [his sources] more than the other way around."
Leaders and Followers
Much of their power flows from their legions of online followers.
Nearly every major sports outlet now boasts an insider. They operate across the board, from the NFL, NBA, MLB and NHL to combat sports and fantasy. It all starts on Twitter — the virtual locker room for American media. Here's a look at their reach:
| Insider | Media Outlet | Sport | Followers |
| --- | --- | --- | --- |
| Adam Schefter | ESPN | NFL | 10.2 million |
| Adrian Wojnarowski | ESPN | NBA | 5.8 million |
| Ian Rapoport | NFL Network | NFL | 3.9 million |
| Chris Mortensen | ESPN | NFL | 2.2 million |
| Shams Charania | The Athletic, Stadium | NBA | 2 million |
| Darren Rovell | Action Network | Sports Business | 1.9 million |
| Pro Football Talk | NBC Sports | NFL | 1.8 million |
| Peter King | NBC Sports | NFL | 1.7 million |
| Ken Rosenthal | The Athletic | MLB | 1.4 million |
| Marc Stein | Substack | NBA | 1.4 million |
| Buster Olney | ESPN | MLB | 1.3 million |
| Ariel Helwani | Vox Media, The Ringer, BT Sport, HBO Real Sports | MMA | 1.3 million |
| Jay Glazer | Fox Sports | NFL | 1.2 million |
| Matthew Berry | NBC Sports | NFL, Fantasy Sports | 1.1 million |
| Jeff Passan | ESPN | MLB | 1 million |
| Rob Perez | Underdog Fantasy | Fantasy Sports | 1 million |
| Field Yates | ESPN | NFL | 1 million |
It is not just a U.S. phenomenon. Milan-based soccer insider Fabrizio Romano has 14.1 million followers, more than Schefter.
The pace is relentless. Insiders are on-call at all times, often logging 18-hours days. The pressure of competing at warp speed against ESPN's army of NFL reporters took its toll mentally on Glazer.
Not only was the competitive pressure intense, but social media followers piled on if he was "beat" on a story.
"If I tweeted something out 20 seconds before Schefter, if he tweeted something out 30 seconds before me, fans would kill us," Glazer recalled. "They'd be like, 'Oh yeah, you're late. You're too late.' They'd murder us!"
The longtime insider has changed his approach in recent years, leaving the day-to-day Twitter combat to others and saving his scoops for football Sundays on Fox.
"Like Peter King said to me, when you come on 'Fox NFL Sunday,' you always have something the rest of us don't know," said Glazer. "That's where I've shifted now: I want to be as inside as I can possibly be."
Glazer has come a long way from that New York apartment. He gets to hobnob with sports and entertainment royalty. He's close friends with Michael Strahan, writes self-help books, owns a gym and is pestered for fantasy football tips by Hollywood pals like David Spade.
This New Jersey boy is not dealing in hyperbole when he says he's "blessed."
"It's a way better life than me not being able to close my bathroom door. And you can quote me on that."