This weekend, boxing fans will converge upon the fight capital of the world to watch Errol Spence Jr. clash with Terence Crawford, one of whom will be crowned the sport's first undisputed welterweight champion of the modern four-belt era.
The billing of the Las Vegas fight has been consigned to three simple yet potent words: "UNDEFEATED. UNDISPUTED. UNPRECEDENTED."
Diehards have been coveting this matchup for years, waiting to see how Crawford's dynamic switch-hitting, whiplashing style will stack up against Spence's pragmatic efficiency.
But history aside, how many will tune in on pay-per-view to watch two fighters whose appeal is predicated almost exclusively on skills? Beyond any result, the true mark of success might lie in how many casual fight fans hand over $84.99 to Showtime.
Stephen Espinoza, the president of Showtime Sports, calls the matchup "the best fight that can be made in boxing" and "arguably the most-anticipated fight since Mayweather-Pacquiao." The problem is, despite their abundance of skills, Spence and Crawford lack the star power that propelled Mayweather vs. Pacquiao to 4.6 million PPV buys in May 2015 — still tops for boxing all-time.
"The stakes and credibility are there, and both [Spence and Crawford] have very healthy fan bases — and both of them have been headliners and are well-known through the sport," Espinoza says. "What we don't have with this fight is the huge crossover appeal built in.
"The success of the marketing initiative and the performance financially of this fight really depends on how much beyond the boxing audience we can bring in, given that these guys aren't necessarily household names, like a Mayweather or Pacquiao would be."
As advertised, the fight pits Spence (28-0, 22 KOs), the unified WBA, WBC, and IBF welterweight world champion, against WBO titleholder Crawford (39-0, 30 KOs). The winner will become just the 10th undisputed male champion in the four-belt era that began in 2004.
Crawford already reveled in undisputed championship glory as a junior welterweight in 2017. But, at 35, defeating the 33-year-old Spence on Saturday night at T-Mobile Arena would make him the first male boxer to own undisputed crowns in two different weight classes (Claressa Shields accomplished the feat in 2021).
The boxing world is coming off the massive success of April's Gervonta Davis-Ryan Garcia fight, which generated a reported 1.2 million PPV buys in the U.S.
Spence and Crawford do possess otherworldly skills in the sweet science. Mark Taffet, former head of HBO PPV and Shields' current manager, just wonders if the fight has enough thrills to attract the casuals needed to drive its PPV buys up.
"Garcia and Davis, going in, isn't as great a fight as Spence-Crawford," Taffet says. "Skills pay the bills most of the time, but in pay-per-views, thrills pay the bills. Garcia and Davis have a high register on the thrill measure. It makes a difference. In reaching out to casual fans, I think that thrill barometer is also very important. That's historically what's been able to get casual fans to want to spend a night with 10 of their friends or family members.
"So, [Spence-Crawford] is a great fight. The question is: How big will it be?"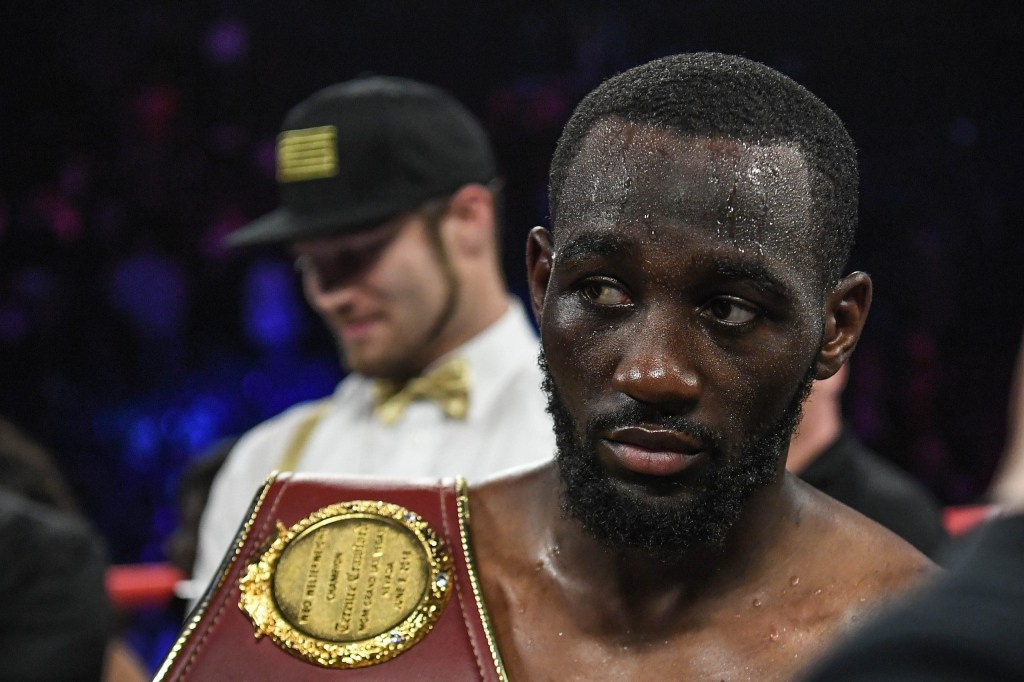 Worthy Of 1 Million?
During his tenure as HBO's senior vice president, Taffet presided over nearly 200 pay-per-views, including Mayweather-Pacquiao and Mayweather-Oscar De La Hoya, which garnered 2.48 million buys in May 2007.
"While they're two great fighters," Taffet says, "it's hard without either fighter having done a million buys, to expect a fight to hit that level."
Spence vs. Mikey Garcia, which ended in a lopsided unanimous win for the former, generated more than 360,000 buys in March 2019. Crawford's 10th-round TKO of Shawn Porter in November 2021 tallied 135,000.
Porter, a retired world champion who lost to Spence in September 2019, has his doubts as to whether the fight can hit the million mark — and certainly doubts its prospects of cracking boxing's top five all-time buys.
"We want it to, but it won't," Porter says. "I honestly don't even think it will come close."
Porter points out the detrimental effects of illegal streaming devices on purchase numbers, but — for selling an $84.99 entertainment product — the fighters' promotion-shy reputations could hurt more.
"Neither of these fighters really have an ability to — or at least they don't utilize their ability to — promote beyond their expectancy," he continues. "I think they're limiting themselves at how much they'll be able to sell and generate beyond what the contract states."
Another area of concern for Porter: These fighters just don't seem to hate each other enough.
"There's no true animosity in this fight," Porter believes. "There is animosity in this fight, but it's not at the malicious level that most people expect it to be. So I think if these two created buzz beyond what's been going for them already — using social media — that is what could take the fight to another level in terms of the revenue it's going to generate."
Throughout their promotion, which has included press conferences in Los Angeles and New York City, the two relatively mellow personalities have largely heaped respect on each other (things finally got heated during the final fight press conference Thursday).
Crawford says: "You don't have to start talking about somebody's dead people in the grave to get them mad — and then they start talking about your mama, and then they start bringing up personal remarks to what you said to them — just to sell fights."
Even with such low-level hype, the interest is there. As of Friday, Showtime's ALL ACCESS, which documents both fighters in training camp and their daily lives, has garnered close to 4 million YouTube views over two episodes.
Espinoza, who helped orchestrate the colossal 4.3 million PPV Mayweather vs. Conor McGregor fight in August 2017, is fine with the Spence-Crawford buildup and approach.
"This is in many ways an old-school fight," he says. "It's not about frills, it's not about fan bases, it's not about social media, it's not about hype and a big circus. These are the two best guys in boxing. There's not a need for WWE-style personas, all the theatrics of social media feuding to build it up.
"I think what we're seeing already in the magnitude of this fight and commercial appeal and what we'll continue to see going forward, is that it isn't necessary."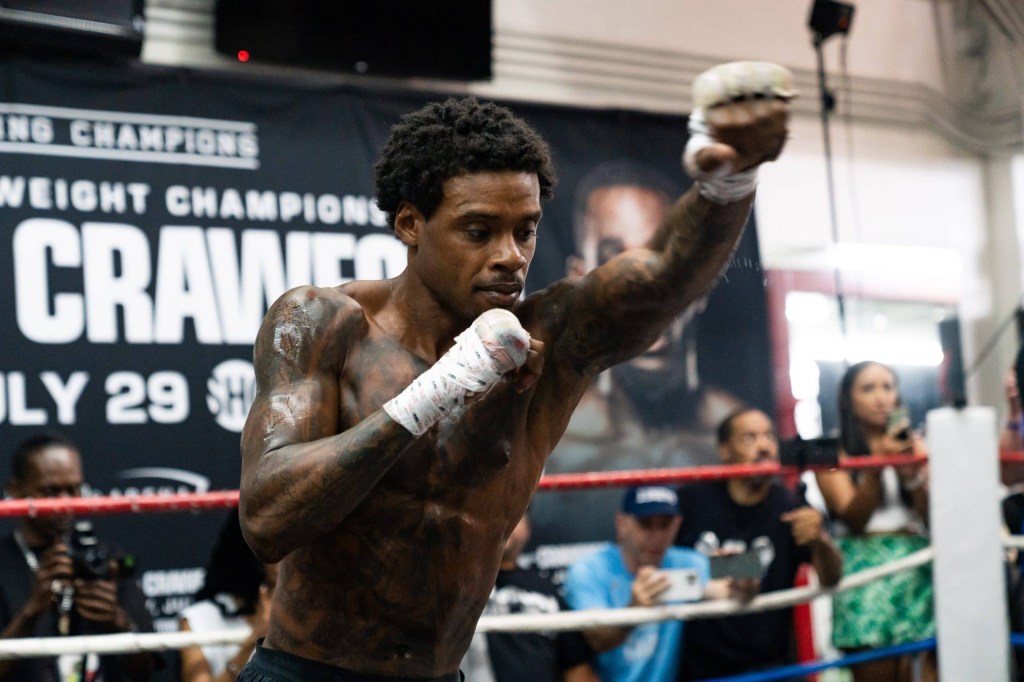 Measuring Success
The value of this weekend's coronation is perhaps unfair to judge by numbers alone — especially in a sport that often struggles to pair dancing partners together for a timely prize fight.
Spence vs. Crawford suffered a few false starts. The star boxers fought under two different promotional outfits — Premier Boxing Champions and Top Rank, respectively — for years, the usual politics kept fans from seeing the top fighters at 147 pounds converge.
All that posturing ended when Crawford parted ways with Bob Arum's Top Rank after defeating Porter in November 2021, paving the way for the highly anticipated clash.
"The measure of Spence-Crawford success won't be whether it brings in cash or fans — it will be that it reignites and reinforces in boxing fans' minds that the sport cares about making the biggest and best fights," Taffet affirms.
"That's very significant because the sport has so many factions and splinters at this point. I think Spence-Crawford is very important because it is one of those best-versus-best fights. You can't get a better-quality fight going in, and that is very important for boxing fans to feel."
Spence implores fans to support this pay-per-view, noting that their willingness to do so could affect the future.
"If when we fight, people come out and watch the fight, order the fight, people in the suits will look at it like, 'Man, people are excited. The top guys are fighting each other,'" Spence says. "But if people aren't coming to the fight, aren't tuning in, then why not fight somebody ranked in the Top 10 or Top 15, if I'm getting paid the same?
"You're showing people, when you're fighting each other, that with risk comes huge rewards."