The News Rundown
Crypto Gaming
FTX has invested in gaming — heavily.
Most recently, the world's third-largest crypto exchange acquired crypto gaming company Good Luck Games, the developer of the fantasy card video game "Storybook Brawl." The terms of the deal were not disclosed, but FTX has been very active in the gaming space throughout 2022.
In February, FTX announced it would be introducing a new team focused on driving cryptocurrency and NFT adoption in gaming. The new service is reported to be a "crypto as a service" team which will offer game publishers the ability to launch tokens and NFTs in their existing game ecosystems.
"There are 2 billion-plus gamers in the world who have played with and collected digital items, and can now also own them" a spokesperson for FTX said around the time of launch for the platform.
The firm also raised a $2 billion fund in January focused on growing crypto across social, gaming, financial, and healthcare products. In the past six months, FTX has invested in:
But that's not all. Alameda Research, the quantitative trading firm founded by Sam Bankman-Fried, recently joined Galaxy Digital and Republic Crypto to create an investment consortium to bring gamers into the Web3 ecosystem. The thesis for the group is that new and improved revenue opportunities are becoming available for game developers through blockchain technology, and the consortium ("NG+") would provide a bridge to Web3 for developers to take advantage of the new economics.
One early insight from the group is the rise and fall of the highly touted play-to-earn ("P2E") gaming space. While the ability to earn native game currencies was all the buzz in the summer of 2021, token prices for P2E games have come down significantly as the ability to onboard enough users into the ecosystem has decreased demand. Axie Infinity, the largest such gaming company by value, has seen the value of its tokens fall from $0.40 in 2022 to ~$0.02 today.
NG+ will look to bring continued business model innovation to the space. Richard Kim, a general partner at Galaxy Digital, is looking to implement business models that take advantage of some of the inherent network effects blockchain and crypto have to offer.
Real sustainability will be driven by 'pay-to-win-to-win' models, where a defined player base is willing to pay for tokens to apply their skills in the hopes of earning a bigger share of the network's rewards. Giving players free tokens to start might be the best way to build this demand.

Richard Kim, General Partner Galaxy Digital
Netflix Gaming Ambitions
Netflix has recently been active on the mobile gaming front, as one of the world's most preeminent streamers recently announced the addition of three new mobile games that will be available on Android and iOS.
The games include the following (excerpt from the Verge):
This Is A True Story is an educational role-playing game created to share a true story of a Sub-Saharan African woman's daily struggle to get water for her family, according to Netflix. The game was made by developer Frosty Pop in collaboration with Charity: Water. Shatter Remastered is an updated take of the hit brick-breaking game that first released on PS3 in 2009. And in Into The Dead 2: Unleashed, a hybrid FPS / runner game, you'll have to survive waves of zombies.

-The Verge
In July 2021, Netflix announced the hiring of former Electronic Arts and Facebook executive Mike Verdu as vice president of game development. The company's had long-standing gaming ambitions, with a 2019 letter to shareholders stating that "[w]e compete with (and lose to) 'Fortnite' more than HBO."
In September 2021, after the debut of its "Stranger Things" games, the company announced the acquisition of gaming studio Night School with the ambition to build out an ecosystem of games that will help retain users.
User retention is the stated goal for Netflix, which currently has no plan to earn direct revenues (through its games specifically). But there is a clear path to revenues if the company chooses to change its stance. According to data aggregated by Statista, gaming represented 53% of all of the digital media revenue in 2020 ($134 billion). Additionally, global video game sales are anticipated to grow substantially across all geographies through 2025.
While Netflix's current posture is that revenues will not be a driver, slowed subscriber growth could necessitate further investment in the gaming space.
Animoca Keeps Raising
Animoca Brands has been one of the most active companies at the intersection of blockchain and gaming. The company and its various subsidiaries develop and publish a broad portfolio of blockchain games, traditional games, and other products within the gaming sphere.
Animoca and FTX invested $500 million in gaming platform C2X.
Private Equity giant KKR is looking to make an investment in Animoca.
The firm raised $360 million at a $5.4 billion valuation in a round led by Liberty City Investments.
Animoca acquired motorsport game developer Grease Monkey Games for an undisclosed amount.
In addition to the information listed above, Animoca created the metaverse platform The Sandbox and blockchain-based game "Olympic Games Jam: Beijing 2022." It also has investments in Fan Controlled Football and NBA Top Shot.
Blockchain Gaming Alliance Summary
Recent reports have detailed some of the important trends that pertain to blockchain adoption specifically within gaming. In February, the Blockchain Gaming Alliance published a report on the future of blockchain adoption, the roadblocks for technology adoption, and potential future plans.
The 32-page report covers a variety of topics, but we pulled out some of the most pertinent data as it relates to technology adoption and the ways developers see the technology being utilized.
68% say play-to-earn has been the biggest driver behind industry growth.
85% say that true ownership of digital goods is the most important aspect of blockchain games.
86% believe at least some of the traditional gaming industry will use blockchain within two years.
52% say regulatory uncertainty is their biggest concern and the industry's most significant challenge.
In addition, the report indicated that adoption of the technology has been rapid within the industry subset.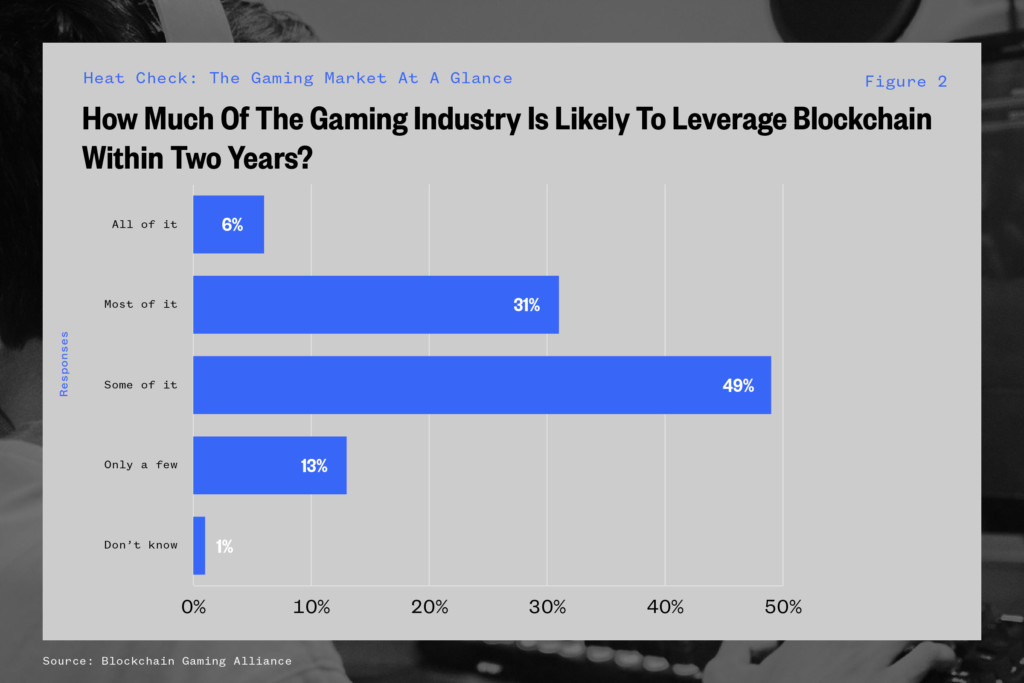 Members of the Alliance also believe that those within the broader industry — over 40% — will adopt the technology within the next two years.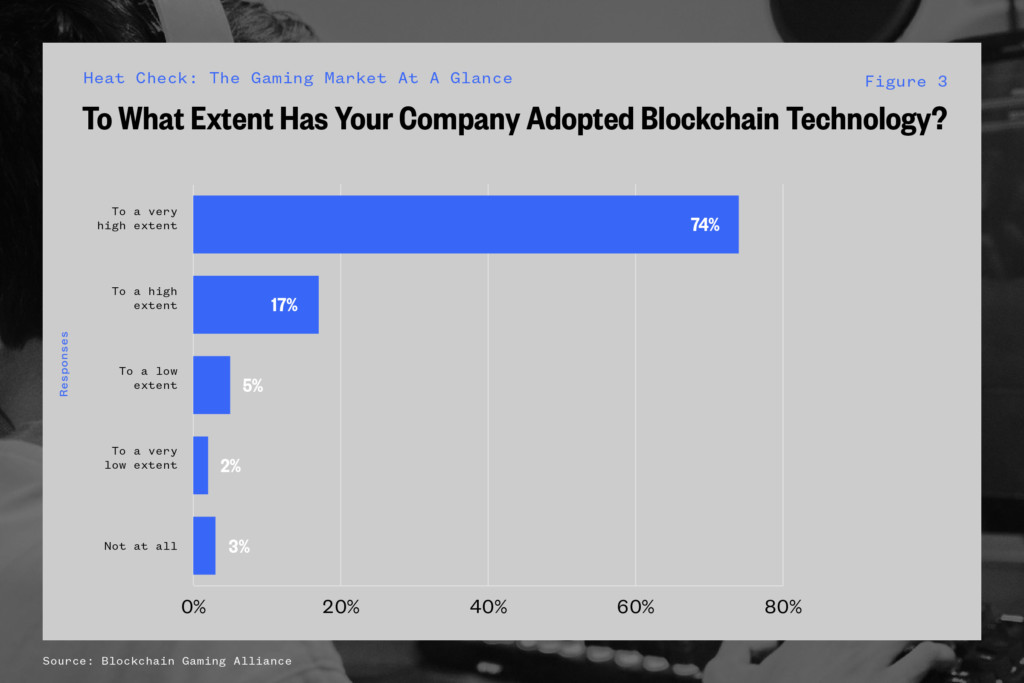 In the report, co-founder and CEO of DappRadar Dragos Danica contends that while adoption is still low, most entrenched participants are incredibly bullish.
"Blockchain gaming has firmly established itself as the industry's darling. With the consumer growth participating in blockchain games, dapp [decentralized apps] and gaming trends will come together into something even bigger and potentially all-encompassing: the Metaverse."
Legacy Gaming & Monetization
While blockchain technologies allow for new forms of monetization within games, the vast majority of the gaming industry relies on two main sources of income. Ad-based and in-game purchase income are currently the most common methods of monetization.
According to data from Unity, in-app purchases ("IAP"), which measures player spending within games, have increased significantly since 2020. Throughout the pandemic, IAP revenue rose in the Americas, Europe, the Middle East, Africa, and Asia-Pacific.
While the Unity data shows revenue growth that can be attributed to increased player activity, it also hints at the fact that the implementation of in-app purchases can be successful, as long as it does not disrupt player experience.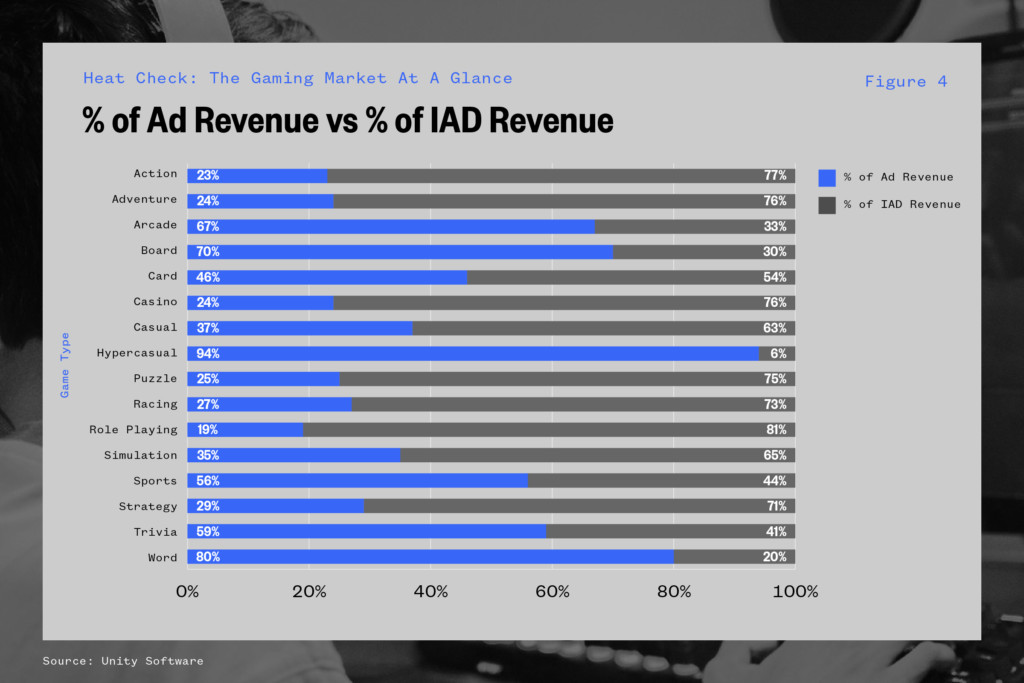 Ad-based and in-app purchasing grew across categories — a trend Unity expects to continue.
International Markets
One key area to highlight for the gaming industry is the international market. TechCrunch recently published an article detailing the establishment of the Pan African Gaming Group ("PAGG"). Ten game development studios in Africa have unified in order to build a more cohesive industry. Content is currently fragmented, and the Group will look to unify the 85 million internet-enabled African citizens.
The list of members currently includes:
The PAGG will develop its games under African game store Gara and content hub Afrocomix, which will allow for localized distribution and monetization. Utilizing Gara and Afrocomix will allow for mobile and other payment options across local markets.
The opportunity, if properly capitalized, is substantial. As reported by TechCrunch and covered in the 2021 GSMA mobile economy report, 303 million people — about 28% of the population in sub-Saharan Africa — are connected to mobile internet. That number is set to grow to 474 million by 2025, creating an even bigger market for the gaming industry.