In the News
Over the past 24 months, Pickleball has evolved from a niche sport to a national sensation. After increased exposure during the pandemic, the sport continues to receive national attention from both professional and recreational leagues. From celebrity investors like Gary Vaynerchuck buying into Major League Pickleball to new retailers like Pickleball Central increasing sales by more than 40%, the narrative continues to be one of growth. Search volume for "pickleball" is still at an all-time high.
The sport has become such a phenomenon that in late May, MLP brought its nets and racquets to the New York Stock Exchange to take part in a historic Pickleball game in front of the iconic Wall St. institution.
The event celebrated the upcoming MLP draft and season launch, with the former being an invitation-only event live-streamed exclusively on MLP channels including MajorLeaguePickleball.net, MLP YouTube, and Facebook. 
While the viewership numbers are not yet available, there has been demonstrated interest by networks and news outlets as well as increased growth across social platforms.  
Networks like CBS are broadcasting games.
Major sports brands such as Head and Franklin are selling pickleball gear and sponsoring pickleball players.
The New York Times is dedicating full reports to the sport.
Pickleball influencers (i.e. Leo Chun) are popping up across social platforms. 
So how did we go from a 50-year-old legacy sport to one of the fastest-growing outdoor activities in the country? Let's take a look.  
As previously stated, the growth is due in part to the pandemic. As a sport, pickleball is easy to learn and play in socially distanced settings, assets which allowed the sport to become a case study in marketing. In October 2019, USA Pickleball hired marketing consultant Laura Gainor to revamp the organization's strategy.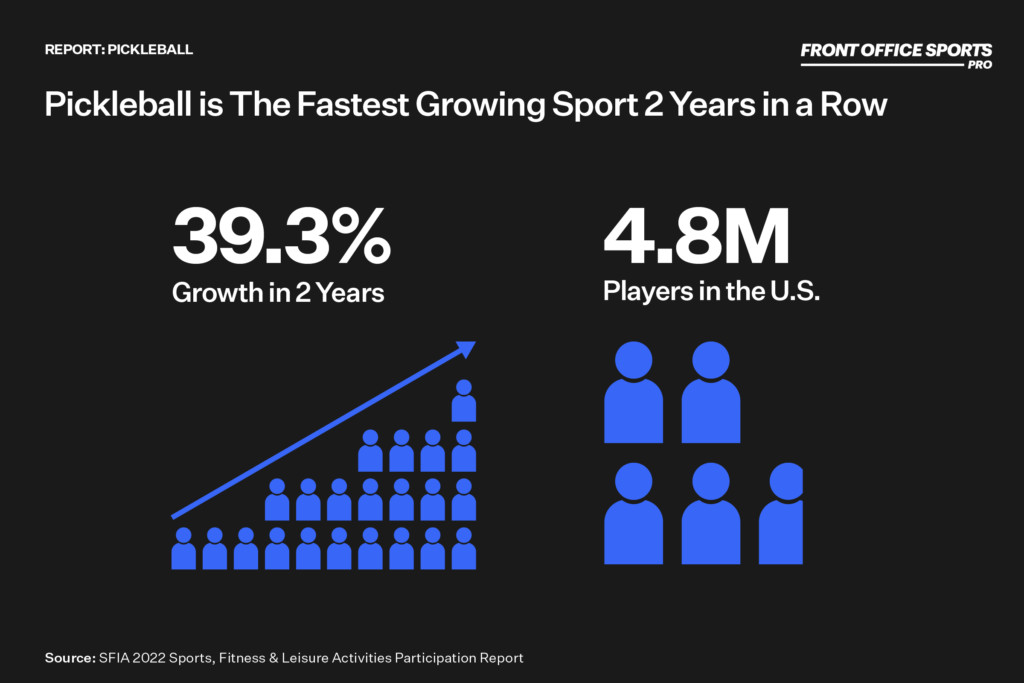 The brand refresh came to fruition in the summer of 2020. While the sport has traditionally been reserved for elderly populations, Gainor focused more on youth, targeting the 40-and-under demographic.
In an interview with Marketing Brew, Andt Larsen, partner at ad agency Boelter + Lincoln, commented: "We wanted to grow the game and reposition it to make it not just something that was perceived as an old-person sport, but something that appealed to everyone."
Involved in the refresh was a new name, logo, and website, all based on Boelter + Lincoln's qualitative and quantitative research, according to creative director Garth Cramer.
Increasing Demand 
As recently as June 14, the New York Times published a report on the national demand for more space to play America's new favorite sport. The article focused on the various ways in which new courts, athletic facilities, and recreation centers are cropping up around the country — sometimes with municipal funding. The demand for spaces to play is there, and developers are capitalizing on the opportunity to build. 
According to the article, Redondo Beach, California, budgeted $65,000 for new courts and a feasibility study on possibly adding more capacity to build facilities. Additionally, Lincoln, Nebraska, has already spent $200,000 on new courts and is creating a master plan for further expansion. 
The question is how to package the facilities. Investors are currently split on whether standalone pickleball facilities can become successful businesses, or if they will require additional build-outs for overall utilization. According to CityParks, more than a dozen cities have more than one pickleball court per 20,000 residents — a figure expected to more than double in the coming months.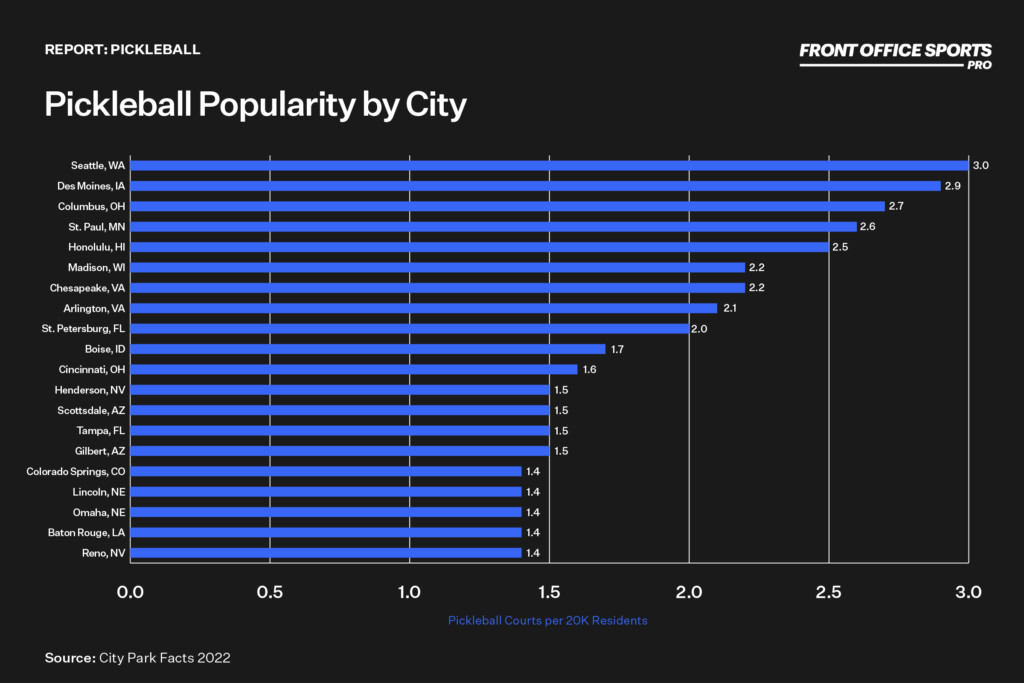 The lack of consensus has led to different concepts meant to attract broader audiences, ranging from facilities with craft food and other amenities (i.e. Top Golf) to more elaborate setups including full restaurants and other non-related facilities. In any case, facilities require ample space and significant capital expenditures.
The article highlighted various examples of facilities currently being built.  One such example is Lucky Shots, which opened in October 2021 in a 40,000-square-foot space that once housed the Foley Manufacturing Company, a maker of kitchen tools. The facilities were not limited to refurbished manufacturing companies. The Minneapolis Cider Company installed four indoor courts. Life Time Fitness also opened its first facility dedicated to pickleball in one of its former gyms in Bloomington, just south of Minneapolis. 
I've been in the health and fitness business for almost 40 years and never seen such organic growth,

Jeff Zwiefel, Life Time's Chief Operating Officer.
The high-end health club group Life Time, with more than 160 locations in 41 markets, is currently in the process of adding courts and continues to be one of the early adopters taking advantage of the growing market and associated growing revenues. 
Life Time provides a case study for existing facilities adding pickleball as a feature. Founder and CEO Bahram Akradi said that since October 2020, Life Time has added 84 permanent courts at 30 clubs. Most recently, in the last month, 7,000 new players picked up the sport at Life Time clubs, representing a 1,100% YoY increase.
The strategy has worked so far for Life Time — so much so that the company is doubling down in a big way. 
By the end of next year, our plan is to deliver 600 to 700 dedicated pickleball courts across the country. So a Life Time member can participate in events even if they're traveling. 

Bahram Akradi
The company will also be adding $50 million to $75 million in investment and build additional courts by the end of the year.
In my 40-plus years doing sports fitness, I've seen all kinds of stuff come and go — get the momentum and then lose it, and this sport, I don't see [that happening]. It's just easier, and it's broader. It brings people together, and there's really no reason for people not to be able to do it.

Bahram Akradi
While costs to implement new facilities are and will likely continue to remain high, the increasing demand for places to play and continued adoption of the sport by an increasingly younger demographic will drive development. 
Pickleball's Grow​​th
Pickleball boasted 4.8 million players last year in the U.S., a participation growth rate of 39.3% since 2019, according to the Sports & Fitness Industry Association's 2022 Topline Participation Report. And from 2020 to 2021, growth was fastest among young players: Participation among 6-to-17-year-olds and 18-to-24-year-olds each surged by 21%.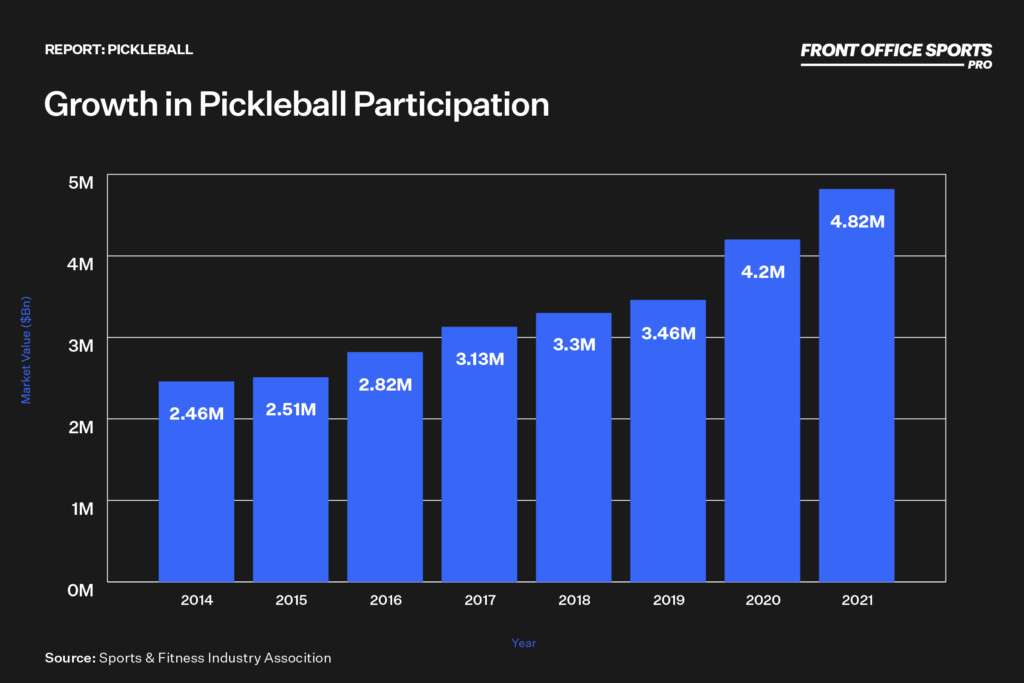 According to additional statistics provided by SFIA and USA Pickleball, about 60% of pickleball participants are men, but female players are arriving at the sport at a faster rate. And the average age continues to drop — to 38.1 in 2021 from 41 in 2020.
We have an additional breakdown of demographic data below.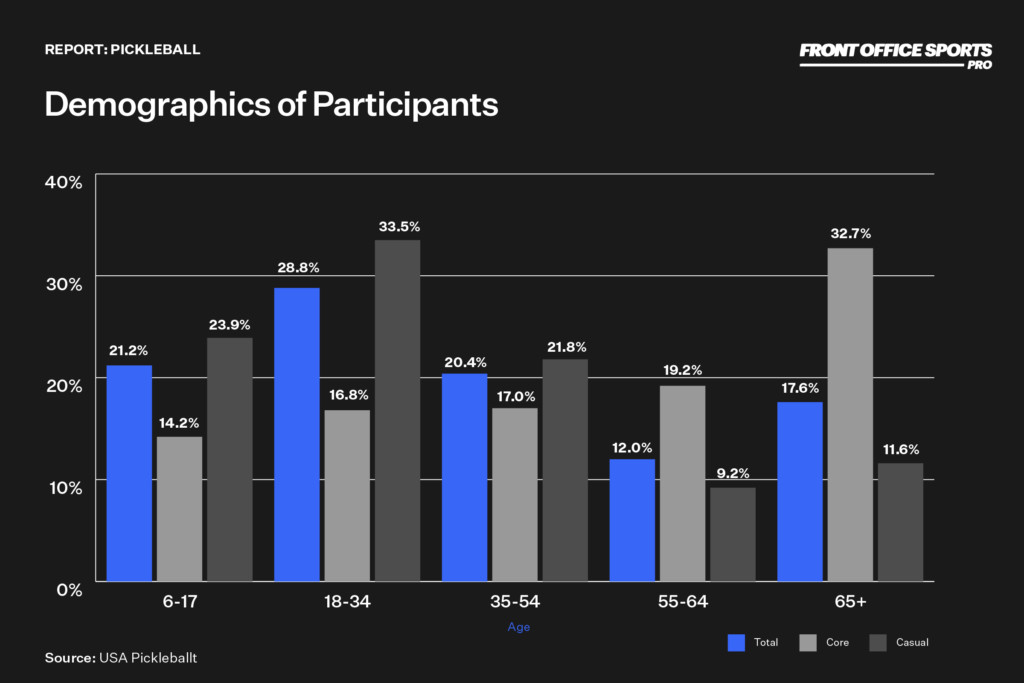 Retail sales are also benefiting from the sport's rapid growth. Its sudden popularity has spiked sales at Pickleball Central, the largest pickleball retailer in the U.S., which reports a 30%-to-40% increase in unit sales year to date. And Selkirk (paddle manufacturing company) is on track to sell more than 1 million paddles by the end of 2023. The co-CEOs said the company has tripled in size since 2020.
MLP League Structure
While growth for recreational users has been clearly demonstrated through some commercial development, professional pickleball is also having a moment. 
As a fledgling league, MLP officially launched in September 2021 with the promise of bringing a competitive and viewer-friendly league to market. The new professional league is backed by some prominent investors, including Milwaukee Bucks co-owner Marc Lasry, former American tennis star James Blake, and world-renowned entrepreneur Gary Vaynerchuk.
The league is most analogous to an international golf tournament, with teams competing for prize money of $100,000 (aggregate) for the winning team. The format is simple: Each of MLP's 12 teams has four players—split evenly between men and women — who compete in a Ryder Cup-style format.
The season opener for 2021 offered more than $150,000 in total prize money, and although most pro pickleball players still have second jobs, the world's best players earn around $200,000 annually, with racketsportsworld.com citing average pay ranges between $50,000 – $200,000 through prize money, sponsorships, and other revenue streams.
The league structure and player compensation are relatively analogous to what we see in other major sports leagues. The ownership structure, however, is somewhat different. Team owners in MLP own both shares in their individual teams and also in the league itself. This means that owner wealth grows as the league grows, not just as franchise values appreciate. 
Initial investments in the league were reportedly around $125,000 per team. With individual players now making more than that sum, there seems to be an incredible amount of runway for financial growth for both the league and its teams.