In the News
Last week, Forbes, Salesforce Ventures, and Bessemer Venture Partners opened up submissions for their 2022 Cloud 100 index — a definitive list of the top 100 private cloud companies.
Private companies were selected for growth, sales, valuation, and culture — plus a reputation score derived in consultation with 34 CEO judges and executives from their public-cloud-company peers. The list — whose 2021 version included companies such as Stripe, Databricks, Canva, Toast, HashiCorp, Plaid, and Figma — emphasizes the effects cloud computing can have on business solutions at scale in an increasingly digital environment.
For years, investors have hyped the emergence of Facebook, Apple, Amazon, Netflix, and Google as the flag bearers of the new economy. But as the trends of internet and mobile mature, there is a changing of the guard underway in the $2.3 trillion industry. (NOTE: Bessemer encapsulates a higher total percentage of public cloud companies than Gartner).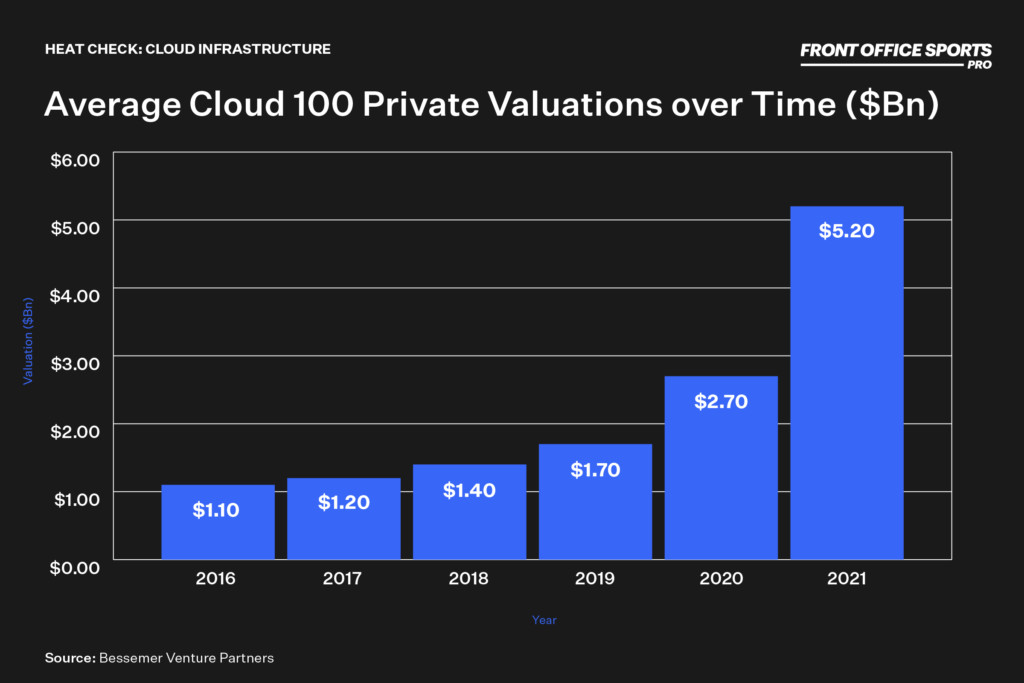 In addition to the announcement by Bessemer, Axios senior technology reporter Ina Fried published a piece on Login detailing how the Golden State Warriors are leveraging their current relationship with Google Cloud to generate significant and meaningful fan insights at the Chase Center.
"The Warriors receive a large amount of data on fans, particularly through their Chase Center app that allows users to order food, find their way through the arena and play interactive games, along with other features."
-Ina Fried, Axios
The app's opt-in data allows the team to create custom-tailored mobile experiences for fans while driving increased revenues for the franchise. According to Fried's report, the Warriors' stadium is filled with hundreds of beacons for precise indoor location and navigation, along with Cellular and WiFi gear throughout the arena. This has led to the team shifting exclusively to mobile ticketing and adding contactless payments throughout the arena.
Cloud Computing
As an industry, cloud computing can sometimes be considered a proxy for the growth of the general technology market. It's fast gaining traction as firms embrace data-driven business models, remote and hybrid work environments, and global supply chains.
Like so many other industries, cloud computing saw an inflection point of growth during the 2020 pandemic. As the workforce shifted to the virtual realm and businesses shifted their focus to providing digital services and cloud solutions from infrastructure to platform and software-as-a-service, Gartner forecasts that global public cloud services spending will surpass $1.3 trillion by 2025 (this refers to spending on cloud infrastructure, not total market cap).
In the public markets, the cloud has been one of the most consistent areas of growth for the world's largest technology companies.
Public Market Dynamics
So, where does the market currently stand? According to Canalys, worldwide cloud infrastructure services spending increased 34% to US$55.9 billion in Q1 2022, as organizations prioritized digitalization strategies to meet market challenges. The latest Canalys data estimates companies spent over $2 billion more than in the previous quarter and $14 billion more than in Q1 2021.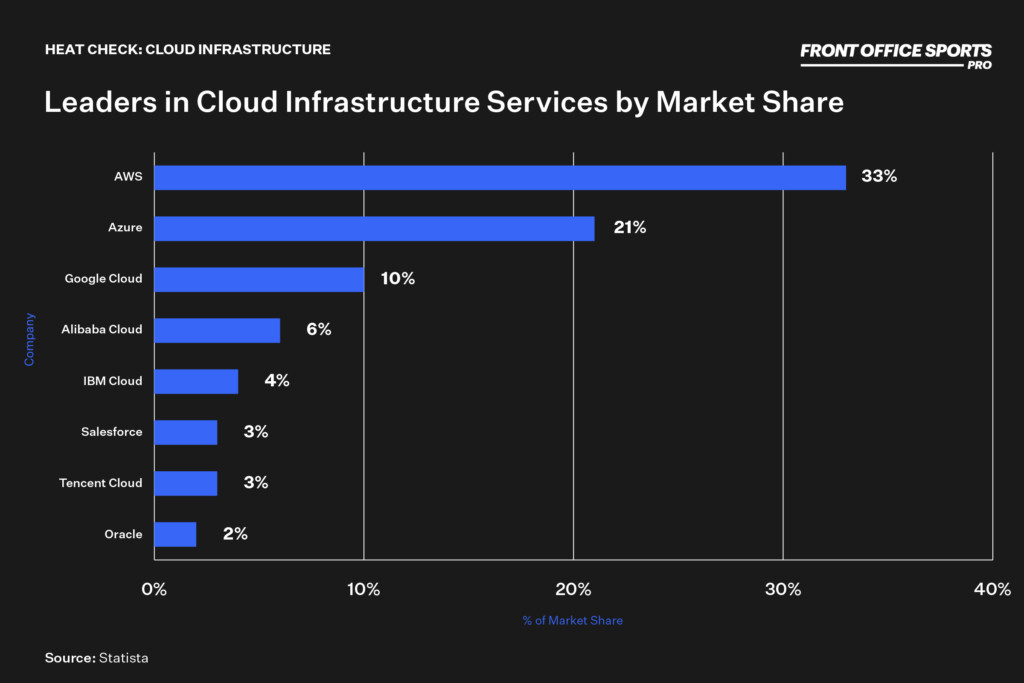 The top three cloud service providers (AWS, Azure, and Google Cloud) have benefited from increased adoption and scale. Collectively, the cohort has grown 42% YoY and currently accounts for 62% of global customer spend in the space.
As is the case in many industries, Amazon Web Services (AWS) was the leading cloud service provider in the first quarter of 2022, accounting for 33% of total spend after growing 37% over the previous year. AWS has continued to grow its existing (and sizable) client base on telecommunications companies like T-Systems, Verizon and Telefónica.
AWS remains the largest cloud services provider among its peers, having controlled almost a third of the cloud computing market for years. What is important to note, however, is that Amazon has maintained a steady percentage of a pie that is dramatically expanding — and some of the industry's legacy participants are slowly encroaching on AWS's market share.
Enter Microsoft. Azure – Microsoft's cloud computing service – was the second-largest cloud service provider in Q1, growing by 46% to take a 21% market share. The growth was predicated mostly on the acceleration in large, long-term cloud contracts with corporate clients. During the period, Microsoft doubled the number of Azure contracts over $100 million, compared with Q1 last year.
In 2021, La Liga announced a partnership with Microsoft as its global tech and innovation partner. Microsoft was tasked with helping develop and leverage new and existing technologies to provide solutions across a wide range of stakeholders, as detailed in its announcement:
For sports fans, Azure Event Hubs, Azure Data Lake, Azure Databricks, and Azure Machine Learning will provide data-enhanced match coverage and personalized OTT streaming options such as camera-angle selection in matches. La Liga will offer new experiences such as augmented reality, virtual reality and 3-D replays.
For rights holders, broadcasters and commercial partners, Azure, Dynamics 365, Power BI, SQL Database and Azure Cosmos DB, and Azure Machine learning will enable an enhanced OTT streaming platform that features personalized recommendations and enhanced experiences with relevant content, games, and services.
For venue managers, Power BI and Azure will streamline stadium operations through innovations in security and leverage 5G for unified in-stadium experiences.
Azure continues to gain ground on AWS, and the company is further expanding its cloud services into gaming with the Azure Game Development Virtual Machine. Microsoft's cloud platform now offers a game development workstation that can be set up in minutes.
During last week's frenzy of tech earnings, Google Cloud was the fastest-growing of the top three, increasing by 54% during the quarter and accounting for 8% of the market. According to the earnings call, the company continues to focus on digital sovereignty, analytics, AI, and cybersecurity.
Google is investing heavily in expanding its regional data center footprint around the world while partnering with the likes of Mahindra to migrate its data centers to Google's Cloud. Google Cloud also continues to turn to channel partners for greater customer reach, scale, and sales efficiency as it seeks to reduce operating losses in its cloud business, which in Q1 reached $931 million.
In sports, Google Cloud became the official cloud partner of MLB back in mid-2020 — taking over from previous partner Amazon. Google Cloud's machine-learning technology will be used to analyze player data and create statistics for Statcast. MLB and Google have collaborated on adding new analysis tools and statistics as part of their new multi year partnership.
One of the more recent implementations of Google's systems has been MLB FieldVision, which was introduced in 2021. FieldVision takes all the data collected from the field, where it tracks 18 points on a player at any point in the game. It captures what they do with field-level cameras at 60 frames per second, enabling MLB to recreate the game in 3D wireframes from any angle.
Looking Ahead: Smarter Cloud Delivery Models
The future of cloud computing lies in increasing distribution.
Many internet services are already integrated with cloud computing, and physical infrastructure will not be very successful if it can't sustain big corporate organizations. Many organizations have already adopted cloud computing services for their workloads. Around 80% of the world's largest corporations are using cloud computing, a number expected to increase 90% by 2024.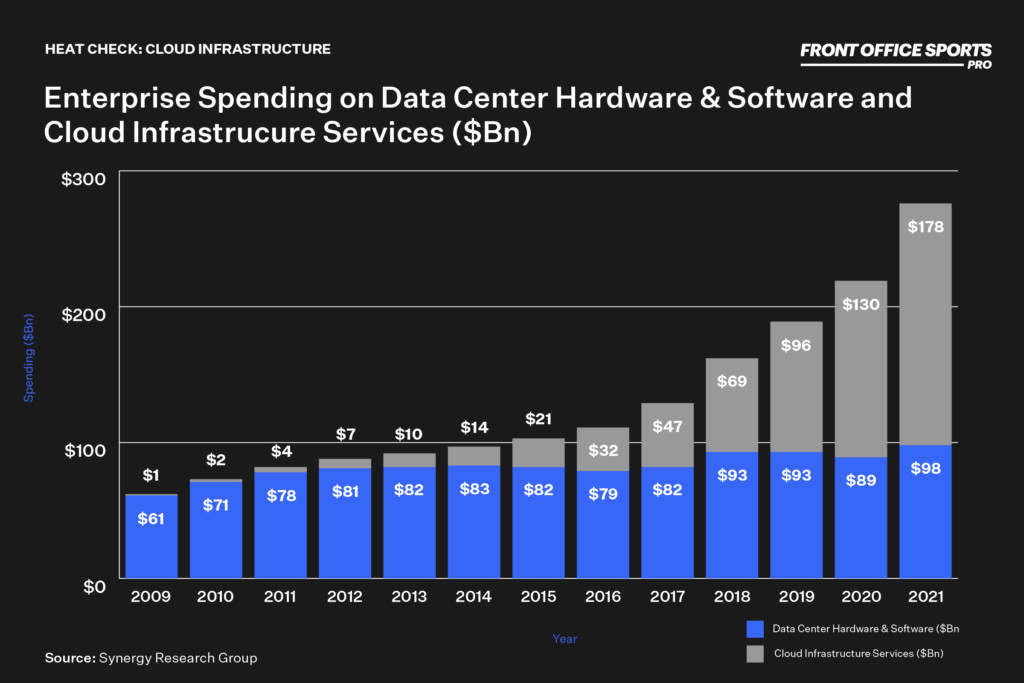 As it currently stands, cloud services are delivered in various ways. The delivery model chosen by a business is determined by its functional requirements, the maturity of its information technology, and its data governance requirements. Two increasingly popular areas are hybrid cloud and serverless cloud solutions.
Hybrid Cloud: Hybrid cloud combines public cloud services with an organization-specific private cloud deployment. This is particularly true for businesses that gather sensitive data or operate in highly regulated industries such as insurance, where data privacy is crucial. A hybrid strategy is popular because it enables organizations to maintain control while making nimble changes as they offer new services to their customers.
Serverless cloud computing: Serverless is a subset of cloud computing that enables enterprises to use IT infrastructure on demand without investing in or managing it. Serverless models are gaining traction among large and small enterprises that want to develop new apps quickly but lack the time, personnel, and funds necessary to manage infrastructure. This enables emerging businesses to access more processing power at a reduced cost, while huge enterprises can introduce new digital services without adding to the effort of their already overworked IT staff. The name "serverless" is a slight misnomer, given the fact that servers are still used by cloud service providers to execute code for developers. In the serverless model, the cloud provider allocates machine resources on demand, taking care of the servers on behalf of their customers.
The multi trillion dollar cloud computing industry has a significant impact on every major sports league, particularly as they look to continue to engage fans through digital experiences. Like many businesses, leveraging cloud infrastructure solutions can unlock business insights related to revenue and cost management while providing customers with improved experiences.