In the News
On Feb. 14, Quartz Africa correspondent Alexander Onukwue published a piece detailing the story of an African Fintech founder's ambitions to start a professional soccer club — from scratch. The founder in question is Shola Akinlade, and his company Paystack was acquired by fintech and payments giant Stripe in 2020 for over $200 million.
Akinlade's squad Sporting Lagos played its first match on Feb. 12th at the Teslim Balogun Stadium in Lagos. In an interesting move, the club invited the general public to support the establishment by becoming Founding Members at a one time fee of NGN 50,000 ($100). As it currently stands, the club is in Nigeria's second division, with plans to join the country's premier competition, the Nigerian Professional Football League (NPFL) next season.
The club's founding team boasts a star-studded roster of tech and media execs with ties to the region. The organizational structure allows Akinlade to remain the head financier of the endeavor while his team focuses on building an African soccer powerhouse. The current team, aside from Akinlade, includes:
Godwin Enakhena, CEO of Global Media
Uzo Okonkwo
Ekene Agu
Colin Udoh, former Super Eagles media officer
Fola Olatunji-David, early-stage investor and former Google employee
The founding team is highly focused on providing the best matchday experience possible. As it currently stands, state-owned clubs are the norm, subject to the whims of their incumbent governors. If soccer isn't a priority, then the club suffers — and as with most government-run programs, there is a lack of innovation. The Sporting Lagos team is looking to bring a European-style experience to the African leagues.
One of the main ways they have decided to lay the foundation for this new model? The Founding Members club. The benefits are unclear, but the intimation of some type of participatory ownership is promising for future owners looking to build out a club structure.
"Sporting Lagos FC was conceived because we want to employ our knowledge to create a 360-degree experience in football management. We want to create a family-oriented club, which will offer more than just football to fans."

-Shola Akinlade
The Paystack founder has his work cut out for him,but it is undeniable that he finds himself in the middle of an interesting trend — across sectors — investing in Africa.
Why It Matters
African tech companies have quietly become one of the fastest-growing investment categories. Prior to this year, 2019 boasted the highest total capital, with ~$2 billion raised. The figure, though small compared to more developed countries (let alone continents), was a sizable increase from the $277 million in 2015.
In 2021, that number more than doubled as approximately $5 billion of capital poured into African startups. While the total number is unknown (due to different methodologies by different firms) the numbers across studies bear out the thesis that African tech is currently having a moment.
Briter Bridges: African startups raised $4.9 billion in total estimated funding — $4.65 billion disclosed and about $300 million undisclosed. It's more than a 250% increase from last year's total funding of $1.3 billion. This funding was raised from over 740 deals, up 25% from 2020.
Partech: $5.2 billion from 681 equity rounds, up 264% from 2020 figures of $1.4 billion. The firm said the number of deals it recorded almost doubled, increasing 92% year-over-year from 359 deals in 2020.
New African startups are flush with capital, ready to build, and ready to advertise their products.
Much as the Super Bowl saw an influx of crypto-related ads, Sporting Lagos first match saw banners for many of the region's up-and-coming tech companies. According to Quartz, Nigerian tech brands such as Piggyvest and Helium Health were prominently featured at the match,continuing the trend of technology companies leveraging sports as a marketing and customer acquisition funnel.
There is more evidence of tech companies leveraging African markets. TikTok and Binance were two of the official sponsors at the Africa Cup of Nations. The results were strong. TikTok saw 1 billion views on its platform and more earned media through various channels.
A trend that we have observed closely in the U.S. with up-and-coming tech companies — leveraging sports for distribution —is now taking place in African nations, although in this case the sports properties are at an equal growth stage to the companies trying to leverage them. But that could soon change. Just look at the NBA's investment into Africa.
NBA Investment
Last year, the NBA announced its Africa business operation, including the development and establishment of partnerships, content and media operations, and support for local governments looking to build initiatives around the sport. According to league executives, the NBA anticipates that basketball will be a top sport in the continent within the next 10 years.
According to a CNBC report by Jabari Young, the investment in the Africa endeavor could be as large as $1 billion. With current investors ranging from Loul Deng and Joakim Noah to Forest Whittaker and Barack Obama, the league has real teeth. More importantly, the plan is for sustainable growth. If the league is able to capture any portion of a 1.26 billion population, it could be a huge boon to the league and rights-holders as well.
The NBA's business in Africa can be compared to its Chinese operation. NBA China has become a $5 billion business since inception. Launched in 2008, NBA China received an initial investment of $253 million from partners including Disney. According to CNBC, NBA China allowed the league to gain more access to the world's top marketplace, as China has a population of about 1.4 billion, according to United Nations data.
For sports and leagues, there are opportunities for exponential growth in viewership and dollar investment. The question: Is there enough support from African companies to compound this growth? The data would indicate there is.
Growth in Venture Investing
Looking at the amount of funding into African tech startups over the past six years, we see a clear trend that culminates in the deal and dollar volume we saw in 2021. African companies raised a total of 681 equity rounds from 640 startups — a 92% YoY increase. From a dollar perspective, startups raised $5.2 billion, up from $1.43B in 2020, amounting to a 264% growth YoY.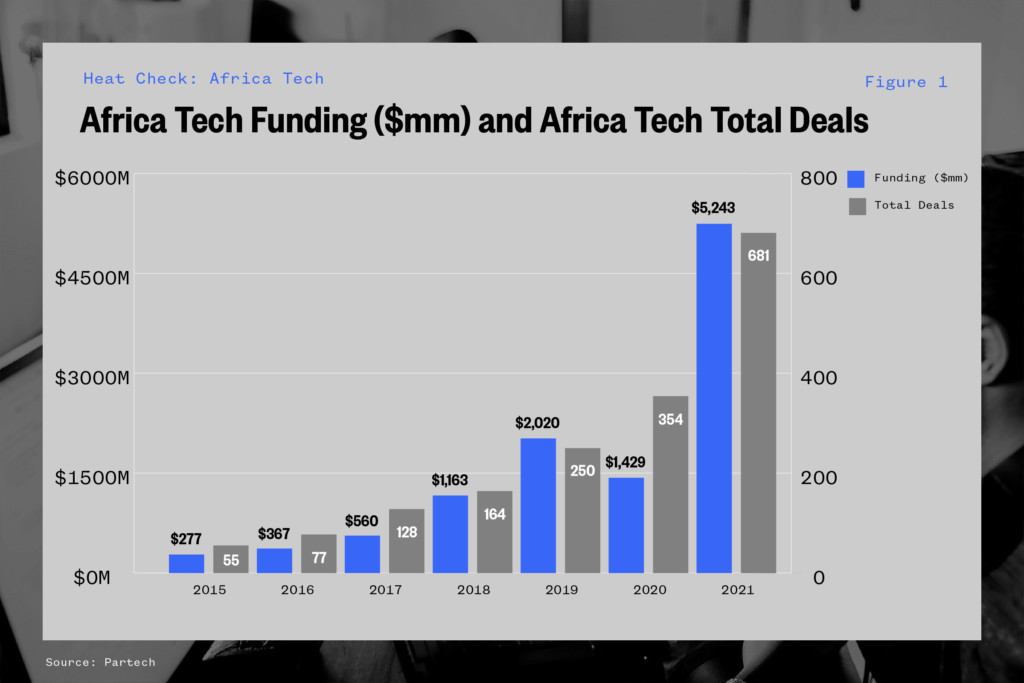 According to Partech, almost a third of these companies were in the fintech space, as many founders look to solve the many banking and payment-related issues that plague the area. Fintech has also been an incredibly active (and lucrative) space for VC's and startups in Latin America. Fintech, enterprise solutions, and e-commerce made up half the startups by total funding.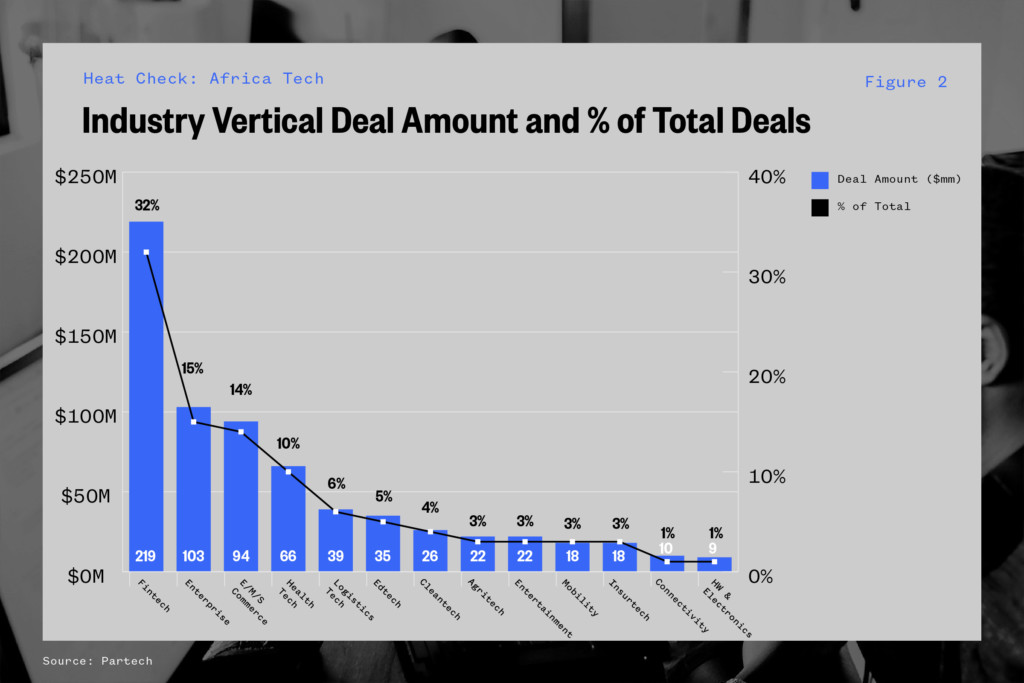 The context of the current African startup market shows promising signs. There are, however, a few things to note before assuming that the growth currently being observed isn't just a panacea.
According to a report from The Generalist, two of the main misconceptions about the market are:
Africa is not a united ecosystem: In short, people tend to think of Africa as a country rather than a continent/region. This fails to highlight the fact that Africa is highly fragmented and diverse. Unlike India and China, which have similar population sizes, companies do not operate across Africa but rather enter and dominate smaller regional markets. The total addressable markets for many of these companies might actually be encapsulated not by the continent but rather by the region.
Africa has a unique ecosystem: In many cases, when emerging markets see capital inflow and enter a "building phase," a common heuristic that is used is "X for Africa." Think "Uber for Africa" or "Clubhouse for Africa." Instead of trying to mirror existing products and services, the current crop of startups raising sizable amounts of money are focusing instead on issues endemic to their respective regions. Their user bases are not inherently consumers (due to low income), and therefore companies are looking to reorganize existing economic behavior.
The region as a whole has its fair share of issues to be solved. This presents ample opportunities for growth — both from a sports infrastructure development and a technology standpoint.
Still Early
A quick look at some demographic metrics to understand the total size of the market. The total African market is nearly four times the size of the U.S., but the total number of individuals living on more than $10/day is only 43.6 million, according to DFS data.
In addition to the lack of capital for consumer spending, there is still an internet bandwidth problem. As it currently stands, the African continent has about half as many internet users as the global average, percentage-wise.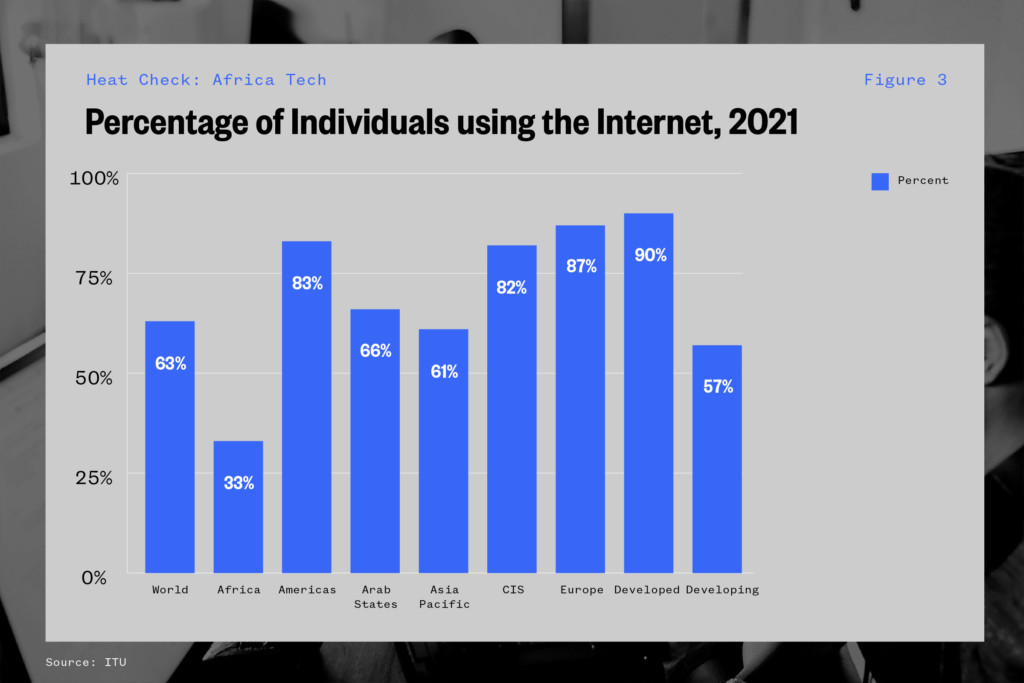 From a mobile standpoint, subsSaharan Africa is expecting $52 billion in infrastructure investments over the next four years. During that period, the percentage of the population with access to mobile will reach 65%, with a full 475 million receiving mobile internet access.
From an infrastructure standpoint, this feels much more like the early 2000s U.S. than anything else. There is plenty to keep in mind when it comes to the amazing opportunities in the region. It will be worth monitoring how capital and attention continue their respective inflows.
Additional Context
Below we have included some of the most prominent investment rounds over the past few years.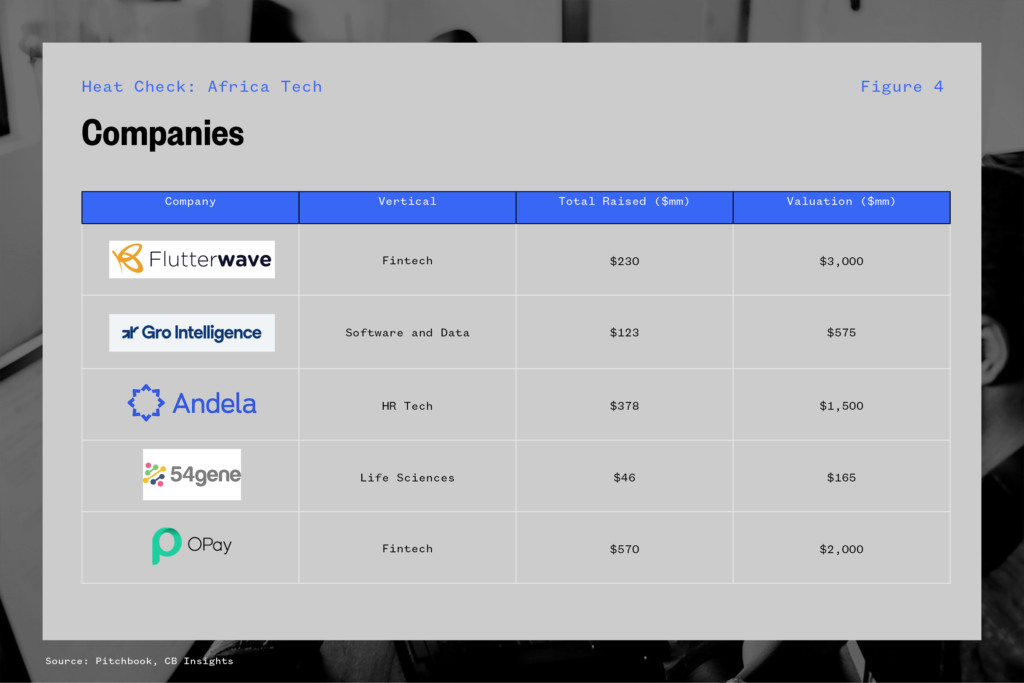 For more context on these rounds check out the link here.