A documentary filmmaker and storyteller, Sharp's young career has been as serendipitous as it has successful.
This feature is presented to you by the University of Nebraska — Lincoln Master of Arts in Business with a Specialization in Intercollegiate Athletics Administration.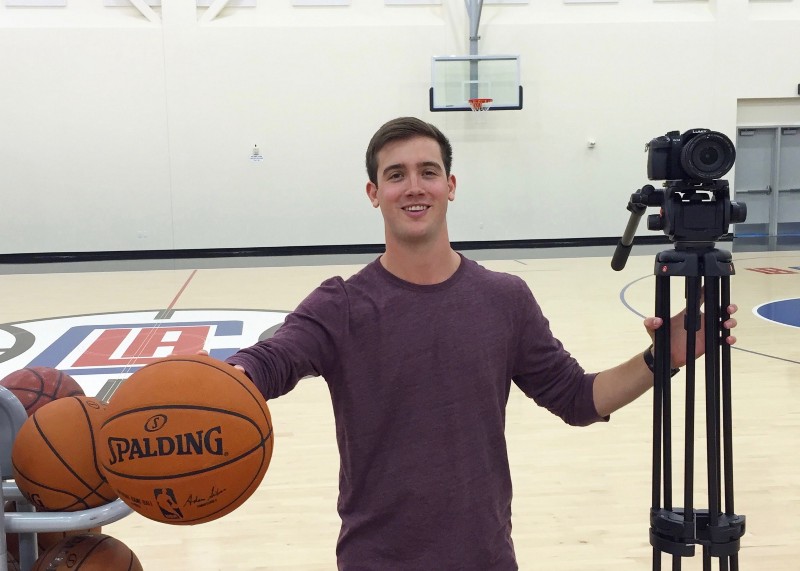 Serendipitous.
The word 'serendipitous' describes Taylor Sharp and his path in the sports industry. A documentary filmmaker and storyteller, Sharp's young career has been as serendipitous as it has successful. Though his career path has taken twists and turns, two things have remained constant: building relationships and capitalizing on opportunities.
---
A graduate of the University of North Carolina, Sharp has always found himself to be in the right place at the right time. That, coupled with a strong connection to an ever-evolving understanding of his passions, has led him to a slew of high-profile opportunities at an exceptionally young age.
With the release of his first documentary Hoops Africa: Ubuntu Matters, a documentary about basketball in Africa, quickly approaching, Sharp is in no way doing what he thought he would when he started his freshman year as a Morehead-Cain scholar at the University of North Carolina. Originally, he wasn't sure where he wanted to end up, but as the freshman interdisciplinary studies major, with a focus on philosophy and business of sport and minor in entrepreneurship, searched for a summer enrichment opportunity, a requirement for his scholarship, things started to fall into place.
After conducting research, he came across an ESPN article about Hoops 4 Hope, a basketball non-profit in Zimbabwe that had a relationship with the Boston Celtics.
"I clicked on the link to the nonprofit that had been mentioned in the ESPN article, got in touch with the founder that day and said, 'I have this unique opportunity to do service this summer, would you all be willing to host me?' Within that phone call they said, 'yeah, we'd love to have you in Zimbabwe.'"
---
He knew what he wanted, went for it and it worked out, bringing him to Africa for the first time. Years later, as a Project Employee for the NBA, he did the same thing. Upon learning about the NBA Africa Game, the first league game to take place on the continent in 2015, Sharp knew he had to be there. Still a college student, he pitched a documentary idea to higher ups in the league and was given filming access and the green light to go.
When asked about how he mustered up the courage to ask to accompany the NBA to Africa to create a film, he responded with a phrase that seems to be his mantra for life,"Turn the door handle on any door, you never know what will be unlocked."
For him, few things haven't been unlocked.
---
Networking and building relationships has been a key ingredient in helping propel Sharp to where he is today. Not only does he have the courage to advocate for himself and what he wants, but he also possesses the desire to build authentic relationships along the way. Asked about how he's stayed in touch with previous coworkers, he said, "Take the internship or the future job out of it, they're still relationships I'd like to upkeep."
https://frontofficesports.com/mo-dakhil-water-boy-to-nba-video-coordinator-51000df6d607
Authenticity is important to him and finding true connections with coworkers or strangers. One of the most unique examples of this? Dan Hedges.
Sharp met Hedges on the plane home from his experience with Hoops 4 Hope in Zimbabwe in 2013. They were seated next to each other on the 17-hour flight from Africa back to the United States. Sharp was the only one on the plane whose TV screen didn't work, he had no other electronics, and his book was packed away in his luggage.
For most people, this would be a nightmare, but for Sharp it was a blessing in disguise. It gave him the opportunity to talk to Hedges, the man next to him, a documentary filmmaker who was coming off of his own transformational experience in Africa.
They bonded over their experiences and pledged to return to the continent one day to help tell its story. The two stayed in touch in the following years and worked on various projects together.
In 2015, upon receiving approval from the NBA to film the Africa Game, Sharp called Hedges, the stranger he met on the plane with whom he was now a friend, and brought him on board to film Hoops Africa.
"That's the joy in life for me," Sharp commented on the experience, "allowing yourself, whether it be vulnerability or openness, to allow for life to work out that way because it so often does if you let it."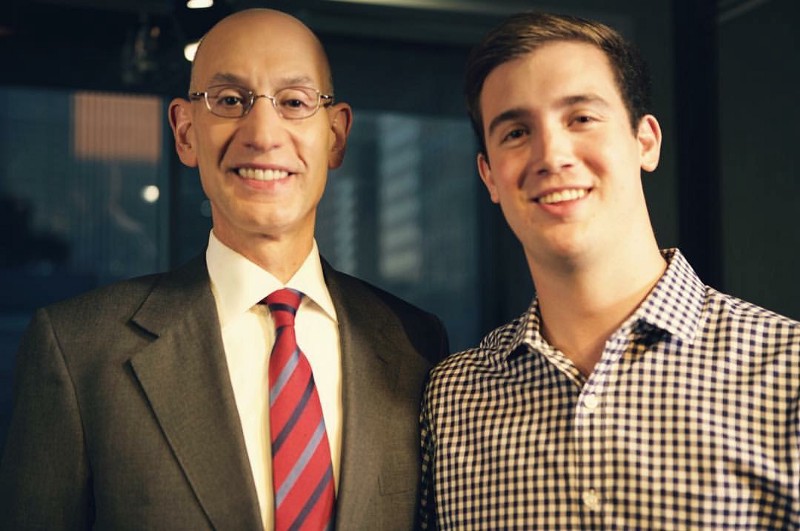 Currently, Sharp is putting the final touches on the Hoops Africa documentary, set to be released sometime this summer. He recently returned from an experience in Egypt, where he contracted with an Egyptian non-profit focused on Little League baseball.
When he's stateside, he contracts with the NBA for various events, such as the All-Star Game. Most important to him, though, is his work with Casting for Hope, a nonprofit he founded in 2012 with his high school English teacher that supports women suffering from ovarian or other gynecological cancers and provides opportunities for retreats through fly fishing.
When asked about advice he would give to those looking to break into the sports industry, Sharp said:
"It seems to be all about finding that blueprint and trying to replicate someone else's success and that's good and all, but if you see an alteration in that path that will take you in a different route don't be afraid to forge that. There's really no one path that's the correct path, it's just a matter of navigating it somewhat serendipitously to match that with what you're interested in and what value you can provide."
Sharp has navigated his path without succumbing to norms or expectations.
"I realized after graduation that finishing [the Hoops Africa] documentary was more important to me than a full-time job," he said. So he's spent the last year wrapping that up while picking up other projects along the way.
"Listen to those inner urges," he advises aspiring sports professionals, "and jump out and do something different because often times you're getting those urges for a reason."
Most importantly though, Sharp advises students and young professionals to allow life to work out, because you never know what will show up if you're open to it, live with serendipity, and trust yourself.
https://frontofficesports.com/mo-dakhil-water-boy-to-nba-video-coordinator-51000df6d607
Stay up to date on the Hoops Africa: Ubuntu Matters premiere at the film's website and on social media @HoopsAfrica. Follow Taylor Sharp on Twitter @TSharp94.
---
Front Office Sports is a leading multi-platform publication and industry resource that covers the intersection of business and sports.
Want to learn more, or have a story featured about you or your organization? Contact us today.