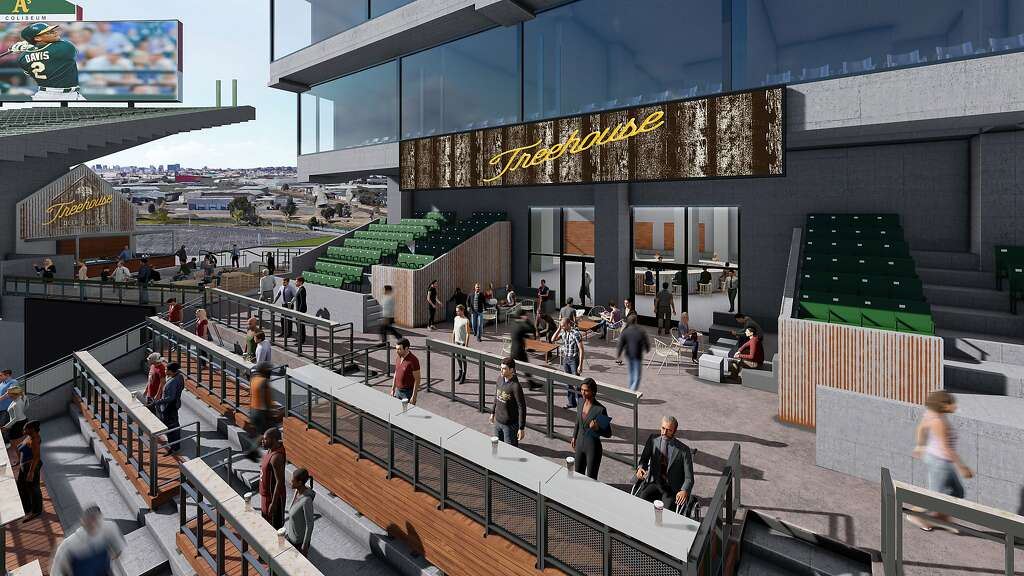 The Oakland A's took a leap into the future of baseball's ticketing evolution this month with the announcement that they are constructing a party deck in their outfield that will proudly be dubbed The Treehouse. The area will have two full-service bars, be open to all fans, and have a capacity of over 1,000 people. This renovation would be a shrewd move by the A's to modernize their crumbling ballpark on its surface, but what really sets it apart is the ticketing plan attached to it.
Starting this season, fans will have the opportunity to purchase "The Treehouse Pass" which provides admission to every A's home game for $29.99 per month for six months or one annual fee of $149.99. This pass differs from the ballpark pass that the A's have used in the past because it restricts fans to only attending the game within the confines of The Treehouse area.
"We are committed to enhancing the fan experience at the Coliseum and delivering dynamic and new ways to enjoy A's baseball. The Treehouse will provide fans a place to gather, watch our games and connect in an environment that is casual, fun and authentically Oakland," Oakland A's president Dave Kaval said in a statement.
Depending on the state of your passion for A's baseball, one may view that offer as either entirely outrageous or outrageously appealing, but either way, the fact that the A's are shifting their approach to fans falls in line with the changing ticketing tactics that are surfacing all across Major League Baseball.
Clubs are seeking out creative ways to get their fans off the couch, off their second and third screens, and into their ballparks. (Or at the very least monetize their fandom by offering the right to enter into the stadium. Much like a gym membership that sits dormant, teams would not necessarily be reliant on a fan's attendance if they are receiving $29.99 a month from them.)
"Think of Gym memberships. The gym has 30 machines but has 300 members. The gyms know that not all members will attend at the same time, so that they can comfortably sell the same seat multiple times. In that case, the marginal revenue per pass/subscription model might actually be higher than the seat if we can sell that license to attend games multiple times," Daniel McIntosh, a lecturer in the W.P. Carey School of Business told Front Office Sports. "Cheaper face but sold multiple times yields additional revenue than higher face sold once."
The A's very well may have gotten the ball rolling on their idea thanks in part to what the St. Louis Cardinals are attempting to do with the respective outfield stands at Busch Stadium. The Cardinals began selling ticket subscriptions last season and will continue that journey this season after brewing their spin on a subscription ticket, the Budweiser Ballpark Pass. To supplement that ticketing strategy, St. Louis has removed some seats in right field and traded them for a more open atmosphere that will appeal to the standing room only buyer.
Pushing an open atmosphere and not binding a fan to jam into a singular seat amongst strangers will help enhance the experience narrative that all clubs are cognizant of. The competition of alternate entertainment or simply staying at home is fierce.
"People are hungry for an experience; the challenge is getting them into the stadium. Once you do, you have the opportunity to create life-long fans," says Mike Hinson, VP, College Athletics Sales at AudienceView. "Sure, you may increase your year over year attendance, but it is the long-term affinity that is the real payout. It's not immediate, but it will come over time."
The A's and Cardinals are smart for not only providing fans with a subscription service option when it comes to purchasing tickets — after all, that is how us millennials are conditioned to purchase nowadays — but they were wise to make sure their venue had the proper accommodations to take the idea to market. A subscription ticket sounds less appealing if you are playing roulette with differing obstructed view tickets on a nightly basis. An appealing, confined area that will become familiar quick should do the trick.
"We are moving more and more to the point where the game doesn't matter,"said McIntosh. "The (Oakland A's) offer highlights music before and after plus good food. The target market here is likely very different than the target market for season tickets."