Setting the Stage
The streaming wars are alive and well, and one of the new entrants, Disney, just made a statement that its ambitions in the streaming business are strong. While Disney's most recent earrings indicated that the company's streaming service is strong, there are still indications that the product will require additional work.
The world's largest media company may be celebrating its 100th birthday next year, but it's two-year old streaming service, Disney+, is already hitting its stride. The initial stated goal was for the business to reach 60 million subscribers in the first five years (2024). The company achieved that goal in its first 12 months. The goal has since increased to 260 million by 2024.
While the Disney+ growth has been impressive by any stretch of the imagination, it is not impervious to the issues that plague other streamers as they look to grow their subscriber bases, increase retention, and continue to provide quality content.
Of late, churn has hampered the industry as consumers are served with a wide array of potential services. The average household now has 3.6 streaming services they are subscribed to at any given time – with consumers constantly switching between services.
Meanwhile, sports programming has yet to meaningfully penetrate the streaming market. Linear TV still dominates as most of the major leagues retain the right to keep their ultimate product on linear versus streaming. This dynamic, however, could be changing. At the end of January, The Wall Street Journal outlined the struggles that some streamers have had with retaining users due to churn. Also in January, S&P Global released a report detailing the potential efficacy of including sports for streaming services in increasing their retention and improving the ability to attract a millennial user base.
The Problem with Churn & The Demand for Sports
The aforementioned WSJ article outlines that as streaming services release new and popular content they see a surge in sign-ups for the service which is followed by – in some cases – a precipitous falloff. The churn generated comes due to the fact that individual consumers' intentions are to sign-up, binge, and get out.
The WSJ article provided data from Antenna which outlined that following release of hit shows or movies such as "Greyhound" (Apple TV+), "Wonder Woman 84" (HBO Max), and "Hamilton" (Disney+) saw 50% of the added subscribers churn out within six months. Peacock saw a similar trend when individuals who signed up for the service to watch the Tokyo Olympics were churned (50%) within four months.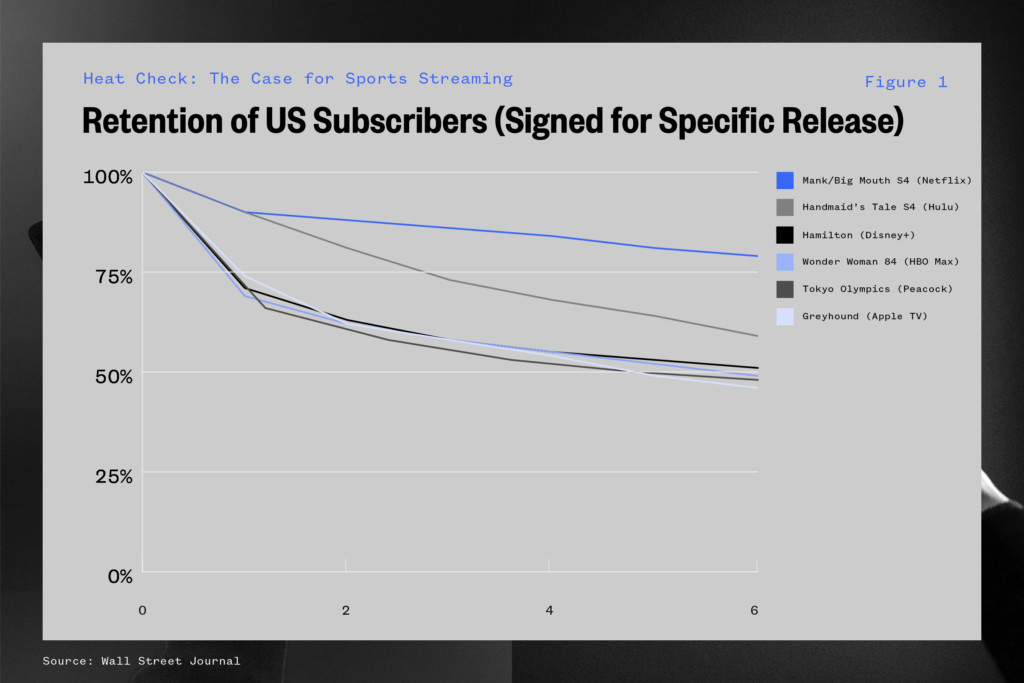 This fact, coupled with rising customer acquisition costs and content spending for streamers across the broad ecosystem due to competition has made streamers think of new and creative ways to drive revenues. Costs for content have nearly doubled since 2017 for the likes of Netflix, Hulu, and Amazon. But paying for premium content seems to be the best strategy, even according to Disney CEO Bob Chapek.
"We always say that library titles tend to increase engagement and minimize churn…and new titles, new content, whether they're movies or series, actually add new [subscribers.]"

-Bob Chapek, Disney CEO
A recent purported strategy for many has been the idea of adding live sports to the streaming video on demand ("SVOD") mix. A report by S&P Global Market Intelligence outlines the case for SVOD services adding sports as an increasing number of households move away from traditional multichannel TV services.
According to the S&P data, about 40% (+/- 3 ppts seasonally) of historic internet adults have noted that they watch live sports at least once a week (a.k.a. avid sports viewers). As of Q1 2021, over three-quarters (76%) of avid sports viewers reported that they subscribed to a multichannel TV service, with the majority (55%) indicating they subscribe to pay TV specifically to watch live sports. The data indicates sports viewers have a tendency to be loyal and sticky subscribers while also being legacy multichannel TV subscribers.
Pay TV operators have historically benefited greatly from the viewer loyalty of avid sports viewers. The S&P indicates frequent viewers of sports were 74% more likely to subscribe to an SVOD service for live sports than not.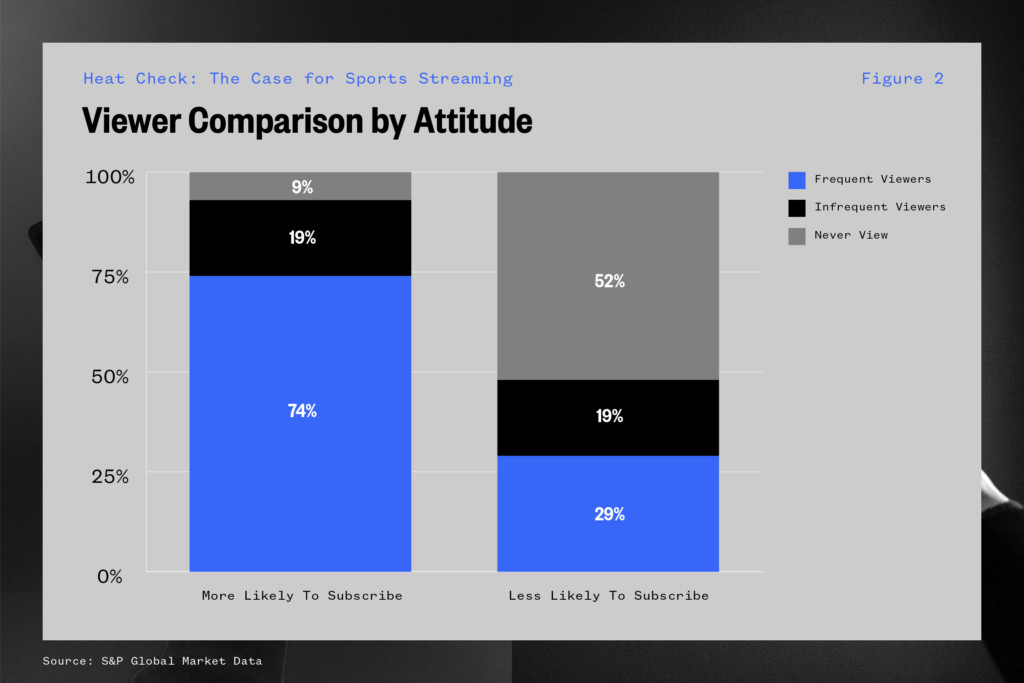 Furthermore, when examining the age distribution of those interested in SVOD live sports shows that millennials (41%) are the primary target audience. However, the over-40 adult population (Gen X, baby boomers and seniors) represents nearly half (46%) of potential SVOD live sports viewers.
Current avid sports fans are willing to make whatever shift necessary (including a shift to SVOD) and their age demographic falls directly in the cohort of consumers who are already predispositioned to join their streaming services. What is also noteworthy is that nearly half of the "more likely" to subscribe group are in the 40+ age group – one that has historically participated less in the streaming economy than others.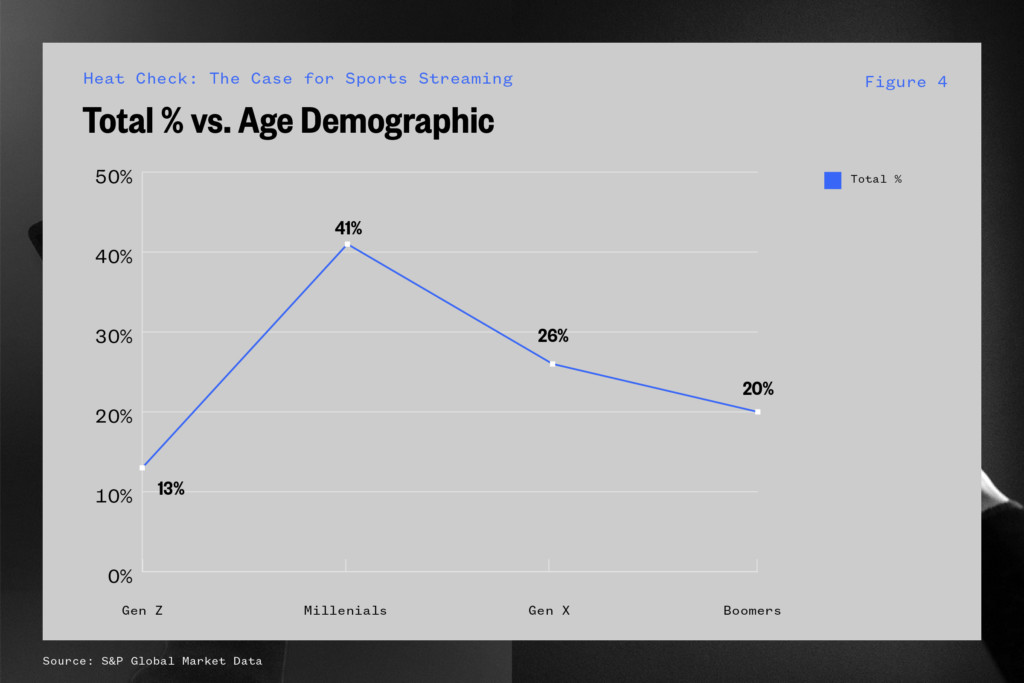 This can also be seen in the breakdown of what age groups are already subscribed to streaming services. Nearly half of 65+ have never subscribed to a streaming service while one third of individuals aged 45-64 fall into that same category.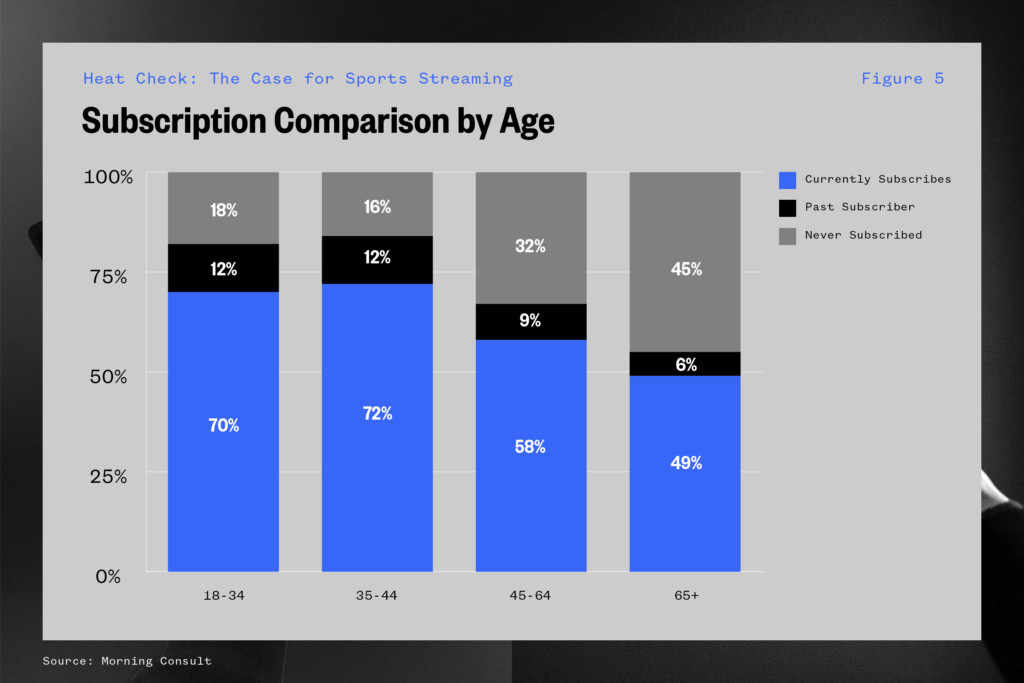 The data indicates that, in a vacuum, adding live sports to SVOD should be a "no brainer" strategy for services as they look to increase the stickiness of their customers as they add loyal customer profiles. In order to better examine this thesis we can look at the current subscription model for Disney as they decide how to ultimately handle their ESPN and ESPN+ properties.
ESPN and Disney Case Study
On Feb. 9, Disney reported earnings for fiscal fourth quarter 2021. The biggest takeaway? The streaming wars between Disney and Netflix are heating up – and Disney has been working relentlessly to build its subscriber base.
Disney added 11.8 million Disney+ subscribers globally in the fiscal first quarter of 2022, topping the average analyst estimate of approximately 7 million, according to StreetAccount. This is in contrast to the earnings report the market received from Netflix at the end of January. Netflix posted its lowest Q4 growth numbers since 2017.
Netflix said it expects to add 2.5 million subscribers during the first quarter of 2022, far below the 3.98 million it added in Q1 2021. Meanwhile, analysts had expected 6.93 million in the first quarter, according to StreetAccount estimates.
Back to Disney, the growth in streaming puts them in rarified air, and furthermore, they have been able to monetize those new subscribers. According to the earnings call, the average revenue per user ("ARPU") saw an increase from $5.50 per month to $6.68 in the U.S. and Canada as compared to a year ago. Of specific note was the growth in and attention paid to sports properties. ESPN+ posted some of the strongest growth numbers when compared to Disney+ amidst conversations about how Disney will address the "ESPN debacle" in the future. For context, here is how the numbers shook out on the earnings call:
ESPN+ surged to 21.3 million subscribers, up 24.6% quarter-over-quarter and 76% year-over-year.
Disney+ subscribers reached 129.8 million, up 11.7 million from the previous quarter and 37% year-over-year.
While Disney has demonstrated growth, their numbers arrived amidst disappointing streaming report from Netflix and a pledge from Comcast that it would incur steep losses in order to shore up Peacock.
The Disney Dilemma
ESPN poses an interesting quandary for Disney. On the one hand, ESPN (pay TV) provides Disney with one of its greatest assets – live sports. Regardless of the trajectory of the streaming economy, broadcast networks make billions of dollars per year from traditional TV models. According to research from Kagan, Disney makes more money from cable subscribers than any of its competitors – driven almost entirely by ESPN and ESPN 2 which charge a combined $10 per month to consumers.
Disney requires pay TV providers to include ESPN, which is not a large sell seeing as ESPN programming drives much of the demand for sports on these packages. The non-sports world, however, is not fixated on the need for sports programming. More than 6 million people ditched pay TV in 2020, according to research firm eMarketer, which represents the highest annual total ever.
The dilemma begins here. As cord cutting becomes more prevalent, the revenue model ARPU related to ESPN versus the streaming offerings becomes more of a debate. Where an ESPN viewer brings in $10 per month, the other Disney products such as Disney Channel and FX bring in pennies on the dollar comparatively.
On the contrary, a subscriber to the Disney streaming bundle could command a higher premium (closer to $15). As noted by Alex Sherman of CNBC, the converse is true for ESPN losing a customer to ESPN+. Again, here is where the dichotomy lies. Disney is in on streaming according to CEO Bob Chapek but the same cannot be said for ESPN. ESPN+ has a limited bank of content due to the fact that the premium offering is tied directly to their cable package.
In order for ESPN to be able to bring consumers the wide array of sports properties, the company charges an average carriage fee of $8.23 per household and approximately 76 million households (as of November 2021) resulting in $7.5- $9 billion depending on sources with billions in additional fees coming from advertising. This allows the network to bid on various league and sports properties. With bids for the NBA and NFL reaching well above $1 billion, the ability to generate excess revenues is key for the business model.
NFL annual rights fee: $2.6 billion
NBA annual rights fee: $1.4 billion
MLB annual rights fee: $700 million
NHL annual rights fee: $400 million (unofficial)
La Liga annual rights fee: $174 million (unofficial)
ESPN's greatest strength is its ability to generate cash in excess of what it requires to pay for rights. But the economics of this equation are falling out of favor for ESPN. The cost of league rights are up exponentially, and some predict that more than 25 million households could cut the cable cord before 2030 – a situation that could potentially price ESPN out of vying for rights.
A shift to ESPN+, however, isn't the answer either. The cost of raising the bundled Disney+ price to be commensurate with the product offering would likely price many consumers out. In the meantime, they have incrementally increased the price as they look to add more unique content such as the ManningCast and additions to its current UFC offerings. Over time, the scales would flip and the majority of sports content – including live sports – would be found on the streaming platform.
The issue for the short term, however, is that ESPN has certain obligations to leagues which preclude them from taking those assets to streaming. While ESPN does have digital rights flexibility structured into their various league deals, they are restricted by linear pay TV obligations per CNBC.
ESPN is also not impervious to the churn discussed in the previous section. Consumers will likely be willing to subscribe to the service for the length of an NFL season before canceling. The solution would be to include the more extensive ESPN+ (now with all or most available ESPN content that is contractually available) package with the existing bundle – a proposition that would scare away non-sports fans which skew younger and would directly thwart the customer acquisition efforts for Hulu and Disney+.
The challenges are real. But there seems to be no denying that including live sports content in some form will ultimately be a boon to streaming services.
Sources
CNBC – Alex Sherman
S&P Global Market Intelligence
Statista
Antenna