Setting the Scene
At the end of March, I had the opportunity to travel to Doha, Qatar, home of the 2022 World Cup, to see one of their main innovations leading up to the tournament: Stadium 974. In this Heat Check, I'm including an account of my experience at the one-of-a-kind stadium, which could revolutionize how new venues are conceived.
Let's dig in.
A Real Life Lego Stadium
When approaching the stadium from the outside, the initial impulse is to be confused. While the outside of many of the world's newest stadiums look more akin to the Death Star than anything else, Stadium 974 is no such stadium.
Qatar's seventh stadium is unique for many reasons, primarily the fact that it is, quite literally, made from shipping containers.
The name 974 stems from the fact that the stadium consists of 974 certified shipping containers arranged in a modular fashion. From an outside perspective, there is a unique beauty to seeing a bunch of shipping containers stacked on top of one another — a perfect mix of backyard project and engineering masterpiece.
Once inside the stadium, the intricacy of the project became more apparent. Almost every inch of the interior is built using full shipping containers. The locker rooms, press centers, concession stands, and even the bathrooms are housed inside color-coordinated cargo containers.
So why the decision to build a stadium built ostensibly of real-life Lego blocks? I was able to sit down with lead project manager Mohammed Al Mulla to talk about creating a legacy of sustainability.
According to Al Mulla, Qatar's goal is always to set the benchmark for innovation. To that end, 974's design is not only superficially novel, but also a new and somewhat revolutionary concept.
After the 2022 World Cup, Stadium 974 can be repurposed in diverse ways. Al Mulla laid out the wild possibilities for me.
Shipping containers can be taken apart and repurposed to build multiple smaller stadiums throughout Qatar.
Containers can be taken out on an individual basis and utilized for public works projects such as hospitals, construction sites, or public restrooms.
The stadium can be (with the approval of FIFA) donated to another country without the infrastructure to host a 40,000-seat stadium.
The shipping containers themselves can be sold commercially due to the fact they are commercially certified.
The stadium itself, which was built offsite in a modular fashion is also the only one of the country's eight host venues that will not have central air-conditioning, making it the most cost efficient and environmentally friendly stadium by a wide margin. While Al Mulla couldn't quote an actual cost, he did state that the cost was at least 20% less than stadiums of similar size and dimensions.
The new framework could potentially be something that smaller scale sports teams and leagues consider in the future. As we look at the viability, it's important to understand the context of the market for this type of construction.
Modular Construction and "Prop Tech"
Modular construction is not exclusive to stadiums. In fact, it has become increasingly prevalent in U.S. and European markets. Dating back even further, Japan and Scandinavia have long utilized "prefab" as a cost-saving solution to infrastructure projects. Modular construction offers the construction industry an opportunity to make a step change. The process will allow builders to shift many aspects of building activity away from traditional construction sites to factories with offsite, manufacturing-style production — similar to the process for 974.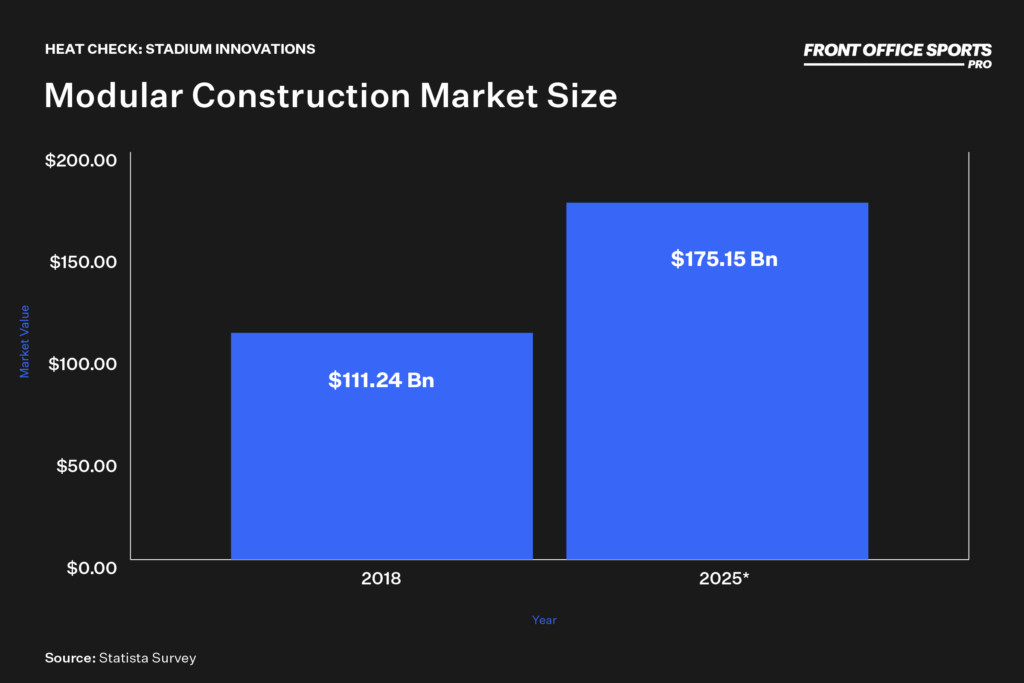 Modular construction involves producing standardized components of any type of structure (from homes to stadiums) in an offsite factory, then assembling them onsite. A combination of new technologies and improved processes in areas such as artificial intelligence, building information modeling software, robotics, 3D printing, and modular construction are helping drive the industry forward.
In building modular projects, there are a variety of different approaches and systems, from single elements that are clipped together using standard connections and interfaces to 3-D volumetric units with full fixtures. While processes vary, the benefits remain — cost savings and decreased project timelines.
Now, the macro perspective. Construction is one of the world's largest sectors, and a profound shift in the cost structure and lead time for projects could have a huge impact on global economic productivity. More recent modular projects have already established a solid track record of accelerating project timelines by 20-to-50%.
According to a 2019 report by McKinsey, the modular construction industry could be a multi-hundred-billion-dollar industry in just the U.S. and Europe.
"Under moderate assumptions of penetration, the market value for modular construction in new real-estate construction alone could reach $130 billion in Europe and the United States by 2030"

McKinsey
Advancements in construction technology are improving speed and lowering costs for developers. The construction industry has long experienced stagnant productivity levels, with the McKinsey report indicating that the industry's annual productivity growth has only increased 1% over the past 20 years.
The McKinsey report suggests that modular construction can speed construction timelines by as much as 50% while simultaneously reducing costs by 20%. Their analysis illustrates that modular construction could claim $130 billion of the US and European construction markets by 2030, ultimately delivering cost savings of $22 billion.
The trend has in large part been driven by private sector applications. Stadium construction and financing falls somewhere in the murky middle between public and private, with many stadiums being paid for with tax-exempt debt through municipal issuers. As more public-sector entities opt to utilize modular construction, we could see the trend converge on stadiums, particularly if we continue to trend toward smaller and more intimate venues.
"Public-sector entities, like private-sector developers, will be able to capture cost savings and productivity benefits by taking a modular approach with any large-scale publicly funded projects that have repeatable elements, such as schools and affordable housing"

McKinsey
More on Stadiums
In January, CNBC's Jabari Young reported that sports franchises could spend upward of $10 billion on venue upgrades alone by 2030. In the report, Young keyed in on two areas that could lead to further adoption of the modular model: venue size and sustainability. Here is a quick summary of the thesis.
Venue Sizes Shrinking
Over the past two decades, teams have optimized large arenas for larger corporate suites to increase total revenues, shrinking physical capacity.
Bill Mulvihill, the head of U.S. Bank sports and entertainment group, has echoed others who predict smaller venues on the horizon for the next generation of stadiums and arenas. Mulvill also assisted on the recent $5 billion SoFi Stadium deal.
In the report, Mulvihil indicated that in order to enhance the value proposition of attending games, fans may notice their favorite teams are leveraging seating experiences like the NFL's field-level suites. CAA Incon president Dan Barrett also believes that a move to smaller, more intimate venues is imminent and will require more standardized premium options.
"These new buildings are focused more on providing a variety of premium seating projects to meet the demands of the market"

Dan Barrett, CAA
Additionally, New York Islanders owner Jon Ledecky observed that they [the NHL venues] are currently competing with 80-inch televisions in the comfort of fans' living rooms.
"All these new arenas will have to give fans a reason to get up – go to their car and come to the event. If we don't have a first-class experience, they're going to watch the game at home"

Jon Ledecky, New York Islanders
Intimate experiences will likely be the future of live sporting events — and those experiences will require reimagined.
Sustainability
We previously wrote about the increasing impact and magnitude of ESG spending in sports and capital markets more broadly. There have been several specific initiatives centered on ESG and sustainability that will likely be utilized on a grand scale going forward. Below we have included some examples from the CNBC piece:
UBS Arena was built during the pandemic, which caused delays. But development firm Oak View Group rose to the challenge and invested $2 million in germ-killing air-filtration systems, something more teams will consider installing.
Another 2021 Oak View project is Climate Pledge Arena in Seattle, home of the NHL's Kraken. Executives praised their new home, noting it's carbon-neutral and powered by solar and electricity.
The arena also uses grab-and-go tech from Amazon that lets customers pay for items automatically without having to check out with a cashier (Amazon pioneered this technology in some of its convenience and grocery stores.)
How does this relate to modular construction? The increased number of ESG efforts by teams and leagues indicate a growing need to find solutions to existing emissions and sustainability issues. Current initiatives, however, don't get to the real crux of the problem.
According to NY Engineers, around 40% of landfill waste comes from construction, and many companies are working hard to develop methods that reduce or repurpose waste. The U.S. The Environmental Protection Agency estimates that new commercial construction generates around 3.9 lbs of waste per square foot.
Modular construction drastically reduces demolition waste. The future is pointing toward smaller, more sustainable venues to watch sports, which might just be built offsite.