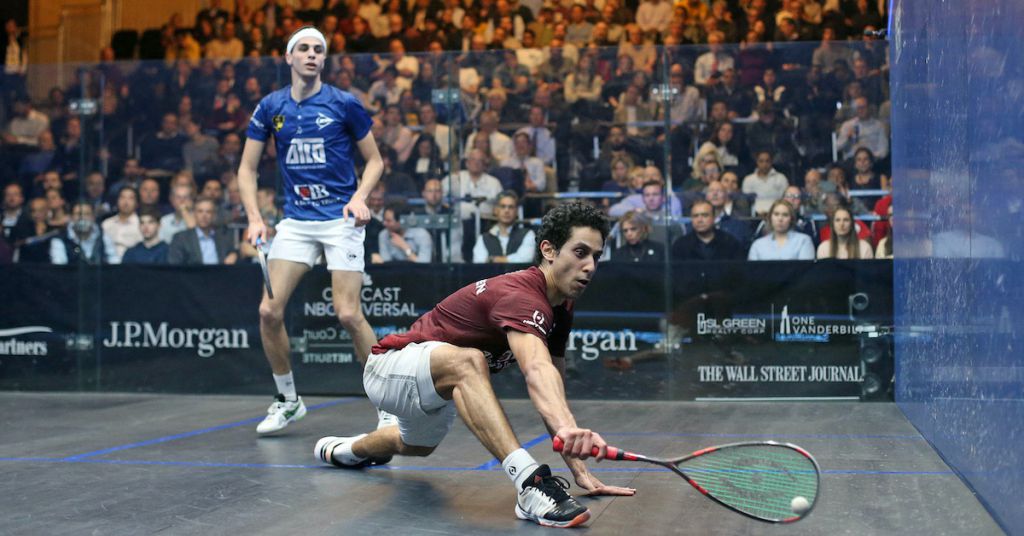 The sport of squash may only has roughly 1.71 million players in the U.S., but a non-traditional tournament venue has not only helped to grow its visibility but also present sponsors with a unique opportunity.
That venue is Grand Central Station in New York City, where squash's J.P. Morgan Tournament of Champions has been held dating back to 1999.
The tournament will have roughly 13,000 ticketed attendees, but promoter John Nimick said there is another viewer the Tournament of Champions hopes gets drawn into the sport by virtue of where the event is being held – the 20,000 commuters a day that will walk past the front wall of the court.
"On a global basis, [squash] is relatively small," said Nimick, a U.S. squash Hall of Fame inductee. "There is one thing about squash though. When you play against an opponent, you're in a box and there are rules and conventions, ways you inhabit that space together. You learn about that person, how they behave, their judgment if they exhibit sportsmanship."
"Consequently, those who play enjoy that relationship with other people and I think it's true that they think of themselves as a tribe."
It is estimated that more than five million people will get a glimpse of squash during the J.P. Morgan Tournament of Champions, which will be held January 9-17, 2020.
As president of Squash Engine, Nimick is a promoter of several high-profile squash tournaments, including September's Oracle NetSuite Open in San Francisco and the J.P. Morgan Tournament of Champions. Those are two of the top 11 events annually on a squash circuit that includes approximately 45 world tour-level events for the top 150 international players.
It's those two tournaments though that Nimick said help exemplify the sponsorship opportunity of such a small sport. U.S. Squash reports there are approximately 1.71 million squash players in the U.S. – up 66% since 2010 – but Nimick said the truly competitive players are more like 300,000. The median income of squash players is $300,000 with an average net worth of $1.5 million.
From a consumer standpoint, Nimick said there isn't much opportunity for traditional sports sponsoring brands like Nike or Coca-Cola.
"Because the nature of the overall community is fairly modest, it is challenging for us to effectively move the sales needle," Nimick said.
But because of the tight-knit community and high-income demographics that play the sport, the opportunity lies in business-to-business deals, Nimick said. Other sponsors include Cisco Webex in San Francisco, NBC Universal in New York and Wall Street Journal at both tournaments.
The demographics for the sport include a lot of technology entrepreneurs and business executives, said Evan Goldberg, executive vice president of Oracle NetSuite, who also founded the youth program Squash on Track. Goldberg founded NetSuite, which first sponsored the San Francisco event in 2008 and was acquired by Oracle in 2016.
"Squash players run the gamut of a diverse group," Goldberg said. "It's the types that might be interested in Oracle's products."
Goldberg said the tight-knit community and relative small-scale of the tournaments offer the ability for spectators and athletes to interact and mingle without a high barrier of entry. An event like the Oracle NetSuite open might only have 600 live spectators, but Goldberg said the matches also broadcast on SquashTV to tens of thousands of enthusiast subscribers.
"The sponsors love the access to the players and the engaged audience," Goldberg said.
READ MORE: Gauntlet of Polo Aims to Add Relevance to Niche Sport
Along with driving business-to-business deals, Nimick said the sponsors are heavily involved in the Squash and Educational Alliance initiatives, which includes about 20 after-school youth development programs across the country. The programs use squash as the health and wellness component while implementing other character development and educational aspects.
Goldberg said he believes the combined efforts of the after school programs are emblematic of trends in golf and tennis of expanding the reach of the sport – albeit at a much smaller scale.
"This movement is benefiting less-advantaged children, creating a backbone for what the sport is all about," Nimick said.