Politics and sports have converged in the past, but the 2020 U.S. presidential election year has made them nearly inseparable.
With presidential candidates spending more on political ads during sports telecasts, more visible political activism by athletes, and sports fans backing athletes' right to endorse candidates, sports and politics seem more intertwined than ever.
President Donald Trump and Democratic presidential candidate Joe Biden have purchased about 2,801 ads to air alongside sports broadcasts from Aug. 17 — the first day of 2020 Democratic National Convention — to Election Day on Nov. 3. Between both candidates, total ad spending has reached $41.1 million for this election season.
Of all the sports that the candidates are spending ad dollars on, football has made up the bulk of it — representing 84% of all local ad buys made by candidates. This year's presidential candidates have purchased $11 million worth of NFL ad spots. Along with the NFL, candidates have also purchased $2.5 million worth of college football ad spots and $800,000 worth of NBA spots, according to data from iSpot.tv.
Out of the two presidential candidates, Biden is outspending Trump by $14 million in national sports broadcasts, with both of the candidates spending almost $25 million on all sports advertising.
Biden is also spending far more than Trump when it comes to league programming. The incumbent is spending only $5 million on NFL programming, compared to Biden's $18.3 million.
Subsequently, Biden has almost an hour of ads running on national sports broadcasts compared to Trump's 22 minutes, per iSpot.tv.
Nationally, the Biden campaign is outspending Trump in key battleground states. In Michigan, Wisconsin and Pennsylvania, Biden has spent $53 million on non-sports airwaves to Trump's $17 million, according to data from Advertising Analytics.
As presidential candidates are spending substantial ad money on sports broadcasting, sports fans are also opening up to the idea of politics mixing with sports.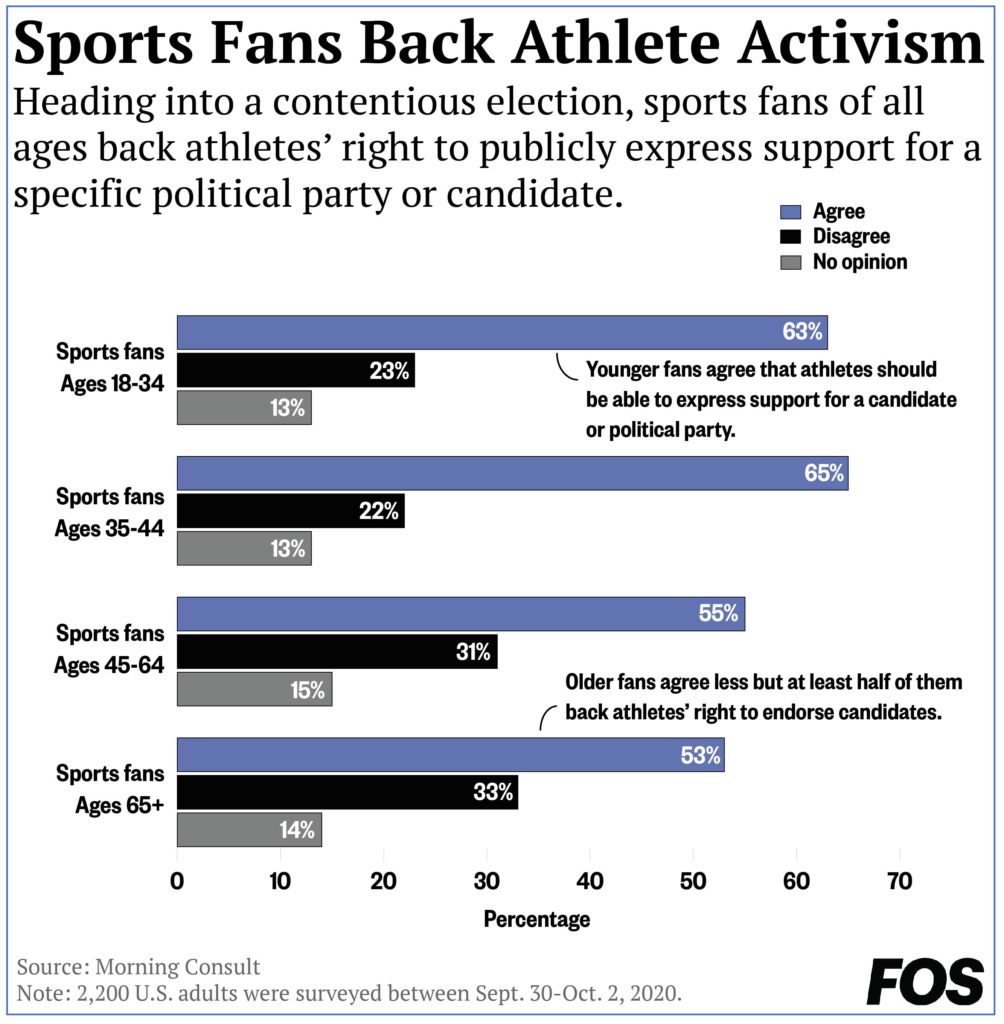 While a vocal segment of sports fans say that they would prefer their favorite athletes keep politics out of sports, new polling shows that they are in the minority. An overwhelming majority of sports fans believe that athletes should have a right to endorse political candidates or political parties.
According to a recent Morning Consult survey, 59% of sports fans agreed that athletes should feel free to promote specific politicians or political parties ahead of voting periods — double those who disagreed. Almost 40% of non-sports fans also back athletes vocalizing their support for political candidates.
Despite the overused "stick to sports" mantra, sports in the U.S. have always been tied to all things political. From American sprinters Tommie Smith and John Carlos' Black Power salute during the 1968 Olympics to Colin Kaepernick's protests of police brutality to LeBron James' More Than a Vote campaign, athletes have often raised their voices and organized politically.
But technological advances over the years have changed the way spectators perceive politics in sports. Fans are now able to be closer to their favorite athletes through social media, which helps athletes keep their opinions right in front of fans.
"It has allowed the athlete to speak directly to their fans," said Scott Rosner, academic director of the Sports Management Program and professor at Columbia University.
Due to social media, athletes are able to be more vocal about their political opinions, pointing to a change in the notion that sports and politics cannot mix, according to Lee Igel, clinical professor at the NYU School of Professional Studies Preston Robert Tisch Institute for Global Sport.
James' More Than a Vote, largely through social media, was able to sign up 20,000 poll workers as of early October.
But as athletes become more vocal about their political beliefs, teams and leagues are also taking notice. The perception that fans will turn away due to heightened political activity might be true to a certain extent, but there is also a section of fans that have started following sports after athletes and leagues took a clear stand, Igel said.
On the other hand, there's also another section of fans that are unbothered by athletes raising their political voices. According to a recent FOS survey of more than 1,300 people, 43% of respondents said that an athlete sharing a political opinion will not have any impact on their fandom. About 26% said that it will increase their fandom and 31% said that it will decrease it.
Brands are also awakening to supporting athletes who aren't quiet about their political opinions. Nike has been at the forefront — from their work with Kaepernick to committing $40 million to racial equity following summer protests across the U.S., Nike looked to meet the moment authentically.
And authenticity is an important part of whether or not the audience will receive the brand well. Fans can smell an opportunistic brand that is coming to the table only because it is convenient, Igel said.
"Over the long run each franchise has a certain stake in the community," he added. "People in every community know what their sports franchise does and that matters in the community; the rest is politics."