When the South Carolina women's basketball team won the national championship last season — its second ever and first since 2017 — sports media across the country began throwing around the most coveted title in sports.
Dynasty.
It implies that an organization has built a team that not only wins multiple championships, but expects to be competing for them every year.
The Gamecocks had enjoyed relatively limited success when the dynasty talk started — but one year later, it doesn't sound so far-fetched.
South Carolina hasn't lost a women's basketball game in over a year. The team's -200 odds coming into the tournament mean anything short of a second consecutive national championship would be surprising.
If they win it all, Dawn Staley will join Jody Conradt, Geno Auriemma, Pat Summitt, and Kim Mulkey as the only head coaches in women's basketball history to record a perfect season.
The very prospect of joining that pantheon shows just how far Staley has brought this program since her arrival in 2008. South Carolina went from a middling SEC team to a Power 5 juggernaut that regularly attracts nationally recognized players and high-level marketing deals.
Even if a third title puts Staley's current squad among the sport's all-time greatest teams, the mark of a dynasty is a program's staying power.
Dawn of an Era
Dawn Staley almost never became a head coach.
While still a WNBA player in 2000, Staley was approached by Temple in her hometown of Philadelphia. She repeatedly declined the offer, but then accepted it to prove that she could simultaneously play in the WNBA and coach a college team.
In only her second season, she took the Owls to the 2002 NCAA tournament — their second ever appearance — and made them an A-10 powerhouse.
Her next challenge was in Columbia, South Carolina, where the Gamecocks were looking to rebuild their program in 2008 after decades of mediocrity.
Staley steadily improved each year — but her coaching turning point came in 2014 when she convinced the nation's top recruit, A'ja Wilson, to stay in her home state.
Wilson — now a two-time WNBA MVP and reigning league champion — instantly sent the program into overdrive. The Gamecocks won three consecutive SEC conference and tournament titles, then the program's first national championship in 2017.
Staley's next big recruiting win came in 2019, when she locked up the nation's top recruiting class, which was headlined by No. 3 recruit and 2022 Naismith Player of the Year Aliyah Boston, and included Zia Cooke (No. 4), Laeticia Amihere (No. 10), and Breanna Beal (No. 11).
Most importantly, especially for any "dynasty," that class showcased Staley's recruiting prowess, which had now spread across the country.
In 2021, the university rewarded her with a seven-year, $22.4 million head coaching contract — the largest ever for a Black woman and second-largest in the country behind only 11-time champion Auriemma.
Gamecocks Go Hollywood
South Carolina's success has also translated directly to the realm of NIL and sponsorships.
Staley is conspicuously adding to her historic contract by actively endorsing insurance company Aflac. In a TV spot that premiered during March Madness, she can be seen chilling poolside with Duke legend Mike Krzyzewski. (Staley, by the way, would trail Coach K by only two national titles if she wins this year.)
Staley's players are reaping the benefits, as well.
In September, South Carolina NIL collective Garnet Trust organized a program that would pay out each women's basketball player an average of $25,000 each season through NIL initiatives.
The collective provides in-person and online opportunities for the players, but most of the actual sponsorship deals happen through the players' individual agents, a collective spokesperson told FOS.
SponsorUnited's 2022-23 Marketing Partnerships Report found that Boston has deals with 12 different NIL brands — including fitness brand Orangetheory, which created a custom workout with her for its studios across the country.
One of her deals is also a team effort: Shortly after winning the national championship last year, Boston signed an NIL deal with Under Armour, South Carolina's official athletic apparel supplier.
The entire women's basketball team works with Under Armour, too, most recently helping revive its classic "Protect This House" campaign in a new ad alongside Steph Curry and Kelsey Plum.
"Being on production days together, phone calls to explain the business of NIL, or one-to-one conversations around working in sports, the relationship between our two teams has grown and truly been mutually beneficial," Under Armour senior director of sports marketing Charece Williams Gee told FOS via email.
Crowded Field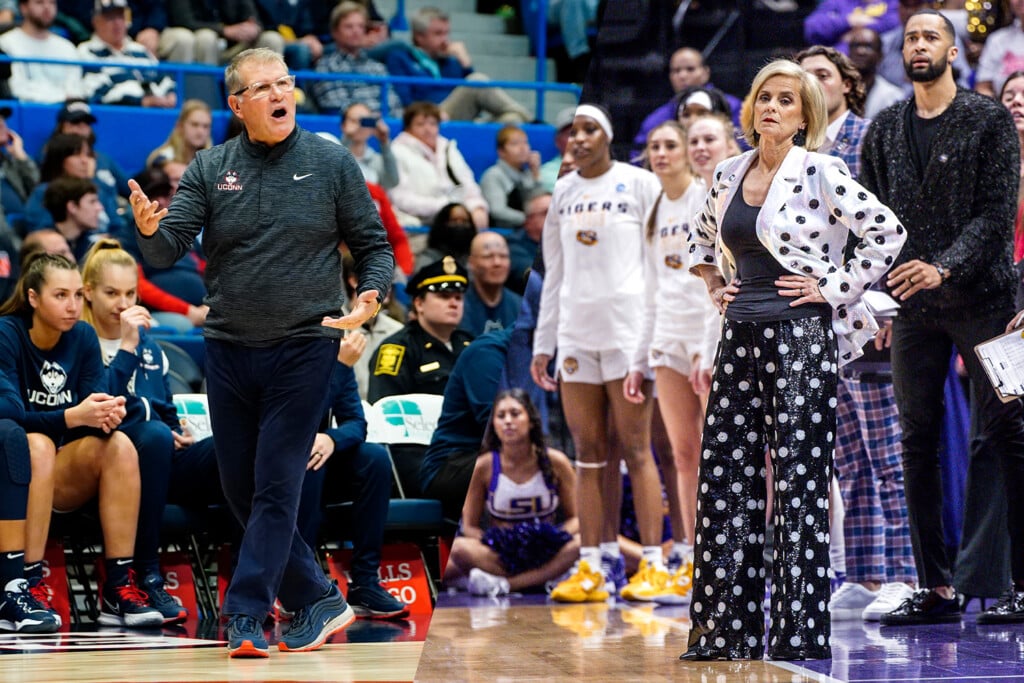 As dominant as South Carolina has been and continues to be, it's possible that this dynasty isn't built to last.
Boston and her recruiting class have carried the team for two seasons — but they'll all be draft-eligible and will likely depart for the WNBA next season.
One player who isn't going to the WNBA is UConn's Paige Bueckers, who has already committed to the Huskies for the 2023-24 season as she recovers from a torn ACL.
Bueckers and returning star guard Azzi Fudd will provide veteran leadership for a squad that snagged the fourth- and fifth-ranked players in ESPN's 2022 recruiting rankings, as well as the sixth-ranked player in the 2023 class.
UConn's legendary coach Auriemma — who has six perfect seasons under his belt — should be hungry for redemption, as the Huskies haven't won a national title since 2016.
South Carolina will also have to contend with surging SEC rival LSU. Angel Reese has blossomed into one of the nation's best players under head coach Kim Mulkey — a modern legend in her own right with three national titles as the head coach at Baylor, including the perfect-season 2012 championship.
Now with the Tigers, she enticed the No. 2 and No. 7 players in the 2023 recruiting class to play for her in Baton Rouge.
If all the teams continue winning, UConn and LSU would face off in this year's Final Four; the winner of that game would, in theory, face South Carolina in the championship game.
Dynasty in the Parity Era
South Carolina is obviously not done: Staley secured three of the top four recruits in the 2021 class, all of whom are getting valuable minutes off the bench and learning from the veterans.
Even if Boston, Cooke, and the rest of that elite recruiting class leave for the WNBA, South Carolina will probably be at or near the top of the next preseason rankings and be among the favorites to repeat again.
But maintaining that dynasty will be harder than ever in an era of women's college basketball trending toward parity. The fact that we're discussing a school other than UConn speaks for itself, and Auriemma's program was the last to repeat as champions in 2016, when they won their fourth straight.
Since then, South Carolina, Notre Dame, Baylor, and Stanford have all claimed titles, and for the first time since 1998, two 1-seeds — Stanford and Indiana — lost before the Sweet 16 this year.
Staley recognizes the Gamecocks exist within this reality.
"I don't see us as a UConn or Tennessee … they are the traditionally rich powerhouses of our game," Staley said at her press conference ahead of the Sweet 16. "The trajectory that we've been experiencing, someone else could do it that looks like our team."