The bankrupt XFL was sold for pennies on the dollar. But the star power of new owners Dwayne "The Rock" Johnson, Dany Garcia and RedBird Capital Partners already has some sports networks interested in televising the league.
Johnson's investor group agreed to buy the XFL for $15 million. As with the previous XFL, Fox Sports is interested in a possible TV rights deal, sources said.
Both Fox and Disney's ABC/ESPN televised WWE Chairman Vince McMahon's second iteration of the XFL this year before COVID-19 halted its inaugural season and forced a Chapter 11 bankruptcy filing in mid-April.
Since selling most of its entertainment assets to Disney for $71 billion in 2019, the new Fox Corp. has remade itself into a leaner corporate outfit that's focused on live sporting events and news.
Under this strategy, Fox wants all the pro football it can get. Since signing a five-year deal to televise "Thursday Night Football" in 2018, Fox has been the only NFL TV partner with two game packages.
Fox also controls the late Sunday afternoon NFC game window, which annually ranks as the most-watched TV show in the country.
"Is Fox interested? Sure they're always interested in (football)," said Patrick Crakes, the ex-Fox Sports executive turned media consultant. "But it won't be the same kind of deal the Vince McMahon-backed XFL got."
Even when XFL went belly-up, Fox left the door open for a possible return.
"The XFL has been a valued partner for Fox Sports, and we look forward to working with the league office and its teams again once they return," the network said earlier this year.
Fox declined to comment for this story.
ESPN took the opposite approach, according to The Athletic.
ESPN informed the bankruptcy court it wanted out of its XFL TV contract — especially since McMahon, the billionaire chairman of WWE, would no longer be an owner.
"Without knowing the identity and business plan of the proposed successful bidder, ESPN objects and does not consent to the potential assumption and assignment of the telecast agreement," the network wrote in court filings prior to Johnson, Garcia and RedBird Capital placing a bid. ESPN declined to comment.
But star power still sells. ESPN loves celebrities, noted Crakes, given its pursuit of Peyton Manning and Tony Romo and long record of hiring famous coaches as TV analysts, from Jon Gruden and Urban Meyer to Bob Knight and Bill Parcells.
Johnson, the 48-year old ex-WWE wrestler turned Hollywood movie star, producer and business tycoon, boasts a staggering 292 million social media followers across Instagram, Twitter, Facebook and TikTok.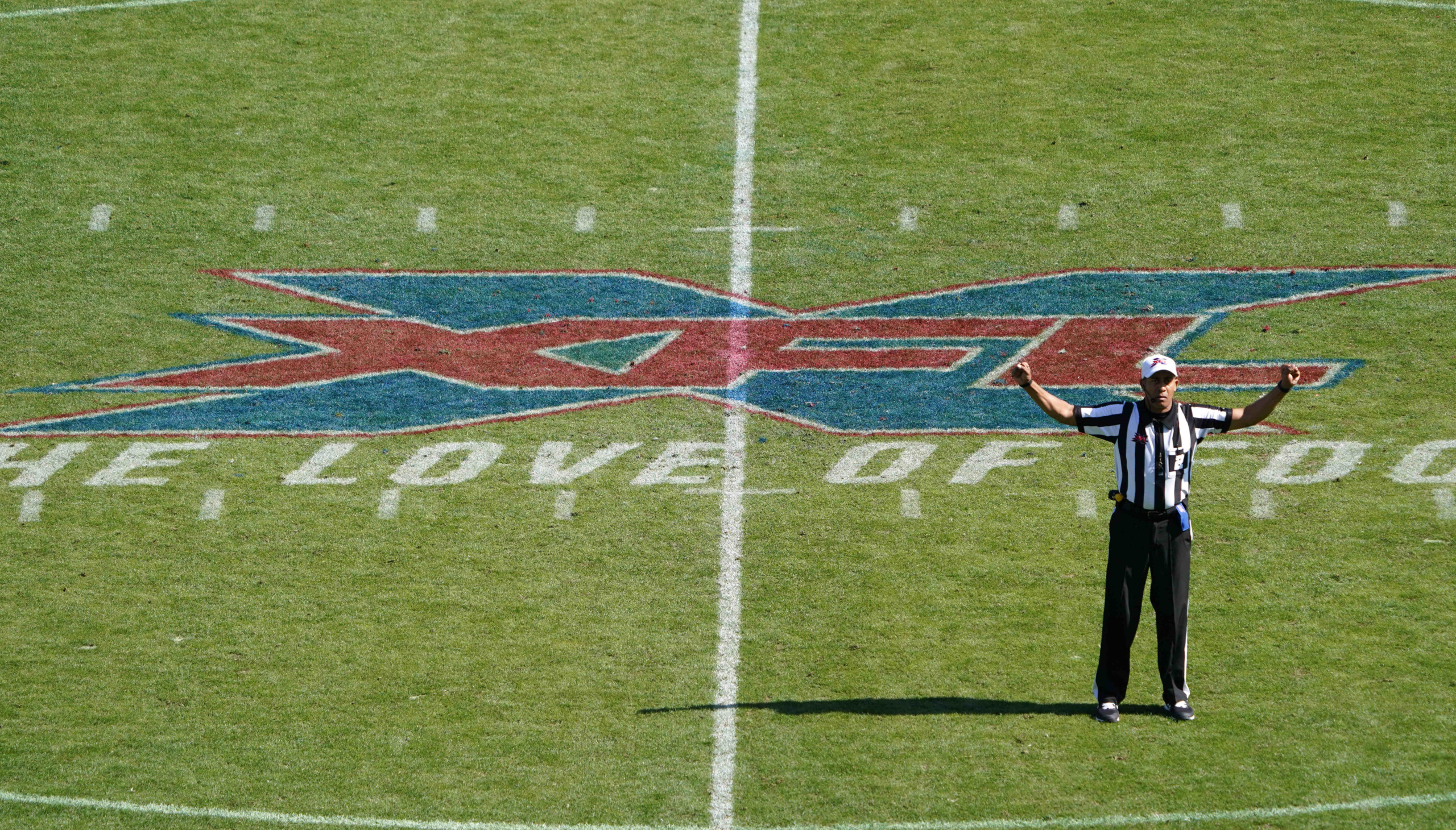 His stardom, and background as a former football player himself, would help market a possible third iteration of the XFL brand. During the XFL's original launch in 2001, he cut a memorable promo at mid-field, insulting NFL "suits" and "candy-asses."
"Look, 'The Rock' is one of the most famous people on the planet," one source said. "He could be invaluable when it comes to pitching, marketing and selling this thing to sponsors."
There could also be a longshot contender down the road: DAZN.
The global sports streaming service has been struggling with its financing and has had to furlough workers.
But before the pandemic wreaked financial havoc, DAZN was rumored to be in the mix for more global NFL game rights. DAZN could see XFL as a cheaper, less risky way into pro football.
"Maybe. But there's still lots of unknowns," said a source. DAZN declined to comment.
If Johnson and his ownership group think they're in line for a lucrative rights deal, they're in for a rude awakening, warned Crakes. Nor would he expect networks to lay out much in production costs.
Instead of getting a rights fee, XFL 3.0 is more likely to be offered a so-called "time buy" partnership, in which the league pays its network partner to televise its games, then pockets some or all of the advertising revenue. This kind of arrangement reduces the risk for sports TV networks. If a shaky 50/50 league takes off, they reap the financial upside. If it flops, they mitigate their losses.
Even after two years of planning, the previous XFL didn't get rights fees from Fox and ESPN. But the networks did pay for production costs which could run from $350,000 to $450,000 per game. The two networks also controlled the streaming rights.
"Getting a (TV) rights fee is very hard to do. That tells the network to take a risk on cash-out," Crakes said. "For the past eight years, if a network is going to lay cash out for a property, they typically need that property to show some kind of value to the channel and the pay TV bundle of distributors."
Before the pandemic, the eight-team XFL and Fox and ESPN drew positive reviews, as the XFL experimented with on-screen betting lines, faster games and roaming sideline reporters.
But this year's rebooted XFL lasted only five regular season games before it became one of the first victims of the coronavirus pandemic in sports.
After suspending operations and laying off almost all employees, it sought bankruptcy protection, with assets and liabilities between $10 million and $50 million. Former XFL Commissioner Oliver Luck is suing McMahon for wrongful termination in federal court.
The XFL has come and gone twice in less than 20 years. A third version would have to overcome the "stigma of failure" that clings to the brand, warned one former league employee.
If another XFL wants TV distribution from major networks like Fox or ESPN, The Rock & Co. will have to convince networks that they are willing to make a multi-year, multi-million commitment to recruiting and signing players and building franchises.
Ultimately, any future XFL will live or die on the same crucible as the prior two versions: quality of play.
McMahon learned his lesson for XFL 2.0. This year's XFL focused on the legitimacy of game play rather than the pro wrestling bombast and leering cheerleader coverage from 2001.
"The networks would have to be convinced that the quality of play, and those responsible for it, would be equal to or better than what they saw this season," said the former employee.
Crakes agreed.
"I just don't believe that during Week 8, people will turn to each other and say, 'Hey, The Rock owns a football league, we need to watch this,'" Crakes said. "It's good that he does. It's helpful. But it's not going to be a reason to watch in Week 9."