What's Happening?
In the past several months, SoftBank Corp. has been making an increasing number of investments in the sports-related space. The firm's newest fund – the SoftBank Vision Fund 2 – has made investments across the landscape from gaming to fitness to media. As recently as yesterday, the company participated in the $100 million raise by Candy Digital – the Fanatics-owned NFT marketplace developer for Major League Baseball.
Over the past 31 months the firm has made 10 investments into the space with the valuation of those investments totaling $33.3 billion.* The number represents a 5x increase versus the initial SoftBank Vision Fund 1 which saw only two investments (not counting multiple rounds for Gympass) invested in the sector on a total of $100 billion total capital deployed.


The capital deployed covers the full spectrum of what would be considered part of the "sports universe" with a few sectors being left out.
Key sectors included:
NFTs (Sorare/Candy Digital)
E-commerce (Fanatics)
Athleisure (Vuori)
Wearables (Whoop)
Gaming (Manticore)
Creator Economy (StreamElements)
Fitness / Health (Tonal)
Ticketing (Dice)
Notable sectors not included:
Streaming
Sports Betting
Fantasy Sports
The Vision Fund 1 and Vision Fund 2 are both thematically technology growth funds that seek outsized returns relative to the market. While the sectors not included by no means should be discounted – it is interesting to see the concentration of capital in predominantly apparel, NFTs, and fitness technology companies. Below, we have mapped out several of the most well and recently funded companies that fall within those categories
Company
Last Funding Round ($mm)
Current Valuation ($mm)
Athleisure
Outdoor Voices
$10
$75
Rhone
$10
$95
Ten Thousand
$2
$11
NFTS
Dapper Labs
$250
$7,600
Recur
$50
$333
Horizon Blockchain Games
$4
N/A
Fitness Technology
Tonal
$250
$1,450
Hydrow
$123
$225**
Oura
$18
$900
Why Does It Matter?
This could potentially be a leading indicator of growth companies and sectors in the future. The SoftBank Vision Fund 1 has already produced 15 public companies trading on U.S. exchanges with those companies significantly outperforming the market.
According to data from PitchBook, when compared to public market benchmarks (e.g. S&P 500 and the Nasdaq), SoftBank's portfolio companies that have IPO'd have significantly outperformed the market since 2019. The strong performance of the "basket" of IPO'd companies was driven, in large part, by returns from Guardant Health (healthcare) and 10X Genomics (genomics).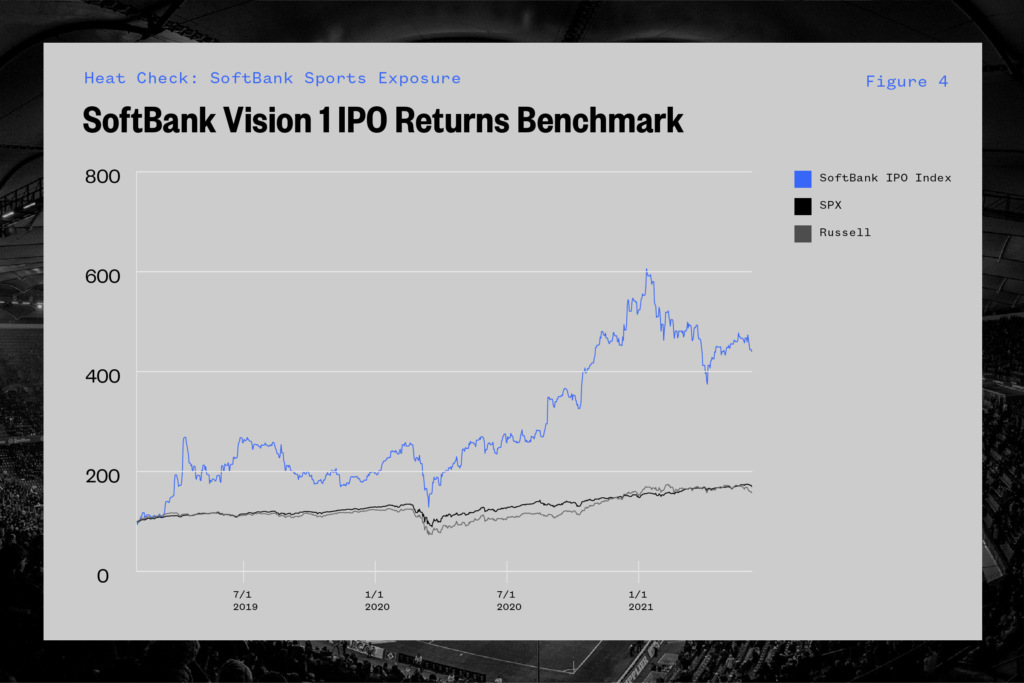 While the Vision Fund 1 has seen multiple exits, the Vision Fund 2 (having been raised in 2019) has yet to see any of its investments go public. As the fund matures and some of its larger investments (by round size) such as Whoop, Vuori, and Sorare continue to garner attention and increased valuations, we could see some of the next high profile public companies coming from this portfolio.
Additionally, with a substantially higher concentration of investments in sports and sports-related companies, there is a chance that one of these market drivers ends up being a sports-related company.
What's Next?
As the Vision Fund 2 continues to deploy capital and its list of portfolio of companies matures, it will be a fun ride following the largest growth segments. With slightly less than $20 billion of capital left to deploy and 154 deals participated in since March of 2019, SoftBank still has room to continue its heightened sports investment thesis.
Investments to Date: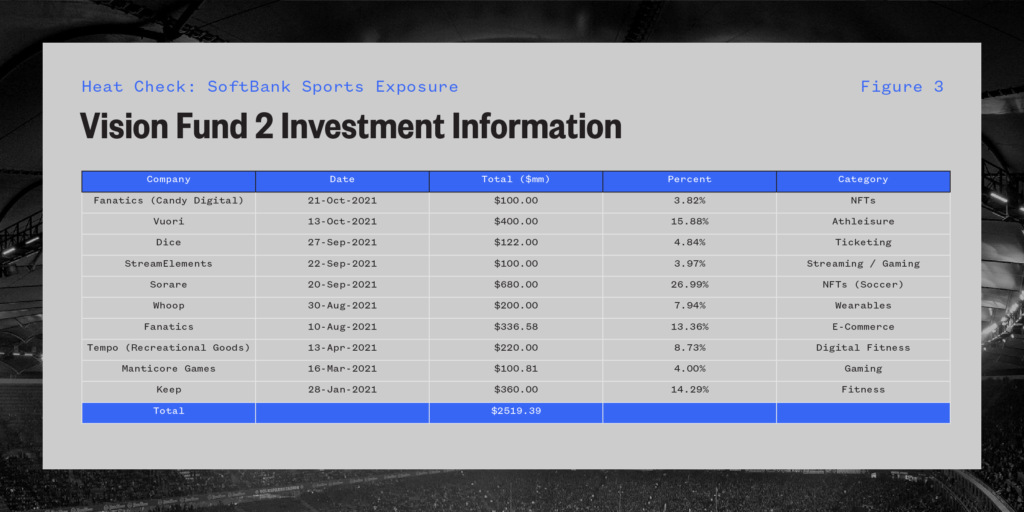 *StreamElements did not receive a valuation nor did Candy Digital
**No valuation data was released as of the publishing of this report