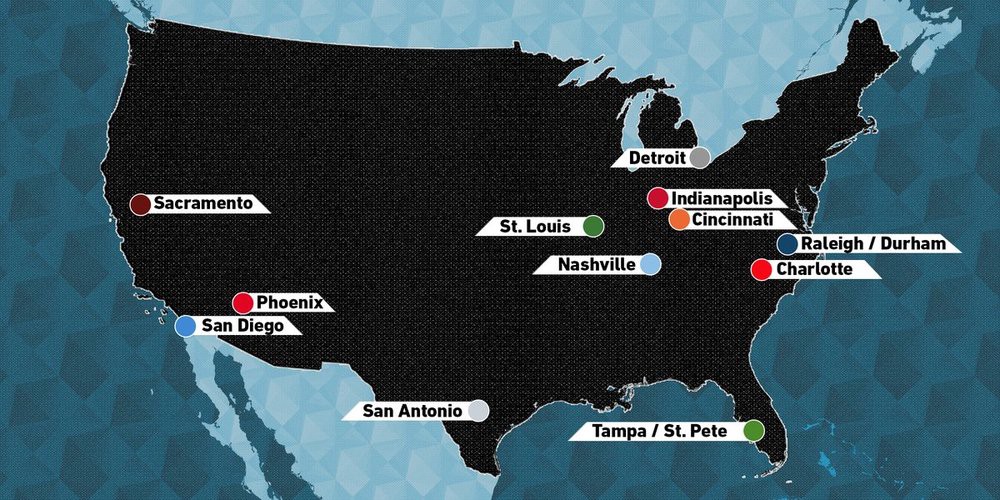 With soccer growing in popularity across the U.S., the sport is finding its footing through Major League Soccer. 12 teams submitted bids for expansion into the league, which aims to have 28 teams by 2020. With Atlanta United and Minnesota United joining MLS this upcoming season, the league will operate with 22 teams, with Los Angeles FC slated as #23 in 2018 and Miami as #24 TBD.
This leaves 4 spots up for grabs, and teams are doing anything they can to improve upon their 33% chance.
As expected, the competition is fierce, as franchise spots are increasingly valuable in a league that improves in viewership, attendance, and overall popularity year after year.
Below, I break down the 7 best bids from social, in terms of creativity and content. Time for the opening whistle!
1. San Antonio
San Antonio FC hopes to make the leap from second-division USL to MLS with the help of an existing fan base and stadium, as well as a strong leadership group in Spurs Sports & Entertainment. I love the video that they put together, because it does so well to capture the culture that they want to continue building on. Having key politicians express their support only helps their case as well.
The biggest takeaway from this? The fact that the club seems to know what it's doing.
Want more great content like this? Be sure to subscribe to our newsletter!
The Spurs have already proven to be a model franchise in the NBA, and adding an ownership group dedicated to doing things right and being successful is a huge draw. It's awesome to see the video show how youth teams will be involved right away, and how it was able to capture the existing culture that is already established.
Professionally done, all around. A+ music choices as well, especially with younger fans driving the growth of soccer.
2. Nashville
Nashville put together a really strong video to support its MLS bid. The Music City is full of passion and talent, and they really did well to put this on display.
Nashville would prove to be a strong cultural hub for the sport, allowing the beautiful game to grow with the city itself. Everything about this compilation screams Tennessee, from the legendary music scene to the incredible sports fans and everything in between.
I think Nashville was going for the unique identity angle with this video, and they absolutely nailed it.
The city is so culturally rich, and capitalizing on this is crucial for a team's success. It's awesome to see the passion behind everything the city represents, and this video leaves you feeling like a soccer team would be no different. Well done.
3. Phoenix
Phoenix Rising FC hopes to bring the world's largest sport to the desert, and the team is not backing down from the challenge. I love the subtlety of the post, being simple but strong and conveying a sense of measured confidence.
Utilizing the proposed stadium renderings is a smart move, as it generates buzz around something to-be (and spectacular at that) and has fans drooling for more. For those that are skeptical, offering more details is a great way to educate and excite, even if it's not the most glamorous way to do it on social these days.
Sometimes, if it ain't broke, no need to fix it and reinvent the wheel.
4. North Carolina
Recently re-named North Carolina FC is another example of a NASL organization that is hopeful to make the leap up to MLS. The club underwent an identity change, hoping to provide a united, uniform brand that better represents the state.
The video put together by the social team is fantastic, really pushing fans to feel pride for their state and offering an empowering, optimistic outlook on the future.
Showing how residents are passionate, loyal, and continuously growing is awesome, especially as it fits perfectly with the mold that MLS expansion franchises are expected to embody coming in.
I also really like the simple graphic, because promoting the zip code '919' is something that no other expansion bid has done, and it's a small but unique differentiation tool amongst the group.
5. Tampa Bay/St. Petersburg
Tampa Bay was an initial MLS market when the league originally launched over 20 years ago. However, the Mutiny folded due to financial troubles within the organization and league. With the league at its strongest point ever, Tampa Bay/St. Petersburg seems to be a fantastic market to bring back into the fold.
The Rowdies have spent time in the NASL, but will transition to the USL in hopes of using it as a stepping-stone for MLS.
I think the team had the most clever pitch to the league, literally and figuratively speaking.
Brilliant marketing move by whoever came up with that idea!
Following a similar trend to the other videos, the Rowdies also want to empower the community and showcase the passion that already exists in the market.
For a team that is already established with a strong following and history of results, it's a great opportunity to show where they are, and how much farther they can go. I love that the video also stays true to the brand's color scheme, with green and yellow featuring prominently throughout. Way to own it, Rowdies.
6. Cincinnati
Last year was FC Cincinnati's first season in USL, and from the get-go, it's established itself as one of America's most passionate markets. With strong attendance figures across the word, the team has put itself on the map for MLS expansion extremely quickly.
I love the mini documentary video from the club, because it does a great job capturing the growth of the team from inception to the playoffs, with all of the momentous occasions along the way. MLS fans that want to bring in strong potential organizations look at large attendance numbers, media market size, supporters culture, and notable talent.
This video weaves in all of these aspects, truly putting the passion and buzz around this team on full display. Impressive from such a young club.
7. St. Louis
Saint Louis FC is yet another USL club that has brought on a strong investors group to finance a move to MLS. While they may not have strong video content like the others, the #MLS2STL hashtag is one of the first to have popped up, while also having significant backing.
For a proud sports city like St. Louis, having another team to call their own would mean the world, and they've began laying the foundation for success. Using a bold, declarative statement like that empowers fans who may have been on the fence, and makes it clear that Saint Louis FC and the group pushing this bid mean business.
Including the stadium rendering is also a smart move, offering a glimpse into what could be with the club's future. Smart to get fans excited and having them drive the momentum behind the process.
Missed the cut: Sacramento, Detroit, Indianapolis, San Diego, Charlotte.
Note: The teams that did not feature are not lesser expansion options. They all have strong arguments for fan support, location, resources, and stadium renderings. The teams above simply presented their cases through social channels.
Thanks for joining us for this week's MLS expansion social media recap on the #SMSeven. See you next week — same time, same place!