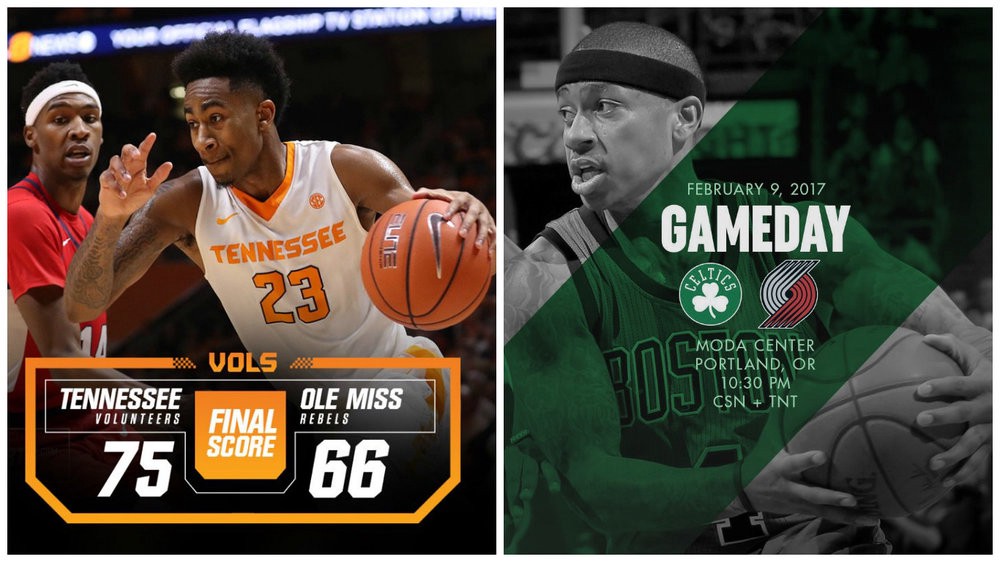 It's Sunday! You know what that means — time for a brand-new #SMSeven, hot off the presses! From creative graphics to strong video content, there was a lot to like in the digital sphere this week on social. Let's get started right away below:
NBA Social Media Policy
Earlier this week, the NBA reached out to its teams, reminding (restricting?) them from slamming opponents and poking fun at the expense of other organizations. Social teams will have to be more conscious of what they are posting and how they interact with others, which will ultimately restrict some of the friendly jabs that we've grown to love on Twitter. It will be interesting to monitor this situation as it progresses: Will teams face repercussions for mocking opponents? What is the line that teams can toe? How will teams be creative to still be fun and engaging on social? Stay tuned.
Sacramento Kings & Atlanta Hawks
When the NBA's "no-mocking" policy was brought to the forefront, the Kings and Hawks were two of the social teams that came to mind immediately. Both have developed a strong personality on Twitter in recent seasons, being sarcastic, edgy, and fun when engaging with other teams. The two adapted quickly to the policy, finding a way to bring this tone to an overly positive, complimentary conversation.
Want more great content like this? Be sure to subscribe to our newsletter!
Instead of mocking opponents, the teams had fun at the NBA's expense, blatantly making responses over-the-top friendly. This is a smart, calculated move: keep the conversation going, keep fans happy, and continue building the brand personality while expressing your displeasure with the league's decision. Love it all around!
Check out more comprehensive highlights in the moment below
Buffalo Wild Wings
With the Patriots completing an epic comeback in Super Bowl LI to send the game to overtime, history was made, as no other matchup had extended into the extra session. Buffalo Wild Wings used this as a perfect opportunity for a brand boost, "activating" their BWW button and taking credit for the game continuing. The company has tied the button into its branding and commercials for years, and this was a great way to inject it back into the conversation. Plus, who else is suddenly hungry now?
Thursday Night Hoops — UNC vs. Duke, Oregon vs. UCLA
ESPN's college basketball doubleheader this Thursday featured two of the sport's biggest rivalries, not to mention matchups between top ranked teams one month from March. UNC and Duke have a long, storied history, and the latest installment of the Tobacco Road Rivalry unfolded at Cameron Indoor. Both teams feature strong social teams as well, and this was on full display Thursday.
The graphic work is absolutely stellar, with sharp, smooth-moving GIF layers that are eye-catching and bold. Starting line-up visuals are one of CBB's strongest trends this season, and look no further to find two of the best examples. Both programs can really churn out excellent video content, setting the mindset for game time and building on the excitement of the rivalry (as if it needed any help).
Oregon and UCLA were not to be overshadowed, however, playing a crucial PAC-12 conference game as Top 10 teams. I've highlighted their line-up designs as well, with the Ducks going for a sleek video visual whereas the Bruins put together a strong graphic that looks so good that I want to hang it up as a poster. 4 historic college basketball programs. 4 incredible social media teams. Strap in, March is coming!
Tennessee Volunteers
Is there a program that owns its color scheme as much as the Vols? One look at any Tennessee timeline leaves you with a strong first impression: a wave of Volunteer Orange. The social team working with basketball has been hard at work, and the quality is noteworthy. Using the overhead camera view for a video is smart, and an angle that I haven't seen implemented before.
The execution was spot on, and I would be surprised if we don't see this tinkered with and replicated by others. The starting line-up GIF (noticing a trend?) is smooth, vivid orange, and is effective in its transitions from names to images. They let the color scheme take center stage and build around it, which does wonders for the brand.
I love the timeline graphic, because it gives fans a heads-up on when to get to the arena and when important events during the course of game day are taking place. It's never a bad idea to keep your fans in the know. Keep up the great work, Vols!
Boston Celtics (feat. Portland Trail Blazers)
It's been a great week for Boston sports fans, as the Pats took home the Super Bowl, while the Celtics and Bruins continue to surge and line-up for potential runs of their own. The C's social team saw an opportunity to capitalize on the Super Bowl buzz in town by tweeting out what Brady said to Isaiah Thomas, hoping to build some more excitement within the fanbase and unite everyone under the goal of bringing the next championship to Beantown.
Sort of the "Next Man Up" philosophy that the Pats have embodied for more than a decade. I love the interaction between the Celtics and the Trail Blazers as well, because it's good-natured fun and banter that doesn't cross the NBA's new policy, but still is enough to feel like you're messing with each other.
Also, exceptional use of videos and GIFs, along with wording, throughout the sequence. Well played, Boston. Well played.
SkullSparks — National Signing Day Round-up
A big shout-out to Jason Matheson and SkullSparks for the incredible content they always share around creative implementation in sports. National Signing Day in 2017 was a tremendous undertaking across the sport, with social teams hard at work trying to promote the best graphics, videos, and more of their commits. Make sure to check out the full #NSD17 compilation above, and let us know what teams stood out to you on social!