Beyond the willingness of the Memphis players to pay their coach's fine, brands were also jumping in on the action.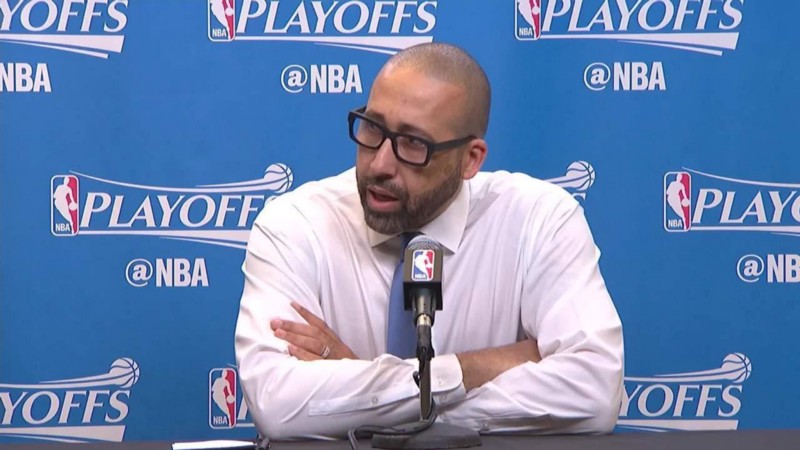 Memphis Grizzlies coach David Fizdale went on the rant of rants following his team's Game 2 loss to the San Antonio Spurs, citing a discrepancy in the amount of free throws shot by each team. If you have yet to see the whole thing, it is worth taking three minutes out of your day to digest.
Fizdale's seething remarks will undoubtedly lead to a fine coming within the next day or so, as players and coaches are not allowed to outright attack officials publicly.
Following the rant, some of Fizdale's lines — specifically the epic shriek of "Take that for data!" — garnered national attention on social media, providing an alleyway for a company to possibly attach themselves to the story and take a ride on the publicity train.
Enter ServiceMaster, a Memphis-based company, who offered support for Fizdale through Twitter while also accepting the responsibility of paying any fine that comes the coach's way.
We proudly defend Memphis businesses – including the @MemGrizz. If Coach Fizdale gets fined, we've got it covered. #TakeThatForData

— ServiceMaster (@ServiceMaster) April 18, 2017
The tweet circled around the twittersphere, commanding 1080 retweets to this point — a hefty figure for an account that has a little over 5,000 followers. For the potential cost of the fine, ServiceMaster got their brand exposed on a national scale, aligned themselves with one of the most visible organizations in the area (Grizzlies), and even showcased a witty voice for their brand with their excellent use of the #TakeThatForData hashtag.
https://frontofficesports.com/brooklyn-nets-and-normatec-partner-for-new-recovery-room-at-barclays-center-6aa464a04088
Unsurprisingly, this is not ServiceMaster's first rodeo in this space. Just last year, the company offered their Terminex service to follow Cleveland Cavaliers point guard Kyrie Irving on the road after he was the victim of bed bugs.
While they may not be able to pay the fine, they sure made one heck of an impression.
We're told sponsors can't pay fines, but we're working with the @memgrizz & @grizzcommunity to put the $25K to good use! #BelieveMemphis https://t.co/MHdGjokVtP

— ServiceMaster (@ServiceMaster) April 19, 2017
---
Front Office Sports is a leading multi-platform publication and industry resource that covers the intersection of business and sports.
Want to learn more, or have a story featured about you or your organization? Contact us today.