Each school added their own flair.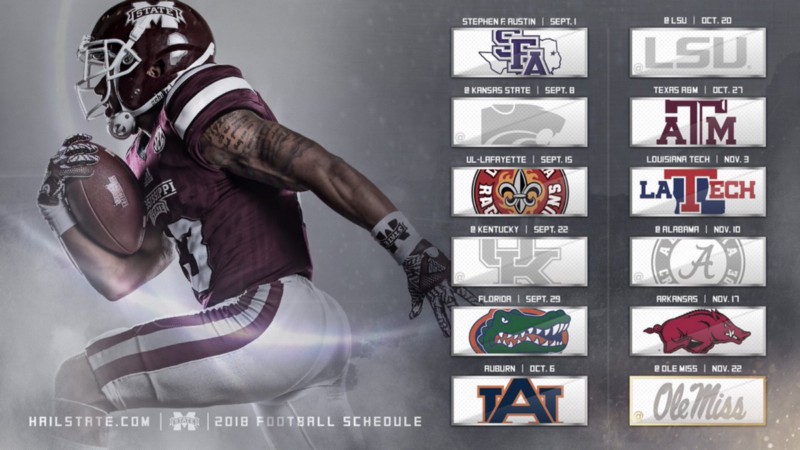 While most of us are still getting over our excitement for the current college football season, the Southeastern Conference is already getting preparing us for the 2018 season. On Tuesday afternoon, the SEC announced the dates and fixtures for its member teams for the 2018 season.
The marketing and social media teams at each of the SEC institutions followed up the announcement with a slew of content highlighting their own teams' future games. Most schools saw this as a chance to let their graphic designers shine. Florida's rose to the challenge with a clean and vibrant schedule graphic.
https://twitter.com/GatorsFB/status/910217227374297088
In addition to a beautiful piece of graphic content, Mississippi State accompanied their schedule announcement with some clever copy that all football fans unfortunately relate to at some point in time.
Vanderbilt's schedule reveal came in the form of a satisfying gif where the schedule folds out over the background. It's a creative use of motion that's not overly complicated, but it's almost hypnotic in nature. Plus it moves at such a speed that it pulls you in, but it's not so fast that you can't absorb all the information presented.
Arguably the most creative piece of content from this schedule release came from Tennessee. The Volunteers managed to produce a short animated video with an art style (complete with music and voice overs) meant to emulate that of the Street Fighter video games. Their mascot, Smokey, appears ready to face off against the mascots of future mascots, who are all posed or costumed in the style of characters from the video game.
The production value on this is just incredible. The lengths that the creators went to in order to make the homages to Street Fighter are admirable, to say the least. When some organizations would have been satisfied with a press release for this kind of announcement, the Vols went above and beyond. It takes an incredible amount of effort to make something this unique and authentic and I tip my hat to them.
---
What was your favorite piece of social content from the 2018 SEC schedule release? Let us know on Twitter @frntofficesport.
---
Front Office Sports is a leading multi-platform publication and industry resource that covers the intersection of business and sports.
Want to learn more, or have a story featured about you or your organization? Contact us today.