All fans had to do was send in a selfie, complete with a filter, to wmwhitecaps on Snapchat.
What would it be like to see your face on a Minor League Baseball jersey? Last month, the West Michigan Whitecaps announced their Snapchat selfie jersey on social media. All fans had to do was send in a selfie, complete with a filter, to wmwhitecaps on Snapchat.
To get a feel for how the promotion came about and what the response has been, I spoke with Jason Brower, the Fan Engagement & Social Media Coordinator of the Whitecaps.
Jason said that people were allowed to submit Snapchats up until Friday, March 24 and that within the first 24 hours that the promotion was up, West Michigan had over 40 submissions.
https://frontofficesports.com/bowie-baysox-bring-back-pie-madness-8ba029de0cc4
Brower explained that the inspiration for the selfie jersey came from the Growlers, but that he and the Whitecaps wanted to take it a step further with Snapchat.
"A few teams have done selfie jerseys including the Kalamazoo Growlers so we wanted to take it a step farther and use Snapchat selfies. Each photo on the jersey will be a selfie using one of the many Snapchat lens."
According to mlive.com, the Growlers had over 300 selfies of fans projected onto a jersey and wore them in July of 2014. They then put the jerseys up for auction after the game.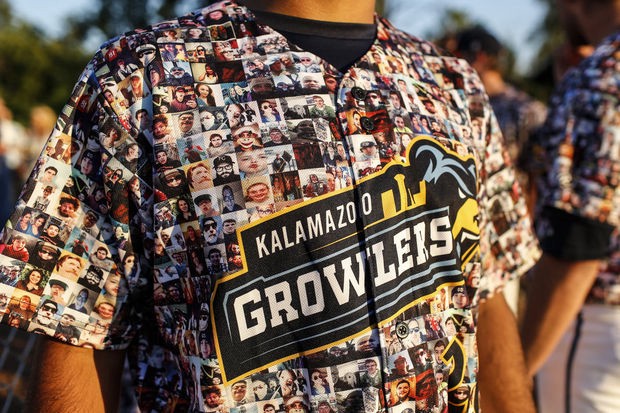 So what will the Whitecaps do after they're done with their jerseys? Brower said that they don't have a plan to sell them. They have auctioned off special jerseys in the past with the proceeds going to the Whitecaps Community Foundation so they're keeping that open as an option.
For this jersey, the Whitecaps will be working with OT Sports to make this one-of-a-kind uniform. They will take the photos submitted through Snapchat and place them on the design.
OT Sports is an American-made jersey company in Burlington, North Carolina. They pride themselves on making every jersey and uniform on site. The company was launched in the Czech Republic in 1992, while one of the co-founders was attending college there. They expanded to the USA in 1994 and became the main jersey supplier for minor league hockey leagues, such as the ECHL.
https://frontofficesports.com/bowie-baysox-bring-back-pie-madness-8ba029de0cc4
In 1999, OT Sports was "granted a license from Minor League Baseball to produce replica and on-field specialty jerseys for teams on their many theme and charity nights." In 2015, they produced more than 350 different specialty game-worn jerseys, celebrating everything from breast cancer awareness to Star Wars to '80s nostalgia. You can check out their jersey calendar to see when your favorite MiLB team is wearing a special OT Sports uniform.
The West Michigan Whitecaps will be promoting this unique experience across their four social media platforms: Facebook, Twitter, Instagram and Snapchat and will wear them during their social media night on July 29th.
Last year for this promotion, the team wore emoji themed jerseys, which caught national attention on ESPN, Fox Sports, Bleacher Report and USA Today.
The Whitecaps' fan faces have big shoes to fill when it comes to impact, but in the new age of advertising and fan engagement this is a hard promotion to ignore.
---
Front Office Sports is a leading multi-platform publication and industry resource that covers the intersection of business and sports.
Want to learn more, or have a story featured about you or your organization? Contact us today.