This feature is presented to you by the University of Nebraska — Lincoln Master of Arts in Business with a Specialization in Intercollegiate Athletics Administration
For most sports fans, they have their favorite sport, team and brand. The number working in one of those favorites is considerably smaller. For Ryan Abriel, working for adidas means working for part of his personal trifecta.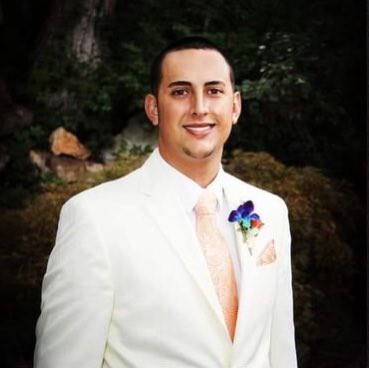 "My parents are from Los Angeles and from a young age, it was embedded in me to love three things per my dad's instruction; UCLA, basketball and adidas. Growing up, I was only ever allowed to wear adidas and I continue to live by that edict today."
Currently an Assistant Social Marketing Manager, working with running, hockey and brand sports, Abriel's road to adidas was far from typical.
The Portland native made the trek to Ogden, Utah and Weber State University. While at Weber State, Abriel worked towards what he believed at the time would be a career in education.
"While I had always been a huge sports guy, in high school I had a principal who was also our basketball coach that inspired me to become a coach and high school administrator. I admired him, and I went to school with the intention of doing something similar."
After finishing his undergraduate studies, the next logical step was graduate school. Again, the trifecta played a part in Abriel's life. It was through UCLA that Abriel intended to earn his Master's of Education.
"While I had gone to school to be an educator, I had minored in Spanish Literature as well as digital marketing — something I had an interest in, but never anticipated doing full-time," he added. "It was around the time when I finished my undergrad that it all clicked for me. I loved sports and I had a passion for adidas, so I started reaching out to friends back home and learned who was working for the company and what they did in their roles."
"The same way educators can change the world by shaping our youth, I believe we can make the world a better place through sport, but you have to have the ability and relentlessness in order to inspire others to think the same way."
What happened next could be called a leap of faith, and it involves Abriel and his wife moving back to his hometown in Portland with no job or contingency plan in place if the 3 Stripe Life didn't work out.
"Portland, the mecca of sports brands, is where I decided I needed to be. I asked my wife if she would pack up and move to Portland so I could pursue a position with adidas. She was nice enough to make that sacrifice for me because she knew how much sports and the brand meant to me," he said. "We moved back and I started applying rigorously, solely to adidas and was determined to earn employment there. After a couple months, I got a call back and an opportunity to work in the employee store in retail management."
Like many in the industry, getting a foot in the door can be the most important step in building a career.
After two and a half years with adidas, Abriel moved into his current role.
"In my job now, I assist with our short and long term social strategy while primarily focusing on community management of the social media channels for running, hockey and brand sports," he added. "This includes responding to consumers and doing my due diligence to ensure adidas is represented in high esteem with a hint of swagger."
"With adidas taking over as the on-ice outfitters of NHL next season, we wanted to start building our social media presence, which is currently focused on Twitter. It's been an endeavor thus far that has afforded me opportunity to showcase my skill set, experience and connect with the hockey community."
While training students in the classroom and managing a brand's interaction with its loyal followers might seem like two very different things, they also share some similarities.
"While I was interning, and going through my student-teaching, I learned to work with and value people. That is a skill that will translate across any industry you work in. So much of what I do is building relationships and working towards achieving objectives through strategic teamwork," Abriel said. "When I was in teaching, the sort of motto was to inspire the youth of today to be leaders of tomorrow. I want to inspire our consumers to train hard and be the best athlete they can be today, so they can dominate their sport tomorrow."
Relationships not only help build the adidas brand, but have played a crucial role in Abriel developing his brand's presence in hockey.
"I have always been around hockey through SportsCenter, Top Ten plays and the Stanley Cup Playoffs, but to say I was an avid fan to begin with would be misleading. Having had the opportunity to create and cultivate relationships with the fans, I've significant increased my knowledge and appreciation for the game and love seeing first-hand the diehard passion that hockey fans have for their teams and players."
After spending almost three years with adidas, Abriel offered the following about what skills have allowed him to find success in his role.
"Working in social, you have to have thick skin and an "always online" mindset. You have to approach every account and every campaign like it is the best in the digital universe. You have to be bought in, because people can sense if you aren't truly invested."
"Education-wise, the ability to write well goes a long way with being able to work with people in social media. Photoshop is another skill that is valuable working in digital marketing," he added. "Whether it's creating an image or a GIF, if your external resources aren't available when you need them, you still have to get the job done and get it done well, because again, my goal is for our brand to continue as the best sports brand in the world."
For many aspiring to work with a company like adidas, a career often starts with an internship. Having worked around successful interns that moved into full-time roles with adidas, Ryan shared his thoughts about what makes the interns so successful.
"The interns I have worked with all had great experience prior to joining adidas. Whether it was from working in their universities athletic department or a previous internship elsewhere, they had a solid foundation before they got here. Once they were here, they were curious, asking questions, looking to be included in emails and meetings. Not only were they curious, but they were avid fans of the brand."
Working for part of his personal trifecta has been everything that Abriel could ask for, however, there was one thing he didn't consider coming in but has adapted to with ease over time.
"For me, the only thing I would do different is be more prepared for the hours outside the office, fully for the sake of those around me. I love my job, I don't even consider it a job. It's a blessing and an opportunity of a lifetime I intend to make the most of. But even though I leave my desk at 5 o'clock, my work doesn't really stop because social media doesn't either."
At the end of the day, Abriel considers himself lucky that he gets the opportunity to do something he loves for a company that he grew up admiring.
"On my hour plus drive home from work, I always reflect on my career and remind myself that I get to talk about sports all day, and shoes! We won't even get into my collection but I'm a lucky guy, so if this isn't considered a dream job, I'd like to hear what someone else's definition is — but I'd most likely disagree anyways."