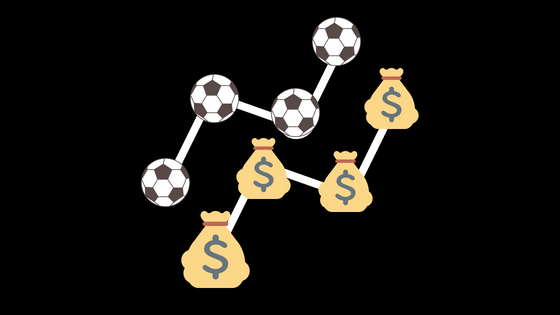 Let's end the debate on whether buying Cristiano Ronaldo makes commercial sense for Juventus.
As you can see below, the club has already seen a 50-percent rise in value; this is the startling and swift "Ronaldo Effect" as he completes a shocking move to the Serie A champions.
https://twitter.com/ericjackson/status/1017094802846838784
We have to go back multiple decades to fully understand the magnitude of this transaction. In the late '80s and early '90s, Italy was the primary destination for top footballers, but that changed when the English First Division was rebranded as the English Premier League (EPL) in 1992 with its high-quality marketing and global broadcasting. As the ability to distribute its games across the world increased, the EPL was at the forefront of globalization, followed by Spanish La Liga.
Their clubs had more money and became attractive to top players, while Serie A got left behind. In fact, "O Fenomeno," the Brazilian Ronaldo, was probably the last global superstar to come to Italy in his prime, when he went to Inter Milan in 1997.
Now, Ronaldo coming to Juventus has the potential to be a complete game-changer for Serie A. The latest rights to broadcast Serie A in Italy and most of Europe have been sold until the end of the 2020-21 season. Meanwhile, Ronaldo has signed a four-year deal until the end of the 2021-22 campaign, limiting the commercial impact. However, the Ronaldo transfer has seen an immediate influence on Serie A's attractiveness in other regions.
Until last week, the Italian league was not even going to be shown in the United States because no media heavyweight had purchased the rights. All of a sudden, it's hot property as Turner and ESPN are reportedly vying for the right to show Serie A and Ronaldo.
Juventus is already a footballing giant with history and pedigree, having won seven consecutive Serie A titles and reaching two Champions League finals in the last four years. Meanwhile, even at 33 years old, Ronaldo is still the best in the business, and his statistics prove it. However, it's off the field where he has the potential to have a bigger impact for Juventus.
Juventus lagging behind the top European clubs
Revenue
Even though Juventus is, by far, the most successful and well-run club in Italy, it lags behind top European clubs in terms of global reach and, consequently, revenue numbers. Here are the results for 2015-16: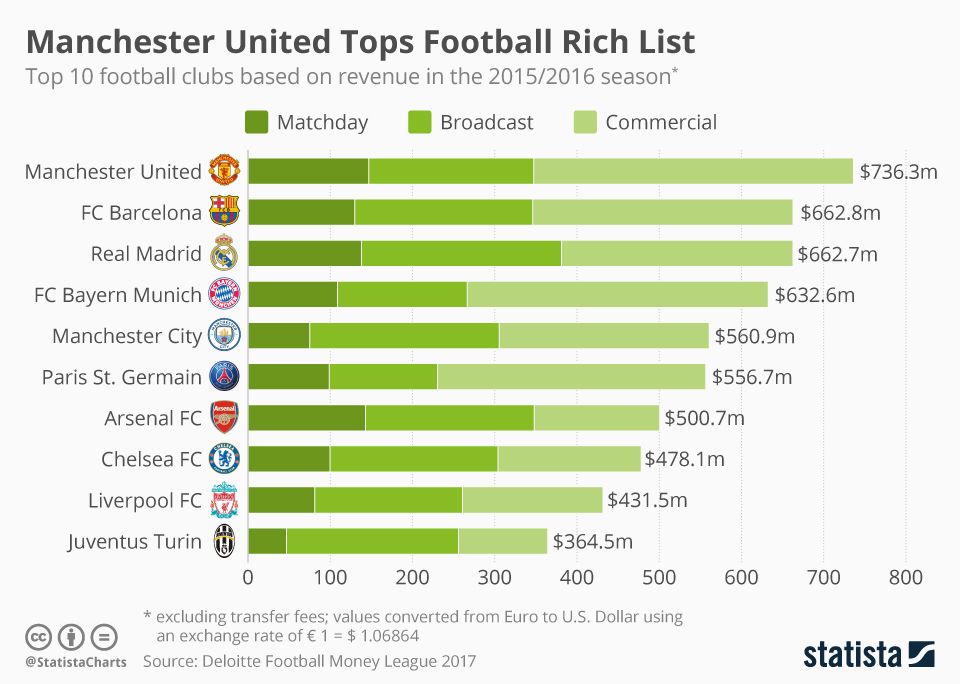 As per the latest Deloitte Money League report, Juventus is still at No. 10, with revenues of EUR 405 million for the 2016-17 season, less than two-thirds of first-place Manchester United at EUR 676 million.
The top three clubs (Manchester United, Real Madrid and Barcelona) all earned roughly three times more commercial revenue than Juventus (EUR 114 million). The disparity — which includes merchandise and sponsorships — is primarily due to the international reach and global fan base these clubs have. This, in turn, affects the value the club has as a property that brands want to be associated with and leverage on a global scale.
Partnership Portfolio
The top three clubs use their influence and reach to get a diverse group of partners on board, be it brands that have a global footprint (Rakuten and Barcelona; Samsung and Real Madrid), brands that want to enter new markets (Chevrolet's partnership with Manchester United in order to enter the Asian market), or brands that want to leverage the club's popularity in their local markets (various local banks, telco and other consumer brands all over the world).
Most of Juventus' partners are either Italian companies or corporations that operate in Italy and are partnering with Juventus in order to reach an Italian customer base. Juventus has recently ventured into international markets, getting LingLong tire (China) as a global partner and four other Asian brands as regional partners. However, this pales in comparison to the top three.
Manchester United has more than 75 partners globally, while Juventus has less than half that number. Ronaldo has a massive global reach and significant pull in Asian markets that tend to be star-centric rather than team-centric.
Awareness & Fanbase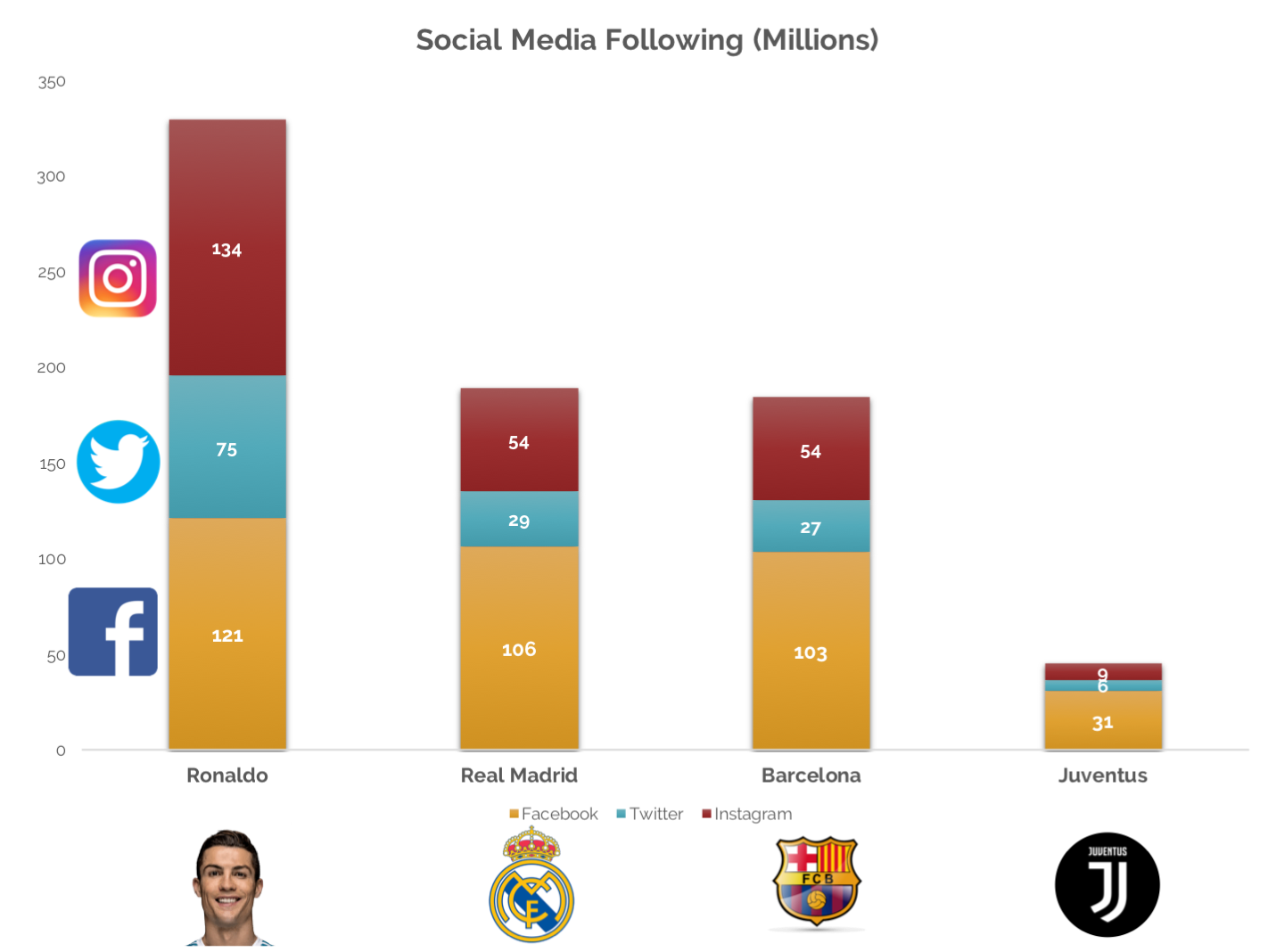 Juventus lags far behind the clubs it wants to compete with in terms of fan following.
Real Madrid and Barcelona have 189 million and 184 million social media followers, respectively, while Juventus had only 45 million in January 2018. What better way to change that than to have the most-followed male athlete on social media on your roster? Ronaldo has over 330 million followers and 15 times more Instagram followers (135 million) than Juventus itself.
In addition, Juventus has a behind-the-scenes documentary on Netflix called "First Team." With Ronaldo part of the series, its viewership should increase, helping Juventus engage with a growing fanbase.
Sponsorship Revenue
Juventus lags behind the top clubs in sponsorship revenue. Both the Jeep and Adidas deals are up for renewal at the end of Ronaldo's contract, so it is unlikely there will be a significant change in those values in the current cycle. However, if the club manages to increase its global fan base, TV viewership numbers and shirt sales in the next four years, it will be able to provide more value to sponsors and demand much higher prices.
Juventus sold 850,000 jerseys in the whole of the 2016/17 season.

They've sold 520,000 in the first day of Cristiano Ronaldo's unveiling alone.

Cristiano Ronaldo effect. 😳 pic.twitter.com/XSSkyV0AAw

— SPORTbible (@sportbible) July 16, 2018
Overall, this is a unique opportunity for Juventus to elevate itself to a global powerhouse and compete commercially with the top three of Manchester United, Barcelona and Real Madrid.
Want more content like this? Subscribe to our daily newsletter!
The whole world is talking about Juventus while the FIFA World Cup's dust is still settling, and the club should use the awareness and star power that comes with having Ronaldo on its books to penetrate new markets and increase its global footprint, fan base, and brand value.