Redefining Live Sports with PwC's Smart Venues
Today's fans attending games or other events at your venue are seeking more than the traditional in-stadium offerings of the past. They desire frictionless experiences that blend the comforts of watching from home with the thrill of attending live games and events.
‍
As sports organizations evolve beyond traditional stadium amenities, they often lead the way in creating data-driven "smart" districts and mixed-use developments to deliver fan experiences not just in-venue, but beyond. These days, every facility and amenity, from retail and concessions to sports books and restaurants, are thoughtfully curated and enriched with smart technologies to delight fans on-site and keep them coming back for more.
‍
And similar to achieving on-field success, crafting the perfect live event viewing atmosphere requires speed, power and calculated strategy built on analysis and prediction. That's why both sports organizations and developers alike have embraced data and technology to help them gain an edge wherever they can.
‍
Building a smart venue goes beyond just determining the ideal location. Today's stadium projects need to tie everything together — from office space and residences to restaurants, concert venues, and other public spaces. For real estate developers and organizations tasked with creating vibrant communities and entertainment destinations, the job requires more than design — it requires data.
Developers must consider a pressing question… how can data be responsibly gathered and used to better meet the needs of fans and community members?
How can data be responsibly gathered and used to better meet the needs of fans and community members?  
‍
Enter PwC Smart Venues – digital representations of physical spaces that learn and adapt in real-time—helping you understand customer needs while increasing revenue and operating spaces more sustainably and securely. From the moment fans leave their homes to when they park, order concessions, track in-game action, or engage with other gameday activations, every touchpoint is a valuable opportunity to delight fans by gaining deeper insights into their interests, desires, and behaviors.
Enhancing the Fan Experience
Today's game-watching experience transcends the boundaries of the stadium, using precise data and detailed analytics to unlock a realm of entirely new possibilities. Second screens can deliver real-time stats, while innovative streaming angles provide unique perspectives, including player points of view, in-huddle footage, and more. Advancements in augmented reality and other technologies transport fans into an immersive viewing experience, closer to the action than ever before.
‍
PwC Smart Venues helps front offices better tap into the rich reservoir of fan data, leveraging market intelligence and impact studies to identify local consumer trends, preferences, and propensities. Armed with this knowledge, organizations can identify optimal pricing and monetization models, uncover revenue growth opportunities, and create impactful moments throughout the fan journey, both in the physical and virtual realms.
Upgrade Operations
Powered by IoT technologies, virtual models of the stadium (also known as digital twins) enable constant monitoring of venue operations, including building equipment, crowd flow, and site conditions.
‍
For staff, this means benefits such as identifying the need for repair or replacement before key infrastructure breaks down. By understanding crowd flow and occupancy information, operations managers can better direct fans throughout the stadium, reducing wait times for bathrooms and concessions, clear access for VIP areas, and most importantly, form both proactive and reactive safety plans for all attendees. For fans, this centralized data translates to a seamless, streamlined experience from the time they arrive to parking to seating and concessions.
Enhancing Sustainability
As the urgency of mitigating climate change increases, sports organizations are also seeking ways to minimize the environmental impact associated with their venues. This includes reducing the significant amount of waste generated during games, concerts and other events.
‍
Smart venues can serve a crucial function in building sustainable business processes. Teams can monitor and identify energy consumption and emissions trends and anomalies, paving the way for effective reduction strategies to meet the organization's sustainability goals. Digging deeper into the data, smart venues can also help assess waste patterns, presenting solutions for more efficient food ordering and distribution systems.
Driving Sponsorship Revenue
Modern activation tools, such as third-party clean rooms, offer a secure and anonymized approach to enable teams and sponsors to comb through consumer data for richer insights. With this deep customer intelligence, fans can receive offers tailored to their interests and team allegiances, sponsors get more bang for their marketing buck, and teams have an easier time targeting their ideal sponsors. It's a win-win across the board.
Bottom Line
In this high-stakes game for fan engagement and retention, Smart Venues by PwC are blending data, technology and innovation to create the stadiums of the future. And these new stadiums and entertainment districts are fostering a new era in sports where every fan is a valued player, and every interaction is a winning one. The evolution of fan experiences has just begun, and with PwC's Smart Venues leading the charge, the future of spectator sports looks thrilling, immersive, and, above all, smart.
Live sports programming traditionally dominates the primetime ratings on linear television, and there's no indication that will ever change. In February, over 115 million viewers tuned in to Super Bowl LVII, making it the most-watched Super Bowl of all time. 93% of the audience – or 107 million viewers – watched on Fox's linear broadcast. However, consumers are increasingly drawn to connected TV (CTV) for the ease-of-use and convenience it provides: 78% of all U.S. households subscribe to at least one or more streaming service.

Streaming content is extremely popular with sports fans, and for the tech-savvy younger generations, it's a must-have: 31% of millennials and 30% of Gen Z viewers are watching sports via online streams. According to Nielsen, 80% of sports fans, 76% of NFL fans, and 89% of soccer fans have regularly or sometimes watched sports on any streaming or online channel in the past year.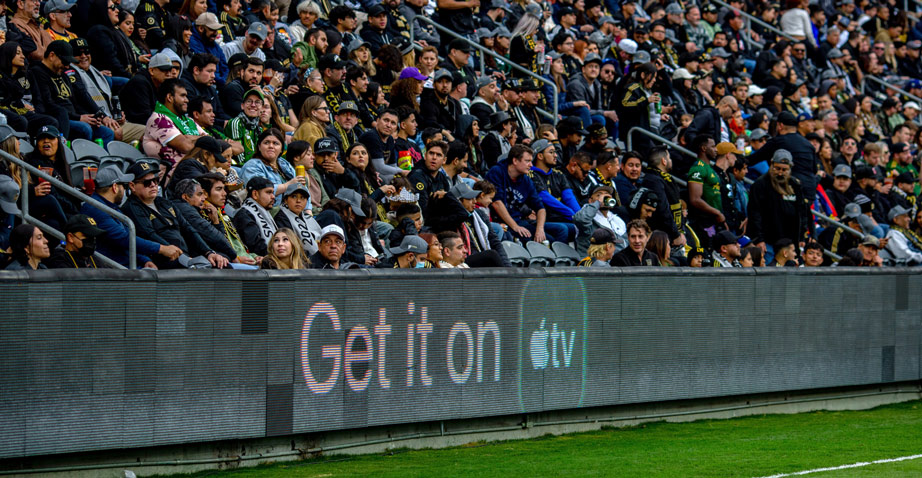 Nearly every streaming service available in the U.S. provides access to multi-league coverage, including Disney Plus, Hulu+, Peacock+, Paramount+, Amazon Prime, and Apple TV. However, navigating across the increasingly fragmented streaming ecosystem to reach sports fans can be challenging.

Each major player in the streaming sports market has exclusive rights to specific franchise broadcasts. Peacock, the source for NBC sports content, is the home of WWE, Notre Dame football games, the Premier League and the Olympics. Exclusive CBS Sports programming on Paramount+ includes NCAA March Madness, the PGA Tour, Serie A and UEFA Champions, Europa, and Conference League games. ESPN+ offers select live games from the MLB, NHL, NFL, and over 15 soccer leagues including La Liga and Bundesliga, but most notably, is the exclusive carrier of all UFC live events in the U.S. Apple TV, Amazon Prime Video, and YouTubeTV offer premium sports content as an added value to their programming.

Apple TV has exclusive broadcast rights for Friday night MLB games and offers a season pass for MLS games; Amazon has exclusive rights to the NFL's Thursday Night Football broadcasts and New York Yankee games for the 2023 season. YouTubeTV recently secured exclusive rights to NFL Sunday Ticket, providing access to live out-of-market afternoon games.
viewers have regularly or sometimes watched sports on any streaming or online channel in the past year
are watching sports via online streams
As the streaming sports landscape continues to expand, the CTV universe offers an abundance of opportunities for advertisers.  According to an eMarketer forecast, U.S. advertisers will spend more than $26 billion on CTV in 2023, and a projected $31 billion in 2024.

These new opportunities for engagement extend far beyond linear and CTV. As Sean Moran, former Head of Ad Solutions at Viacom and current Senior Advisor with Isos Growth Advisory describes it, younger sports consumers are driving a "revolution" in media consumption habits.

"The new breed of sports fan prefers to use Tik-Tok, YouTube Shorts, and Instagram to see the best moments and plays within a game, which creates an entirely new pathway to connect with their favorite stars and the sport in general," Moran said.

"They will rarely watch a complete game and are satisfied consuming shorter, easily-digestible 'pieces' of content, as curated by the new 'Dick Ebersols' of the social media creator economy."
Valuation of the Dallas Cowboys
FORBES
MOST VALUABLE SPORTS TEAM
As the massive popularity of streaming TV and short-form content have exploded, the conversation around sports franchises and how they are valued has also changed. Streaming TV has disrupted the traditional TV media rights model that has endured for decades, and its capability to reach audiences on a global scale – which was never a possibility with cable TV – has significantly boosted the valuation of sport franchises.

In March 2021, the NFL negotiated eleven-year contracts with CBS, NBC, Fox, ESPN, and Amazon for a combined total of $110 billion – nearly doubling the value of its previous contracts.. Each network was granted exclusive broadcast rights for specific games and/or nights, including Sunday Night Football on Peacock and NBC, Monday Night Football on ESPN and ESPN+, the Super Bowl on Fox and Fox Sports Go, and Thursday Night Football on Amazon Prime.

This fragmentation of media rights gave the NFL the enormous leverage to land such a lucrative deal, and consequently, the value of every NFL team skyrocketed as a result.
five year value of sports teams increase in 2022
At the top of Forbes' 2022 World's 50 Most Valuable Sports Teams list are the Dallas Cowboys, valued at $8 billion. Five other football teams made the top ten, each with a significant increase in five-year value: the New England Patriots (+73%), Los Angeles Rams (+107%), New York Giants (+82%), Chicago Bears (+104%), and Washington Commanders (+81%).
With streaming television's influence on ever-expanding media rights, NFL franchises are being purchased as a premium due to their promising growth potential, as are franchises across other sports, including the MLB and NBA.

The MLB and NBA also made an impressive showing on the Forbes' list, with the New York Yankees placing fourth, valued at $6 billion (+62%), and the New York Knicks (+76%), Golden State Warriors (+115%), and Los Angeles Lakers (+83%) rounding out the top ten.

However, as the sports media ecosystem evolves, franchises are positioned to gain maximum value because they control the IP, and that's ultimately what drives consumer engagement. According to Moran, "the real winners will be the leagues, franchises and sports that can be innovative and continually adapt to the shifting mediums of engagement that capture this next generation of valuable fans."
The real winners will be the leagues, franchises and sports that can be innovative and continually adapt to the shifting mediums of engagement that capture this
next generation
of valuable fans.
"[WSC Sports] also can analyze announcer audio to mark plays with three, four, and five-star ratings for us to filter by. Just really smart stuff."