Actionable, timely insights on the most promising opportunities where sports meets industry.
Access to industry professionals
Professional development tools
Learn using industry specific data
Join 200+ students from other colleges.
Free to active college students, courtesy of: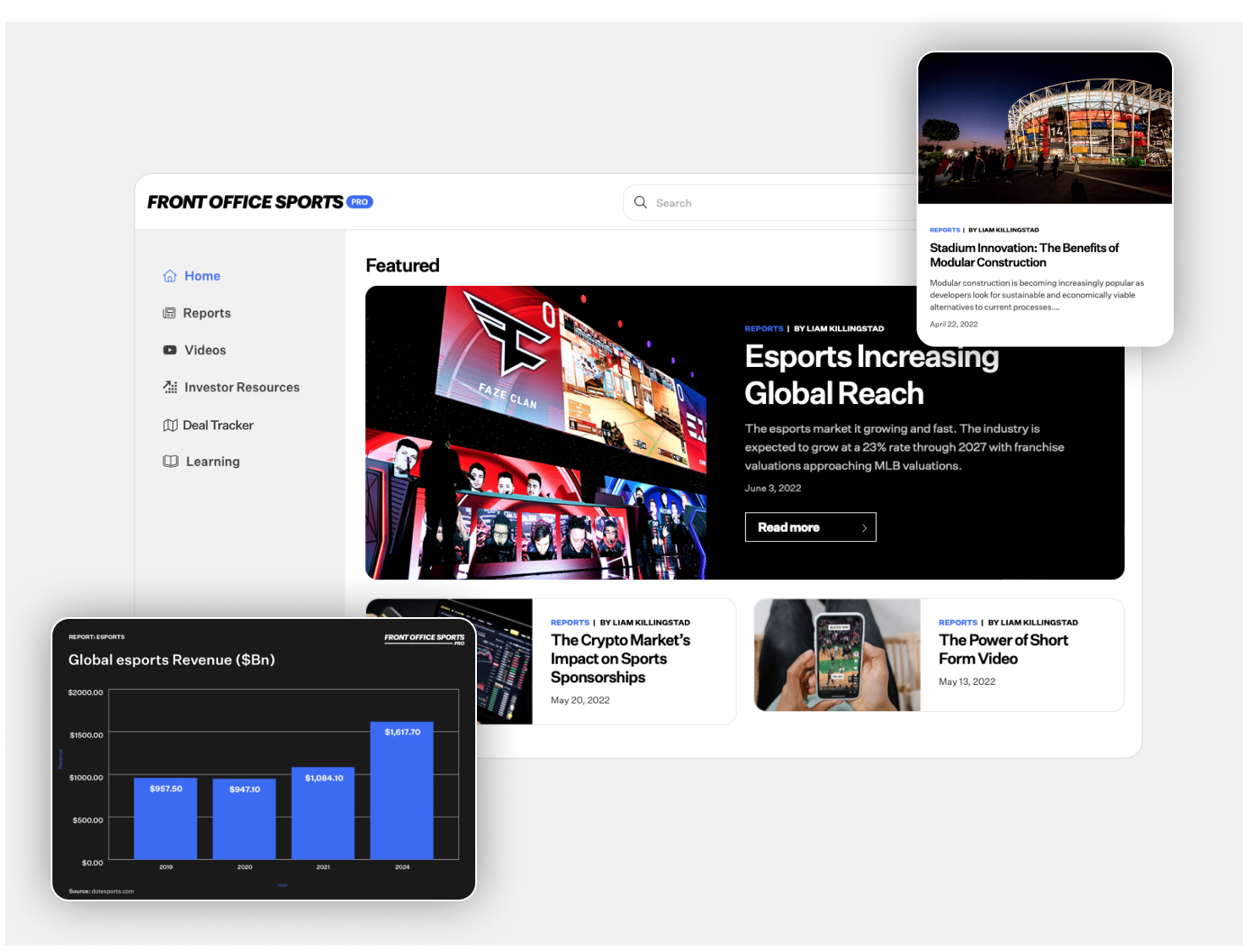 Actionable Data at Your Fingertips
Private market deals tracker and investor director. Making hard-to-find data easy to access. All in one place.
Cutting-Edge Scouting Reports
Be the most informed member of your team with cutting-edge, actionable reports on the most pertinent opportunities where sports meets industry. No jargon, no BS, no agenda.
Information Dense & Text Light
High signal. Low Noise. Heat checks give you tomorrow's news today.
Frequently Asked Questions
Who is this for?

Front Office Sports Pro is intended for college students looking to gain insights into industries including finance, marketing, technology, and commerce. Pro will provide actionable and meaningful content for students across disciplines.

Who can access this product?

Any and all active college students (either undergraduate or graduate) are eligible to receive Front Office Sports Pro for free through the Public.com partnership.

What do I get with my membership?

The membership will provide you with access to our cutting edge long form Scouting Reports, quick hitting Heat Check reports, deals database, investor lists, live resume reviews, and career consultation. You will also get discounts on Front Office Sports merch and apparel and access to our pre-professional discord channel.

What is the Public.com sponsorship?

Public.com has agreed to underwrite the Front Office Sports Pro program for any and all undergraduate college students. The reports, databases, and community will all come free to you courtesy of Public.com!

What do I need to do on my Public app?

The process is simple. First signup for Front Office Sports Pro using on the site. You will then have to download the Public.com app and use promo code "FOSINSIGHTS" to receive a free sports or media related stock. You will have to download the app within 7 days of signing up for the account before losing access to your pro account. Once signed up on the Public.com app you will have 1 full year of free Front Office Sports Pro access.

Can I share reports from Pro with my friends?

We would love for you to share the reports with your friends and family, but in order for them to gain access they will have to sign up for Pro. If they are a student, all they have to do is sign up for the Public.com app using code "FOS".

What do I do if I have a question about my account or want more information?

If you have any questions about your account feel free to reach out to us at [email protected] Please include relevant account details when you contact us, such as the email address you have registered with, so that we can do our best to assist you.
Get access to
exclusive content today.
Access to industry professionals
Professional development tools
Learn using industry specific data
Free to active college students, courtesy of: