In the News
It might be surprising to know that in 2021, TikTok.com became the most visited domain in the world — ahead of Google.com. Google's unseating may not present a true changing of the guard, as the search giant still maintains the lion's share of the search volume, but it does indicate that TikTok and its short-form video products are capturing the cultural zeitgeist.
According to emarketer, time spent on theTikTok platform has been growing fast. Currently, over 40% of Gen Z spends more than three hours a day on TikTok, per Joy Ventures and getWizer. In 2020, TikTok shot past Facebook and Instagram, with users spending 38.6 minutes on the platform per day.
Now, TikTok is targeting YouTube. TikTok rolled out three-minute videos last year, then five-minute videos a few months later. And in February, the app took a clear step toward long-form content with the introduction of 10-minute videos. Its bread and butter, however, remains in short-form content.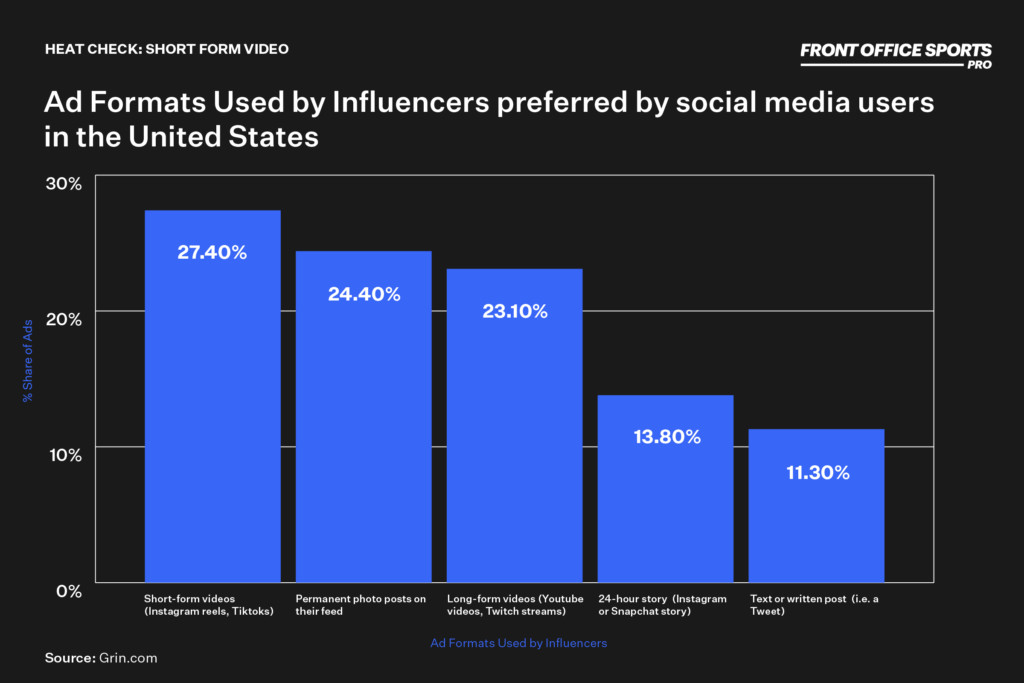 Short-form video is not only one of the most popular forms of social content, but also a key revenue driver in terms of advertising. Just one week ago, TikTok announced TikTok Pulse, a new contextual advertising solution that ensures brands' ads are placed next to the top 4% of all videos on TikTok. Notably, the solution will also be the first ad product that involves a revenue share with creators. The program will allow creators generating high-traffic content to participate in a 50/50 revenue split with brands that utilize the service.
This has implications for the sports industry. Morning Consult recently published a report detailing the importance of sports properties having a presence on the world's largest social platform. With attention spans increasingly stretched due to a glut of content across channels, teams and leagues need to find ways to find consumers where they are.
According to the report, 46% of self-identified TikTok users said they "often" or "sometimes" use social media to stay up to date with game highlights, while 42% said they use it for player highlights. The reason for TikTok's particular surge in popularity has largely been due to users' ability to generate large followings and increase distribution.
The report also focused on the type of content that has been driving much of the most meaningful engagement on the site, indicating that digital strategists and social media specialists have found that in general, the weirder the content, the better.
CEO of the PLL, Paul Rabil, described the content strategy on TikTok as an unpolished form of social distribution. Instead of highly produced content, Rabil optimizes "with zero strategy, a good gut for creativity, and maybe a little humor," a strategy that has yielded strong results for the league's CEO.
Investing in social media has been a well-known and highly leveraged strategy for a decade. However, optimizing for the right channels and content strategies is equally as important. As it currently stands, TikTok stands supreme.
Sports Fans' Preference for Short Form Video
The Morning Consult report provides some specific examples of how consumers are utilizing TikTok to engage with sports. According to the survey, 49% of respondents indicated they were using short-form video on TikTok to watch sports highlights.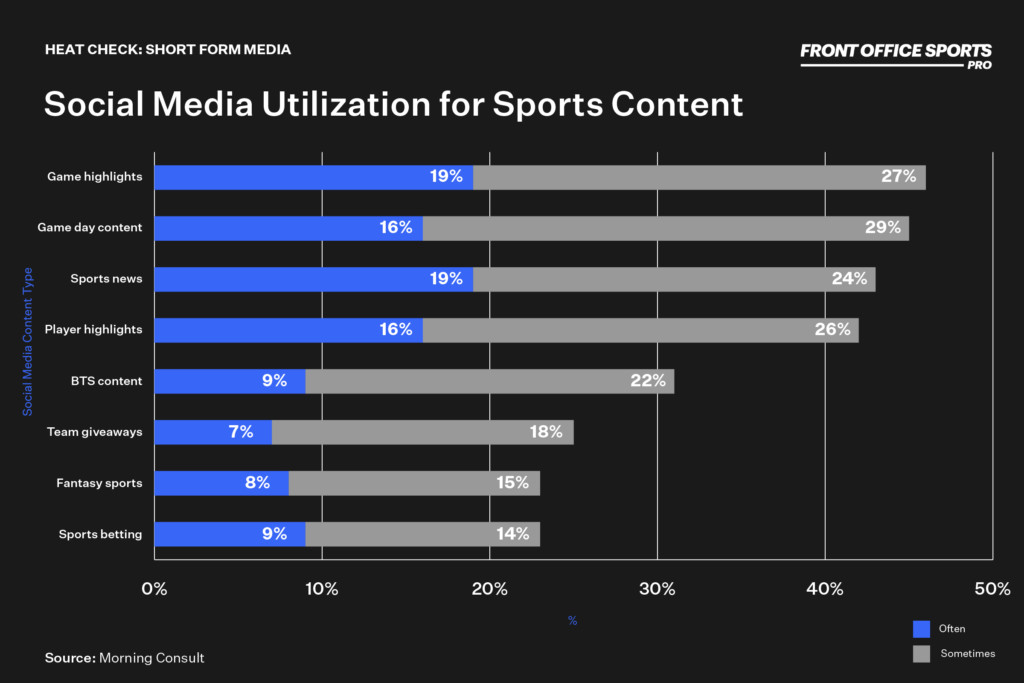 Interestingly, nearly a third of respondents also indicated that they were most interested in seeing behind-the-scenes content. MLS club Inter Miami has the second-most TikTok followers in the league, despite having launched its account in January. The club indexed heavily on a strategy that promoted "making fans feel like insiders."
Content related to matchday experiences — giving fans the most access possible to on-field action — is another big category draw for fans in terms of time spent on the app.
In addition, the report outlines how users would be interested in following different types of sports-related content on social media.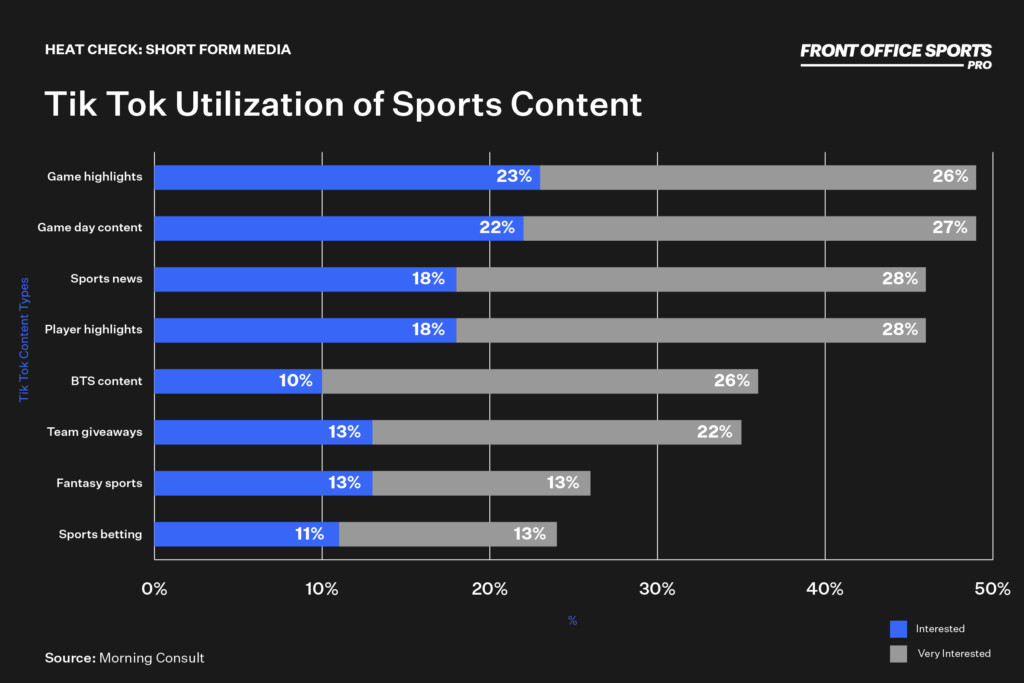 The results were similar. Sports highlights and game-day dominated, although the report indicates that including sports highlights is not currently a staple in most clubs' content plans. Below, we have provided some examples of content strategies that professional sports organizations have utilized on the platform.
The Washington Commanders hired 19-year-old internet personality Katie Feeney (6.8M TikTok followers) as their lead social media correspondent.
Bleacher Reporter hosted 10 TikTok influencers ahead of the recent New York Rangers- Pittsburgh Penguins playoff game to generate content for the B/R Open Ice hockey vertical.
The Indianapolis Colts tapped TikTok comedy duo the Cheeky Boys to announce the team's third-round pick in last month's NFL draft
The Savannah Bananas of the Coastal Plains League have heavily leaned into TikTok. The baseball team has amassed more than 2.4 million followers in two years — a number greater than dozens of major U.S. pro sports teams. The team boasts a staff of three videographers who plan 20-30 video content pieces per game — all maximized for shareability.
What Causes the Virality?
Two of the main reasons for the virality of the platform are the AI-driven content feed and the ability to share content off-platform.
TikTok is optimized to hold your attention, serving a never-ending and constantly refined stream of content. Because users don't need to browse, TikTok can dedicate the entire feed to the content. In 2020, the company outlined the factors that comprise the custom "for you" feed and how the app takes choice out of users' hands.
"The app takes into account the videos you like or share, the accounts you follow, the comments you post and the content you create to help determine your interests. In addition, the recommendation system will factor in video information like the captions, sounds, and hashtags associated with the content you like. To a lesser extent, it will also use your device and account settings information like your language preference, country setting and device type.
Other signals contribute to TikTok's understanding of what a user likes, as well. For example, if a user watches a longer video from beginning to end, it's considered a strong indicator of interest. This would be given a greater weight than a weaker signal, like if the viewer and poster were from the same country."
The app is also inherently more shareable than other social media platforms. TikTok has virality built into its feature set.
Take Instagram, for example: When a user looks to share a post or story via instagram the default is to send a direct message on the platform (i.e. to another Instagram user). For TikTok, the ability to share is more wide-ranging, with options to share across SMS, other social platforms, and other messaging platforms (i.e. WhatsApp).
The inherent virality makes TikTok a must- have from a content-strategy standpoint.
Instagram, TikTok, and Snapchat
Some interesting developments in the capital markets have also driven the adoption of short-form video platforms. Let's stick with TikTok here.
According to Marketing Dive, TikTok's ad revenue is expected to triple this year to $11.64 billion from $3.88 billion in 2021, surpassing Twitter and Snapchat combined at $5.58 billion and $4.86 billion, respectively. While the company is based in China (parent company ByteDance), more than half the company's ad-based revenues will come from the U.S. this year.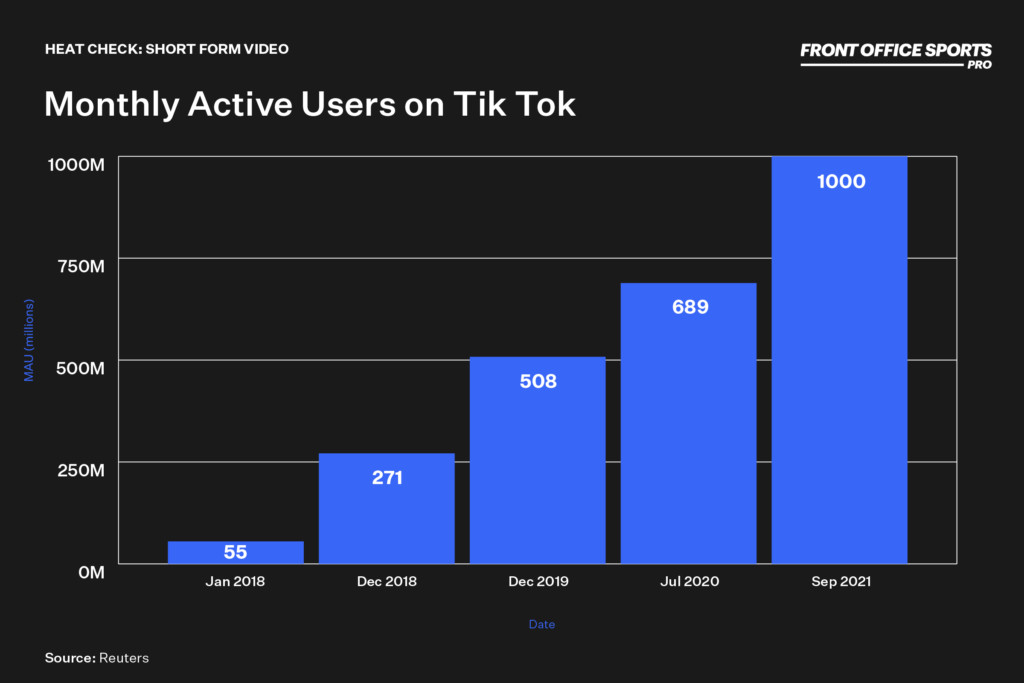 The report also indicated that TikTok's global ad revenue could reach as high as $23.58 billion by 2024. For context, YouTube's current global ad revenue sits at $23.65 billion. If TikTok were able to generate that amount of revenue, both video platforms would own approximately 3% of the global digital ad market.
In 2021, TikTok leaned into the narrative of being the world's newest advertising engine by making significant investments in privacy measures, ad measurement, and commerce. The company has also uniquely positioned itself as one of the most important social commerce applications by launching a TV app that is designed to increase TikTok's utilization across devices (televisions, gym screens, tablets) through a partnership with Atmosphere.
While TikTok has been the clear winner in the short-form video space, the world's largest social media and technology companies have all dipped their proverbial toes in the water. Recently, Instagram and YouTube released their forms of short-form video in Instagram Reels and YouTube Shorts.
YouTube, sometimes forgotten for the behemoth that it is, had users who streamed more hours of videos than Netflix users in 2021. The skew heavily in , 694,000 hours of video are streamed on YouTube each minute, while only 452,000 hours of video are streamed on Netflix. YouTube announced in March 2021 that it would also be moving into short-form videos with YouTube Shorts — another potential boon for the advertising industry.
In 2020, Instagram launched its copycat version of TikTok, Instagram Reels. In August 2020, Investment Bank Jeffries asked Instagram users, "How often do you use Instagram reels?" Approximately 49% of respondents said once per day or more. Furthermore, data collected from Earthweb shows that content on Reels gets 22% more engagement compared to regular videos on Instagram.
Lastly, there is the monetization component. According to investment analysts from Tegus, Instagram's cost per thousand impressions (CPM) is $10.02, similar to TikTok's (CPMs are $10).
Snapchat was the original pioneer of the short-form video with the introduction of Stories back in 2013. Since then, however, most major platforms have adopted and subsequently surpassed it in daily active users ("DAUs"). In an interesting turn of events, Snapchat decided to take a page out of Facebook's playbook by building its own copycat version of TikTok's viral feed. At Snap's quarterly earnings call in April, CEO Evan Spiegel revealed that Snapchat is testing ads on Spotlight, its TikTok competitor. The company will look to increase its revenues through ads while also being able to pay out to some of its largest creators on the platform.
When it comes to digital advertising, it is likely that the market will see multiple tailwinds as e-commerce continues to gain market share. Currently, the digital advertising industry is very concentrated with Google, Facebook, and Amazon, which have 27%, 22%, and 9% market share respectively.
Taking one step further, video advertisements have been particularly successful, as 63% of marketers say they have the highest ROI on social media from video content. Any way you look at it, short-form video will be a dominating force driving advertising revenues and continue to win larger portions of the "attention economy" going forward.