In the News
On Tuesday, Canadian digital marketing firm Viral Nation announced it had received $198 million in equity funding from Todd Bohely's Eldridge Industries and Maverix Private Equity. The transaction valued the Canadian company at ~$650 million.
Viral Nation focuses specifically on social media influencers and creators while working with some of the world's largest tech companies (Meta Platforms, Tencent, Coca-Cola, Walt Disney, Uber, etc.). The business — which ostensibly acts as a large agency with a software component managing creator background checks and talent — has been profitable since its inception in 2014.
Viral Nation is also in the NIL game. The company develops brands in conjunction with clients managed by its talent arm, including U.S. college athletes. It has also launched two direct-to-consumer cosmetics companies, one of which has reached $20 million in annual revenue, according to a Bloomberg report.
The Business of Creator Content
Viral Nation is of the more successful incarnations of businesses that have become increasingly prevalent in recent years. The global influencer market size has more than doubled since 2019 — and valued at a record $13.8 billion in 2021, per Influencer Marketing Hub.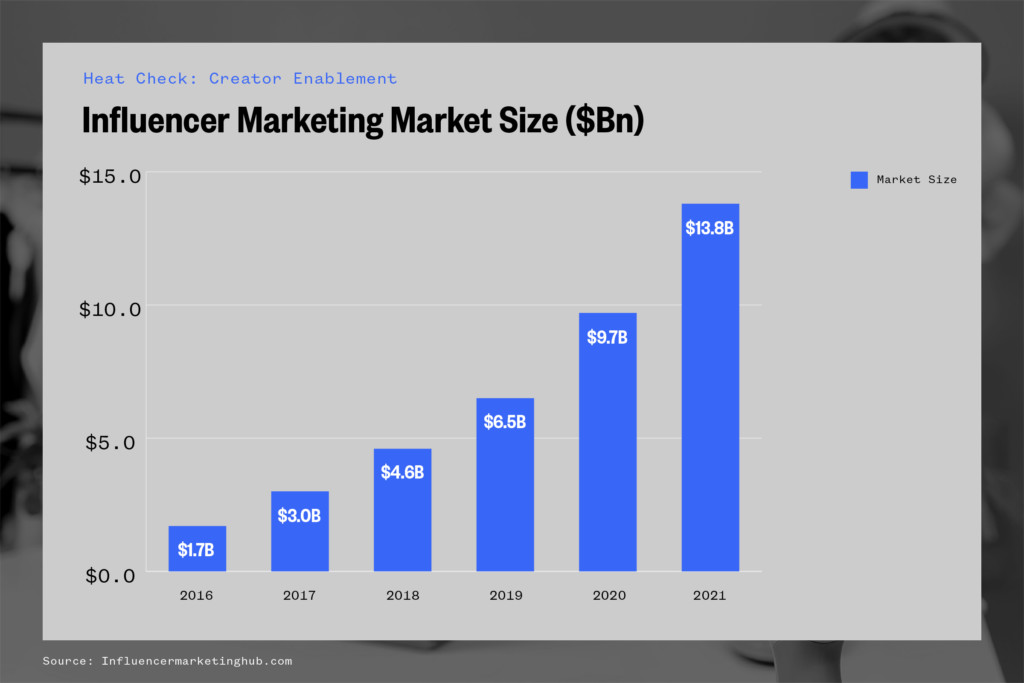 One of the largest concerns for corporations is building out a culturally relevant content strategy. In the current market, content has to keep pace with the shifts in culture — which have become arguably more rapid than ever.
This results in the need for real-time content strategies that often don't fall within the traditional purview (or budgets) of marketing teams. Influencers and content creators on social platforms often fix this problem by trying to reach large audiences through individuals posting culturally relevant content. An example of this can be seen with MLS (TikTok) and the NFL (Instagram):
MLS: 2.5 million followers
Noah Beck (MLS Social Playmaker): 42 million
Washington Commanders: 1.6 million
Katie Feeney (Social Media Correspondent): 7.6 million
Then comes the issue of personalized content for consumers. According to a Forbes report, many CMOs are pressuring their organizations to customize communication to their consumers. Building out consumer profiles for specific consumer targeting takes large data resources and sophisticated labeling.
Consumers differ based on ethnicity, gender, age, occupation, location, and many other demographic and psychographic factors. Building out content strategies for each of those "profiles" can result in massive spending on targeting tools. Instead, marketers can turn to influencers and creators who represent these different demographics to create pseudo-personalized content.
The past years have accelerated the trend. The pandemic's impact on leveraging social as a form of distribution saw massive tailwinds as consumers engaged more and more with social forms of entertainment. This led to increased time spent on social platforms across the board — and ultimately to increased users on the platform.
Impact On Commerce
Like so many industries, commerce is increasingly moving online. And for many companies, much of this shift happened all at once. For context: It took 10 years for e-commerce to grow from 6% to 16% of retail sales — but just eight weeks in March and April 2020 to gain the next 10 percentage points.
The global retail market is $25 trillion, with e-commerce comprising about $9 trillion. For perspective, the global advertising market (impacting companies like Alphabet, Facebook, Snap, Twitter, and Pinterest) is around $700 billion, with digital advertising only representing half that figure.
Many of the mechanisms used by today's creators are by no means new. Livestream commerce has been around since 1986, when QVC first launched. Since then, however, we have seen new models for bringing livestream commerce to the internet. The opportunity is huge — as demonstrated by how the Chinese market has been able to leverage technology to build out a new ecosystem.
In a consumer survey from 2021, two-thirds of Chinese consumers reported buying a product via livestream in the last year. Livestream commerce is already a $350B industry in China and set to grow 60% in 2021 to $550B — with almost half of the products falling into the consumer electronics and apparel categories.
Domestically, an ecosystem of apps has been built around the concept, ranging from standalone streaming apps built for e-commerce to enablement applications allowing for streaming across platforms. Examples:
Popshop Live
Talkshop Live
Whatnot
Drip
CommentSold
TikTok, Instagram, Snapchat, and YouTube have all adopted the trend and helped adoption in the West. We anticipate seeing continued growth as more technologies are built around social commerce when it comes to live video shopping.
The previous decade brought the rise of influencer marketing — a concept built on the premise that people like buying things trusted people recommend. Estimates vary, but most studies find that ~50% of American consumers have bought something because it was recommended by an online influencer. The market for online influencers has seen 52% annualized growth since 2016.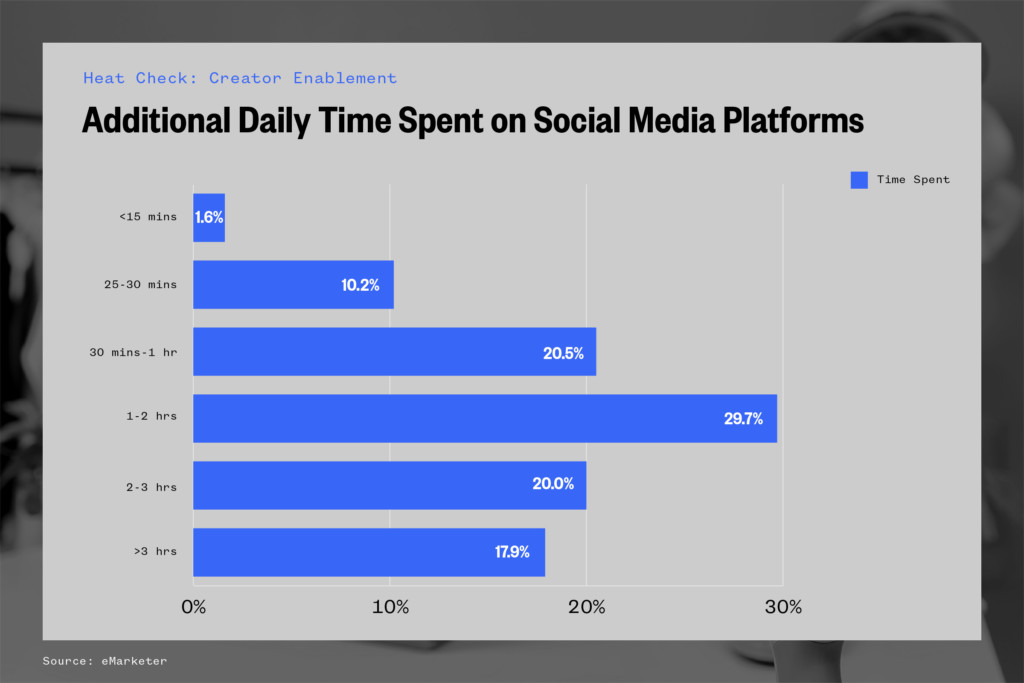 Creators as a Business
E-commerce has perpetuated another trend — the increase in direct-to-consumer ("D2C") brands. In 2020, the D2C e-commerce industry was estimated at $111.5 billion and is anticipated to grow to $175 billion by 2023.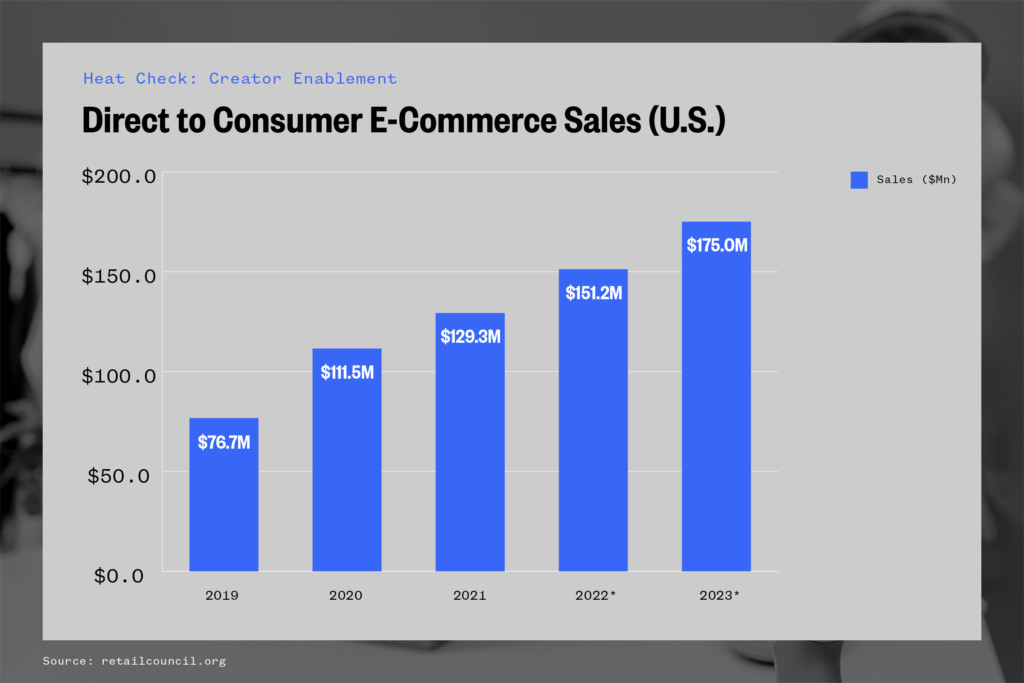 One of the biggest struggles for companies who utilize a D2C strategy is customer acquisition. The average CPM (cost per 1,000 impressions) on Facebook has steadily increased over the past decade.
In order to decrease the overall cost of acquiring a customer, brands are once again leveraging influencers and creators to sell their products. While estimates vary, most studies find that about 50% of American consumers have bought something because it was recommended by an online influencer. It is here that brands are finding arbitrage opportunities in leveraging "micro-influencers."
These smaller digital influencers maintain highly engaged fan bases relative to their larger counterparts. Capturing specific customer bases through hyper-specific creator followings can dramatically decrease the equivalent CPM. Brands can subsequently build out large "cohorts" of micro-influencers to build a broad and diverse base of targeted go-to-market advertising strategies — all enjoy higher engagement from their respective bases.
An additional industry has developed in conjunction with digital marketing firms such as Viral Nation: marketing tech companies focused specifically on scaling larger micro-influencer programs. Examples include:
Grin
Julius
CreatorIQ
Upfluence
Entire brands have been built using this strategy, the most recent being Glossier. In a 2019 interview on "Recode Decode" with Kara Swisher, CEO Emily Weiss indicated that anyone and everyone on the Glossier platform was a creator and could act as a marketing channel for their product. This sentiment — that anyone, no matter how many followers they have on social media, has the ability to be a walking, talking billboard for a product or idea — is a key part of Glossier's marketing.
"At Glossier, something we've always stayed very true to, since pre-launch, day one, is that every single person is an influencer," Weiss said.
We anticipate this trend to continue as legacy platforms (i.e. Facebook and Instagram) continue to see increases in CPMs, and newer platforms provide unique opportunities for businesses.
Other Related News
In addition to the companies and trends featured in this post, we have included some additional materials for context related to the creator economy: