As a challenging college football season concludes, many college athletic departments are taking lessons learned in engaging fans from a distance into the new year. While fans can't physically attend games in most instances, quality service remains incredibly important to prevent a dip in interest in the sport.
For Penn State University, this meant engaging their fans in ways they had never done before, while also improving behind-the-scenes processes that fans would never even realize happen; the operations behind the magic.
"A lot of us have been (traditionally) focused on events and getting people to games and making sure that they're enjoying themselves," Chris Grosse, Assistant Athletics Director for Marketing at Penn State told Front Office Sports. "When this thing hit we all pivoted quickly to focus on content and at-home engagement. During that time, we've also run through hundreds of different scenarios about how our departments would all integrate into fans returning and how we would engage our fan base as we went through the summer and then got back to competition."
Among many other fan-facing initiatives, Penn State held a series of virtual tailgates for fans in the spring when the question if a college football season would happen was still in the air. Fans were encouraged to interact with the football team's digital channels in particular during its spring game.
When the announcement came that the Big Ten's season would eventually start in October, Penn State's marketing team made an effort to provide fans with as much behind-the-scenes content as possible. Fans were also asked to share photos of their own tailgates, since in-person tailgate parties were not permitted.
While the marketing team created new forms of engaging content for fans who couldn't attend events, the operations team was working behind the scenes to document their current processes and innovate at the same time.
"The pandemic forced us to review our engagement opportunities with our fans while trying to predict and think about operational tactics and lead times which typically didn't exist in the college sports market," Carl Heck, Senior Associate Athletics Director for Capital, Events and Facilities at Penn State told Front Office Sports.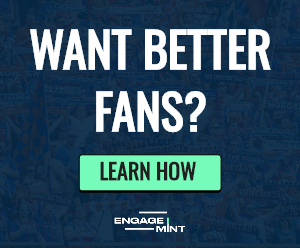 In collaboration with EngageMint, Penn State distributed multiple surveys to their fan base to find out what would make them feel safe and comfortable to return to athletic events. Collecting tens of thousands of responses, Penn State used this data to inform decision making in how to engage fans and prepare for their eventual return to events.
Tapping into the EngageMint team's background as former Disney operations leaders, Penn State collaborated with EngageMint to create standard operating procedures in a manner new to college athletics. These procedures allowed the team to find more efficient ways of operating, even as minute as changing the ways employees are checked in at events.
Additionally, EngageMint and Penn State brought together a group of leaders from across the department to "journey map" the entire fan journey to identify pain points and moments that fans love. Out of that process, hundreds of new ideas have been generated to create a better experience for fans. While this process is designed to generate solutions to "customer stages," like how to prioritize and address customer complaints, the group has generated even more solutions for how to proactively engage fans.
From a fan engagement perspective, digital and social content remains of the utmost importance. In particular, fans will continue to look for behind-the-scenes content and a peek behind the curtain of Nittany Lion athletics. This, combined with a process of active listening and engaging fans in conversation on the platforms that make the most sense for them, will lead to more satisfied fans in 2021 and beyond.
"We won't be able to have as many social media interns on the field as in years past," Kristina Petersen, Associate Athletics Director of Strategic Communications told Front Office Sports.
"There are new ways that we need to go about this and think creatively about how we can still provide that access without having the access that we're used to having," Petersen stated. "It's a lot figuring out on the fly as things evolve here. A lot of the new stuff is untested, but we've done a lot of similar things throughout the summer and we've done a lot of live shows and got some good practice in that and how we want it to look."