Editor's Note: Kortne Gosha is the vice president and director of athletics at Florida A&M University. The views expressed in this commentary are his own.
For centuries, historically Black colleges and universities have been transformational institutions that create access and opportunities for the forgotten, marginalized, and deprived. In my opinion, HBCUs are the backbone of our nation and a mecca for some of America's greatest leaders.
I am Kortne Gosha, currently serving as vice president and director of athletics at Florida A&M University and I am a Black man. I have chosen to serve at a minority serving institution at this juncture in my career for several reasons. My career has taken me to great places (in a short time) and I am always grateful for the opportunities that I have been granted to give back to causes much bigger than myself.
In the world of intercollegiate athletics, this holds true as well. In my case, the privilege and opportunity to serve as a Division 1 athletics director might not have happened if Florida Agricultural and Mechanical University had not afforded me that opportunity. HBCUs produce 80% of all Black judges, 50% of Black attorneys, 50% of Black doctors, and 13% of all Black CEOs; including FAMU Alums Keisha Lance Bottoms, potential running mate for presumptive Democratic presidential nominee VP Joe Biden & Mayor of Atlanta, Will Packer, executive producer of the recent short-film "Black Balled" that focuses on the intersection of race and sports in the context of an explosive and pivotal moment in American sports history, and Althea Gibson, the first Black athlete to cross the color line of international tennis.
After watching the videos of the cruel murder of Ahmad Arbery being slain in the streets in broad daylight, I became sick, angry, and confused as to why this is a normal occurrence in my community. I could not sleep for days due to thinking about the 329 student-athletes in which I serve who might go on a jog in their communities; or my two younger brothers (16-year old brother who is training for his sophomore football season or the 9-year-old who is preparing for all-star baseball). The outpour of fear and anxiety for my student-athletes of color that I feel – I simply cannot conjure up the words to assure them that everything will be alright; simply because I do not know if it will be. However, I am hopeful; as I have dedicated my life to creating access and opportunities for people of color and marginalized communities; while also fighting injustices daily.
Weeks after the tragedy of the horrific George Floyd murder, I immediately had a flashback of my time in the Middle Tennessee area, when I served as the first African American senior administrator in the department of athletics; the first in the institution's history. While some will consider this to be tremendous progress, to date, this was my most challenging (yet rewarding) experience. Furthermore, it was imperative that I "got it right" or there would not have been another opportunity for another person of color after me.
Anyone who knows me, knows that I am typically the "Blackest person in the room," which is something that I simply cannot control. Unfortunately, this comes with a natural intimidation of my presence for some and a personal understanding that I have to work twice as hard to get half as much; this adage is known all too well by the majority (if not all) Black men in America; just like the encounter that I experienced in Tennessee before our first home opener.
Like most fall nights, working and serving in my capacity, I remember receiving a text from my wife stating "Wrap it up, it's late. Come home now!"; so, I packed my things and headed home. Immediately after pulling into my driveway and parking my vehicle, I heard a sudden voice asking me to "step away from my vehicle." Unable to see clearly, I struggled to discover an officer quickly approaching with his hand on his gun. I was then questioned if I was the owner of the vehicle I parked, and if the home next to the driveway in which I parked in belonged to me.
I responded by saying "yes." Timidly, I was hoping that my wife would not overhear and come to the door and startle the officer; as he still had his hand on his gun ready to draw. The police officer then stated that there were several burglaries in the neighborhood and I "matched the description." However, I realized that my attire did not match the description of a burglar, but the color of my skin did. I was then asked to present my ID and instructed to put my hands on my car so he could "call it in" to verify that it was, in fact, my residence. Upon verification, I asked the officer for his badge number, only to have him respond by stating "that was irrelevant." The next day at our operations meeting that I conducted with all of our first responders, that same officer was in attendance. At the conclusion of the meeting, he informed me that he did not know that I worked at the university. My response was "that was irrelevant."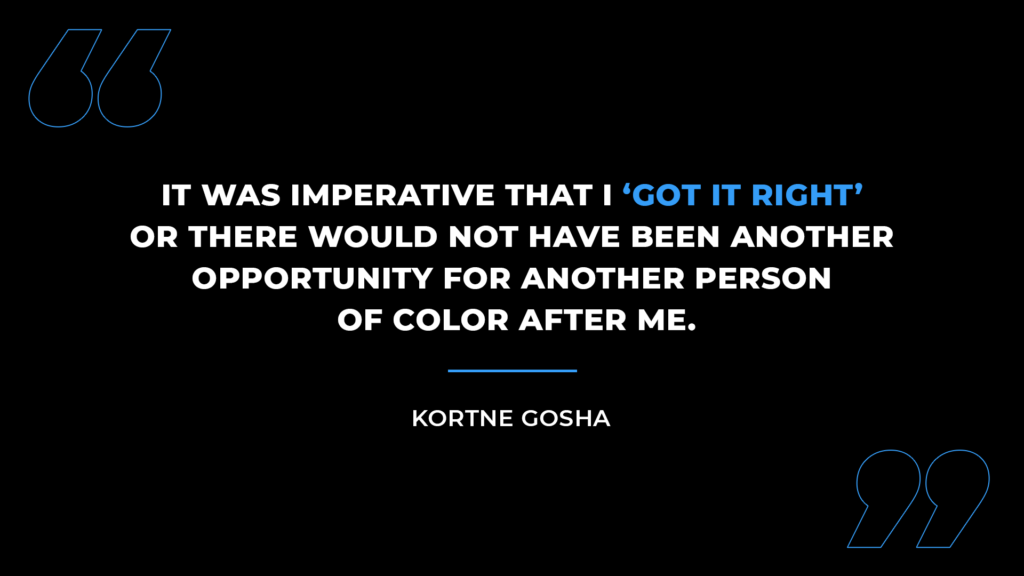 In that moment, I was reminded that I was simply just a Black man and was not exempt from this type of disparagement or systemic racism. This was a catalyst that opened my eyes even more for the young men and women of color I serve every day as a college athletics administrator.
In this role, I often ask myself: Am I preparing them for the real world? Have we provided them a platform to express who they are? Do they feel represented? The timing was ironic because it was at the height of the Colin Kaepernick kneeling on a national scale. The question regarding our student-athletes kneeling came up in our leadership meeting and we were told "we aren't doing that." I became enraged and knew this was not the place or time to speak up about this social injustice.
After speaking with most of the student-athletes of color, they informed me that they were not okay. In fact, they did not feel protected and felt as if they did not have a platform. As the only Black senior administrator on our administrative team, I realized that they depended on me to not only advocate for them, but also to understand their experiences. Therefore, I had a choice. Remain silent or speak-up and deal with the recourse that I knew would come with that decision. As a Black man, I knew that if I spoke out, a subset of consequences would be imminent. However, Black coaches, administrators, and leaders of color cannot be silent.
The conversation about the intersection of race, sports, and society has once again heightened tremendously in our country. The suspension of silence and stories that has transpired for public consumption are the realities that exist in our industry today. The murder of Breonna Taylor, and so many others, has almost become normal to those in the Black community. Sports has always been the epicenter for speaking out against racial injustices; with examples including Muhammed Ali, Jackie Robinson, and now masses of college athletes at major universities. Unfortunately, these realities are gut-wrenching and show that we have a long way to go. Student-athletes are asking for change and we need to ensure it is substantive and cultural change. Coaches are now being held to a very high standard publicly regarding the sensitivity of culture, expression, and humanity. However, administrators need to ensure these changes are genuine and not just political propaganda.
As a person of color, systemic racism and inequality is embedded in our daily lives. Like COVID-19, racism is invisible (to some), but very much alive and well. As we realize that the system itself is unbalanced and disproportionate, we are faced to identify with the harsh reality that people of color are grossly limited in many capacities (laws, regulations, healthcare, education, access and opportunity, etc.). Systemic racism restricts contribution and erodes the ideal of the American dream of what our society should be. Racism is not a single or individual issue, as we all have a part to play in changing this narrative. Therefore, being silent is not an option.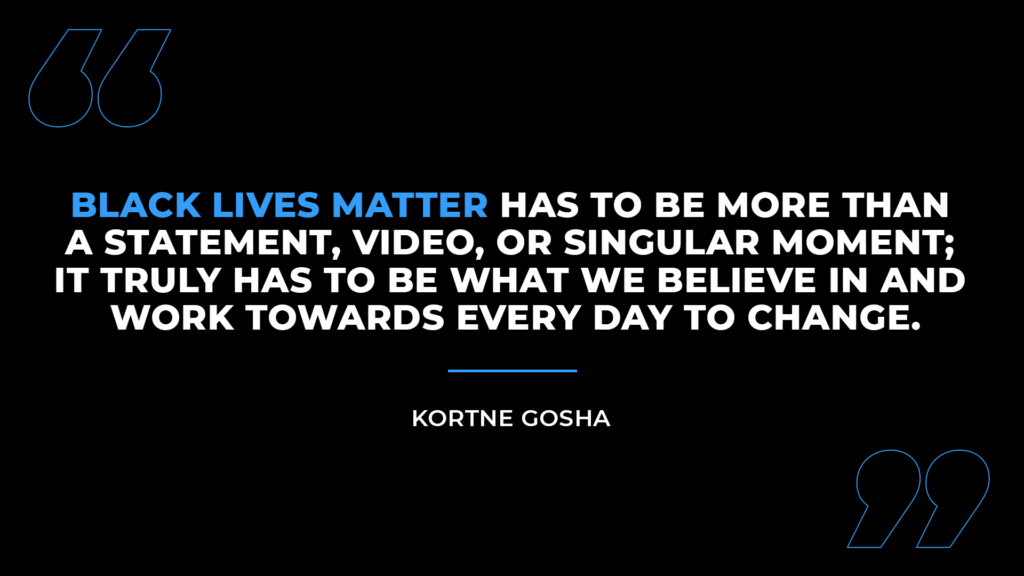 In the midst of one of the most unprecedented global health pandemics of our time, HBCUs (now more than ever) are under siege and disproportionately affected by COVID-19. However, many struggles with NCAA compliance and imposed penalties (based on APR rates and other stipulations) are severely impacting HBCU athletic departments. In order to participate in Division I college athletics, institutions must comply with NCAA standards.
In March, the NCAA announced penalties for 23 institutions; 18 of which are HBCUs. These penalties oftentimes reduce access for student-athletes (mostly minorities) that typically derive from the lowest socioeconomic communities. Unfortunately, most times these types of penalties also come with crippling financial obligations. These financial obligations historically have resulted in programs being cut, limited academic support, reduced access to medical services or professionals, and inadequate facilities. Consistently penalizing low resource institutions who are constantly struggling to survive, like HBCUs, you further create barriers for an already marginalized community to remain in a system that has failed them since its inception.
If Black lives matter, we must take a deeper look into the systems and communities of the people it affects the most. We must invest unprecedented resources in the institutions that have always been on the front lines advocating the value of why Black lives have always mattered.
Over the past several weeks, the highest and most elite ADs, coaches, commissioners, and institutions around the world have issued statements and videos stating, "Black Lives Matter" and that they are willing to listen and learn. Furthermore, institutions have disavowed schools' chants, songs, and symbols of hate such as the state flag of Mississippi. Although these are great steps, there is so much more that needs to be done. The high-profile nature of sports has forced us all to engage in tough and uncomfortable conversations.
However, as Black athletes speak out, they are realizing that most of the people that they are speaking to do not understand. Why? Because the majority of the administrators in their athletic departments do not share the same skin color or life experiences as them. The numbers do not lie.
There are 11 power 5 head football coaches that are Black. Forty-nine percent of all division one football players identify as Black and the position of conference commissioner has historically been held by Caucasian men; and now there are two people of color who hold a commissioner's title. Excluding HBCUs, 26 of the 30 commissioners are white. 84% of Division I athletic directors are white.
Where is the pipeline of access for people of color at the decision-making table that represents the student-athlete population? I, like many others in the industry, have experienced first-hand the systemic challenges that professionals of color face regarding access and opportunities or the lack of diversity and inclusion. How many people of color are on your senior leadership team? If the answer is one or two, you have a problem.
How do you create pipelines for people of color? You create pipelines for people of color by establishing equal opportunities, providing meaningful responsibility, compensating them equally to their peers, recommending them for leadership opportunities when they become available, and connecting them to networks that are oftentimes reserved to those with privilege.
The NCAA has a longstanding history of providing minorities with opportunities to grow and develop in college athletics. For example, the Dr. Charles Whitcomb Leadership Institute provides tailored programming to assist ethnic minorities in strategically mapping and planning their careers in athletics administration by providing professional development programming. Additionally, organizations like the Minority Opportunities Athletic Association, advocates for increased participation and administrative opportunities for minorities in athletics, while also promoting and generating a sports culture that supports the values necessary to teach and learn respect for self and others.
A few weeks ago, history was made when the University of Maryland became the first FBS institution to have a Black president, athletics director, and head football coach. Although these are major strides to progress for people of color, we must do more.
If Black lives matter, GET INVOLVED! Get involved with organizations and/or programs that are already leading the way to a more inclusive culture; now that more people want to listen. Leaders of color are not excluded in this conversation. In fact, the leaders of color who have been fortunate enough to ascend through the system have an obligation to reach back and develop a more progressive pipeline for persons of color to lead.
Black Lives Matter has to be more than a statement, video, or singular moment; it truly has to be what we believe in and work towards every day to change. There is no more time for placation. The growing number of student-athletes using their voice and platforms to create change (that is needed on many levels), should be accompanied by industry leaders and administrators to doing the same.
A great example of action for real change is Notre Dame announcing it would travel to play Howard University (a prominent HBCU) in Washington, DC. This should be the standard. I encourage more institutions to partner with HBCUs to establish a stance of solidarity against systemic racism. Why? These unique and never before seen match-ups create a standard for the rest of the world to use as a model that rejects the notion of division or racial inequality.
As an administrator, I have experienced "both sides of the track." As a vice president and director of athletics at a minority serving institution, I am confident that HBCUs can help lead the way in fighting the charge for justice, equality, and real change; as each one of them continue to produce and empower Black lives that matter.
When COVID-19 struck the globe, we saw that the effects on the African American community were exponentially devastating. FAMU, who has served the Black community and typically underserved populations (who are limited in access) launched a COVID-19 testing site that has tested over 17,000 people free of charge and open to all people at our football stadium. A facility rich with tradition and serving its community in its time of need, is also the same facility that is in jeopardy of being condemned just a year from now because of the systemic lack of resources and support that typically riddles the majority of HBCUs.
How many HBCU athletic departments have alignment with major media-rights conglomerates? None. How many major companies are sponsors of HBCUs like our predominately white institutions? Few and far between. Why do HBCU stadiums struggle to obtain naming rights opportunities? What HBCU conference has a major apparel or TV deal to match its peers? These drastic differences that exist in the sports industry and our society are paramount and deserve immediate attention. Celebrities that are advocating for star athletes to attend HBCUs should also invest and donate to them; while establishing partnerships that these institutions are not normally granted. Help provide the medical and academic support most HBCUs lack. HBCUs have always shed light on why black lives matter, as this is not a new phenomenon.
The intersection of sports, race, and society can heal our country and eradicate this pandemic of racism, but people are not looking for empathy, or sympathy; they are looking for credibility. Listening and learning is a great first step, but measurable action items being executed create unprecedented change. If Black lives matter to you, what are you doing to close the gaps of injustice?
HBCUs have always been pillars of diversity, inclusion, and served as safe havens for Black lives and opportunities since their inceptions. In fact, they are much more prepared to lead global conversations regarding the relevance of Black lives. Additionally, they have a verifiable and long-standing track record of action towards the infection of systemic racism and social injustice. In the words of the late Dr. Martin Luther King Jr, "we may have all come on different ships, but we are in the same boat now."