In 1999, Mason Gordon drew out the concept for SlamBall on a napkin.
Inspired by video games like "NBA Jam" and "NBA Street," the TV producer imagined a full-contact basketball-football hybrid amplified by trampolines — sorry, "springbeds" or "tramps," as Gordon will quickly correct you.
"Trampolines, people think Cirque du Soleil," he recently said on the Front Office Sports Today podcast. "This is a legitimate, competitive sport. Our guys are trying to win and hoist the trophy at the end of the series."
Each SlamBall game is made up of four five-minute running-clock quarters. Four players from each team take to a specialty spring-loaded floor that features four tramps surrounding and under each of the hoops. Players can score two or three points like normal basketball — but can also score three points through dunks.
The original SlamBall was more akin to professional wrestling, the Harlem Globetrotters, or reality television than an actual sport. Games were pre-taped from a Los Angeles studio and edited to fit into neat half-hour windows for cable channel SpikeTV (now Paramount Network).
Gordon and business partner Mike Tollin wanted more. Following the 2003 season, the pair were determined to air games live. When the league couldn't convince Spike or other networks, the league shut down. An IMG-backed revival on Versus and CBS in 2008 folded after one season amid an upheaval in management at the agency.
But a generation grew up with SlamBall seared in its collective consciousness — and 15 years later, on July 21, 2023, the sport returned live on ESPN.
"The TV landscape is dominated by live sports, and there are so many peripheral, tangential sports that might be considered participatory that are now being consumed in large numbers," Tollin told Front Office Sports. "We just feel like this is what we always intended."
Like many startup sports leagues, SlamBall faces an uphill battle to survive, and it won't be able to rely on millennial nostalgia alone. But the sport has the right backing, media deal, and expertise to make it work — if it plays its cards right during this first six-week season in Las Vegas.
"This can't be like the SlamBall of old," says Gordon. "This has to be the best SlamBall that's ever been played to make it live and worthy of ESPN's air."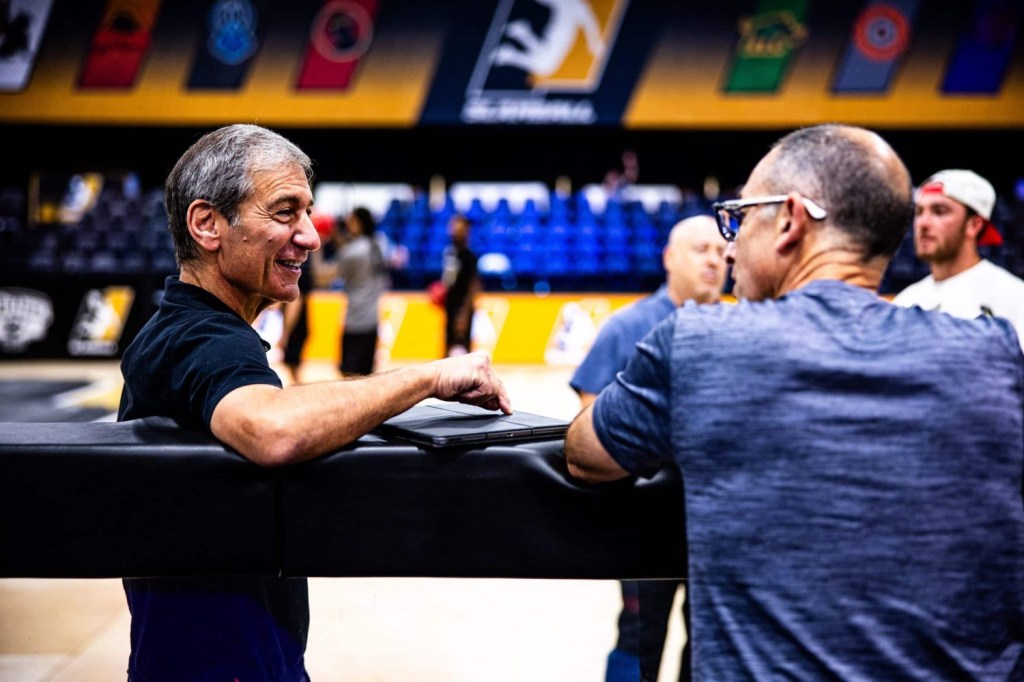 Buying In
The most obvious question for SlamBall's return: Why now?
It started with fans and the hashtag #BringBackSlamBall, which the league says has garnered more than 200 million impressions on social media — and which Gordon claims, "was wholly organic, we had nothing to do with it."
From there, Gordon and Tollin found a who's-who of sports investors for an $11 million Series A funding round, including HBSE co-founder David Blitzer, HBSE limited partner David Adelman, Fanatics CEO Michael Rubin, entrepreneur Gary Vaynerchuk, and six-time NBA All-Star Blake Griffin.
The round was led by renowned investor Roger Ehrenberg, whom Tollin says is "very methodical" and "kicked the tires long and hard." Ehrenberg emphasized the importance of a strong media deal and the presence of betting in the fledgling sport.
That first hurdle wasn't terribly difficult for the league to clear.
Tollin is extremely well-respected in the sports media space, having executive-produced ESPN's "The Last Dance," "The Captain," and many episodes of "30 for 30." He also produced the scripted sports films "Hardball," "Radio," and "Coach Carter" — which was based on SlamBall coach Ken Carter's time coaching high school basketball.
Tollin says the league had "half a dozen suitors" from media companies with live sports presence across linear, cable, and streaming, and described the process as "competitive." With its pick of the litter, SlamBall chose ESPN on a two-year deal that will reportedly pay the league a rights fee and allow it to handle production.
"SlamBall is a unique sport that we all remember and continues to still live in that highlight reel even from years ago," ESPN senior director of programming and acquisitions Ashley O'Connor says. "We're always looking for differentiated content to continue to fulfill and round out our basketball coverage, which is truly a year-round sport."
Tollin says he and Gordon have had to exercise a "different muscle" to produce live TV. The pair have pored over every detail, from how to set up angles for eight cameras to implementing a rotating cast of commentators (like former NBA player Nate Robinson), all with the knowledge that there is no take two.
Between the approximately 30-minute games and highlight-reel plays, the league plays well to younger demographics with increasingly short attention spans.
"When you think about 2002, 2003, 2008, it's a lifetime ago in our industry," says sports media consultant John Kosner. "That's all pre-streaming, it's all pre-social networks. So if you were conceiving of a sport today, you'd probably have a lot of the elements that they have in SlamBall."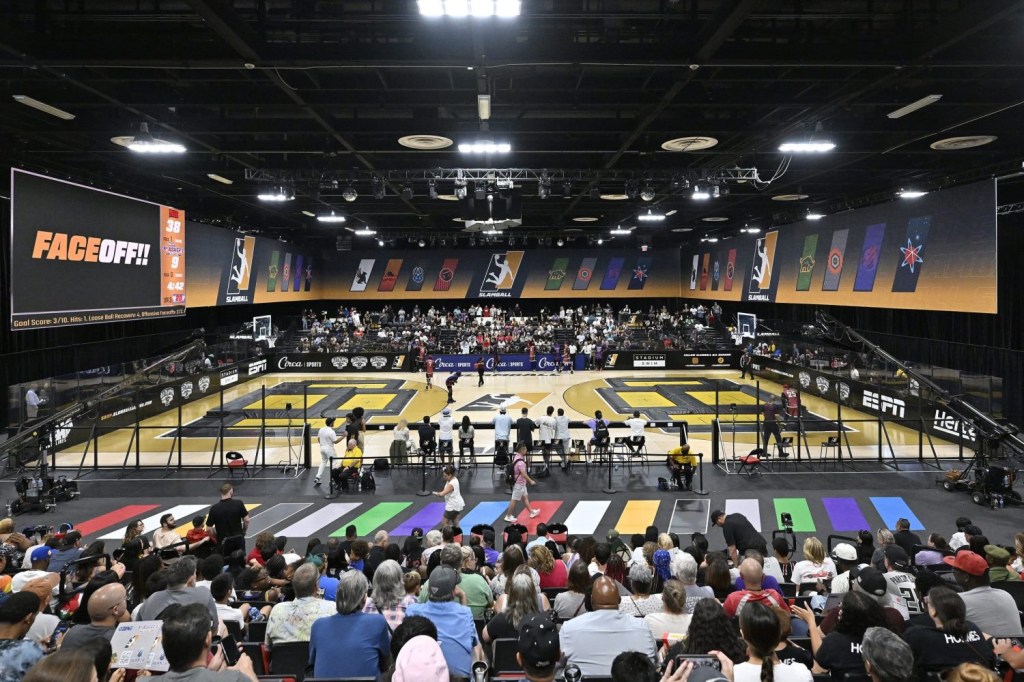 Vegas Residency
To fully take advantage of sports betting and capitalize on other obvious perks, SlamBall decided to lay its roots in Las Vegas.
In the five years since PASPA's repeal, sports betting has exploded into a massive American industry. SlamBall's founders knew they had to leverage it this time around.
After evaluating the first week of games, Tollin says that BetMGM, Caesars, and Circa were expected to carry SlamBall lines for this weekend's slate — though it would only be inside the physical Vegas sportsbooks and limitedly online at first.
"It was so obvious, and there was never a discussion about [Las Vegas]," says Tollin. "We thought, OK, it's coming right off the NBA Finals, which leads to the Summer League. Why don't we just piggyback on Vegas, where the entire basketball community has congregated for the last two weeks?"
SlamBall booked a six-week residency at UNLV's 2,400-seat Cox Pavilion, taking over the space less than a week from the end of Summer League. The league is only committed to Cox for this season, but has every intention of staying in Las Vegas for future seasons and calls Cox a "strong partner."
Mike Newcomb, UNLV's senior associate AD for facilities and events, says workers practiced setting up SlamBall's extensive court at a separate venue to be ready.
Newcomb notes that the trickiest part of booking SlamBall was clearing six straight weeks for the league to take over the space — but that it made all the sense in the world.
"Las Vegas is obviously a great place to host everything," he says. "I've been at this facility for 27 years and have seen how the city has changed since sports were an afterthought… People used to be scared to come here with that, but I don't think that's the case anymore."
Staying Power
The league has played only three full seasons in its 20-year American history — so the threat of folding again is ever-present.
On what was supposed to be an ordinary July night in the sports world, SlamBall was unlucky enough to play its first games opposite the USWNT's first 2023 Women's World Cup match and Lionel Messi's Inter Miami debut. A mediocre 212,000 viewers tuned in to ESPN, per SportsMediaWatch — certainly disappointing, but a "blip" Tollin says the network understood.
Injuries — sometimes gruesome — were a concern during SlamBall's first go-around. The league addressed this by outfitting players with elbow pads, knee pads, padded combat shirts, ankle-roll guards, ankle braces, and custom padded headgear.
It's all part of the process of legitimizing SlamBall and reaching the potential Gordon and Tollin envisioned 20 years ago.
"I think you have to go into these things thinking that a startup sports league is by definition going to be a big challenge," says Kosner. "What constitutes a success is somewhat subjective… Overtime Elite, PLL, and Drone Racing League are not the NFL or EPL yet, but they're still in business, and they're still growing."
Assuming moderate success this summer, SlamBall's growth plans involve staging multiple tournaments per year both in the U.S. and abroad, where the sport has had some unexpected success after the 2008 collapse with a professional league launched in China. It also wants to launch a women's league.
The trick will always be to balance spectacle with substance.
"As this game is being consumed as a real sport, it's really important that the gameplay be more sophisticated, more varied, and surprise you," Tollin says. "Yes, there is an enormous wow factor to SlamBall, but we also want to sustain the long-term, deep involvement of a fanbase."