Fifteen years after the NFL was born, the league held its inaugural player draft on Feb. 8, 1936 in Philadelphia. There were no scouts, no players, no agents, no media, no concerts.
Salaries were so meager that the first No. 1 overall pick — Heisman Trophy winner Jay Berwanger — chose to become a foam rubber salesman in Chicago rather than a pro football player. By the late 1970s, the thought of televising the Draft was still deemed "nothing short of preposterous," according to Sports Illustrated.
Today it seems obvious that every major league draft needs to be televised in all its unpredictable glory: like all live events or reality shows, anything can happen.
This Thursday night, over 10 million viewers will tune in for the start of what is now a three-day media spectacle. ESPN will cover the draft for the 44th straight year — with 35 hours of programming — and will have 55 cameras and eight production trucks on the ground in Kansas City. NFL Network will offer more than 75 hours of original coverage beginning Sunday.
Hundreds of thousands of fans will attend the festival-like atmosphere, and at the center of it all is Mel Kiper Jr., ESPN's senior draft analyst, who'll work his 40th event.
"It's the mystery and the anticipation and the buildup of all this," Kiper tells Front Office Sports. "I always say it's like Christmas morning: You got all these presents, and you don't know what they are. You don't know what's under the tree."
Fanbases are tuned in to front offices tensely making selections that could make or break their franchise. Players and their families are anxiously awaiting a life-changing moment.
How did the NFL draft's TV takeover happen? Call it a happy accident for the NFL and its 32 teams.
Pioneering The Draft Show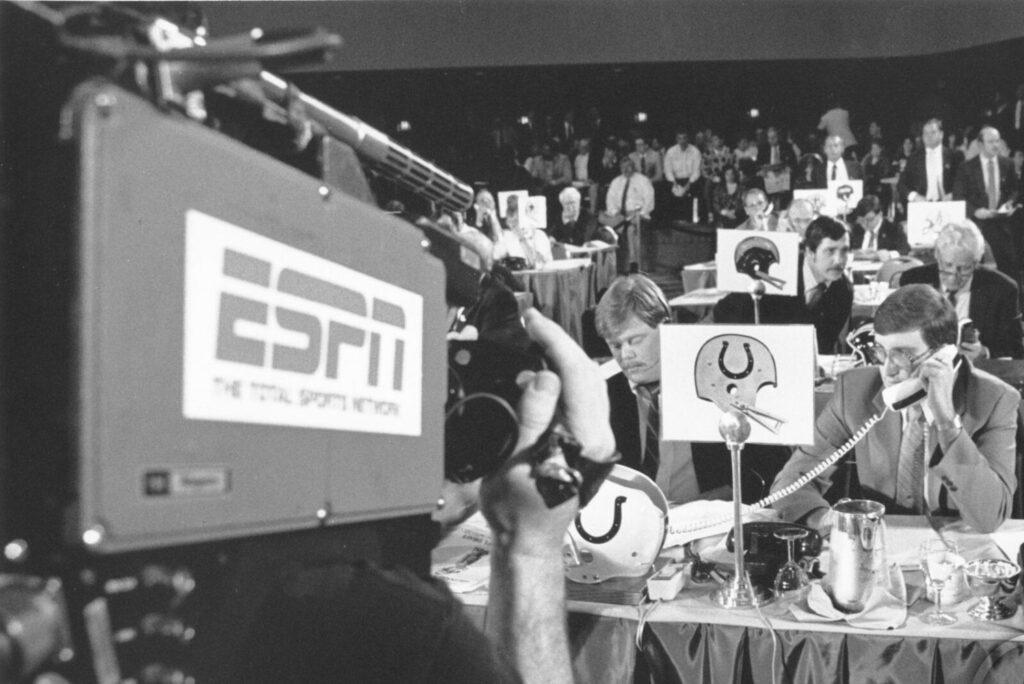 The event has taken on a life of its own, but as Kiper says, "ESPN built the Draft."
In 1979, a six-month-old startup channel called the Entertainment and Sports Programming Network was desperate for content, so it threw a Hail Mary.
ESPN asked the NFL: Can we show the 1980 NFL Draft?
NFL owners opposed it. Even Pete Rozelle, the league's media-savvy commissioner, was skeptical. Why would anybody watch a bunch of old guys in short-sleeve dress shirts mill about a smoke-filled hotel ballroom?
Because it's the NFL, countered ESPN.
The audacious proposal finally won over Rozelle. On April 29, 1980, ESPN televised the Draft for the first time to 4 million homes. Kiper joined ESPN's coverage in 1984, and the Draft was off and running as a bona fide media property.
Eventually, the Draft moved from hotel ballrooms to the bright lights of New York City's Radio City Music Hall. The sight of raucous fans booing commissioner Roger Goodell and their team's draft picks has become part of the media circus.
By 2010, the event was a three-day extravaganza — and became so massive that to maximize eyeballs, the NFL moved first- and second-round coverage to prime-time TV.
The league moved the Draft out of New York for the first time in 2015, and the roadshow has since made stops in Chicago, Philadelphia, Dallas, Nashville, Cleveland, Las Vegas, and Kansas City.
Even the COVID-19 pandemic couldn't stop Draft coverage. In 2020, the league televised a "virtual" Draft, with Goodell reading off picks from the basement of his home in Bronxville, New York (That year's 1st Round averaged a record 15.6 million viewers).
"We don't usually like to brag about things," says ESPN vice president of production Seth Markman. "But this is one event that we feel like we created, we've innovated along the way, and we've been in lockstep with the NFL every year on how to make this bigger and better."
In 2006, the first competition arrived: The league's own NFL Network began televising the Draft with anchor Rich Eisen and is now in its 17th straight year of wall-to-wall coverage. After Fox Sports picked up coverage rights in 2018, ESPN parent Disney boxed it out a year later by pitching a college football-centric version on ABC.
The strategy worked. This year, ESPN and ABC will present their own versions of the Draft for the fifth year in a row, and Fox is still out in the cold.
"It's one of the few events that I would say is in the DNA of ESPN," says Markman. "A few years back, Fox was involved as well, and I'll be honest with you, it pissed people off here. It was one of the few things that we were like, 'No, no, no, no, we do the NFL Drafts. That's our event.'"
Capturing The Great Reveal
ESPN and ABC have produced over 600 edited video packages for the 2023 Draft, plus over 400 graphics packages. They will have cameras at about 30 remote live shots, nine watch parties, and in all 32 NFL team draft rooms.
Ultimately, reality TV is only as good as the drama unfolding — and capturing it in real time is paramount.
Who can forget the will-he-or-won't-he suspense over whether Dallas Cowboys owner Jerry Jones would pick the mercurial Johnny Manziel in 2014? Or the crestfallen look on Aaron Rodgers' face during his freefall from supposed No. 1 pick to No. 24 in 2005?
And even when it's obvious which player a team is taking at No. 1, people want to see the actual moment the lives of players, families, and franchises change forever — whether it's a phone call, a walk across the podium, or the first post-selection interview.
"The draft represents hope," says Markman.
And unlike the Super Bowl, "All 32 teams are interested and all fan bases are interested, and everybody's excited. So when we do draft shows, we can see how interested fans are and how insatiable their appetite is for draft content. And it's because it involves everybody.
"When we cover the Super Bowl at ESPN, we put a lot of effort into that obviously, but it's not one of our highest-rated weeks."
The football Woodstock easily trumps Draft telecasts for rival leagues. Last year's Round 1 of the NFL Draft averaged 10.03 million views, more than double the 3.98 million average for Round 1 of the NBA Draft.
The fact that fans have the chance to "play GM for the day" adds to the event's appeal, said Phil Simms of CBS Sports.
"I've got to admit: I'm right in there with the crowd on TV. I always watch it. It's great," said Simms, who'll host his own virtual watch party for Hang Media on Thursday night. "I can't wait to see where these quarterbacks go. So they got me."
Like millions of other fans, the Super Bowl XXI MVP will be glued to his TV screen for Round 1 on Thursday night, Rounds 2-3 on Friday night, and even Rounds 4-7 on Saturday afternoon.
Between ESPN, ABC, and NFLN, many viewers have their favorite Draft coverage. Others toggle back-and-forth between networks, depending on who's talking on their TV screen.
Simms faithfully watches ESPN every year for one reason: He can't get enough of Kiper, the draft guru who has inspired a generation of analysts.
"I want to hear Mel Kiper. I'm not going there to hear eight other guys," said Simms. "I want to hear Mel Kiper's take — because this is what he does year-round."
You won't see any passes or tackles in Kansas City, and the only contact will be the occasional Roger Goodell hug for incoming rookies.
But by 8 p.m. ET, it won't matter. Carolina will go on the clock, and the Draft will once again take over TV.