The NHL was the only North American professional league that didn't have its Aug. 26 schedule interrupted by the player-led stoppage that swept sports following the Milwaukee Bucks' refusal to play in protest of another example of police violence and racial injustice.
MLB had three games scrubbed, MLS saw five games postponed and all three games in both the NBA and WNBA didn't happen. Meanwhile, the NHL — an overwhelming white sport from the front office to the players — saw no change among its two scheduled evening playoff games. Another game was held earlier in the day, prior to the Bucks' refusal to play.
"It's not just my responsibility as a minority player in the NHL to be talking about these issues," San Jose Sharks forward Evander Kane, who is among the less than 5% of NHL players who aren't white, told Canada's Sportsnet. "It's not just Wayne Simmonds or Akim Aliu or Joel Ward, or Matt Dumba's stance or issues in this society — it's everybody's.
"Until everybody decides to take it upon themselves and maybe step away from some of their privileges to educate themselves and, and really fight with us, we're going to be in the same situation we are today," Kane said.
Kane wrote on Twitter after the interview "it's incredibly insulting as a black man in hockey the lack of action and acknowledgement from the NHL, just straight up insulting."
The scoreboard read "End Racism" as the PA announcer in Toronto's Scotiabank Arena — one of two bubble sites — said the NHL is "committed in the mission to combat racial injustice" and to "wish Jacob Blake and his family well." No players knelt, and the Tampa Bay Lightning and Boston Bruins played moments later.
And after the Lightning's 7-1 victory over the Bruins, the Colorado Avalanche and Dallas Stars played the nightcap in Edmonton. No message was publicly read in the arena prior to that game.
"We really didn't find out that the other leagues had taken their stance until we got here tonight," Lightning defenseman Kevin Shattenkirk told reporters on Zoom after the game. "So, it was something that we found out by the time we got to the rink and something we will have to address going forward."
The Lightning-Bruins game started after 8 p.m. ET, roughly four hours after the Bucks refused to play to draw attention to the shooting of Jacob Blake. Blake was paralyzed after he was shot multiple times in the back by police in Kenosha, Wis., on Aug. 23, less than three months after George Floyd's killing in Minneapolis sparked protests nationwide and led leagues to put more focus on social justice issues.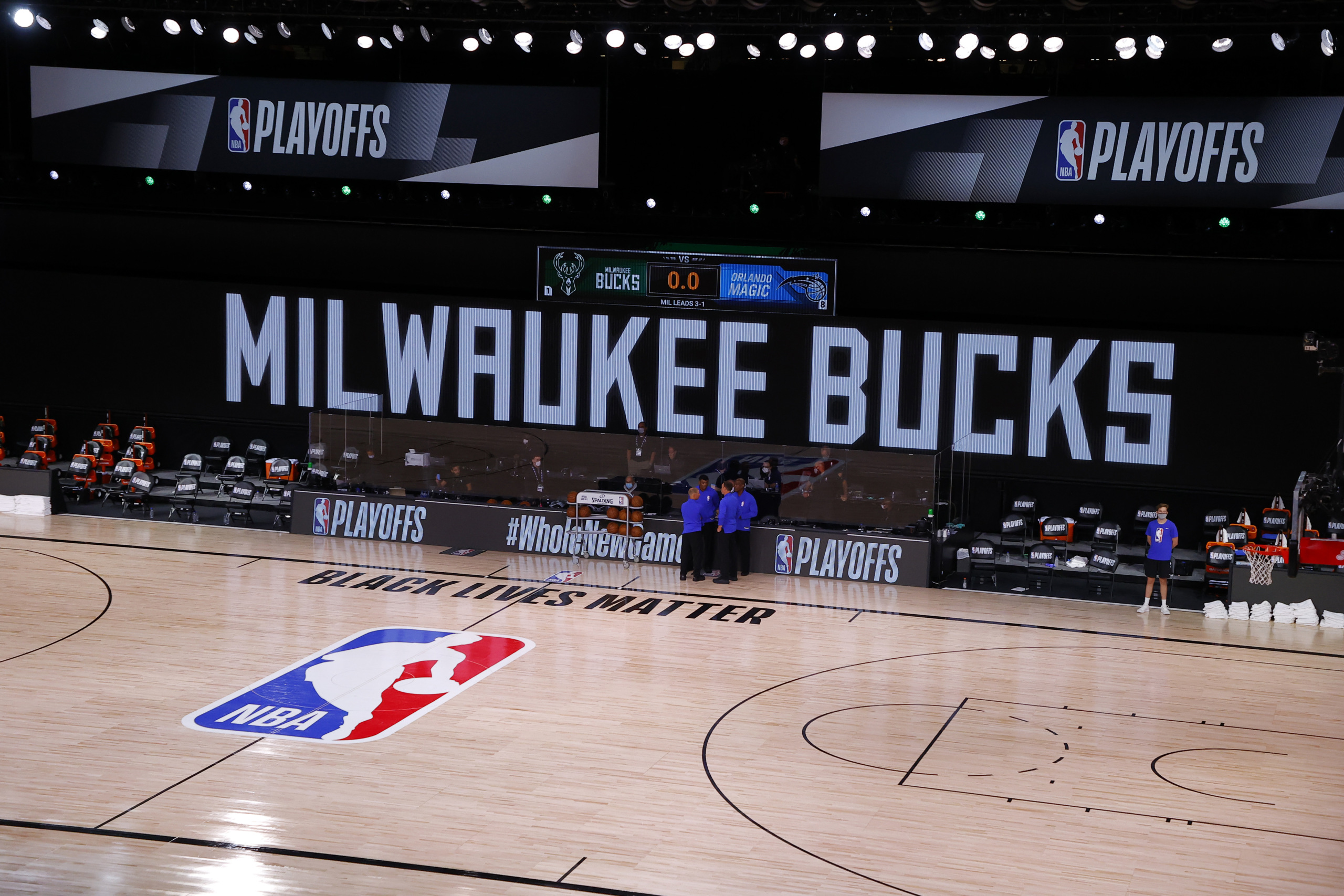 Added Lightning head coach Jon Cooper: "At some point we are going to have to come together. I think whether you say the NHL is behind or ahead, I think the league has done so many good things in so many different avenues. This is one need to pick our head up and take notice and there's no doubt we will."
"The league and the people running it, at some point everything will be addressed. We will get ourselves up to speed and support what needs to be done," Cooper said.
An NHL Players' Association spokesperson said the PA has been discussing the matter with players following the NBA's developments.
Several messages left with the NHL by Front Office Sports went unanswered. MLB, NBA and MLS issued statements on social media and Atlanta Dreams center Elizabeth Williams delivered a statement on behalf of the WNBA in the hours after the Bucks' strike; the NHL's Twitter feed only had game highlights and promos as of midnight ET time.
Minnesota Wild defenseman Matt Dumba, who is of Filipino descent, has been one of the few NHL players to visibly show his support for social justice issues on the ice. He became the first NHL player to kneel during the U.S. national anthem after he gave an impassioned speech on racial inequality in early August. He's also part of the Hockey Diversity Alliance, an initiative launched in June that also includes Kane and Simmonds.
"The NHL we're always late to the party, especially on these topics, so it's sorta sad and disheartening for me and other members of the HDA, and I'm sure other guys across the league," Dumba told Sportsnet.