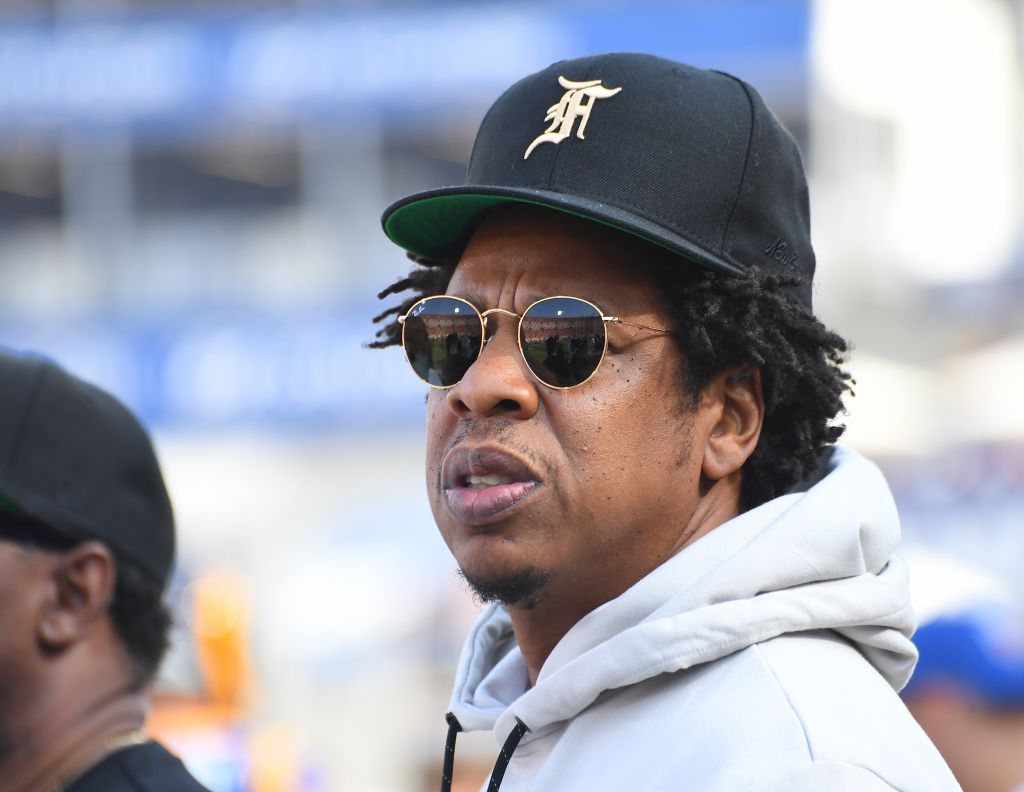 The NFL is poised to announce a sweeping business partnership with Jay-Z's Roc Nation, sources tell Front Office Sports.
The deal will give Jay-Z a prominent role in the league's social justice initiative with players as well as creative input into the league's Super Bowl halftime shows.
"The deal effectively positions Jay-Z—who once rapped I said no to the Super Bowl, you need me, I don't need you' —as the face of the NFL's social justice program, Inspire Change, which was launched earlier in the year after years of unrest among its players," wrote Andrew Beaton of the Wall Street Journal.
Down the road, it could pave the way for Jay-Z to become the NFL's first African-American owner, according to ESPN's The Undefeated.
The NFL has been at loggerheads with many of its players since former San Francisco 49ers quarterback Colin Kaepernick took a knee during the U.S. national anthem in 2016 to protest racial/social injustice.
In an interview with WSJ, Jay-Z said he felt comfortable becoming a leading voice for Inspire Change because of the NFL's ability to reach millions. Even though may not agree with the politics of some of NFL team owners, he's willing to take the chance.
If he didn't do business with wealthy business interests who he may disagree with politically, he told WSJ, "then I couldn't have any TV shows. I couldn't put my platform on TV because I'm sure someone who owns the broadcast network has supported someone who I don't believe should be in office."
NFL Commissioner Roger Goodell praised Jay-Z's ability to connect with younger consumers.
"There's really no one quite like him," Goodell told WSJ. "When we talked about doing something together, the one thing that really stood out is both of us wanted to have an impact."
The alliance could be a smart deal for both sides. Partnering with Jay-Z's firm gives the NFL more credibility while tapping the knowledge of a wide-ranging entertainment company with its finger on the pulse of the younger, urban audience.
Jay-Z's 11-year old Roc Nation, meanwhile, will be able to point to a partnership with the $15 billion NFL, the nation's most popular and powerful sports league, as it looks to further expand into sports.
Rising TV star Nate Burleson of CBS Sports' The NFL Today and NFL Network's Good Morning Football said Jay-Z has inspired athletes to become moguls. When it comes to influencers, he's the GOAT, according to Burleson. Jay-Z controls the "temperature gauge" to pop culture.
"He's one of the strongest business minds that we have in the modern day era that came from the gutter. So for him to be involved in the NFL? The players are going to love it," Burleson told Front Office Sports at CBS' NFL preview day in New York Tuesday.
"This is a league that's 70%, 75% African-American. Most of these guys see Jay-Z and see a direct reflection of themselves. So whatever he brings to the table, guys are going to be with it."
Roc Nation's sports unit currently represents Saquon Barkley, arguably the league's most exciting young player, taken with the No. 2 pick in the 2018 NFL Draft by the New York Giants.
Other sports clients include: NBA superstar Kyrie Irving, MLB pitcher CC Sabathia, NFL star Dez Bryant, and boxing champions Miguel Cotto and Andre Ward. Music clients include the biggest names in music: Jay-Z himself, Rihanna, Big Sean and DJ Khaled.
The NFL's once bullet-proof "Shield" image has been battered in recent seasons, as the league has been dinged by several on- and off-the-field issues, ranging from how it handles player protests and attacks from President Donald Trump to domestic violence and concussions.
TV ratings took a hit in both 2016 and 2017 as many of these issues came to surface, dropping 8% and 10%, respectively. Most notably during that period, legions of NFL players took Kaepernick's example and protested on the field during the national anthem.
The league and its TV partners have since struggled with how to handle players protesting. In the beginning, some NFL TV partners covered the protests as legit news. But in recent years, TV networks cut away to commercial breaks during on-field protests, correctly noting they typically don't cover the anthem unless it's a special event like the Super Bowl.
READ MORE: Will Bobby Wagner Inspire Other NFL Players To Strike Their Own Deals?
The NFL's TV audiences bounced back in 2018 as the league found itself wading less into controversy. The league's average game viewership grew 5% to 15.8 million viewers while digital streaming viewership rose 86%. But many of the issues that may have caused the two-year ratings slump are still festering. Clearly, the NFL is counting on Jay-Z and Roc Nation to help it tackle those issues better.