On Wednesday morning, ESPN's "Get Up" host Mike Greenberg aired what he dubbed the "Most Exciting 8 Seconds of My Life": a simple clip of Aaron Rodgers strolling into New York Jets training camp.
"We have put this on a loop. I'm going to just watch it for the rest of the day," declared a gleeful Greenberg.
The NFL's 32 clubs officially open training camps this week, and with it, the American media will reignite its obsession with the nation's most popular and powerful league.
More than ever before, the popular NFL has become a financial life raft for a sinking U.S. media — especially for outfits struggling with layoffs and slow ad sales.
If the league once counted on the media to help sell tickets, now the media relies on the NFL to drive TV viewership, podcast downloads, and web traffic 365 days a year.
Starting July 28, NFL Network and NFL+ will offer 17 hours of live training camp coverage featuring 50 on-air talents nationwide. Google's YouTube TV, the new home of "Sunday Ticket," is sponsoring this year's "Back Together Weekend" coverage on NFLN, ABC and ESPN.
The NFL's own revenues are nearing $25 billion annually. Then there's the sprawling sports media ecosphere of local TV networks, radio stations, newspapers, magazines, websites, and podcasts. They make untold billions on their own by feeding off the NFL's popularity.
"There's no doubt it's a symbiotic relationship. Each side provides relevancy to the other. Without the media, the NFL can't disseminate its product quite in the same way. Or maintain that level of engagement," said Josina Anderson, senior NFL insider for CBS Sports. "Likewise us, as media members, we need the content and the subject to write about. I don't know if one outweighs the other. But each side is definitely necessary to the other."
Anderson added that the league has smartly plotted an event schedule across the calendar year that keeps it top of mind.
Starting in the sweltering summer heat, the NFL advances through training camps in July, preseason games in August, the regular season from September to early January, the post-season in January, and the Super Bowl in February.
That's followed by the scouting combine in late February, free agency and owners meetings in March, NFL Draft in April, and mandatory mini-camps in June.
Summer training camps open their doors in July. And the NFL calendar is "reset" anew, she said.
"The way the NFL has been able to figure it out over these last decades is really just brilliant. Now we talk about the NFL year-round. But we have enough of a respite between the end of mandatory camp — and the start of training camp — to really wet everyone's whistles and get them missing it again," according to Anderson.
"It starts the carousel of intrigue and storylines as we count down to the regular season. They've really mastered this business. Quite frankly, I think some of the other major league sports should lean a little bit more into how the NFL does it. Because their model works."
The entertainment industry also understands the power of the NFL and strategically releases programming to bridge the gap between the end of OTA practices and training camps.
HBO's "Hard Knocks" is gearing up for its biggest season in years as NFL Films goes behind the scenes of Rodgers' first training camp with the Jets. But don't look for any maudlin scenes of the "Turk" ordering players to turn in their playbooks. The Jets don't believe it's "humane" to film players being cut, according to ESPN's Adam Schefter.
Meanwhile, streaming giant Netflix is getting in on the act with its new series, "Quarterback," which followed QBs Patrick Mahomes, Kirk Cousins, and Marcus Mariota through the 2022 season. Produced by Peyton Manning's Omaha Productions, it has earned rave reviews and raced out to No. 1 on the platform's Top 10.
Across the country, the league's official TV/streaming partners – CBS Sports, NBC Sports, Fox Sports, ESPN and Amazon Prime Video – are holding off-site seminars with their talent, briefing them on the latest rule changes and storylines.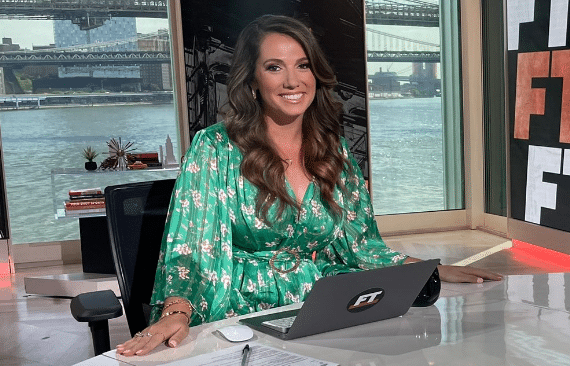 NFL calendar determines media's lives
Courtney Cronin took over as Chicago Bears beat reporter for ESPN's "NFL Nation" in 2022.
She estimates ESPN's NFL Nation reporters work roughly 25 straight weeks non-stop from training camp through the end of the season.
"You jump right in at the end of July, and you look up, and it's February. It's exciting. Every year, there's just a new refreshed sense of energy," she said. "No matter if your team is coming off a 3-14 season like mine or if you're covering a team that went to the Super Bowl last year. I know when I get to camp next week, it will feel like the first day of school — because it always does."
The schedule for working NFL reporters has gotten even tighter, noted Anderson, who also hosts the "Undefined" podcast.
Adding a 17th regular-season game means the former three-week gap between the Super Bowl and Combine has shrunk to two weeks.
When Anderson worked at ESPN, her bosses made NFL reporters take mandatory "bye" weeks off to avoid burnout.
Trying to slip in a vacation is tricky. The break between mini-camps and training camps "looks long in theory but feels like a blip on the radar," noted Cronin. "By the time mini-camp is over, you're right back into it."
She said that if their team doesn't make the postseason, NFL Nation's' 32 reporters sometimes take a vacation in January-February before the Combine. Or during the short window in April before the Draft.
But the driven Cronin doesn't take much time off. She also guest-hosts Stephen A. Smith's "First Take" and Greenberg's "Get Up" in New York.
Smith's top-rated "First Take" is as obsessed with the NFL as everybody else. Take this week's episodes. While the kickoff of the 2023 season is still seven weeks away, most shows were devoted to NFL news and debate. Of course, Smith is getting ready to troll crying Dallas Cowboys fans as he does every year.
Give it up to the league for making itself relevant 365 days a year, said Cronin. That's money in the bank for the media that cover it. To Anderson's point, she sees college football, the NBA and MLB duplicating the NFL's year-long calendar strategy.
"The beauty of the NFL is it's the one league, above all else, where you have a year-round fan base that's interested in more than just the games," said Cronin. "But also the inner workings of how league business is conducted and all of the storylines that make up the NFL off the field."