The World Series begins tonight, Division I athletes will have Election Day off, American soccer stars are growing in Europe, and eatertainment companies find creative pandemic solutions.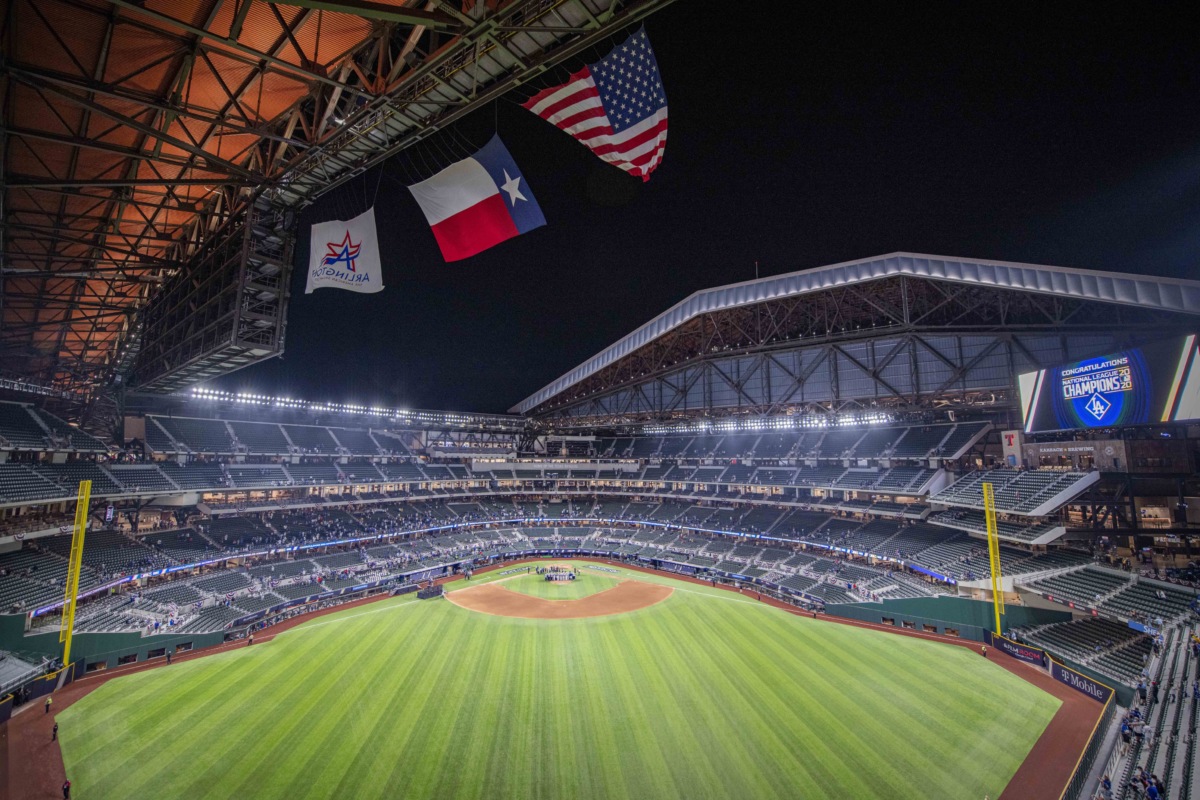 The World Series begins tonight at Globe Life Field in Texas, a match-up of seemingly polar opposites between the Los Angeles Dodgers and Tampa Bay Rays. While the two teams posted the best records in their respective leagues, they accomplished it with much different financial measures.
The Dodgers had MLB's second-highest payroll in 2020 at $107.9 million, topped by Clayton Kershaw's $16.3 million salary. In comparison, the Rays had a combined payroll of $28.3 million — Tampa's highest paid player is Charlie Morton, who made $5.5 million this season.
Fan Challenges
The World Series will also mark the first major U.S. sports championship to allow fans to attend. However, even at 29% capacity, those seats could still be unfilled. Per TicketIQ, there were between 1,600 and 2,300 tickets on the secondary market available for each game of the 2020 World Series as of last night — nearly the same number of tickets as last year despite the 11,500 fan cap in 2020.
The average ticket price for Game 1 as of Monday was $641, about a third less than the same point for last year's World Series. Those looking to watch have to buy tickets in four-seat "pods" spaced at least six feet apart from other groups to ensure social distancing.
SPONSORED
Great Care So We All Can Keep Playing
Whether it's watching your favorite team from the stands or supporting the local arts, sports and entertainment bring our community together. AdventHealth is dedicated to the health and wellbeing of the community — at work and at play.
AdventHealth is a non-profit healthcare system with more than 80,000 skilled and compassionate caregivers nationwide. Help is always nearby with over 1,000 care locations nationwide.
Learn more about how they're helping sports properties give world class care to their athletes and fans.
U.S. soccer stars have had trouble latching on with Europe's biggest clubs — until this year. Ten American stars under the age of 26 will take part in this season's UEFA Champions League, the tournament involving the best clubs across Europe.
While it's still not fully representative of what should be the U.S.'s soccer potential — Serbia has as many players represented with just 2% of the population — it signifies a trend in the right direction. There are now 30 Americans playing in Europe, the most ever.
At the top of the trend is 22-year-old Christian Pulisic, who was acquired by Premier League club Chelsea in a $73.1 million transfer deal last year — by far the most ever for an American. 
Rising American Soccer Transfer Values Since 2017:
Christian Pulisic — Chelsea, $73.1 million
Sergiño Dest — Barcelona, $25 million
John Brooks — VfL Wolfsburg, $18.7 million
Timothy Weah — Lille OSC, $11.7 million
SPONSORED
Wellness Wednesdays Are Back!

Whether you've been keeping up with your physical and mental health all throughout quarantine, or you need to get away from binge watching your shows for a bit, we invite you to take part in the latest edition of Wellness Wednesdays, presented by CELSIUS.
Participate in the session on Wednesday, Oct. 28, at 6 p.m. ET with Nike Master Trainer Traci Copeland and you will be entered to win five (5) cases of CELSIUS product. If you need a physical tune-up before we get into sweater weather, now's the perfect time. Register today!