For Warner Bros. Discover Sports, the gravity set in when the most famous trophy in North American sports entered the room.
At the beginning of the Stanley Cup Playoffs, the tournament's namesake award was escorted into TNT's Atlanta studios. The "NHL on TNT" staffers took selfies and admired the 3-foot, 37-pound masterpiece of silver and nickel alloy.
But once the stars in their eyes dimmed a bit, WBD Sports brass confronted the colossal significance of the next couple months.
"A few executives came out and made a point of saying, 'We've done so many different sports here, we've had many major moments, but we've never had something like this,'" studio host Liam McHugh told Front Office Sports. "'We've never given away a major championship trophy.'"
TNT isn't just making company history — it's also reviving a practice dormant for decades.
The Stanley Cup Final — which begins Saturday night at 8 p.m. ET with a faceoff between the Florida Panthers and the Vegas Golden Knights — will be the first Big Four championship contested completely on an American cable channel since 1994, when ESPN had the rights.
Following an underwhelming partnership with NBC Sports, the National Hockey League — which did not respond to FOS' request for comment — entrusted its media product to Disney and WBD (formerly Turner Sports) in 2021. After ABC broadcast the Final to a network audience last year, TNT will now take over on cable.
It's a calculated risk for the NHL, one that anticipates a new TV landscape wherein TNT's ability to produce a one-of-a-kind hockey program should bring in viewers — no matter how they get there.
"There's incredible pressure," says color commentator Eddie Olczyk, "but there's also incredible pride to be the first."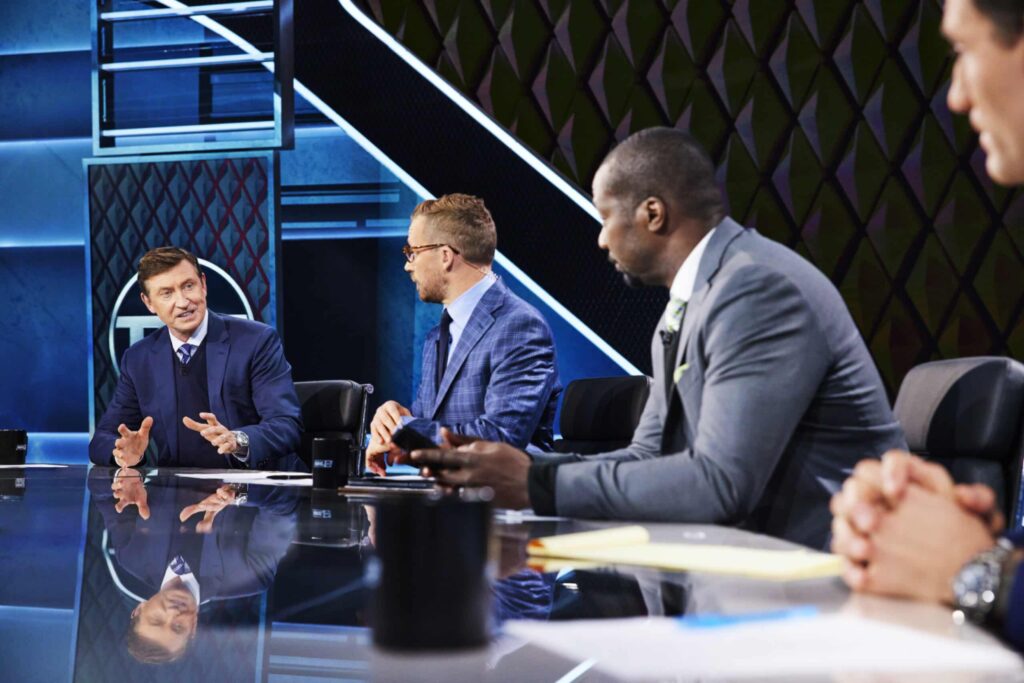 Building the Team
TNT may be new to televising championships, but it did contribute a great innovation to sports TV: "Inside the NBA."
Hosted by Ernie Johnson with players-turned-analysts Charles Barkley, Shaquille O'Neal, and Kenny Smith, the 18-time Sports Emmy winner is the gold standard for studio shows: informative without taking itself too seriously, funny without losing track of the narrative, and showcasing its personalities.
"That show works because of how they bounce things off each other and how they're so willing to debate with each other," says McHugh. "They're so willing to laugh with each other, laugh at each other, and it never carries over. I think that's what we have with our show."
"Shows are imperfect, people are imperfect," WBD Sports EVP and CCO Craig Barry says. "Leaning into that imperfection, being okay with it, and having fun with it is another thing that both shows share in common."
Barry adds that WBD had about five months to put together the NHL studio and broadcast teams. Producers pored over film to find a "connected group of hockey people" that brought different personalities to the table.
TNT "cut [McHugh] loose" relative to his more rigid role at NBC, casting him as the ringleader for the studio show. He consciously emulates Johnson, whom he looks up to.
The "NHL on TNT" desk is filled with former players: Anson Carter also jumped from NBC to TNT, becoming "the voice of reason." Freewheeling Paul Bissonnette of the "Spittin' Chiclets" podcast signed on as well, with current Vancouver Canucks head coach Rick Tocchet and former star goaltender Henrik Lundqvist appearing, too.
Carter and McHugh weren't the only continuity TNT kept for hockey fans: The channel hired play-by-play announcer Kenny Albert, ice-level analyst Keith Jones, and color commentator Olczyk as the lead broadcast crew.
While Albert is calling just his second full Stanley Cup Final (after taking over for the legendary Mike "Doc" Emrick in 2021) and Jones his first, Olczyk provides a truly veteran presence in his 16th Final as the lead color analyst.
"We've got hockey people at every level, and the production part of it and the repetition of working with the same crew is so important," he says. "There has been great excitement all season knowing that this is our first opportunity and we're going to be on center stage."
But undoubtedly the biggest get for the "NHL on TNT" was Wayne Gretzky — who will be the only one at the desk who has actually hoisted the Stanley Cup.
It almost didn't happen. The Great One — who had previously never held a media job — sparked a bidding war between Turner Sports and Disney to join their respective NHL coverage in 2021. Ultimately, TNT won out with an assist from Barkley, a good friend of Gretzky's who "called [him] every single day" until he relented, per Sportsnet.
Gretzky's colleagues not only appreciate his immense hockey knowledge, underrated humor, and willingness to chirp and be chirped, but they also recognize how monumental his presence on national television is for the sport.
"He obviously did not have to do this, his legacy is what it is," says McHugh. "But instead, I think very much in a true hockey teammate-centric way, he has embraced this."
"I always tell him, 'Dude, if I would've put as much time and effort into growing the game of hockey that you did, I'd be on a beach at this time. You'd never see me again,'" Bissonnette says.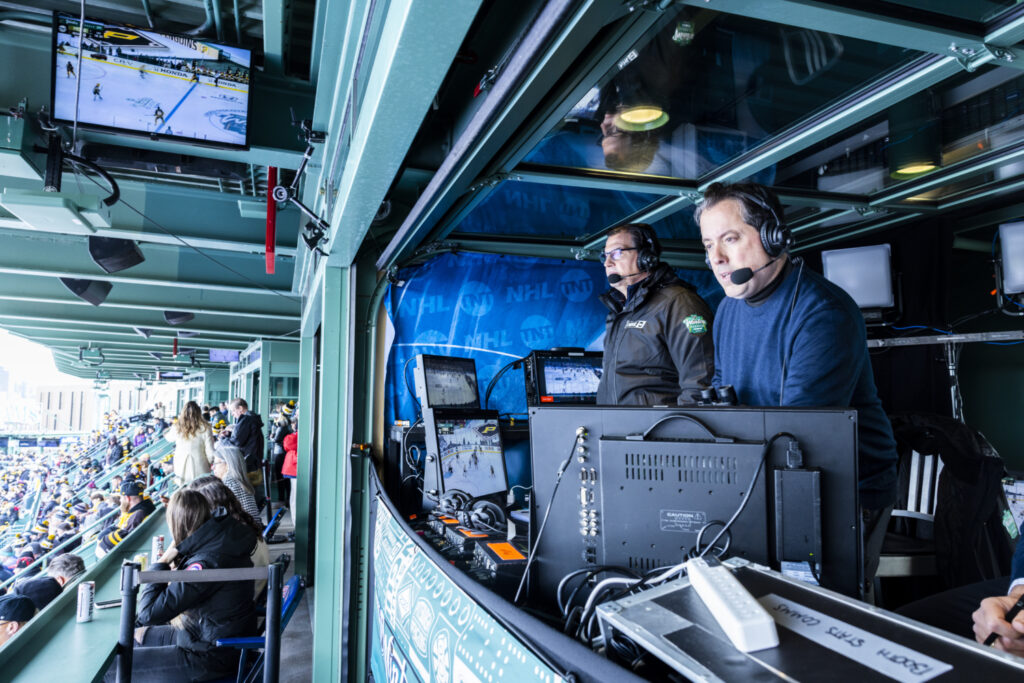 The Battle for Eyes
The split media rights between WBD and Disney creates a unique situation where two entities are putting their own spin on effectively the same product. Viewers have noticed.
Before Game 1 of last year's Stanley Cup Final, The Athletic conducted a survey of over 5,000 fans across all 32 fanbases to find out how they enjoyed the first season of TNT's coverage versus ESPN's.
It found that TNT outrated ESPN across the board — with especially high marks for TNT's studio show, which saw a majority 44.2% of respondents rank it a five out of five.
"I really hoped it was going to be TNT if it was one of the two that reached out," says Bissonnette. "I really liked the way that they let their talent just be themselves and be silly, and not take it that seriously. Clearly, from the success they had on the NBA side with Chuck and Shaq, it just seemed like it would've been a better fit."
Sentiment across social media largely reinforces that praise, with TNT's commentators often at the center of the argument.
That said, the genial competition between the two camps (many are friends and former colleagues) has ultimately been good for hockey on TV.
The same Athletic survey found that 41.2% of those surveyed were watching more hockey compared to the past, and 74.3% believed that the NHL was in a better place with the new rights holders.
Additionally, both Disney and WBD boasted increased advertising interest for the 2022-23 Playoffs, and female viewership of the league grew 61% during the 2021-22 season.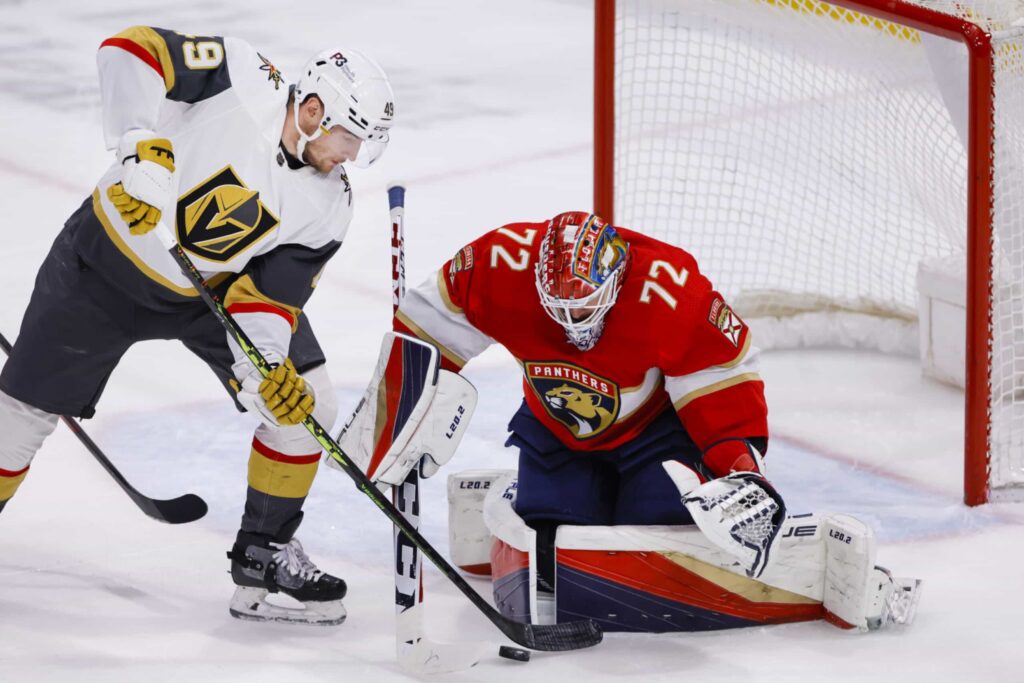 Brave New World
It's no secret that television itself is in a precarious place.
Much of the ongoing Writers Guild of America strike concerns the coming tide of streaming challenging the networks and cable channels.
While the strike's scope is limited to scripted entertainment, companies broadcasting sports will have to decide whether to move further into digital formats — as the NFL has with Amazon.
"I think at this point, fans and viewers know how to get the games," says Barry. "With the fragmentation of media and content platforms, whether that's broadcast cable or direct-to-consumer, more and more sports are becoming more platform-agnostic."
That could be a key point as the NBA renegotiates its media rights deal with Disney and WBD — the latter's success with the Stanley Cup Final could convince the Association to hand over its Finals to the cable channel and its famous "Inside the NBA" crew.
For now, TNT is going to focus on continuing its momentum from a strong Stanley Cup Playoffs and deliver the most exciting Final it can — despite conventional wisdom saying that two expansion franchises from nontraditional hockey markets seeking their first Cup won't make for good ratings.
"It is probably not as steeped in tradition, if you will," Barry says, "but who's to say that we can't start to create new traditions?"