Dr. Anthony Fauci doesn't expect to see packed stadiums soon, and Kevin Durant adds a new business deal.
Fanless Sports To Continue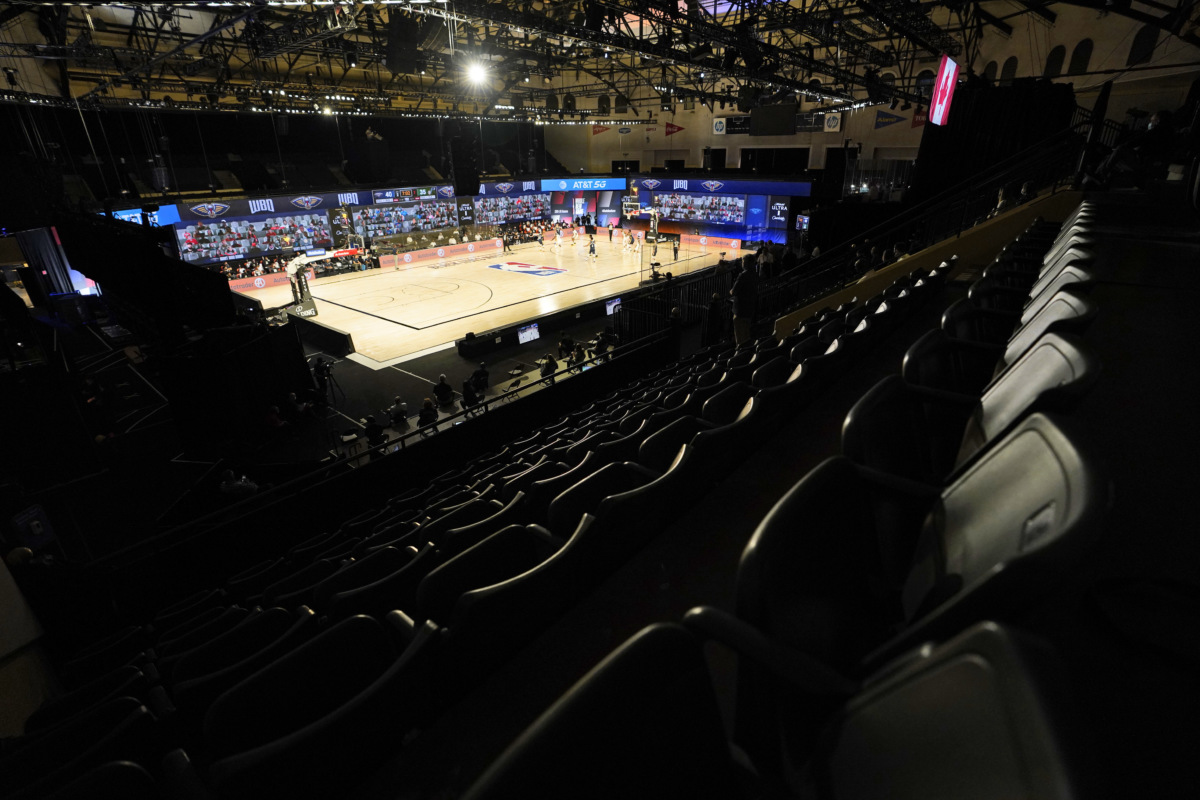 Basketball fans awaiting the start of the 2020-21 NBA season on Dec. 22 shouldn't expect full-capacity crowds, Dr. Anthony Fauci said.
Fauci told Yahoo Sports on Monday that unrestricted capacities at sports stadiums will be among "the last thing[s] that you're gonna see."
Fans or no fans?
The Utah Jazz are the lone NBA team that has announced a plan to have fans for the upcoming season. Vivint Arena will allow 1,500 fans in the lower bowl only with limited seating on the suite level, representing roughly 8.3% of full capacity. The Golden State Warriors announced a plan to allow fans, but San Francisco's Department of Public Health rejected it.
Five teams have stated they won't allow fans to start the season:
Charlotte Hornets
Denver Nuggets
Los Angeles Lakers
Milwaukee Bucks
Oklahoma City Thunder
The remaining teams have yet to announce their fan policies.
Hopeful For Fall
With so many unknowns surrounding COVID-19 restrictions and potential vaccines, Fauci also does not expect full, 20,000-seat NBA arenas by the time the playoffs conclude next July.
When asked about the possibility of full NFL stadiums next September, however, Fauci said: "Oh, that's possible. I think that's possible."
The NFL's leader in average home attendance is the Dallas Cowboys at 26,466 through six games; last season, the team led the league by averaging 90,929 fans per game — a 70.8% drop year-over-year.
Kyle Krause, billionaire CEO and chairman of the Krause Group — which owns the midwest convenience store chain Kum & Go — is stepping down from his role in order to help run Parma Calcio, the Serie A soccer club the group acquired in September.
The Iowa-based company bought a 90% stake in the 106-year-old club in a deal that reportedly values it at more than $120 million.
The Big Cheese: Krause will remain the sole owner of the group, but pass on Kum & Go management duties to his son on Jan. 1. The chain has 400 stores across 11 states that accounted for the bulk of Krause Group's reported $2.8 billion in 2019 revenue. 
Krause's business portfolio also includes two Italian wineries, a gasoline transportation service and Des Moines Menace, a USL League Two team.
His takeover of Parma Calcio made it the fifth North American-owned Serie A team. The others include AS Roma, Fiorentina, AC Milan and Bologna.
Serie A is also getting more American involvement as Advent International and CVC Capital Partners purchased a 10% stake in a new company created to handle the league's media rights for $2 billion.
SPONSORED
Are Your Fans Ready To Return?

In Samsung's latest white paper, fans give their honest take on what needs to happen in venues before they will return to live events.
Over 1,000 event-goers participated to give you the insights you need so you can reopen safely, successfully, and profitably when the time is right. Get to the root of what fans truly value about the live experience and adapt your strategy around it. Discover the precautions event-goers consider must-haves, versus nice-to-haves. Understand the current perception of live events, and align communications accordingly.
Download the report today and get ready to start 2021 off the right way.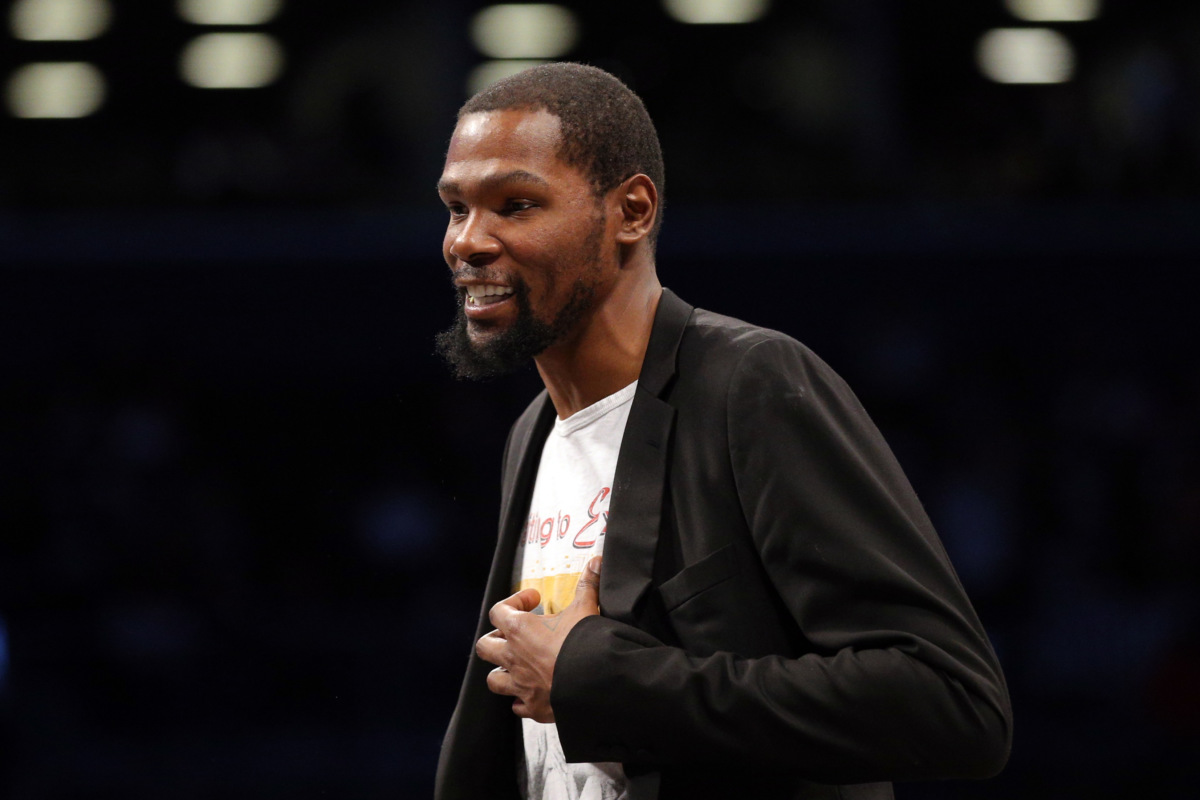 Kevin Durant and NBA 2K have a new long-term partnership that will see the two-time NBA champion and his business ventures collaborate with the video game on various projects.
On the surface level, Durant is serving as the face of NBA 2K Mobile Season 3, which dropped today. But the partnership will go deeper:
Durant and his Thirty Five Ventures team will work with 2K on future game development, exclusive content and in-game merch.
His sports business platform, The Boardroom, will work with 2K on original content. 
The Kevin Durant Charity Foundation and 2K's charitable arm, 2K Foundations, will work together on court renovations and other programming to "inspire underprivileged youth around the world."
In addition to Durant, a handful of other players including LeBron James, Steph Curry and Giannis Antetokounmpo have had basic partnerships with the game that include appearances at events and various social media and in-game activations. James and business partner Maverick Carter's SpringHill Entertainment also produced a story arc in 2K20's MyCareer mode.
Durant, who doesn't do traditional endorsement deals, has invested in over 30 companies through Thirty Five Ventures alongside partner Rich Kleiman.
35's Other Ventures:
Invested in Postmates, The Players' Tribune, wearable fitness tracker Whoop, stock trading platform Robinhood and sports network Overtime, among others.
Owns 5% of the Philadelphia Union.
Executive produced Netflix documentary "Q Ball," which explores the San Quentin Prison basketball team.
Sarah Fuller is listed as the sole kicker on Vanderbilt's roster for its Dec. 5 game. 

The Tony the Tiger Sun Bowl was canceled due to the COVID-19 pandemic, making it the ninth bowl game canceled already for this college football season.

NBC's annual broadcast of the Rockefeller Christmas tree lighting will air at 8 p.m. ET Wednesday, giving it primetime placement over the NFL's rescheduled Baltimore Ravens-Pittsburgh Steelers game. 

TCG — a venture affiliate of The Chernin Group — is investing $30 million in Surfline, a media company that focuses on surfing coverage, as well as live wave and weather forecasts for surfers.
EVENT
Get Fit For The New Year!

The holidays are here, which means we are all about to overeat like crazy! Time to get in front of the problem and burn some calories.
In conjunction with our friends at Nike, FOS invites you to take part in a 45-minute virtual workout on Wednesday, Dec.9, at 6 p.m. ET with Nike Master Trainer Traci Copeland followed by 30 minutes of networking time. Participate in the session, and you will be entered to win five (5) cases of CELSIUS product
Make some new connections, learn some new exercises, and really earn that second piece of pie.
U.S. stocks climbed to record highs Tuesday as optimism around a federal relief plan and positive vaccine news led to gains. Here's a look at how sports-related stocks performed today.
Up:
Aramark (NYSE: ARMK) gained 4.79%
Fox Corp. (NASDAQ: FOX) gained 4.65%
Hibbett Sports (NASDAQ: HIBB) gained 4.37%
Down:
Peloton Interactive (NASDAQ: PTON) dropped 3.72%
DraftKings (NASDAQ: DKNG) dropped 3.02%
Genesco (NYSE: GCO) dropped 2.43%
(Note: All as of market close on 12/01/20)
Seattle Sounders vs. FC Dallas: Due to COVID-19, the Sounders and FC Dallas are meeting for the first time this season in the MLS Western Conference semifinal; Seattle is unbeaten in its last 13 at home against Dallas across all competitions. The Sounders won 3-1 over LAFC in Round One of the playoffs, while FC Dallas stunned Portland on penalty kicks. 
How to watch:
9:30 p.m. ET on FS1
Betting odds:
Seattle ML -155 || O/U 2.5