England looks to open sporting events back up to fans, and Bubbleville already has some dropouts.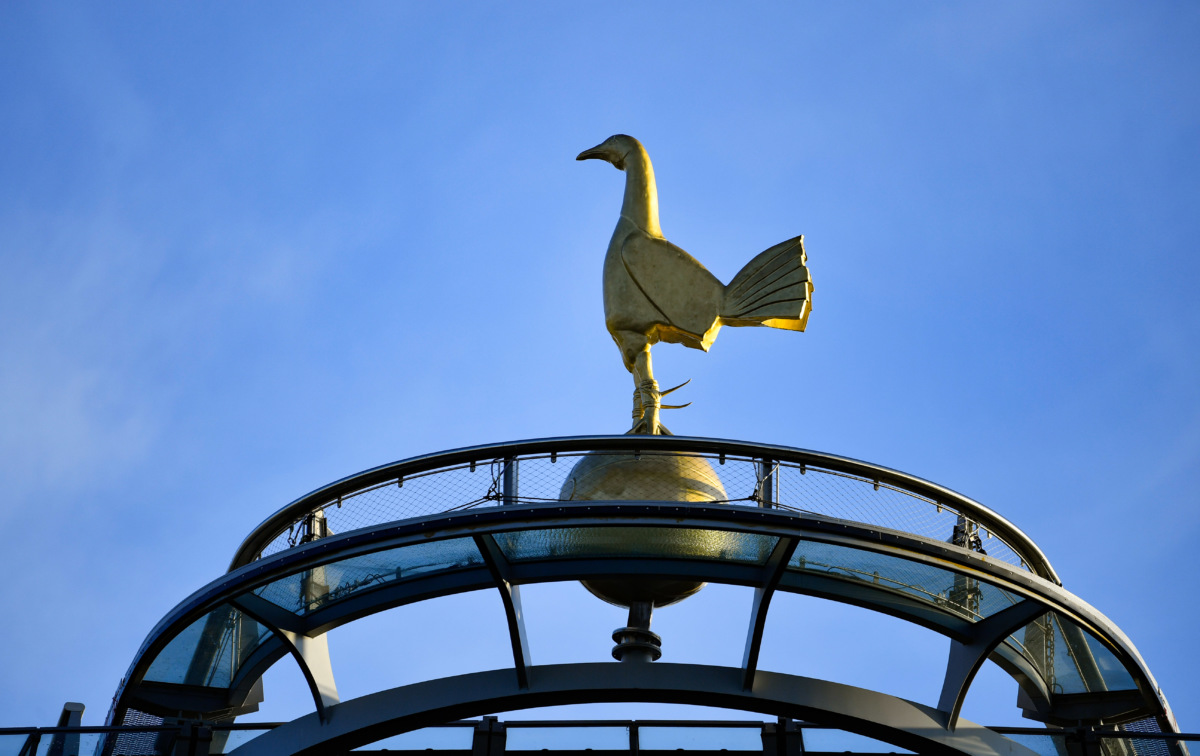 England will allow a maximum of 4,000 fans to attend outdoor events in low-risk areas when its month-long lockdown ends on Dec. 2. Up to 2,000 fans will be allowed at events in the country's second-tier risk areas, and none will be allowed in third-tier areas.
Indoor events in the first- and second-tier areas can have a maximum of 1,000 spectators.
Both indoor and outdoor venues will still be limited to 50% capacity.
Organized youth sports will also be allowed to resume, as will the use of indoor gyms and recreation centers across all risk tiers. While professional sports have continued on amid the lockdown, the grassroots level has been paused since Nov. 5.
Recent financial reports from Premier League clubs Tottenham and Manchester United — who haven't been able to host fans since March — shed light on the dire situation without matchday revenue:
Spurs lost $85.5 million for the fiscal year ending June 30, following a profit of $91.8 million in the previous 12 months. The team just completed an approximately $1.6 billion stadium and estimates a loss of about $200 million for its current fiscal year if it remains closed to fans.
Manchester United had an 18.8% drop in revenue, to about $641 million, for its fiscal year that ended in June. It posted a $29 million loss, as opposed to a $24 million net profit in the year prior.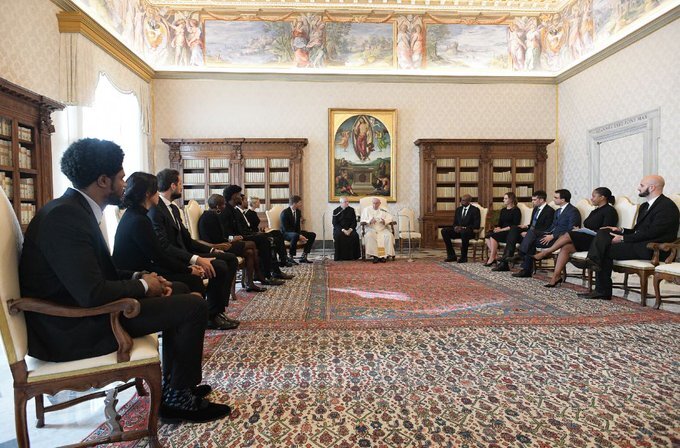 A delegation of five NBA players and several NBPA officials met with Pope Francis at the Vatican this morning to discuss their work on social justice issues.
An assistant to the Pope reached out to the players' association last week saying that the Pope wanted to learn more about how players had brought attention to social justice issues, and what they have planned for the future.
The delegation included: Kyle Korver, Sterling Brown, Jonathan Isaac, Marco Belinelli, Anthony Tolliver, and NBPA Executive Director Michele Roberts.
Brown, a victim of police brutality in 2018, was among the first Milwaukee Bucks players to decide to sit out when the team started a league-wide strike during the first round of the NBA playoffs.
Isaac, an ordained minister, was one of the only players to stand for the national anthem during the NBA's restart in Orlando.
Korver previously discussed issues of white privilege and racism in his first-person essay for The Players' Tribune titled "Privileged" in April 2019.
The meeting is said to have lasted an hour at the papal library of the Apostolic Palace. Belinelli addressed the pope in Italian, and the group presented him with gifts including a commemorative basketball, a union-produced book highlighting players' efforts, and an Orlando Magic jersey.
SPONSORED
Prep Your Team To Welcome Fans Back

In Samsung's latest white paper, fans give their honest take on what needs to happen in venues before they will return to live events.
Over 1,000 event-goers participated to give you the insights you need so you can reopen safely, successfully, and profitably when the time is right. Get to the root of what fans truly value about the live experience and adapt your strategy around it. Discover the precautions event-goers consider must-haves, versus nice-to-haves. Understand the current perception of live events, and align communications accordingly.
Download the report today and get ready to start 2021 off the right way.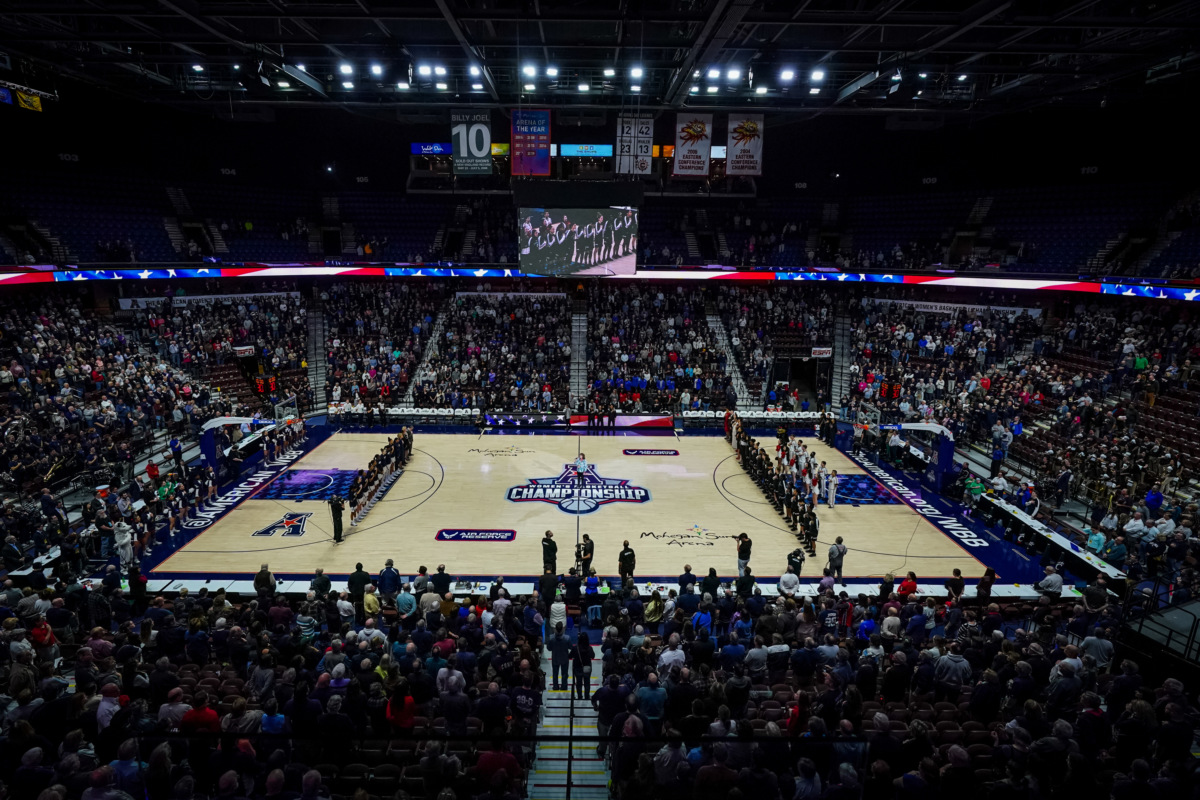 Both the University of Florida and Baylor's men's basketball programs are dropping out of upcoming "Bubbleville" tournaments due to COVID-19. The No. 2-ranked Bears were set to play No. 18 Arizona State as the marquee matchup of college basketball's Nov. 25 opening night.
Their cancellations could be a foreboding sign of things to come for not only Bubbleville organizers — who are set to host more than 40 teams across 11 days of non-conference tournaments at Mohegan Sun Arena — but for the NCAA itself.
The idea of a bubble tournament, once considered controversial for college sports, could be the only way to save a season of college basketball that's tipping off amid the worst nationwide COVID-19 outbreak since the pandemic began.
The NCAA, likely eyeing the more than 80 canceled or postponed college football games since Nov. 9, recently announced it would move the men's March Madness tournament closer to a bubble format.
The financial consequences would be dire for the entire NCAA sports system if men's March Madness does not happen in 2021. The NCAA receives about $875 million from TV and marketing rights for the event, which it funnels down to member schools. With the cancelation in 2020, the association sent about $375 million less than was expected to Division I programs.
Cincinnati Bengals quarterback Joe Burrow, the No. 1 overall pick in the 2020 NFL Draft, suffered a torn ACL and "other structural issues" in his knee against the Washington Football Team.
Meghan Frank, who joined Lululemon in 2016, has been named the company's new CFO after her stint as one of the interim CFOs.
The Baltimore Ravens closed their facility Monday after learning that multiple members of the organization tested positive for COVID-19.
Kendall Coyne Schofield joined the Chicago Blackhawks as the organization's first-ever female player development coach.
SPONSORED
Elevate Broadcasts With Vizrt
Launched in February of 2020, Marquee Sports Network is the television home of Chicago Cubs broadcasts and coverage of the Chicago Bears for sports fans in the greater Chicago area.
In order to elevate their broadcasts of one of America's most storied professional sports franchises in a unique season, Marquee Sports Network recently entered into a partnership with Vizrt. Read on to learn more about this unique partnership.
U.S. stocks closed with solid gains on Monday as the market reacted positively to news around the development of COVID-19 vaccines. Here's a look at how sports-related stocks performed today.
Up:
Camping World Holdings (NYSE: CWH) gained 8.22%
Genesco (NYSE: GCO) gained 6.39%
Dave & Buster's Entertainment (NASDAQ: PLAY) gained 5.63%
Down:
Foot Locker (NYSE: FL) dropped 2.60%
Activision Blizzard (NASDAQ: ATVI) dropped 1.16%
Under Armour (NYSE: UA) dropped 0.96%
(Note: All as of market close on 11/23/20)
Jonathan Vilma's hiring process at Fox Sports mirrored that of many of those who found work during the pandemic: it was conducted entirely via Zoom. "It was definitely different. You want to get a feel for your partner and it just wasn't there," he said.
The NFL's Week 10 audiences averaged 14.7 million viewers, down 13% from the same week last season. Season-to-date, the NFL is averaging 14.9 million viewers — off 7% from the same point during the 2019 season.
Houston Texans President Jamey Rootes became a first-time author with his book, "The Winning Game Plan: A Proven Leadership Playbook for Continuous Business Success." FOS spoke with Rootes about leading an organization through the pandemic, what he hopes readers take away from his book.
Los Angeles Rams vs. Tampa Bay Buccaneers: After combining for a total of 95 points in a Week 4 classic last year, both teams are looking to pad some elusive stats. Tom Brady and the Bucs (7-3) will try to turn things around in primetime performances after previously going 1-2, with the quarterback posting some of his worst primetime numbers in years. For the Rams, stalwart Aaron Donald is seeking his first-ever sack or win against Brady, while quarterback Jared Goff will have to perform without Andrew Whitworth on his O-line for the first time since 2017.
How to watch:
8:15 p.m. ET on ESPN
Betting odds:
Tampa Bay -4.5 || ML -215 || O/U 48.5