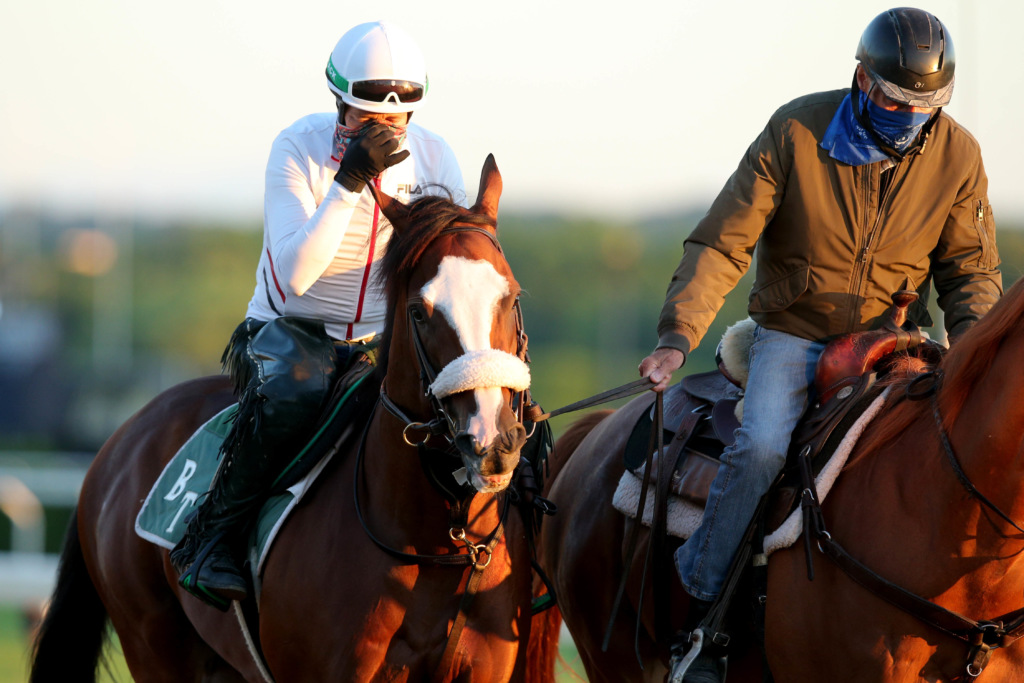 The Belmont Stakes, typically the third leg of thoroughbred horse racing's Triple Crown, is well known for the roar of 90,000 New York City-area horse racing fans and the electric atmosphere they help create at the racetrack.
NBC Sports race-caller Larry Collmus noted how The Belmont's Big Apple crowd is always extremely loud. But due to coronavirus restrictions, the track will be fanless, leaving the network to fill that sound gap in other ways.
Specifically, NBC Sports will turn to jockey-generated audio during its coverage of the 152nd Belmont Stakes on June 20.
NBC will strap microphones on three jockeys and integrate their sound into overall coverage, according to Rob Hyland, NBC Sports coordinating producer of horse racing.
"Obviously, without 90,000 screaming fans, we think the race sounds will significantly enhance the broadcast," Hyland said.
As long as venues remain "crowd-less," listening in on a trainer's final instructions to a jockey before a race could be "great access" viewers have never heard before, Hyland said.
"It will hopefully create a more intimate experience for the viewer at home. You'll see some of that and hear some of that on Saturday," he said.
In another audio enhancement, one of the on-track "outriders," who ensure the safety of the horses to and from the gate, will be wearing a microphone and a high-powered radio. Host Mike Tirico and analysts Randy Moss and Jerry Bailey will use that to interview the winning jockey.
READ MORE: ESPN's Embrace Of User-Generated Content Is Here To Stay
To err on the side of caution, NBC will keep on-track reporters Britney Eurton and Kenny Rice at a distance from interview subjects via six-foot boom microphones.
Collmus said that while he'll miss the energy from the fans, once the race starts, he will drop into his "own" zone.
"Even with the Kentucky Derby, when there are 150,000 people, I don't hear the crowd," said Collmus. "I think it's before the race that will be a little different for me – rather than during the race."
NBC is also partnering with the Breeders' Cup and America's Best Racing to stage virtual "watch parties" around the country on Saturday. Those watch parties will be integrated into the telecast.
"Without fans there, we wanted to bring the fans there any way we could," Hyland said.
As with other sporting events, NBC must do more with less due to social distancing quarantines.
NBC will cover Belmont with roughly 50 staffers at two different locations in New York and Stamford, Conn. vs. 200 on-site at the race last year. Unlike other races, horse owners won't be on-site. So those traditional interviews from the owners' boxes will be missing from the telecast.
READ MORE: PGA Tour Returns To Television With New Broadcast Innovations
NBC will try to whet viewers' appetite for the sport of kings by airing six straight days of live horse racing from on the broadcast network and NBCSN from June 16 to 21. For the first time, the Belmont will also be the first leg of the Triple Crown. It usually comes last after the Kentucky Derby and Preakness Stakes.
Sports TV networks are scrambling to cover live sports in the teeth of the coronavirus. But they have to be realistic, said Hyland.
"In general, the last few months have taught us that being perfect, although that's what we strive for in television every day, is maybe not as important as it was. And to find new ways to tell stories."
Tirico grew up just nine miles from Belmont Park in Whitestone, Queens. While he admires the technical innovations sports TV is using to mask empty stands, he hopes most of them don't last.
"Sports is not the same without fans," said Tirico. "Sports is not the same without all of us having access to the athletes; in this case, the connections. It's also not the same in the broadcast world without all of us spending time together."