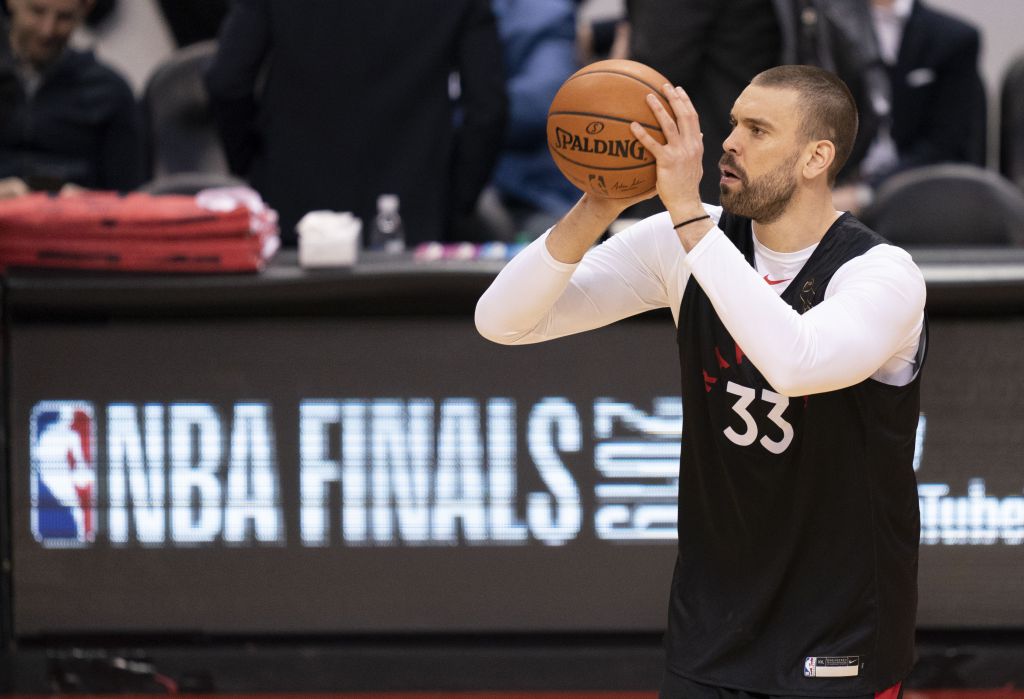 The NBA will be thrilled to stage its first-ever "global" NBA Finals, as the Toronto Raptors and the team's incredible run that has captivated Canada will go head-to-head with the juggernaut that is the Golden State Warriors starting tonight.
But even as Canadian fans are going basketball-wild in the country more famous for its ice hockey heritage, executives at NBA headquarters are privately bracing for a TV ratings drop for the 2019 NBA Finals as many fans have clearly been left wondering – Where have you gone, LeBron James?
This is the first NBA Finals in nine years not to be headlined by King James. It's also the first playoffs sans-LeBron since 2005, who suffered an injury-filled frustrating first season with the Los Angeles Lakers. Compounding that, this will be the first NBA Finals since 2014 that won't feature the league's top two teams by TV ratings.
TV audiences for this year's playoffs have already dipped 14%. Across 76 telecasts on ABC, ESPN, TNT and NBA TV, this year's playoffs are averaging 3.95 million viewers, compared to 4.61 million viewers over 78 games through the same point last year.
The playoff slump follows a combined 5% drop across all four TV networks during the 2018/2019 regular season, according to Sports Business Journal.
For a generation of sports fans, the NBA's postseason had become a LeBron passion play, with fans and media (hello, Skip Bayless of FS1) obsessing over his annual quest for the Larry O'Brien Championship trophy.
But LeBron's absence this year leaves a gaping hole in the NBA TV landscape.
"While Kawhi Leonard has emerged as a bonafide NBA star, there is only one LeBron," notes media consultant Brad Adgate.
Watching Steph Curry, Kevin Durant and the Warriors play their best basketball is a pleasure for sports fans. But this year's regular season ratings could also indicate "Warriors fatigue," according to Adgate.
READ MORE: Rachel Nichols and 'The Jump' Lead the Way in Daily NBA Coverage
This will be the fifth straight NBA Finals appearance for Golden State. They're gunning for their third NBA title in a row — and fourth in five seasons. After blowing a 3-1 series lead to James' Cavaliers in the 2016 NBA Finals, the Warriors haven't allowed their opponents to generate much postseason drama.
During the last two NBA Finals, they throttled James' Cavs in four and five games respectively. This year, they swept the Portland Trail Blazers in the 2019 Western Conference Finals.
NBA Commissioner Adam Silver was honest about the TV impact of losing James to a lousy Lakers team in a later time zone this year.
"We don't run from it," said Silver in Toronto via Kevin Draper of the New York Times. "LeBron, to have been in the finals eight consecutive years, and have him play in the East, it's just math. Fifty percent of the country's television market is on the East Coast."
Still, there is a silver lining: the NBA's viewership for the conference finals, playoffs and regular season are all up from two seasons ago. While Nielsen doesn't include the Toronto TV market, the league is excited about the potential combined TV numbers from the U.S. and Canada – especially the latter, given the unprecedented response from fans all across the vast country for the Raptors' first NBA Finals appearance.
READ MORE: Heading into NBA Finals, ESPN Doubles Down on Stephen A. Smith
The Raptors' Eastern Conference Finals series-clinching win over the Milwaukee Bucks was the most-watched NBA game ever in Canada, averaging 3.1 million viewers across Sportsnet National and SportsnetOne. More than a third of all TV viewers in Canada at the time tuned in for the game.
The aggregate audience for Game 6 of Raptors-Bucks between the U.S. and Canada was up 12% vs Game 6 of last year's Eastern Conference Finals. NBA programming accounted for 24 of the Top 25 most viewed telecasts on ad-supported cable during this year's playoffs (The exception was the NFL Draft).
[mc4wp_form id="8260″]
Sports TV ratings are driven by a number of variables: star players, the size of TV markets, level of competition. But the number one thing TV executives root for in any series is length, notes media reporter Richard Deitsch of The Athletic.
For example, if the Raptors can push the Warriors to a six or seven game series, these Finals could turn into a ratings winner versus last year's four-game Warriors sweep.
"This series will be competitive and I think the length will help mitigate having a Canadian team in the Finals – the Toronto market is not counted by Nielsen – and the absence of LeBron James," says Deitsch. "If you want a prediction, I think we'll see a series average between 15-17 million viewers, though it's going to be a build with a slow viewership start."
Jason McIntyre of FS1 and Fox Sports Radio doesn't buy into the idea of Warriors fatigue.
"Casual sports fans love greatness," says McIntyre.