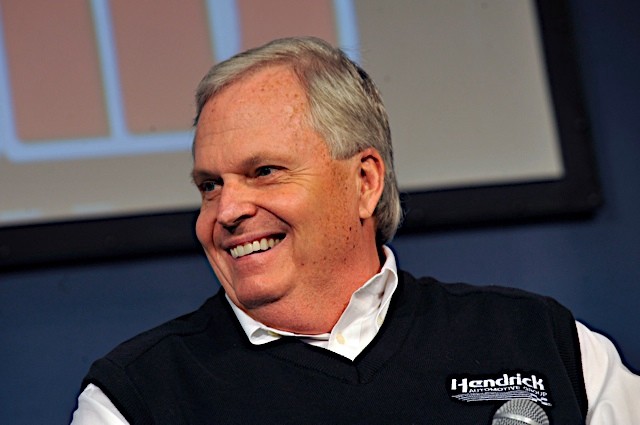 Forbes recently announced its list of the highest valued NASCAR teams and drivers. Of note, NASCAR hasn't completely recovered from the post-2000s draught. The top 10 teams are worth an average of $137 million. The scary thing is that the one year change is a seven percent drop in value. Accounting for the drop, we take a look at Top 10 and what makes them valued like they are.
Hendrick Motorsports — $350 million
The fact that Hendrick Motorsports has won 12 championships in NASCAR's top series since 1995 should make it no surprise that Rick Hendrick's organization is at the top of the list. Forbes values Hendrick at $350 million with a revenue of $185 million, causing it to run away with the top spot.
It helps that Jimmie Johnson won his seventh championship last season and that Dale Earnhardt Jr., despite missing half of the 2016 season due to a concussion at Michigan, remains NASCAR's most popular driver.
Want more great content like this? Be sure to subscribe to our newsletter!
Major sponsors like Lowes and Pepsi have had longstanding relationships with Hendrick, helping to bring in consistent revenue. The addition of Chase Elliott in 2016 allowed NAPA and Hendrick to begin to build a relationship after NAPA previously sponsored Elliott in the NASCAR XFINITY Series when he drove for Dale Earnhardt Jr.'s team, JR Motorsports.
It is possible that both Jr. and Johnson will consider retirement in the very near future. When that happens, Elliott will become the flagship driver, which shouldn't be a problem for the 21-year-old Dawsonville, Georgia native. However, without the flare of well-known drivers like Earnhardt Jr. and Johnson, Hendrick Motorsports could see a slight (or even moderate) decline in value.
Joe Gibbs Racing — $225 million
Despite being second on the list, JGR had a one-year decrease of nearly 12 percent. Currently, it's valued at $225 million with a revenue of $135 million. It remains to be seen whether or not that decrease will continue, but it is very much a possibility since Carl Edwards decided to walk away from the sport. Thus far, sponsors have stayed with Edwards' replacement, Daniel Suarez, but that could change.
Kyle Busch and Matt Kenseth have both won championships in the Monster Energy NASCAR Cup Series, although Kenseth's came in 2003 with Roush Fenway Racing. The presence of those veteran drivers, along with 2016 Daytona 500 winner Denny Hamlin, should continue to draw in sponsors.
Interstate Batteries and M&M's have all had longstanding agreements with the Gibbs organization. Interstate even won the 2000 MENCS Championship when Bobby Labonte drove the №18 JGR Pontiac.
What is most concerning about JGR is the aforementioned drop in value. From 2015 to 2016, the team's value increased by $55 million, before falling $31 million this past year. As long as there isn't another major shakeup in the Gibbs stable, the organization will most likely not drop 12 percent again. Then again, I'm not a mathematician.
Stewart-Haas Racing — $180 million
Stewart-Haas, owned by Tony Stewart and Gene Haas, comes in third on Forbes' list with a value of $180 million and revenue of $112 million.
The team had a substantial jump in revenue from 2014 to 2015 after Kevin Harvick joined SHR and won the 2014 Monster Energy NASCAR Cup Series championship. In that single year, SHR saw a growth in value from $146 million to $186 million. The organization's value reached $195 in 2016 but has since decreased to $180 million.
Perhaps the change comes from the retirement of four-time champion Tony Stewart. Stewart won his last championship in 2011, beating the recently retired Carl Edwards in a tiebreaker.
Although SHR handpicked Clint Bowyer as Stewart's (commonly referred to as 'Smoke') replacement, the fact that a fan-favorite is no longer racing on Sunday afternoons could be a contributor. Bowyer, who has the personality, but did not have success in a 2016 stop over year with HScott Motorsports, could help make up for some of the lost value if he performs on the racetrack.
Danica Patrick is a huge draw to NASCAR and although she hasn't won a Monster Energy Cup Series race, remains a threat for a victory. Her popularity not only helps the sport as a whole but also the organization. And finally, Kurt Busch's 2017 Daytona 500 victory should help sponsors continue their relationships with SHR, while also drawing publicity to the company.
Richard Childress Racing — $170 million
Coming in fourth place is Richard Childress Racing, which saw a three percent drop in value from 2016 to 2017. The team currently fields only three cars (Austin Dillon, Paul Menard, and Ryan Newman). Ryan Newman advanced to the final round of NASCAR's playoff in 2014 but wasn't able to bring the championship hardware back to RCR.
RCR's most recent wins in the Monster Energy NASCAR Cup Series came before Kevin Harvick left for Stewart-Haas Racing. One of the team's three current drivers could wind up in victory lane this season, but RCR would need several wins to make a statement and return to contending for championships.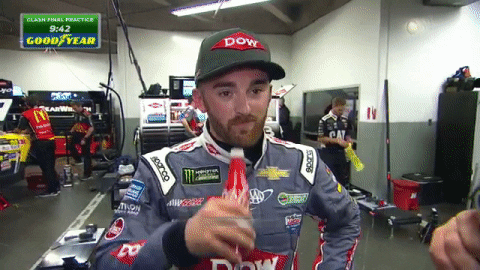 A piece of good news for RCR is that it has had a partnership with Menards since 2010, when Paul Menard, son of founder Jon Menard Jr. signed to drive. The key to that relationship: Keep Menard in house.
Additionally, Caterpillar has been associated with Richard Childress Racing and the №31 team since 2009. Then, it was Jeff Burton in the driver's seat, whereas now it's Ryan Newman. If an RCR driver can find their way into victory lane, have success in the playoffs and keep sponsors happy, look for RCR to stay in the top five of the most valuable NASCAR teams.
Team Penske — $135 million
Rounding out the top five of the list is Team Penske. Numbers don't lie, but look at the track record of Roger Penske. Not only has he had successful drivers in the past, but today he continues to have top talent in Joey Logano and Brad Keselowski. Because of that, I'd think that his team would be valued more due to longstanding sponsorships and the success he has had in the Monster Energy NASCAR Cup Series.
Both Keselowski and Logano remain perennial threats to win Penske his second Monster Energy NASCAR Cup Series championship. Keselowski won Penske, nicknamed 'The Captain' his first MENCS title in 2012.
For several years now, Penske has had relationships with the same companies. On the NASCAR side, Pennzoil has been associated with the NASCAR team since 2011.
MillerCoors and Team Penske have been in NASCAR together for 25 years. The unprecedented partnership began in 1990 with Rusty Wallace and continued with driver Kurt Busch before Keselowski took over the ride.
Penske knows how to win and not just in NASCAR. He has a proven track record in different types of auto racing, which is why I'm surprised to see that his team is not as high on the list. If Keselowski or Logano wins the 2017 championship, things might read differently this time next year.
Roush Fenway Racing — $150 million
Roush Fenway comes into the picture in sixth place on Forbes' list. Jack Roush has only won a single NASCAR championship (2003), but has remained competitive. In recent years, however, the team has struggled, both on and off the track.
While RFR's value dropped from only $155 million to $150 million, the revenue drop is a concern. Roush's revenue was nine figures but plummeted to under $70 million last year.
The organization no longer has the household names of the early 2000s. Gone are the days of Mark Martin and Matt Kenseth. Now, Ricky Stenhouse Jr. and Trevor Bayne carry the Roush Fenway flag. The team was even forced to shut down the operations of its №16 team, which was by led by driver Greg Biffle.
To prevent dropping even further on the list, Roush will need to do two things. First, Bayne and Stenhouse need to find their way into victory lane and make a playoff appearance. While it won't cement their place among NASCAR's elites, it will bring Roush back into the conversation. Second, RFR needs to either find the next big-time upcoming driver or lure away a household name.
It's a pivotal time for Jack Roush and crew as they need to get back to having on-track success and have a household name within the organization.
Chip Ganassi Racing — $65 million
Veteran Jamie McMurray and young-gun Kyle Larson are paired together at CGR, giving the organization a nice balance. McMurray enters his 15th full-time season in the Monster Energy NASCAR Cup Series, while Larson enters his fourth.
Larson, earned his first win last season at Michigan, and it appears he will be the face of Ganassi as long as he chooses. Larson's sponsor Target reduced its sponsorship of the №42 machine, but CreditOne quickly slid in to fill the void. Larson's success, driving style, and popularity should ensure no shortage of sponsors for Ganassi.
Keeping Kyle Larson will be key for CGR. Larson has the talent to be a championship winning driver and give owner Chip Ganassi his first Monster Energy NASCAR Cup Series trophy. If Larson re-ups his deal with the organization and stays put, look for Chip Ganassi Racing to have success both on the track and financially.
Richard Petty Motorsports — $48 million
Seven-time champion Richard Petty's organization scaled back to one-car for 2017 and is focusing all of its efforts on the №43 car and driver Aric Almirola. The team had a $6 million decrease in revenue from 2016 to 2017, but had been steady before that.
RPM has not been in victory lane since the 2014 Coke Zero 400, a rain-shortened race that was won by Almirola. Smithfield Foods will appear on the hood of the №43 in over 30 races, providing a substantial amount of revenue to the organization.
Becoming a single-car organization could be a blessing for Almirola and company. It allows all financial resources to go towards the №43 team, rather than being split between two cars. The extra money put into Almirola should help improve on-track performance. If on-track performance goes upward, sponsors will most likely follow.
Don't expect Richard Petty's company to have any substantial gains or losses in the value or revenue department. Things have been rather consistent since 2012 and barring any major shakeups should stay that way.
Furniture Row Racing — $24 million
Barney Visser's Denver, Colorado-based company is valued at $24 million, but expands to two cars this year, adding Erik Jones on what is presumably a one-year deal.
The team has had success with Martin Truex Jr., who advanced to the championship four in 2014 and finished just outside the top 10 last season. Adding Jones will provide flare and a talking point as he'll contend for Rookie of the Year.
Truex Jr. could easily win a race or two in 2017 and be a threat in the playoffs. If he can do that and Jones has a solid rookie season, look for FRR to continue to improve its financial positioning in the sport.
Front-Row Motorsports — $22 million
Rounding out the list is Front-Row Motorsports. FRM has two victories, the most recent coming when Chris Buescher won the 2016 August Pocono race. David Ragan also won with FRM in 2013, taking the checkered flag in the Aaron's 499 at Talladega.
Don't expect the team to compete for championships, but it has proven it can win a race or two and sneak into the playoffs.
Regarding finances, it's revenue increased from $15 million to $19 million between 2015 and 2016, but the value dropped from $26 million to $22 million. The alarming thing? Its one-year drop in value was 15 percent.
Forbes' list provides an insider perspective on NASCAR teams off the track. Not only do on the track results matter but so do finances. NASCAR contains a variety of organizations, some that have won multiple championships and have a value of hundreds of millions of dollars, and some that have less than a handful of victories and are worth under $50 million, according to the popular website.
Keep visiting Front Office Sports for the latest news and notes. Tweet me with questions or comments @Kraig_Doremus.