The rivalry could help sagging viewership and attendance ratings.
Rivalries are good for sports and NASCAR has had its fair share: Darrell Waltrip vs. Cale Yarborough, Yarborough vs. Bobby and Donnie Allison, and Jeff Gordon vs. Dale Earnhardt are just some that come to mind.
The Yarborough vs. The Allison's rivalry at (or I should say at the conclusion of) the 1979 Daytona 500 happened at just the right time for the sport. It was the first nationally televised NASCAR race. Yarborough led Donnie Allison with just two laps to go. The pair bumped and banged, clashing door to door.
Eventually, both drivers wrecked and Richard Petty went on to win the race. After the checkered flag flew, a fist fight ensued and Bobby Allison even ran to aid his brother in the melee. What an introduction to the world. With that, NASCAR was on the map.
NASCAR's popularity soared. Earnhardt and Waltrip, two good 'ol Southern boys, weren't afraid to rattle cages. Earnhardt had his go-to line, "I didn't mean to wreck him. Just tried to rattle his cage."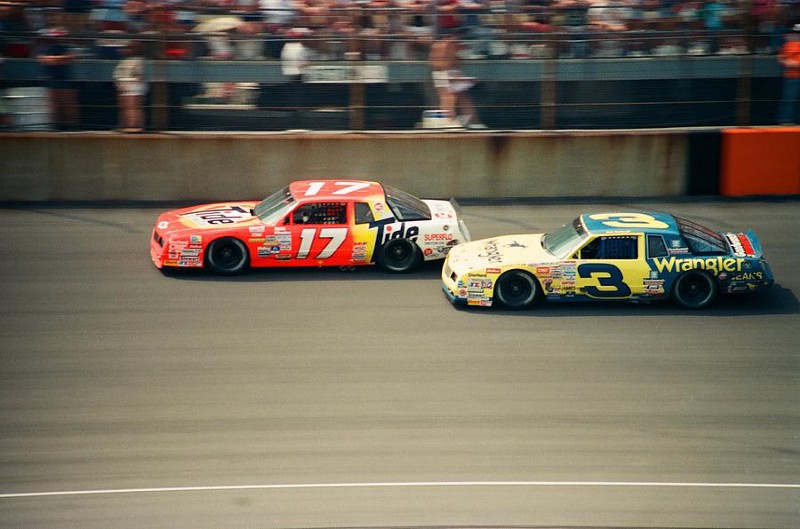 Then, along came Gordon from Pittsboro, Indiana. He wasn't like the rest of the drivers. But boy oh boy, did he develop a following and a rivalry with Earnhardt.
 
These rivalries helped the sport. Watch an old race from the late 1990s or early 2000s and it seems that nearly every seat was filled. People had their driver. In the 90s, they went to see Gordon vs. Earnhardt. The early 2000s pitted Gordon against "Little E" Dale Earnhardt Jr.
 
But those days are gone and attendance had declined.
135,000 fans no longer attend races and tracks have cut seats because of it. The prime example? Daytona International Speedway, home to NASCAR's Super Bowl — the Daytona 500 — cut 67,000 seats, leaving its capacity at 101,000.
https://frontofficesports.com/ryan-newman-and-velveeta-announce-sponsorship-and-sweepstakes-295e84164b8b
Viewership has also declined.
According to Jordan Bianchi of SB Nation, "Twenty-two Cup races accumulated fewer total viewers of the 29 that could be compared to the previous year (because of rain delay, postponements, and other factors), according to Sports Media Watch, including 15 that plummeted by double-digits in either total viewership, ratings, or both."
While Monster Energy and NASCAR's efforts will help, perhaps the sport needs a new rivalry. Enter Kyle Larson and Martin Truex Jr.
Larson, "The 24-year-old Californian is talented and backed by Chevrolet and Chip Ganassi Racing, blue-blood lineage for sure. True to stereotype, he sat on the dais for his post-race interview this evening and he talked about relaxing in his native state next week and sipping wine," according to Shawn Windsor
Truex Jr. hails from the other side of the country (Mayetta, New Jersey) and is 13-year's Larson's senior. Shades of Gordon and Earnhardt? Perhaps.
The two close statistically and any a quick listen to radio chatter during a race reveals a new rivalry.
Both drivers have won twice this year, with Larson's victories coming at Fontana and Michigan, while Truex Jr. captured checkered flags at Las Vegas and Kansas.
Larson has seven top-fives with Truex Jr. finishing in the top-five five times. The duo has a nearly identical number of top 10 finishes with Larson (10) trailing Truex Jr. by one (11).
https://frontofficesports.com/ryan-newman-and-velveeta-announce-sponsorship-and-sweepstakes-295e84164b8b
The two sit one-two in the points standings, with Larson holding a slight edge.
The one place there is a true gap? Stage wins, which of course, are new for 2017. Truex Jr. has captured 11 stage wins, while Larson has only won three.
With attendance and viewership both needing some assistance, a rivalry could do wonderful things for the sport.
Shades of Gordon and Earnhardt? Truex Jr. isn't nearly the established driver that Earnhardt Sr. was at this point in his career, but a potential rivalry would certainly help viewership and attendance.
What are your thoughts on the up-and-coming rivalry between the duo? Tweet me @Kraig_Doremus with your thoughts.
---
Front Office Sports is a leading multi-platform publication and industry resource that covers the intersection of business and sports.
Want to learn more, or have a story featured about you or your organization? Contact us today.
If you liked this, click the???? below so other people will see this here on Medium.