From a pit crew combine to a driver program, there are options for everyone.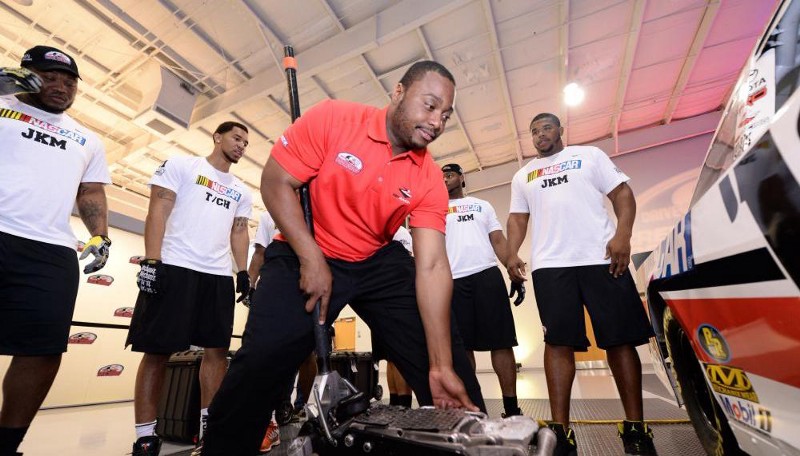 When sports fans hear the word "combine" they likely think of the event in Indianapolis where draft prospects suit up in vibrant, skin tight Under Armour clothing to compete in a series of events in front of NFL scouts and executives. However, that is not the only combine where athletes are auditioning for their future jobs.
Unbeknownst, to most of the sports world, a select group of former student-athletes took part in the second annual NASCAR Drive for Diversity National Pit Crew Combine presented by Goodyear.
The 17 participants (who played football, basketball, softball, and track and field) were invited to compete in a series of fitness, agility and pit crew drills and competitions at the NASCAR Research and Development Center in Concord, North Carolina.
https://frontofficesports.com/nascar-to-partner-with-yeti-7152394d9c60
Before making it to Concord, the participants took part in regional tryouts at six universities: Alcorn State University, Arizona State University, Bethune-Cookman University, Norfolk State, San Diego State and Virginia State University.
From those who tried out, 13 men and four women advanced to the four-hour skills competition at the NASCAR R&D Center.
The top-performing individuals will be invited to join NASCAR Drive for Diversity's crew member training development program as they look for full-time opportunities with NASCAR national series race teams.
Although only in its second year, the program has already experienced success.
There are 35 NASCAR Drive for Diversity pit crew graduates working in the sport, with 25 in the Monster Energy NASCAR Cup Series.
https://frontofficesports.com/nascar-to-partner-with-yeti-7152394d9c60
With over 400,000 NCAA student-athletes across the various divisions, just about all of them will be "going pro in something else," according to the popular commercial series. While some might not have the opportunity to continue their playing career in the sport they trained for in college, this is a unique opportunity to be a part of a professional team in a different aspect of the industry.
In addition to the Pit Crew Combine, NASCAR Drive for Diversity also offers a driver development program for those who are interested in that aspect of the sport.
Each year, six drivers from the program participate in the NASCAR K&N Pro Series East and NASCAR Whelen All-American Series.
With the popularity of the sport rapidly growing from both a fan and branding perspective, these opportunities for individuals to get more involved in the sport further proves the sport's efforts to continue expanding.
---
Front Office Sports is a leading multi-platform publication and industry resource that covers the intersection of business and sports.
Want to learn more, or have a story featured about you or your organization? Contact us today.
If you liked this, click the???? below so other people will see this here on Medium.