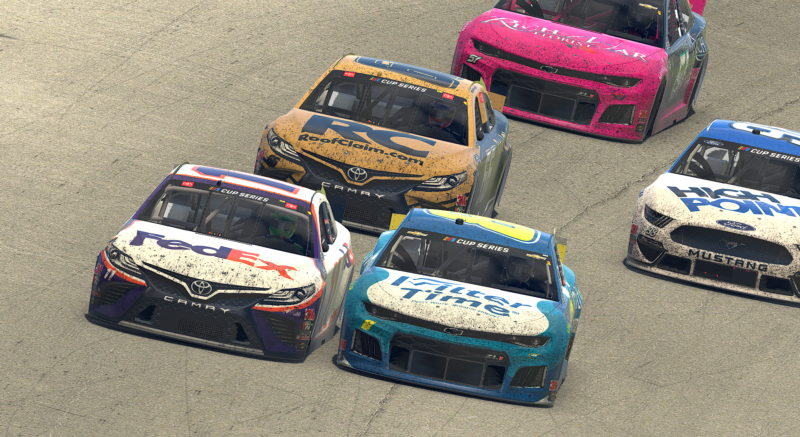 The lasting effects of the rise of virtual sports during the coronavirus outbreak will remain unknown for the time being. Still, NASCAR Managing Director of Gaming Scott Warfield has high hopes.
The eNASCAR Pro Invitational Series has drawn large audiences on TV and is helping build up a sports betting base and reach a new demographic that potentially could carry over once live races return, Warfield said. 
FOS REPORT: 54.5% of industry executives believe that it would be at least 60 days before leagues resume play.
"We have found ourselves at the center of the spoke of the wheel, given that we have one of the few live sporting options out there currently, along with Belarusian soccer and ping pong," Warfield said. "Esports has been a big growth initiative for us for a long time, and while we wouldn't wish any of this to happen, we have this product that is as real as any of the products out there, with top athletes using it and a broadcast partner that is willing to put it on air and put production dollars behind it."
The effort's first race at virtual Homestead-Miami Speedway drew 903,000 real viewers to FS1, while the second week, staged at a virtual Texas Motor Speedway and broadcast on FOX and FS1, received 1.34 million viewers, according to Nielsen.
Those viewership tallies are nearly equivalent to the average race of the second-tier Xfinity Series.
Beyond viewership, there's a sports betting benefit to the races. Along with a free-to-play contest from DraftKings, Warfield said there's also been a fair amount of activity in the international markets they're tracking.
DraftKings' free-to-play pool for iRacing drew 12,900 entries, and the races were offered to bettors in West Virginia. Two winners split the $10,000 prize, correctly predicting 10 of 11 questions about the virtual race.
Along with the virtual racing, DraftKings Sportsbook Director Johnny Avello said he believes this live sports hiatus will help push esports into the mainstream.
On the Daily Fantasy Sports side of DraftKings, the company has expanded its esports offering from League of Legends to also include Counter-Strike: Global Offensive, a first-person shooter game from Valve and Hidden Path Entertainment.
"We're always looking to expand the menu, and we have, so when we bring back live sports, it's a full array," Avello said. "When this is all said and done, and normal stuff comes back, some of this stuff will stick. Esports might be some of it; ping pong might be some other, or maybe darts, cricket and rugby."
READ MORE: College Esports to Carry On in Now-Crowded Online Space
Warfield has similar hopes to how the iRacing circuit with real NASCAR Cup Series drivers will play out once the sports world normalizes.
"There are lightbulbs going off with what this means long term, both for iRacing but even larger around NASCAR," Warfield said.
In the short term, Warfield said the iRacing circuit is providing a morale boost for fans and drivers alike but also offering the teams a way to bring value back to partners and sponsors.
Longer-term, it's potentially drawing in a new fan. Of the first week's audience, 255,000 hadn't watched a cup race this season, Warfield said. Likewise, NASCAR's distribution partner overseas, IMG, is receiving solid pickup as well, Warfield said.
"When you start wondering why we are in this [esports] space, it's how to grow the pie and reach a younger, more diverse fan," he said. "Maybe we're starting to see that."