After many 15 hour days, it is fun to reflect on the opportunity.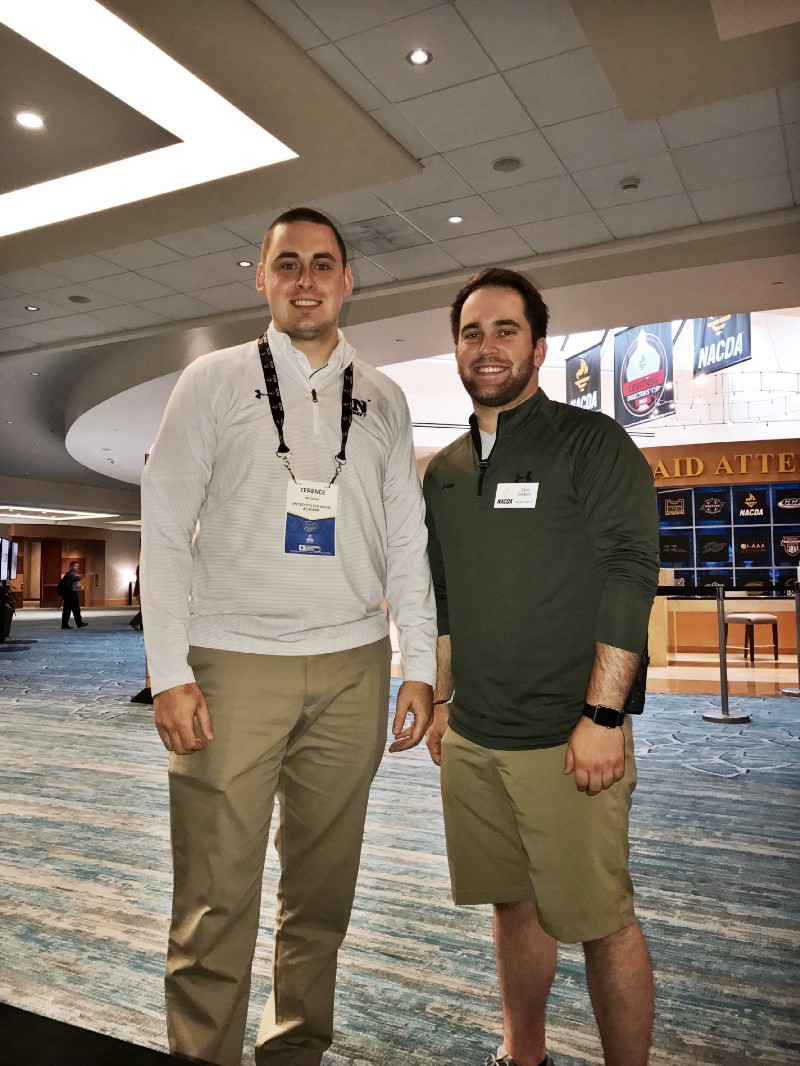 As a NACDA intern for the 2016–17 year, myself and the three other interns (Hannah Mordica, Grace Falkenbach and Nathan Anderson) have been gearing up for the 2017 NACDA & Affiliates Convention at the World Center Marriott in Orlando, Florida since our first day at the national office.
Back in September, it seemed that the Convention was never going to arrive. Flash forward about 10 months and here I am having arrived back in "The Land" after the 52nd NACDA & Affiliates Convention. For those unfamiliar, NACDA is the professional trade and development organization for college athletics administrators. Under the NACDA umbrella are 17 affiliate associations serving all corners of college athletics. The associations are as follows:
CABMA — College Athletic Business Management Association
CEFMA — Collegiate Events and Facilities Management Association
I-AAA ADA — Division I-AAA Athletics Directors Association
D2 ADA — Division II Athletics Directors Association
D2 CCA — Division II Conference Commissioners Association
FCS ADA — Football Championship Subdivision Athletics Directors Association
ICLA — International Collegiate Licensing Association
MOAA — Minority Opportunities Athletic Association
N4A — The National Association of Academic and Student-Athlete Development Professionals
NAAC — The National Association for Athletics Compliance
NAADD — The National Association of Athletic Development Directors
NAATSO — National Association of Athletic Ticket Sales and Operations
NACMA — National Association of Collegiate Marketing Administrators
NADIIIAA — National Association of Division III Athletic Administrators
NAIA — National Association of Intercollegiate Athletics Administrators
NATYCAA — National Alliance of Two Year College Athletic Administrators
NACDA — National Association of Collegiate Directors of Athletics
---
In addition to the associations, NACDA helps manage the distribution of eight awards:
The CDW-G NACDA Best Game Day Technology Experience Award
James J. Corbett Award
Learfield Directors' Cup
NACDA Community Service Award presented by The Fiesta Bowl
NACDA Hall of Fame
NACDA/USOC Olympic Achievement Award
Under Armour AD of the Year
USG NACDA Sustainability Award
---
As part of the internship program, each intern is assigned a number of associations based on career interests and previous experience. As a communications intern this year, I worked with both the I-AAA ADA and FCS ADA as well as assisted with the Learfield Directors' Cup and Under Armour AD of the Year awards.
Utilizing my communications background, I also distribute the NACDA Daily Review each day and have written a number of pieces for Athletics Administration, NACDA's quarterly magazine publication.
https://frontofficesports.com/division-ii-lynn-university-to-challenge-six-division-i-schools-efd3caff64b4
Now that I have provided some background on NACDA and my experience there, let's dive into the week that was at Convention. I had only heard about the number of people who attend Convention from those who had previously been and the NACDA staff.
I do not think I truly wrapped my head around it until registration opened in February and the phones in the office were ringing off the hook.
Usually, the phone duties alternate from intern to intern each week, but the week that registration opened it was all hands on deck. The block of rooms at the Marriott World Center sold out in seven minutes. Seven. Minutes. Once I heard that, I finally was able to grasp how big this event would be.
A staff of 14 full-time employees and the four interns (as well as some volunteers with ties to NACDA) effectively ran the Convention which saw around 6,500 attendees this year in Orlando. When we arrived at the World Center Marriott on Thursday, June 8, we dropped our bags in our hotel rooms and got right to work.
Luckily, there were only a few Conventions beginning at the time so we had plenty of time to prepare for the four biggest Conventions which kicked off on Monday (NACDA, NAADD, NACMA and ICLA). My duties varied each day, but on weekdays I would get as much information prepared for the Daily Review to be sent out as I could in stints while in the office. I would also float around and help the association managers as needed.
As more and more attendees showed up, it was truly special to see the effect that NACDA has had on each person and hearing their high praise for the organization.
Some of the most powerful names in college athletics were in attendance networking, learning, and taking advantage of the opportunities NACDA provides.
Once everything was set up, and the main Convention days rolled around, it was full steam ahead.
The NACDA staff held meetings at 6:30 am each morning to set out a game plan for the day, and once adjourned, we got to work to ensure that our members and attendees had a great experience.
https://frontofficesports.com/division-ii-lynn-university-to-challenge-six-division-i-schools-efd3caff64b4
Whether I was posting press releases from the various associations, helping out at the registration desk, setting up NACMA's Collateral Corner (an exhibit of sorts where colleges send in materials for attendees to grab), taking minutes for my association's membership meetings or transporting the various awards to be given out, there were always tons of people networking, going to sessions or just congregating in the halls.
CoSIDA's Convention was going on simultaneously, so there were even more people shuffling around the halls of the convention center trying to learn and build their networks.
On Monday and Tuesday the exhibit hall was open, which showcased various companies and what they could provide for an athletics department, such as Under Armour (a NACDA sponsor that outfitted the staff for the week), various lighting companies, turf companies, etc. Goodie bags aplenty were handed out as attendees could pick up some free swag to take back to their respective campuses.
Monday was also my big day for Association meetings. I sat in on and helped facilitate the DI-AAA membership meeting, the DI-AAA and FCS ADA joint governance meeting, and the FCS ADA and Football Coaches meeting.
After a week in Orlando of working 15 hour days, reconnecting with former classmates and colleagues, and seeing the who's who in college athletics, it is hard to believe that the culmination of my internship year is rapidly approaching.
My last day in the office is June 23, and then it is on to the next step of my career as I continue to build my personal brand and develop as a professional.
As we wind down from our week, and look ahead to the last couple weeks of the internship before we all begin the next step in our journeys, it is almost as hard to believe that the Convention has come and gone as it is that it has been nearly 10 months since our initial conversation regarding the event.
I have been writing for FOS for almost a year, and have been very fortunate to interact with some of the #FOSsquad on Twitter and other forms of social media throughout my time, but I finally met my first colleague in person down at Convention. Will Baggett and I connected during the early days of the Convention (of course we did not get a picture), but I hope to connect with more in the near future!
---
Front Office Sports is a leading multi-platform publication and industry resource that covers the intersection of business and sports.
Want to learn more, or have a story featured about you or your organization? Contact us today.
If you liked this, click the???? below so other people will see this here on Medium.