This feature is presented to you by the University of Nebraska — Lincoln Master of Arts in Business with a Specialization in Intercollegiate Athletics Administration.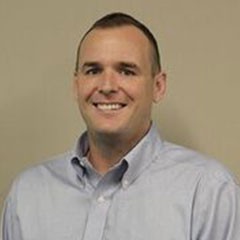 Some of the most under appreciated people within the sports world (specifically communications) are those who not only love what they do, but have a passion so infectious that it makes you appreciate getting to be in sport every time you read their work.
For myself and quite a few of us that contribute to Front Office Sports, the Belk Bowl's Twitter account has been one of the places we go for that kind of inspiration. The Belk Bowl, hosted by the city of Charlotte, N.C., has operated under its current name since 2011 and is played between a team from the Atlantic Coast Conference (ACC) and the Southeastern Conference (SEC).
Today, we have the pleasure of presenting lessons from Miller Yoho of Charlotte Sports Foundation (CSF), the man who has lent his wit to that page for the past three years.
Yoho completed his undergraduate study at Furman University in 2009 and went on to earn a master's degree in higher education from Clemson University in 2011. His original professional aspiration was to be a high school history teacher, but soon realized he found more satisfaction working in college athletics. After working as a graduate assistant with the intramural sports program at Clemson, he moved on to an internship at Queens University of Charlotte that quickly turned into much more.
"I wouldn't allow them to let me leave because I enjoyed it so much. It became a full-time position. I spent two years as the director of marketing and promotions. I marketed 19 varsity sports, ran in game promotions for all of them, sold some sponsorships and was the sports information director (SID) for six sports. That was the job where I learned the breadth of my knowledge, whereas my current position with CSF has been kind of focusing in on the marketing and communications and, specifically, the social media aspects.
Five years in college athletics administration taught Yoho the importance of going the extra mile and appreciating every opportunity.
"Don't say no to anything. We all started out stacking chairs. Athletic directors and head coaches, too. People who start off stacking chairs and are willing to do the extra things are the ones who ultimately get those jobs. That's where you get the knowledge and that's where you get the context and appreciation for hard work. Also, manage who you are in contact with. If you meet somebody who you think can help you down the line, be sure that you keep in touch with them. I've definitely been fortunate to be in the position that I am because of that."
Yoho became the director of communications at the Charlotte Sports Foundation in 2014 and has enjoyed a certain degree of creative freedom, along with a sense of pride in having a positive impact on the Queen City.
"This position was new when I started here and our Executive Director Will Webb has been pretty hands-off with me, which has allowed me to thrive. My job, when it comes to CSF, is to get the word out to try and help sell tickets. I would say about 80 percent of my job is working with the Belk College Kickoff game and the Belk Bowl. So, working directly with communications, social media and marketing with that and also being the secondary for media relations."
"We're a relatively young organization. We were formed a couple years ago by the merging of Charlotte Collegiate Sports and the Charlotte Sports Commission to create this new body. The goal of the CSF is to bring in large scale economic events. The Belk Bowl will bring in over $15 million in economic impact to the city and the ACC (football) Championship will bring in between $20 million and $30 million. It really does a lot for the city of Charlotte."
While Yoho's position involves a multitude of duties and the utilization of a variety of skills, people in the #smsports community and college football fans alike will recognize his work managing the Belk Bowl's social media presence. Sometimes it takes a team of people to coordinate social media for organizations or large-scale events. However, Yoho is the one and only member of the Belk Bowl social team, which is impressive based on the sheer bulk of work involved alone. It becomes even more impressive when you consider the acclaim the bowl's Twitter account has received from media outlets, including USA Today and ESPN.
Yoho has created a voice for the bowl's Twitter account that gives the impression that the bowl is not only sentient, but just as big and savvy of a fan of college football as the people watching the game. So much of what has made that account's voice so captivating is its realistic, but upbeat grasp of the bowl's role within the football world.
"I definitely borrowed [the idea] from Matt Repchak, who runs both the Citrus Bowl and Russell Athletic Bowl accounts. I call him the Godfather of bowl social media. I even kind of took it a little further."
"The idea was that in September or October, no team wants to go to the Belk Bowl or any bowl that isn't included in the College Football Playoff. That's where a fan base is looking. I think it would be disrespectful to a fan base to immediately start saying that Miller Yoho University or whoever their team is isn't going to make it to the playoff so they just go ahead and buy tickets to our game. College football fans are too intelligent for that. It's about building relationships and we try to be part of the fun aspects of college football. Like celebrating when a 300 pound lineman scores."
"We recognize that in doing that, maybe we don't get the initial ticket pitch, but we build people who have an affinity for what our bowl game is doing. Then, it also helps in terms of sponsorship because the more we get Belk Bowl out there, it helps with Belk's branding and helps people outside the south who haven't heard of Belk before understand what Belk is. Then maybe they go to Belk.com and purchase something."
If it wasn't already apparent from the content he creates, Yoho greatly enjoys using Twitter as his professional platform of choice because of the ability for one-on-one interactions, which helps fans feel like they shared a unique experience with the Belk Bowl.
"The people on Twitter are the top 10 percent in terms of your most passionate fans. So if you're attacking the tip of that iceberg, have that 10 percent build, that affinity for the Belk Bowl and really love what we do, then maybe in three years we'll have a real relationship with those fans. "
"A good example is this kid named Jalen whose birthday is on December 30. He always tweets us, so every year we try to schedule a happy birthday tweet. Now, Jalen may never come to the Belk Bowl or his team may never play in it (since his favorite team doesn't play in the ACC or SEC), but he will always watch it, he'll always be excited about the game because he has a personal affinity with it. My favorite stuff is the back and forth that I get to have with fans through the accounts."
Many have tried to replicate parts of what Yoho has done with the Belk Bowl handle in terms of shifting to a more satirical or humorous tone. However, the best social media voices just come from being authentic.
"Know what your voice is, as the account. I know that can be difficult. A good practice is to imagine the account sitting across from you. Who is that person?"
"I could sit and describe who I think the Belk Bowl is and then I follow two rules. One is we never want to make fun of anybody. However, if somebody is dogging us pretty bad, we'll stand up for ourselves. The second rule is we always want to represent Charlotte and our corporate sponsors to the best of our abilities."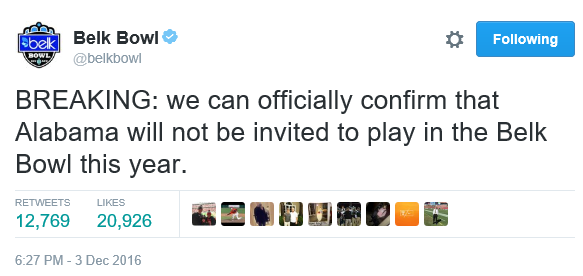 "I think we have tried to create a respect for the College Football environment. We want to be in on the jokes and we don't want people to be jokes. So, a lot of it is trying to find that balance and a lot of thought goes into what we say. For example, that Alabama tweet that blew up, I waited to hit send and recrafted it a few different times before tweeting it. You don't want people to be upset and think that you're talking trash. We wanted it to be fun and in a way that Alabama, or anybody else, wouldn't be upset about."
Part of knowing 'who you are' as a brand/team/event is being able to encapsulate a taste of what it's like to be in the stadium on game day. Yoho can attest to this as well as plans to further utilize it with upcoming CSF events.
"If you're a minor league baseball team, for example, own that fact. Know your city, know your fans and if it is dollar beer night, you should be pulling videos and gifs of people doing fun stuff in the crowd. We always talk about how fans have so much stuff to do in front of them, they're not coming to games because they can sit on their computer or watch the game on TV and all that stuff. Well, I think you can use social media to help explain what they're missing: the sights, the sounds, the action. Use it to teach what the experience of your game is. We have somebody on the sideline, not necessarily capturing just images of the game, but the more of the fans, the noise, all that stuff to show people what they're missing out on."
The second cornerstone of social media education from Miller Yoho University (where intramurals are the most popular major and the curriculum includes courses on the economics of memes), alongside authenticity is consistency. This part, according to Yoho, becomes significantly easier with a situation like his when there is only one person crafting a brand's messages.
"It would be very difficult for me to hand off the reigns to someone else, but also I will say being a one man operation has hurt me because I'm not as good at other channels like Instagram and Facebook. So, sometimes I think it'd be just as beneficial to have someone else run those accounts who is more knowledgeable about them. They could create their own voice for the Belk Bowl on those platforms because the Twitter voice doesn't work on all platforms. I'm still kind of figuring out how to use Instagram and Facebook to the best of our abilities."
If there's one thing to be taken from Yoho's distinctive approach to social media management, it's to be present and aware in the moment.
"Know your voice and know when not to tweet. I think a lot of people try to tweet through the pain, so to speak. A lot of my time is spent on Saturdays during the college football season watching games. Most people like to go out, enjoy themselves and have a few adult beverages, but if I'm on call, I need to know that that's a work day and that's a priority."
"So, as a young professional, know that if you work in social media, it's a full-time job. If you are out having fun, then you need to put up the phone. Be authentic to yourself. There's a lot of people that link social media accounts. What I've found is each account is different, so treat each account differently. The people who follow us on Twitter are not the same people who follow us on Facebook and they don't need to be treated the same way."
For more of Yoho's insight and quality sense of humor, listen to The Charlotte Podcast, follow him on Twitter and, of course, follow the Belk Bowl on Twitter.