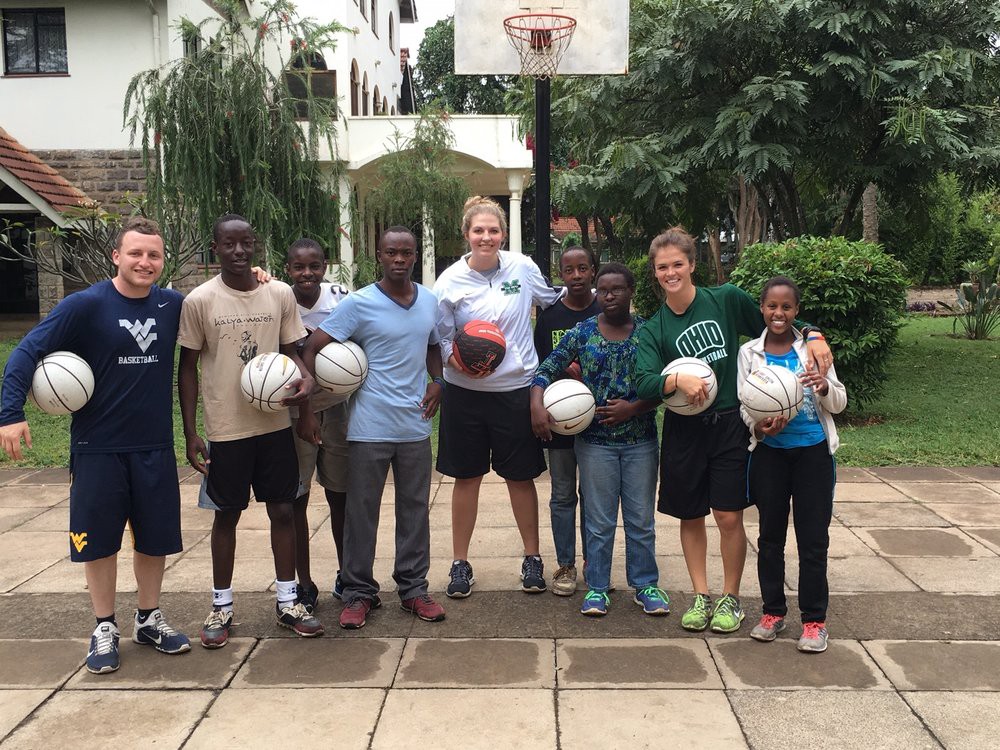 Now more than ever you hear about college athletic departments signing contracts for hundreds of millions of dollars with brands such as Nike, Under Armour and Adidas.
For example, the University of Michigan signed a deal with Nike this past year reportedly worth $173.8 million with around $85 million slotted for Nike apparel and products.
If you're like me, you may be wondering what anyone would do with $85 million in apparel.
Before talking to Managers on a Mission (MOAM) founder, Drew Boe, I had no idea the impact these apparel deals could have outside of the school they were agreed upon with.
Before MOAM, Boe was steadily climbing through the ranks on his way to becoming the next Equipment Manager at a Division I school.
As an undergraduate in the sport management program at the University of Minnesota, he interned for both the Arizona Cardinals and San Diego Chargers.
During the school year, you could find Boe on the football field or the basketball court, where he held a student manager position with both Golden Gopher teams.
Want more great content like this? Be sure to subscribe to our newsletter!
After graduating from Minnesota, he decided to pursue his master's at Virginia Tech, where he became a graduate assistant for the football team.
Boe was on the fast track to success in the sports industry.
However, after being tasked with developing the framework for a nonprofit organization by one of his professors and a trip to Rwanda during his final semester at Virginia Tech, his path to success started to look a little different than he previously envisioned.
Boe would alter his plans when he saw the impact that he could have by combining two of his passions, his love for sports and his passion for helping others.
Thus Managers on a Mission was born.
What began as a side gig, six months into a position with Auburn in Equipment Operations he decided to take on MOAM full-time.
He hasn't looked back since.
Having been a Student Manager for Tubby Smith at Minnesota and Frank Beamer at Virginia Tech, he had the support from two big-name coaches with the highest integrity and character.
These associations helped catapult MOAM and establish instant credibility for the organization.
Beyond the support of Smith and Beamer, perennial powerhouse college programs such as Oregon, Texas and UNC began to step up in support of MOAM thanks to the relationships Boe had developed during his time as a student manager.
"I had been fortunate to be in the Big 10 (Minnesota) and ACC (Virginia Tech) and SEC (Auburn). I had a good network."
— Drew Boe
MOAM is centered on an annual student manager-led mission trip to Africa usually in summer months of June and July.
To date, MOAM has sent 20 student managers to spend three weeks in an African orphanage to provide them with athletic gear and teach them the fundamentals of sports like volleyball, basketball, football and soccer.
The success of the missions are due in large part to the relationship MOAM has established with the Rafiki Foundation, which oversees 10 orphanages in Africa.
Last year's group visited an orphanage village in Kenya where they donated clothing, shoes, and equipment to help run sports camps.
In a video produced by MOAM, kids can be seen running around in an assortment of college apparel ranging from UCLA to UNC and even Tubby Smith Basketball Camp shirts.
While the student managers are in Africa, they execute two weeks of sports camps along with one week of discipleship with over 100 kids ranging in age from 3–18 years old.
Each session starts with a devotional and a different manager is responsible for leading the devotional each day.
Boe discussed the challenges the managers face when teaching the kids, due to the lack of exposure the kids have had to organized sports.
"It seems so small but they haven't had that exposure to organized sports sessions."
— Drew Boe
MOAM has grown significantly since Boe started the nonprofit in 2013.
Working with more than 80 colleges and 20 professional teams between the NFL and MLB, Boe makes it very simple to support their mission.
MOAM will send the equipment managers a box and pay for the shipping. All the teams have to do is fill it up with gear and drop it off to ship back. Boe calls it "Clean out for a Cause." Your moms call it spring cleaning.
"The equipment directors are really the lifeline of the organization. They are the individuals helping us with 'Clean out for a Cause' and connecting their student managers to our program opportunities."
— Drew Boe
Boe estimates that 70 percent of the donations are apparel consisting mostly of shirts, shorts, sweatpants, polo, jackets, socks, and more. While the remaining donations consist of new and used shoes running shoes and cleats. There is also a small percentage of equipment such as basketballs from previous Tubby Smith Basketball Camps.
The apparel they collect is either taken with them on the trip or is sold via eBay for Charity to fund the mission trips and scholarships for MOAM.
In 2017, Boe is looking to double the number of managers from the previous three years combined by sending 20 student managers on the mission trip.
If you or someone you know is interested in applying for the mission trip in 2017 please visit MOAM's website. The deadline to apply is Sunday, March 5th.
You can support Managers on a Mission on eBay and also get some awesome team swag.