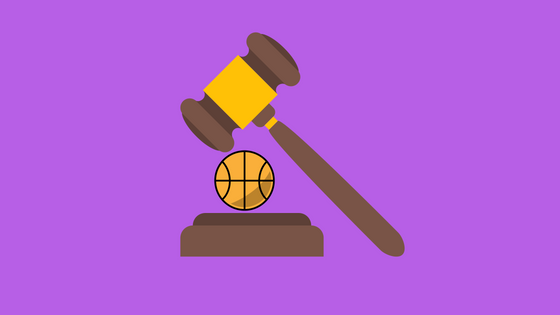 Luke Hancock, a former Louisville basketball player and 2013 Final Four Most Outstanding Player, and four of his former teammates have filed a lawsuit against the NCAA.
Hancock and his fellow plaintiffs — Gorgui Dieng, Stephan Van Treese, Tim Henderson and Michael Marra — are alleging that the NCAA portrayed the 2012-2014 Louisville Cardinals in a false light, breached their contract with "student-athletes" by vacating wins of eligible players, and negligently handled the investigation into the Louisville escort scandal during the tenure of former coach Rick Pitino.
This case is particularly important because it can redefine the types of cases that are brought against the NCAA; essentially, it could open the floodgates to litigation against the collegiate sports organization for sullying the names of current and former "student-athletes" who are subjects of investigations and violations.
An added layer of nuance to this lawsuit is that Hancock and his former teammates are represented by Morgan & Morgan's John Morgan — an attorney with a reputation for his tireless pursuit of justice for injured plaintiffs seeking to be made whole. In this case, the plaintiffs want to be redressed through an NCAA declaration "clearing them of any wrongdoing and to have the program's wins and national title reinstated."
Morgan's cases, which are guided by the firm's motto of "For the People," often demonstrate the ability to strike down the Goliath's of society, including governmental institutions, major corporations, and mass tortfeasors. For example, Morgan has been locked in a high-profile court battle over the legality of smokable medical marijuana in Florida with the state's governor, Rick Scott; Morgan represents some of the most critically ill citizens of the state who have medical marijuana prescriptions.
Morgan's tenacious pursuit of fairness and justice led him to represent the plaintiffs in the immediate case against the NCAA.
"We're here to reinstate all of those wins, not just some of those wins. But more than that — we are here today to get these players' good names back," Morgan stated during a press conference last week.
Hancock feels optimistic about his chances of attaining justice in this case.
"I have to live with this every day," Hancock said. "I'm involved with the right things and do the right thing. I'm excited that Morgan & Morgan partnered with us and is going to represent us because enough is enough."
John Morgan feels that this case represents more than what happened to his plaintiffs; he believes it is symbolic of the NCAA's corruption as a whole. "College rules are phony. Everyone knows they're being broken by every single school, every single day. They exist to protect the integrity of the game.
Our firm is used to taking on giants. What the NCAA is good at doing is exploiting young men for big money. The one thing bullies understand is blood in their mouth. That is what we do."
The @NCAA is a BULLY organization.

The concept of student-athlete is a farce designed to deprive the most deserving and poor young athletes of compensation while the NCAA makes BILLIONS.

— John Morgan (@JohnMorganESQ) July 11, 2018
Attorney Mike Morgan, who is co-counsel to John Morgan on the NCAA case, elaborated on why the firm is representing Hancock and his former teammates in this matter: "The NCAA has overstepped its authority when it stripped these Louisville players of their wins, awards & championship. The NCAA  sanctions were based off alleged criminal acts, which is clearly outside of their jurisdiction. The NCAA is not the moral police and certainly not the actual police. [I]nvestigations of alleged criminal acts should be left to the professionals where the accused are afforded actual due process. What the NCAA has done to the good names of our clients is unconscionable and we look forward to restoring them to the place of honor that they deserve."
Want more content like this? Subscribe to our daily newsletter!
Earlier this summer, we covered some of the cases which could alter the way collegiate sports function. This is such a case; it bears watching as the litigation process moves forward.
The plaintiffs, in this case, are represented by John Morgan, Michael Morgan, Bernard Mazaheri, Jonathan Rabinowitz, Shea Conley and Keith Mitnik of Morgan & Morgan; the players are also represented by co-counsel Shawn Freibert and James Ellis.