A new NBA season is upon us as teams begin training camp and exhibition play this weekend.
The Los Angeles Lakers are never short on media attention and this fall dawns a new era. Featuring highly touted No. 2 overall draft pick Lonzo Ball, and a cast of new players, the 16-time world champion Lakers opened their new facilities in grand fashion on media day.
The UCLA Health Training Center is located in El Segundo, CA. Only a few blocks separate the new building from the sunny beaches and a quick 15-mile drive gets you to Staples Center downtown.
In Los Angeles and nationwide, the 2017–18 campaign is shaping up to be an entertaining season of basketball. All-Star players have swapped jerseys and zip codes, in addition to the new rookie class, and the summer drama has kept hoops fans eager for more.
"We're young, we're scrappy, and we're hungry."
General Manager Rob Pelinka began Media Day with a press conference introducing the newest Laker, center Andrew Bogut. He then spoke to the press about his vision for the upcoming season, how hard the players have worked since last year and what fans can expect on the court.
"When teams face us, they're going to see a new level of competition, and that level of dedication," Pelinka touted.
Asked about the Summer League and what the team can build off their success the GM was clear.
"You have to find excellence in championship mentality in the small things, before you can find them in the big things," Pelinka said.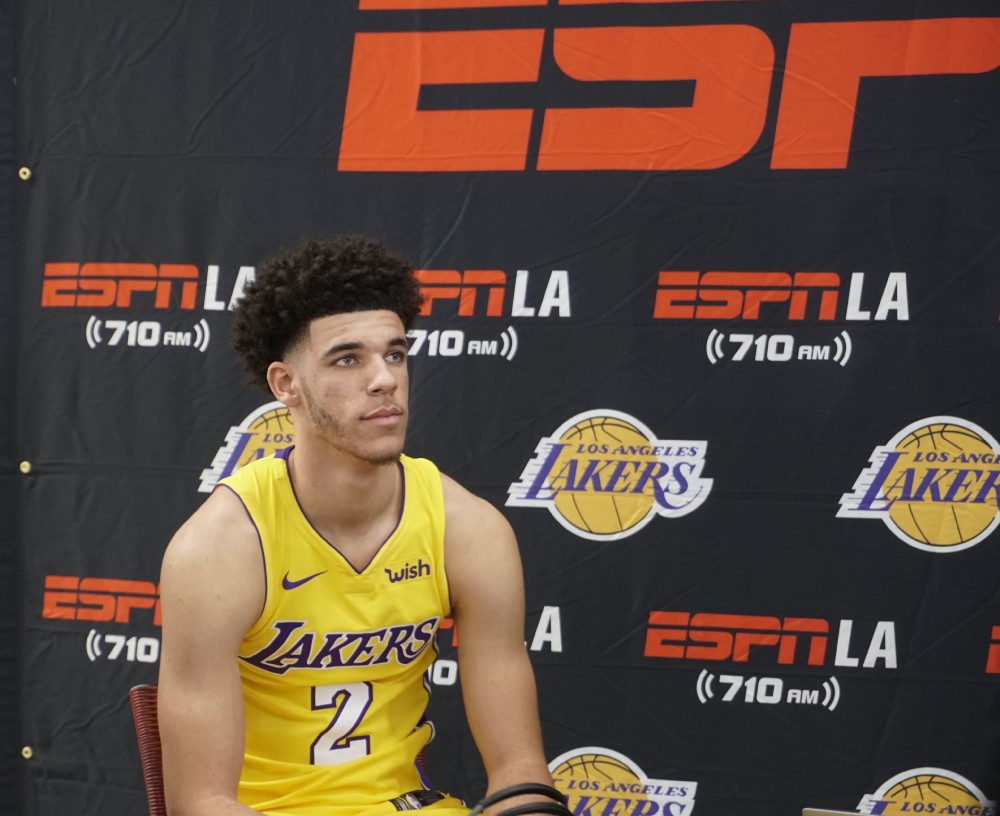 Discussing what he's learned since taking over in his role and constructing a new team, Pelinka expressed attention to details.
"We have extremely healthy cap flexibility…that was Magic's (Johnson) vision, to have a great young core (plus cap space). Now we have a chance come July 1st, 2018, to see whose in the market and build our team with those two max slots that we have," Pelinka noted.
Inside the gymnasium a plethora of setups were ready for players to film in-game promotions, commercial spots, and interviews with ESPN Radio and NBA TV.
A podium against the back wall was devised as media HQ. One by one, players and coaches would take turns fielding questions from the press.
Rookie Lonzo Ball was naturally a popular subject on this day. When asked about his Big Baller Brand shoe line, Ball confirmed he would play in them Saturday versus the Minnesota Timberwolves.
Pressed why he wore multiple sneaker brands during Summer League, the rookie was poised explaining, "Just showing people that I have freedom."
One of the more unique aspects during the day was a pair of cinder blocks rigged with lights. Players took turns standing on them while a picture was taken of their shoes.
The Lakers digital team shared these images on social media garnering heavy traffic using the hashtag #LakersSneakerCam.
Head Coach Luke Walton was next discussing the National Anthem, protests, and players speaking out.
"It's a sensitive subject, it's been great to see how much unity and how this has brought the sports world together, and try to make our country a better place," Walton said.
Emphasizing defense, the 2nd year coach peeled back the curtain on what he expects during training camp.
"Guys that are committed to playing defense will have a better shot (for playing time) and it will be fun to watch these guys compete."
President of Basketball Operations and Lakers Hall-of-Famer Magic Johnson later spoke to a large crowd. He was all smiles and wanted to focus on players infusing a winning culture.
"Every guy has been working so hard…we've asked them to improve on their body…on their game. I had demanded that or they wouldn't be playing."
The 5-time champion then gave praise to Lonzo Ball for his maturity and acknowledged Brandon Ingram as the first guy in the gym and last to leave.
Speaking with high-flyer Larry Nance Jr., I asked the swingman about participating in this year's dunk contest in LA. See his thoughts below.
https://www.instagram.com/p/BZg1vc-nZXe
The UCLA Health Training Center is also the new home of the G League's South Bay Lakers. Amenities include two-full length courts, a weight room, locker rooms, hydro and cryo-chambers for recovery, a player's lounge, and executive suites for the front office.
A franchise that's been looking to reinvent and establish itself in the NBA's stacked Western Conference are saying and doing all the right things.
Now is the fun part, it's time to ball.
---
Front Office Sports is a leading multi-platform publication and industry resource that covers the intersection of business and sports.
Want to learn more, or have a story featured about you or your organization? Contact us today.