In the News
The past month saw two of the world's largest tech companies, Google and Apple, share some of their respective product innovations for 2022.
Apple
On June 6, Apple began its WWDC 2022 conference with the announcement that it would be entering one of the more hyped fintech investment spaces from the pandemic: Buy Now Pay Later ("BNPL"). Apple will enter the space with its "pay later" product feature, built directly into the iPhone's existing Apple Wallet, which will compete with similar services like Affirm, Klarna, and Afterpay.
The product feature will initially launch in the U.S. only. Users will be able to split purchases into four equal installments over six weeks "with zero interest and no fees of any kind." According to the presentation, the BNPL feature will be available everywhere Apple Pay is accepted online or in-app, using the Mastercard network an Apple executives stated.
The company's announcement video provided consumers with a rough idea of how this process will work.
When making an e-commerce purchase with Apple Pay, customers will be able to choose "Pay in Full" or "Pay Later," as with many existing companies in the space. Apple will display a payment schedule — 25% due today, then three more installments — and, presumably after a short application process, that's that.
The new feature is intended to easily integrate with existing merchants who already accept Apple Pay. Merchants and app developers will not be required to take on any additional steps to accept Apple Pay Later transactions.
The rise of BNPL services over the past decade has broadly benefitted e-commerce merchants by making it easier for consumers to make big online purchases. As previously stated in our e-commerce and fintech report, the e-commerce market has grown from 6% to nearly 30% of retail sales over the past decade, with $9 trillion in total retail sales.
The company also made announcements on the health and fitness front — particularly as it pertains to the Apple Watch.
According to the presentation, Apple Watch will be able to track new running metrics, including vertical oscillation while running ("how much you move up and down"), stride length, and ground contact time. Additionally, the Fitness app on iOS will now be enabled even for those who don't have an Apple Watch, so everyone can close those rings.
Apple will also be building upon existing biometric tracking. Sleep tracking will use the heart-rate monitor and accelerometer to determine how much time you spend in four different sleep stages (Awake/REM/Core/Deep), similarly to Whoop and Oura devices. Moving into the $15 billion sleep technology market is another signal that Apple is going beyond the healthcare market to consumer health writ large.
Lastly, Apple Watch will be able to track your "A-fib history" to help doctors monitor heart arrhythmia and determine if treatment is helping.
Google
At Google's I/O developer conference in May, the company introduced a new tool that will allow users more control and visibility over how their ads are personalized across Google's apps and sites, including Google Search, YouTube, and the Discover feed in the Google app.
With the new tool, users will be able to engage with any ad in numerous ways. They will be able to like, share, block, report, see who has paid for it, and find out why they were targeted with it.
The main utility of the new My Ad Center hub will be the ability for users to learn more about how ads are personalized and gain control over how their data is used, according to Google. It's specifically meant to address ads appearing on Google's owned-and-operated sites like Search, YouTube, and Discover but doesn't extend to the Google Display Network. This last point is key: Google is taking a first step toward a heavier emphasis on user privacy and user choice.
Most notably, the new My Ad Center hub includes an option at the top of the screen where users can choose to turn off personalized ads altogether. That step, however, is not one that executives at Google believe will be utilized because personalized ads are too valuable to consumers.
"We see personalized ads as valuable and useful — just like personalized movie recommendations, personalized news recommendations, personalized commerce recommendations,"

David Temkin, Google's director of Ads Privacy and Trust
Just like Apple, Google is also vamping up its health and wearables segment. Google has never actually manufactured its own smartwatch. The company has operated around the space since 2014 with the announcement of Android Wear, but it's never gone as far as making its own product. This fall, Google will finally — officially — debut the Pixel Watch.
As it currently stands, Google does not have the strongest track record when it comes to consumer hardware products (think NexusQ or Google Glass).
Last year's Pixel 6, however, was an important step in the right direction with strong consumer reviews. This fall, Google will look to continue the positive momentum on the hardware side. The new Google Pixel will represent the culmination of extensive investment, including its $40 million purchase of Fossil's smartwatch technology in January 2019 and last year's $2.1 billion Fitbit acquisition.
One of the main product features: health tracking. Since a large portion of the technology comes from the Fitbit acquisition, the Google Pixel Watch will index heavily on an existing health and fitness feature set.
"Get insights into your health with continuous heart rate and sleep tracking, see your Active Zone Minutes when you're working out, and track your stats and progress against your personal fitness goals."

Company Representative
Key Factors & Data
Below we have summarized some of the key trends and market insights surrounding some of the specific announcements highlighted above.
Apple BNPL
Overall, Apple's announcement that it would further inject itself into the payments space is positive for merchants and worrisome for incumbent BNPL companies. In practice, BNPL reduces friction when purchasing, increases conversion rates, and gets people to increase their overall cart size (amount purchased).
In its IPO prospectus early last year, Affirm said that in 2019, merchants using its BNPL service reported 85% higher average order values(before refunds) compared to other payment methods.
Looking at market sizing, the BNPL market has demonstrated steady growth over the past three years and looks to reach more than a half -trillion dollars by 2026.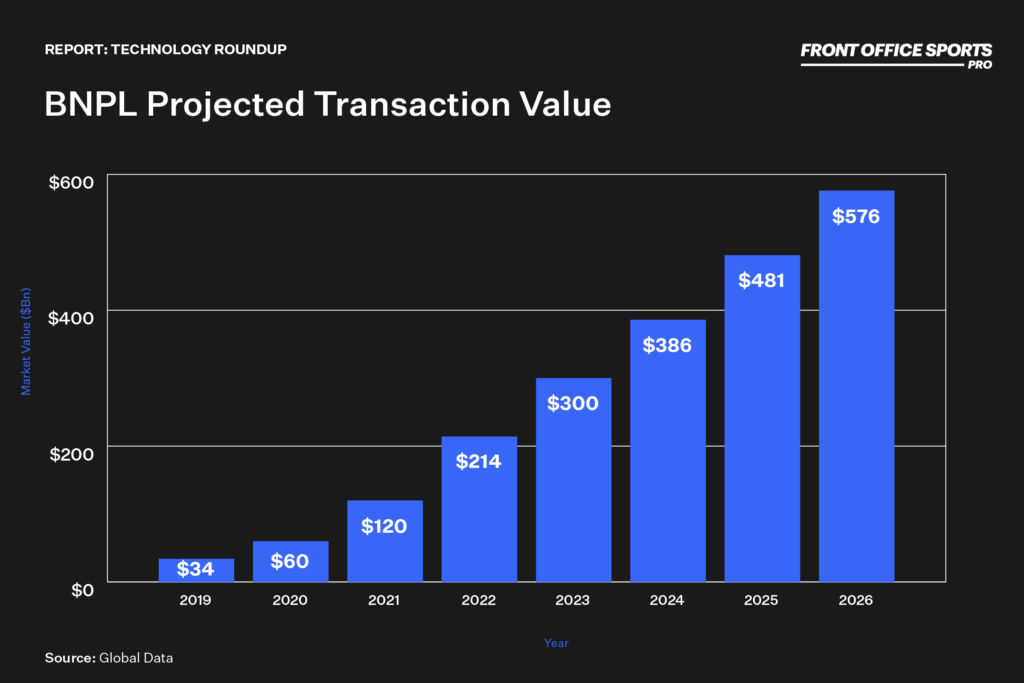 At this point, the market recognizes and has adopted BNPL as a financing mechanism for purchases across commerce. In an interview with TechCrunch, Victory Park Capital Partner Jason Brown laid out the future use cases.
"Now that consumers have gotten comfortable with BNPL as a concept and are increasingly using it as an alternative to credit cards, we're seeing opportunities for new BNPL products for recurring bills such as rent, streaming service subscriptions, etc. We also see opportunities for new BNPL products for small businesses that are looking to reduce cash flow strains or avoid maxing out credit lines."

Jason Brown, partner at Victory Park Capital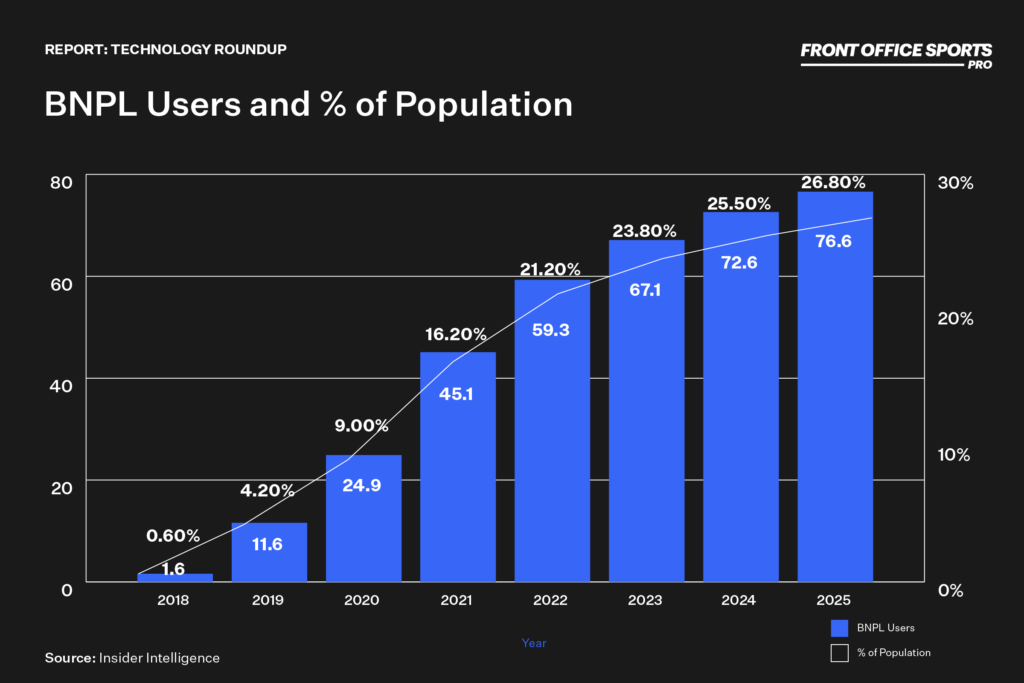 Investors in the space already see BNPL leaving the bounds of retail and entering sectors such as healthcare. "BNPL will become a more popular POS option in 2022, not only across brick-and-mortar stores, but also in sectors like healthcare, where installment payments already exist but have not yet crossed the chasm to digital," said Frances Schwiep, partner at Two Sigma Ventures.
One area of note: BNPL can encourage bad behaviors. According to survey data from MorningConsult, individuals who utilize BNPL are more likely (on average) to overdraft on their bank accounts than consumers who don't — by a significant margin.
The data is indicative of one of the inherent risks and continued sticking points for BNPL — evidence that it promotes imprudent financial behavior.
A third of U.S. consumers who used BNPL services have fallen behind on one or more payments, and 72% of those said their credit score declined, a new study published by personal finance company Credit Karma showed.
Concerningly for some, BNPL products fall outside the bounds of some of the most important consumer protection laws that shield people from predatory or deceptive lending practices. For example, because of the typical four-installment repayment windows, many of these companies aren't currently covered by the Truth in Lending Act, which requires five before the regulation is triggered. In any case, the space will require continued regulatory scrutiny as it continues its rapid growth.
Apple Health
In March, Front Office Sports Pro published a report outlining the wearables market, and more specifically the growth of the consumer wearables market.
The consumer wearable market is currently dominated by the wrist. If an individual is strapping on a wearable device, more than half the time it will be placed squarely on their wrist. According to data from IDC, ~56% of the market consists of "wrist worn" wearables. Furthermore, Apple currently dominates that segment of the market. The IDC stated that Apple claims 53% of the wrist-worn market in terms of revenue.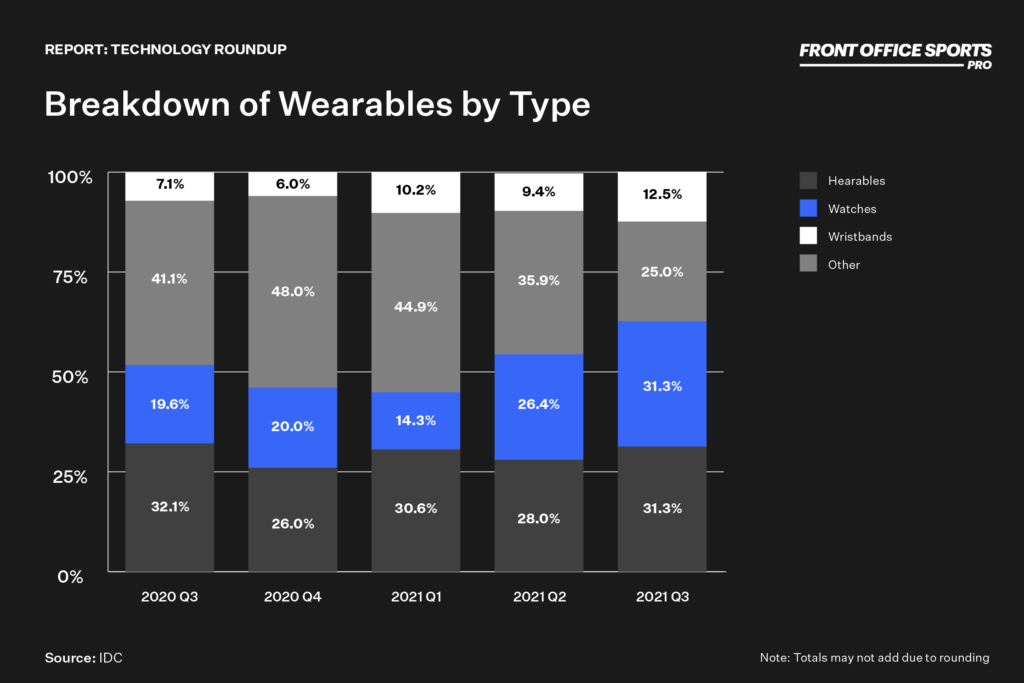 While growth has continued, there are still issues. Despite the increased adoption, population level health metrics. Understanding health metrics is only one piece of the puzzle. Continued integration with physician groups and clinics will provide the ultimate value.
Google Advertising
While Google is slowly making an effort to protect consumers when it comes to ads, the business model continues to generate incredible cash flow. Currently, programmatic ads make up a large and growing share of display ad spending. In 2019, more than 86% of U.S. display ad spending was transacted programmatically, and it will exceed 91% in 2023. The dollar volume of programmatic display will more than double in that time, from just more than $61 billion to nearly $142 billion.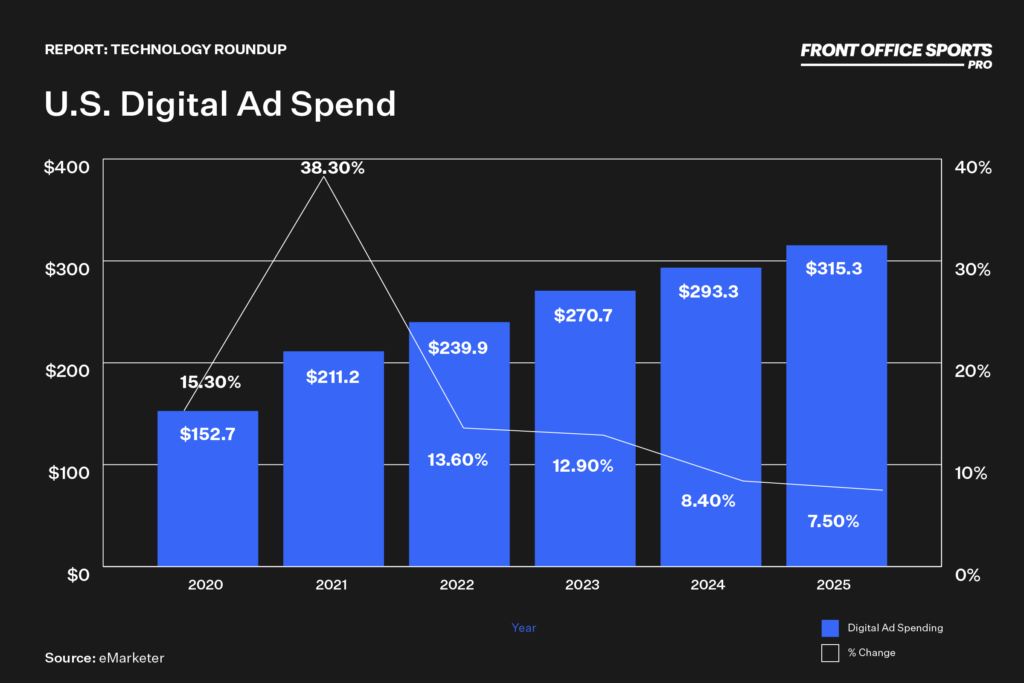 The shift to a more consumer-centric ad model — specifically My AdCenter — won't likely make a dent in the company's revenue stream. It is, however, notable that Google is increasingly trying to prove to users that it can keep at least some of their data out of the hands of the advertisers bringing in the vast majority of the company's revenue.
Google Health
As stated in the Apple health section, wearables continue to see outsized growth. One thing to note with Google specifically is the relative advantage the company has over Apple when it comes to market penetration. Google's advantage over Apple is its much larger global pool of Android smartphone users — even if it currently falls behind in the smartwatches and fitness trackers that could help give more specific health data.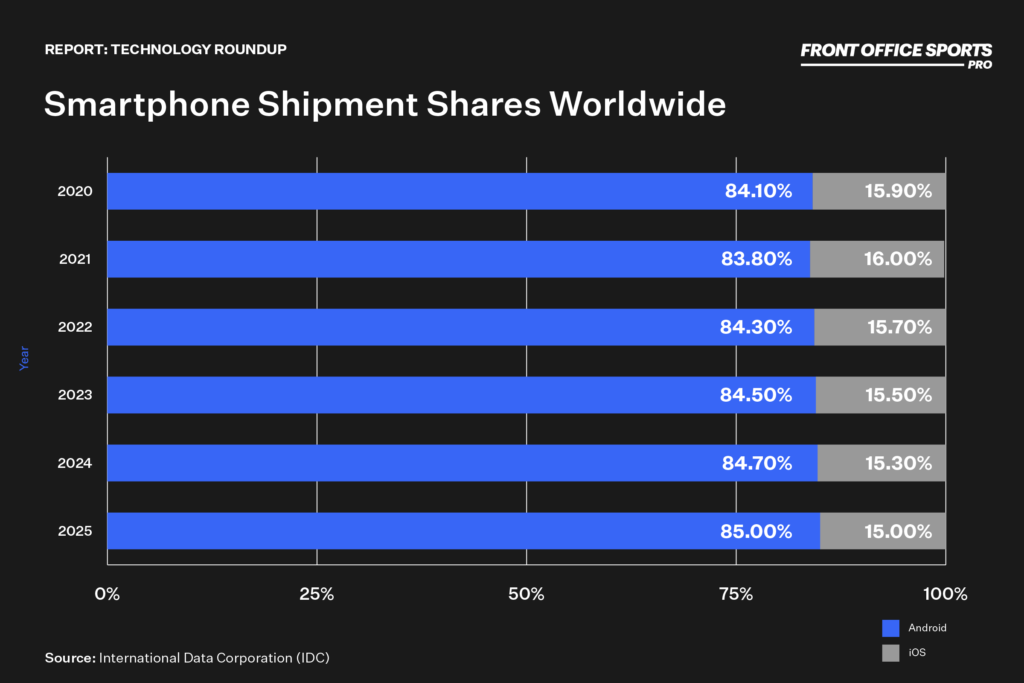 Currently, there are initiatives in place that will leverage Google's "larger pool" of devices to run specific health studies. In May of this year, the University of Oregon's Center for Digital Mental Health launched a new digital wellbeing study that relies on Android and Fitbit devices via the Google Health Studies app. This is the latest digital health initiative involving Google, which recently teamed up with the World Health Organization to lay the groundwork for health app development.