For the first time since 1945, the Kentucky Derby will not be held on its typical first Saturday in May. Instead, the 146th race will take place Sept. 5 in a fanless Churchill Downs.
The Derby was postponed earlier this year as the pandemic raged through the country, canceling live events and restricting large gatherings. But as the lockdown measures have eased, the Derby has been moved to the first Saturday in September — a historic first.
But this time around, the Derby will have a different atmosphere without the crowds cheering from the stands, long lines at the betting windows, mint juleps and extravagant hats. Additionally, NBC has had to creatively adjust the Derby's production plan.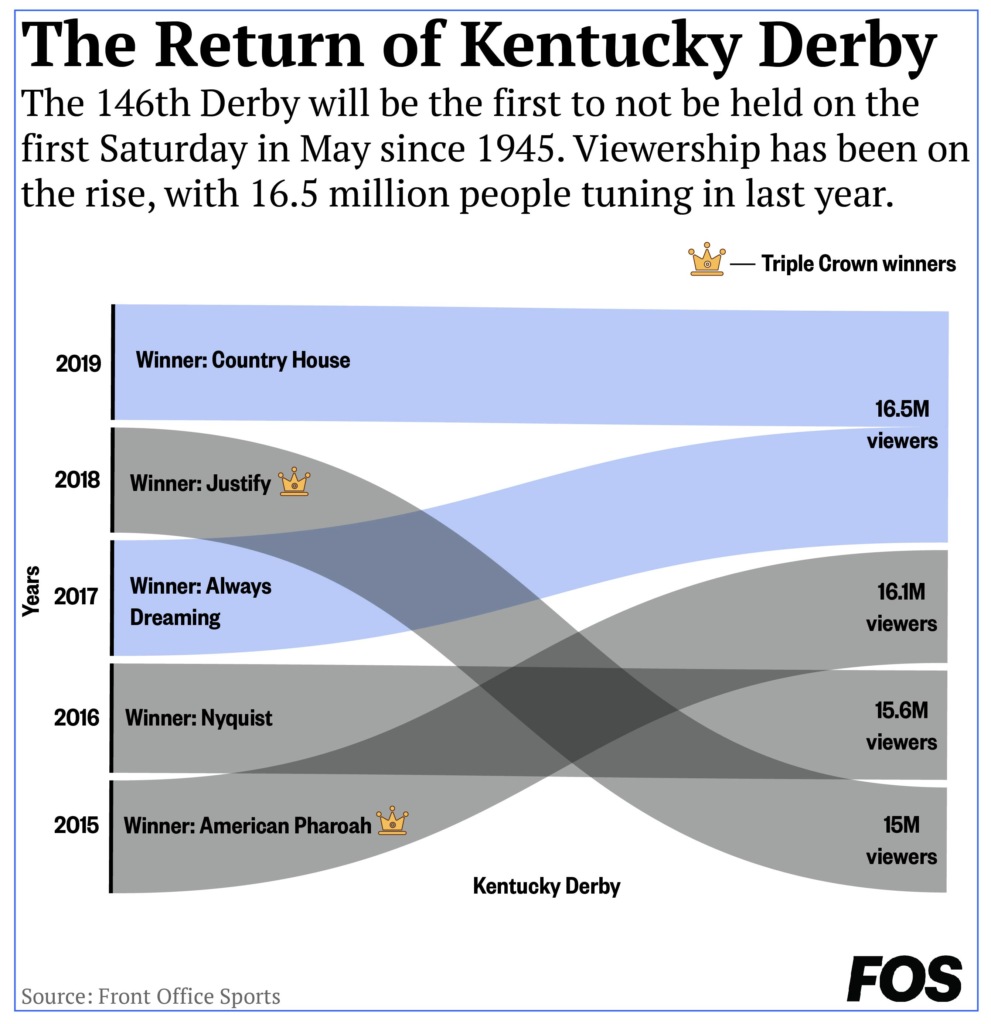 Over the years, Derby broadcasts have heavily relied on the crowds and electric ambience to drive viewership as any other major sporting event, but this year's event will be broadcast remotely from NBC's Stamford, Conn. facility. NBC will have audio and approximately 30 cameras on-site in Louisville, Ky., but the production will be done in NBC's Sports Production Operations Center utilizing a series of mobile units.
NBC is relying on mic'd up jockeys to fill in some of the ambiance during the race. "We hope to provide a little bit more of an intimate experience without that crowd roar," said Rob Hyland, coordinating producer of NBC's horse racing coverage.
Viewership for the Derby has been on the rise, with 16.5 million people tuning in last year. Analysts expect the numbers to be high this year as well as more people will be inside their homes due to the pandemic.
"Parties in the pandemic are limited. We are absolutely getting in front of the television for special events," said LeslieAnne Wade, managing partner at Wade Media Management. "It should be the most-watched event of the weekend, despite all of the other stuff going on — NBA and NHL playoffs, MLB, PGA Tour Championship and beginning of the NASCAR playoffs."
With a socially distant Derby this year, broadcasters are also going the extra mile to keep the fans engaged. "We're going to be looking around the country at how Derby fans are celebrating the day. We have live remotes in Denver, Los Angeles, and Saratoga with live view cameras, providing imagery for some socially distanced gatherings that are outside," Hyland said. "One of them, I believe, is a drive-in sort of movie type experience for the broadcast."